Glacier
As Fede said when we departed this morning for the drive to Los Glaciares National Park, this is "the icing on the cake — literally." I suppose it is literally "ice," but there's no literal "cake." Still, Fede's first language is Spanish. And lots of native English speakers get "literally" wrong.
Anyway, we were on our way this morning to see the Perito Moreno glacier. This glacier is interesting for a few reasons:
It is easily accessible, just an hour's drive from Calafate. You can drive right up to it. Many tour companies offer bus trips from Calafate.
In an era when glacial ice is melting worldwide, this glacier is still advancing.
It undergoes a regular rupture cycle every few years.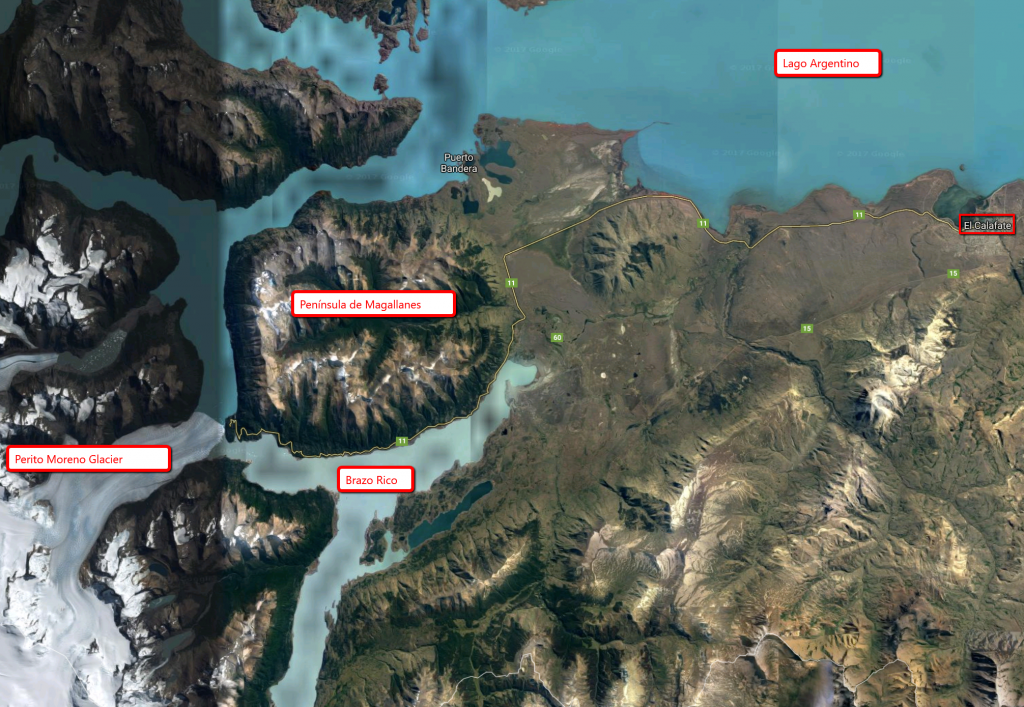 We didn't see anything quite so dramatic. And overall, the glacier is impressive because it is so large, but it is not the most beautiful glacier I've seen. (That would have been the far smaller Sawyer Glacier, which I saw this past September in Alaska.)
Still, Perito Moreno did not fail to impress, just because it is so massive.
After walking the various paths and snapping innumerable pictures, we took a boat ride on the Brazo Rico side for an up-close view.
Birds
When we first arrived in Calafate, Fede told us that there is a bird sanctuary on the shores of Lago Argentino. So when we got back into town after our visit to Los Glaciares, I asked if I could be dropped off there. Surprisingly, no one else in the group wanted to do that. (I don't know what they all did; some of them I think got dropped off in town; others just went back to the hotel.)
This was actually my favorite part of the visit to Calafate. It's not that I saw a ton of exotic birds. I didn't see any flamingos, which I was hoping for. In fact, most of the birds I saw were birds I'd already seen elsewhere during the trip. But watching them in their native habitats was so interesting. I didn't really mind that it was so windy I couldn't hold my camera still enough to take good photos most of the time. And I didn't mind getting caught in a rain squall that felt like needles blowing in the wind. I managed to arrive at a duck blind when I was only mostly wet, not entirely wet. When I opened the door, the space was full of German tourists, who greeted me and told me I couldn't stay if I didn't bring coffee. Then they made room for me so I could observe the nearby pond, where I saw some Andean ducks.
After the rain stopped I was able to dry off by the time I completed my walk through the bird sanctuary. Then I headed back to the hotel, too tired to think about food or anything but a relaxing evening. I never made it out to dinner. But I felt fully nourished the the things I saw today!