We flew back to Buenos Aires from Calafate on Thursday and returned to the same hotel where we stayed two weeks ago. It's hard to believe our time in Patagonia is over. But I'm happy to be back in Buenos Aires, a city that I love the more time I spend here.
Return to Recoleta
Once we were settled in, the rest of the day was free until dinnertime. I joined Mary, Maureen, and Ann on a walk back to Recoleta, the same walk I'd enjoyed so much the first day. They wanted to visit the Fine Arts Musuem, and I told them I knew where it was. However, that turned out to be something of an exaggeration. I knew approximately where it was…
The detours we took turned out to be fortuitous. We enjoyed a fine jazz combo playing outside in front of the Recoleta Cultural Center (which was not the Fine Arts Museum), and then wandered across the street to the Law School of the University of Buenos Aires (also not the Fine Arts Museum, but a gorgeous building with an impressive lobby).
Finally I got my Wisconsin friends pointed in the right direction, and we planned to meet after about an hour. While they visited the museum, I wandered around the neighborhood.
Puerto Madero
In the evening we had a group dinner at a nice steakhouse in the Puerto Madero neighborhood. Originally the city's port, the Madero Waterfront went into major decline after the new port opened in 1926.The Madero renaissance began in the 1990s, and today it is decidedly upscale, with a mix of high-end housing, hotels, and commercial enterprises. All of the streets in Puerto Madero are named for women; several streets are pedestrianized. Even the main pedestrian bridge is named Punte de la Mujer (Woman's Bridge) (see top of post).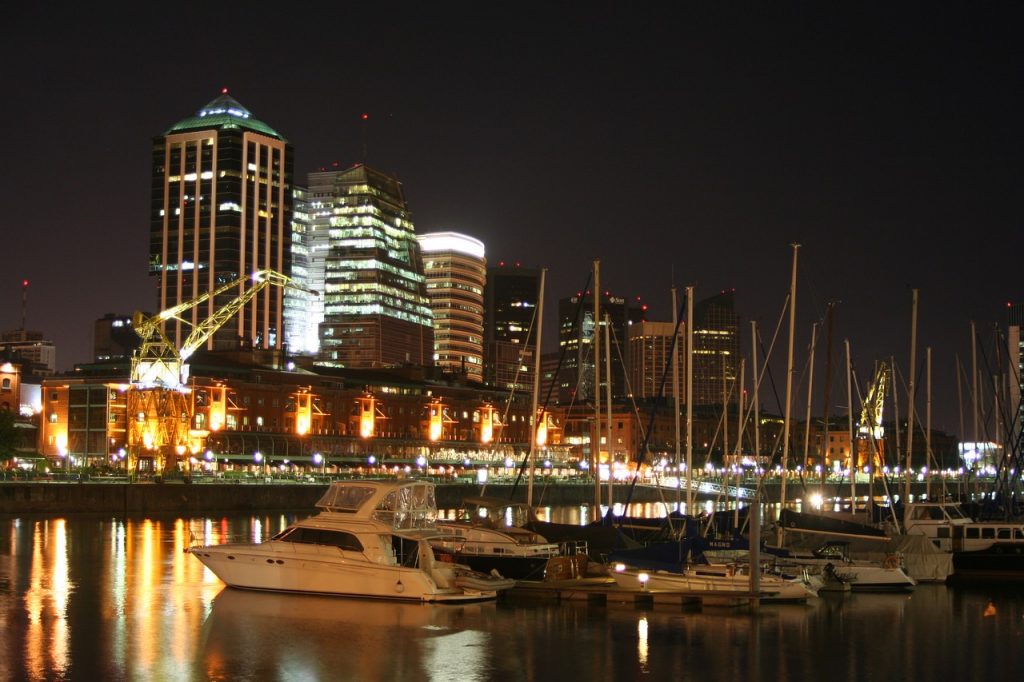 Recoleta Yet Again
The next morning we visited my favorite Buenos Aires neighborhood again. (Well, it's the one I spent the most of my free time visiting, so I guess that makes it my favorite, but I need to go back and explore more of the city to find out for sure.)
We began with a visit to Recoleta Cemetery. The first time I went in on my own and just gave it a quick once-over. This time we got the full experience with the benefit of our guide. But to be honest, there's not a whole lot a guide can add to the experience. It is a wonderland of palatial residences for dead people.
Our guide (I can't remember his name…) did take us to see Eva Peron's burial site. So there was that.
Across from the entrance to the cemetery is this tree. Without a guide I would have missed it. In fact I did miss it two weeks ago.
Paraná Delta
After we left Recoleta, we headed to a marina, where we got on a boat (all for ourselves) to take a ride from the Rio de la Plata into the lower Paraná Delta. Formed by the confluence of the Uruguay River and the Paraná rivers, many geographers consider Rio del la Plata to be an estuary, a gulf, or a marginal sea. If it is a river (as most Argentinians and Uruguayans would like to think it is), it is the widest in the world, with a maximum width of about 220 kilometers.
The Paraná Delta consists of numerous small islands formed by sediment. Many of these islands are inhabited, accessible only by boat. Regular traffic on the delta includes floating buses and taxis, mail boats, shopping boats, and cargo boats.
We eventually made our way to Tigre, where we had lunch at a restaurant before heading back to Buenos Aires by bus. I was disappointed that our time in Tigre was completely taken up with the lunch; I would have much preferred to be able to explore on my own or to have a group walking tour.
Final Afternoon in Buenos Aires
Back in the city, I struck out with Mary and Maureen to find a bookstore we had heard about. El Ateneo . This former theatre, built in 1919, was converted into a bookstore in 2000, but it still retains all its former glory.
This was another night when I didn't feel like going out, so I stopped at a bakery on the way back and bought what turned out to be a pumpkin quiche. I love ordering when I don't know all the words. Sometimes it's a very happy surprise. Sometimes not so much. But this was actually delicious. The hotel room had a microwave oven, so I was able to heat it up.
Tomorrow we fly once again. See you in the jungle!