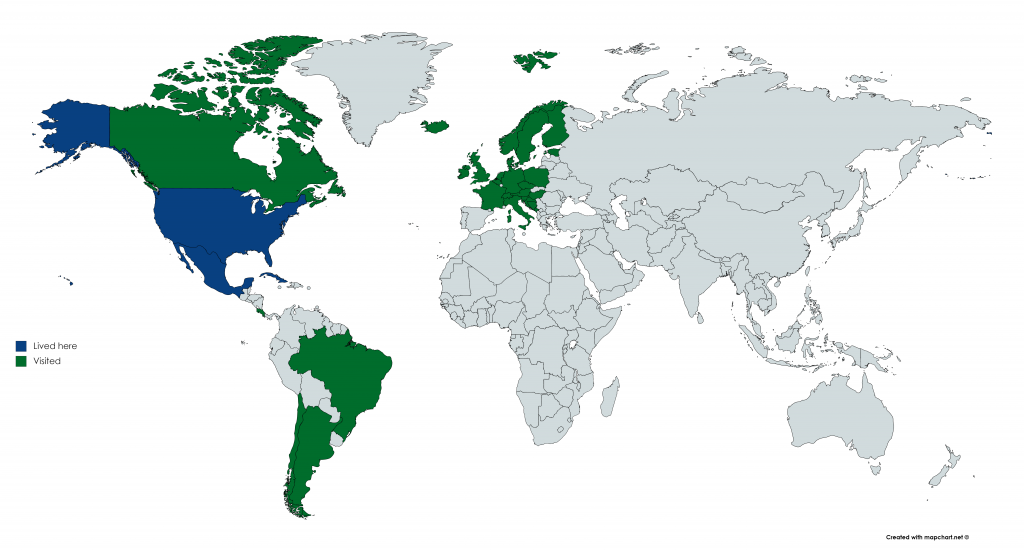 I hardly consider myself a great world traveler, but I love to travel and have been to a lot of places considering I got a late start. Until my sophomore year in college, I'd been to a total of six states, all in the northeastern USA. Since then I've been working hard to make up for lost time.
Until the Covid-19 pandemic hit, I was constantly either on a trip or planning the next one. In 2019 I took a four-week tour to eastern Germany, Czechia, and Poland. In January 2020: a short getaway to Michoacán to see the monarch butterfly migration, and in February, a week-long tour to Cuba. Since then, I've been stuck at home, which isn't a terrible thing, since my home is now a beautiful town in Mexico. But now that I'm vaccinated, I'm thinking about being on the move again. In May 2021 I took a ten-day road trip, and I'm hoping to do another one this fall. Then in February and March of 2022 I have a trip to the Middle East that has been rescheduled twice and hoping will finally happen.
I am a retired software architect living the good life in Ajijic, Jalisco, Mexico. One reason I chose this spot to retire is that it is close enough to an international airport that I can still get away for the travel I long to do.
When I'm not traveling, and when there isn't a global pandemic, I can usually be found playing bridge at the Lake Chapala Duplicate Bridge Club, playing pub trivia, taking my dog for walks on the malecón, or enjoying the many fine restaurants in this community of about half locals and half expats from the US and Canada.
See my list of favorite travel blogs and websites

Countries I've visited
(in chronological order)
Canada
France
Switzerland
Germany
Austria
Hungary
England
Wales
Liechtenstein
Italy
Ireland
Mexico
Denmark
Sweden
Estonia
Finland
Iceland
Croatia
Slovenia
Bosnia and Herzegovina
Montenegro
Belgium
Netherlands
Norway
Chile
Argentina
Brazil
Costa Rica
Czechia
Poland
Cuba
Airports I've flown through
US Airports (in random order)
Ted Stevens Anchorage
Seattle-Tacoma
Seldovia (Alaska)
Phoenix Sky Harbor
Los Angeles
Palm Springs
San Diego
San Francisco
Norman Y. Mineta San Jose
Boulder Municipal
Tampa
Harsfield-Jackson Atlanta
Honolulu
Lihue
O'Hare
Chicago Midway
General Wayne A. Downing Peoria (Illinois)
Barkley Regional (Paducah, Kentucky)
Louis Armstrong New Orleans
Portland (Maine)
Baltimore/Washington
Detroit Metropolitan
Minneapolis-Saint Paul
St. Louis Lambert
McCarran (Las Vegas)
Reno-Tahoe
Manchester-Boston Regional (New Hampshire)
Newark Liberty
Buffalo Niagara
LaGuardia (New York)
John F. Kennedy (New York)
Long Island MacArthur (New York)
Syracuse Hancock (New York)
Westchester County (New York)
Charlotte Douglas
Cleveland Hopkins
Dallas-Fort Worth
William P. Hobby (Houston)
George Bush Intercontinental (Houston)
San Antonio
Ronald Reagan Washington
Dulles (Washington, D.C.)
Boeing Field (Seattle)
Juneau
Homer (Alaska)
John Wayne (Santa Ana, California)
Philadelphia
Austin-Bergstrom (Texas)
Talkeetna (Alaska)
International Airports (in chronological order)
Charles de Gaulle (Paris)
Frankfurt
Munich
Shannon (Ireland)
Milan Malpensa
Leonardo Da Vinci (Fiumicino, Rome)
Schiphol (Amsterdam)
Zurich
Heathrow (London)
Keflavik (Iceland)
Oslo
Copenhagen
Helsinki
Zagreb
Dubrovnik
Brussels
Bergen (Norway)
Trondheim (Norway)
Mataveri (Rapa Nui, Chile)
Jorge Newbery (Buenos Aires)
Santiago (Chile)
Bariloche (Argentina)
El Tepual (Puerto Montt, Chile)
Presidente Carles Ibáñez del Campo (Punta Arenas, Chile)
El Calafate (Argentina)
Cataratas (Iguazú, Argentina)
Foz do Iguaçu (Brazil)
Galeão (Rio de Janeiro)
Mexico City
Juan Santamaria (San Jose, Costa Rica)
Drake Bay (Costa Rica)
Miguel Hidalgo y Costilla (Guadalajara)
Václav Havel (Prague)
Lech Walesa (Gdansk)
Licenciado Gustavo Díaz Ordaz (Puerto Vallarta)
Jose Marti (Havana, Cuba)
US National Parks I've visited
(in alphabetical order)
Acadia
Arches
Badlands
Bryce Canyon
Crater Lake
Denali
Glacier
Grand Canyon
Grand Teton
Joshua Tree
Kenai Fjords
Mammoth Cave
Mesa Verde
Mount Rainier
North Cascades
Olympic
Rocky Mountain
Yellowstone
Zion
Mexican Pueblos Mágicos I've visited
(in chronological order)
Tepoztlán, Morelos
Tlaquepaque, Jalisco
Ajijic, Jalisco
Pátzcuaro, Michoacán
Tequila, Jalisco
Mazamitla, Jalisco
Lagos de Moreno, Jalisco
Pinos, Zacatecas
Guadalupe, Zacatecas
Sombrerete, Zacatecas
Jerez, Zacatecas
Asientos, Aguascalientes
San José de Gracia, Aguascalientes
Calvillo, Aguascalientes
Nochistlán, Zacatecas
Teúl de González Ortega, Zacatecas