The photo above is probably the most interesting place I visited during my 1 1/2 days in Inverness. It may look like there's nothing there. But read on to find out why it was the highlight of my time in this part of Scotland.
Right now, as I write, I am in Aviemore, in the lobby of the Cairngorm Hotel, waiting for my room to be ready. They don't have secure luggage storage, so if I want to go out for a walk, I have to leave my luggage under a coatrack in the lobby. I will probably not do that. So I'll just sit here and write a nice, detailed report on Inverness.
The bus from Portree to Inverness
The ride to Inverness duplicated much of the trip from Fort William to Portree, except that day was cloudy and foggy, so I didn't see all the mountains. The return was on a clear sunny day, so the views out the bus window were truly spectacular. But it's hard to get photos from the bus on a sunny day, because there's too much reflection on the windows. So you'll just have to imagine.
But if you look back at my photos from Glencoe and from my tour around the Isle of Skye, you'll get a good sense of how beautiful the Scottish Highlands are.
Walking around Inverness
My bus arrived in Inverness around 12:30. I dropped my bags at the Eskdale Guest House, where check-in wasn't until after 4pm. So that gave me a while to get some lunch and wander around. I had a walking tour scheduled at 5:30, so I used my wandering time more-or-less randomly rather than following any guidebook plan.
I found a few pretty churches and buildings on my walk, but nothing very interesting. Later, on the tour, my feeling that Inverness wasn't very interesting was confirmed. There is a castle that isn't really a castle. It's closed and partially covered by scaffolding right now for a major renovation. When it reopens in 2025, it will serve as a cultural center and community gathering point.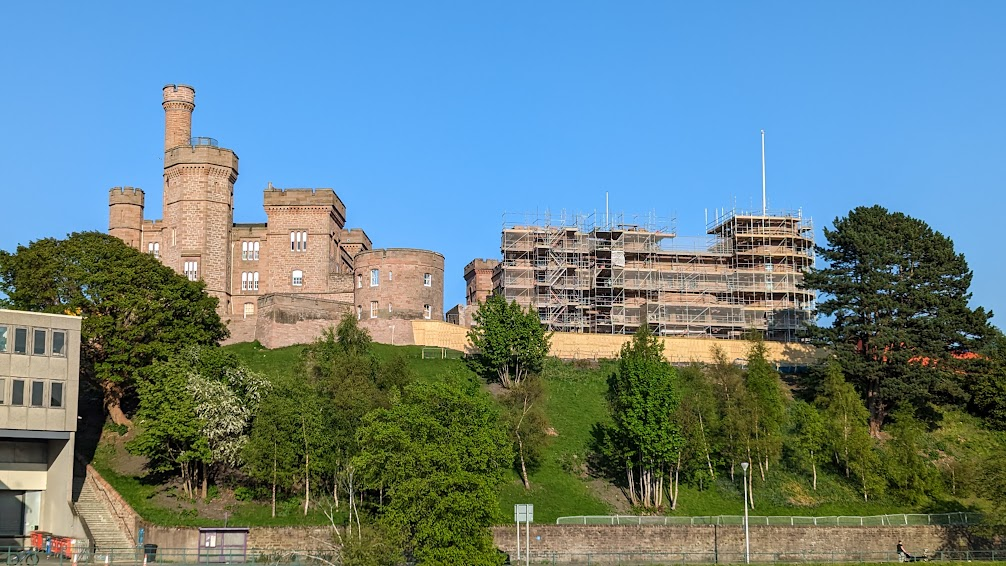 There was originally a wooden fortress on this site. (To be more precise, there was originally nothing, just a hill. The first castle dates from the 11th century.) That was replaced by a stone structure in the 15th century. After a siege by the Jacobites, Bonnie Prince Charlie ordered it destroyed in 1746. The current "castle' dates from the 1830s and 40s, but it wasn't a castle then or now. The south tower (the part scaffolded) was a courthouse, and the north tower was a prison. By design it looks like a castle, at least as the Victorians imagined a castle.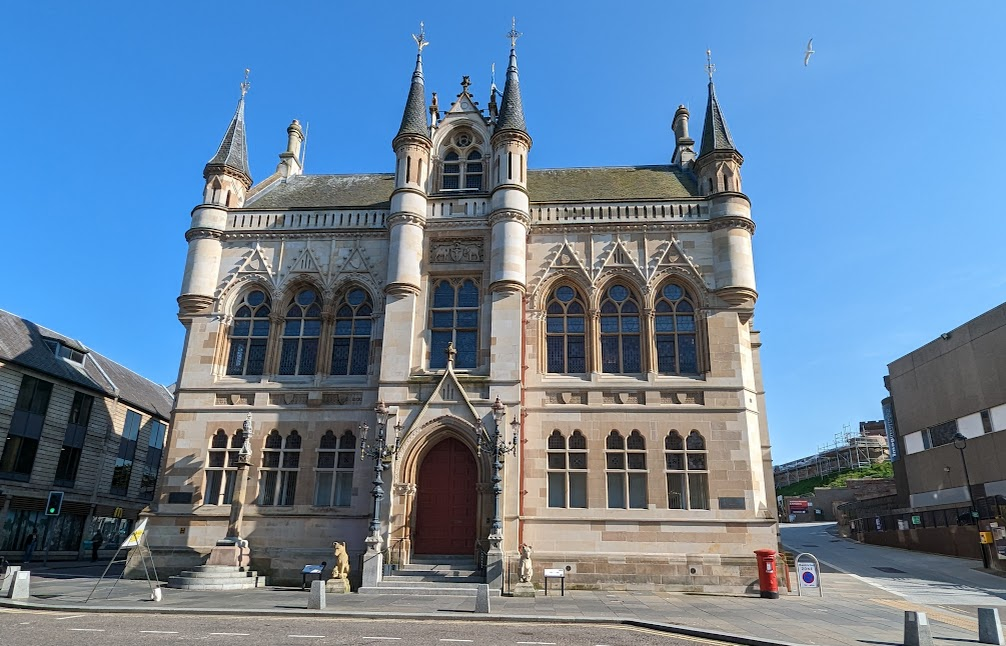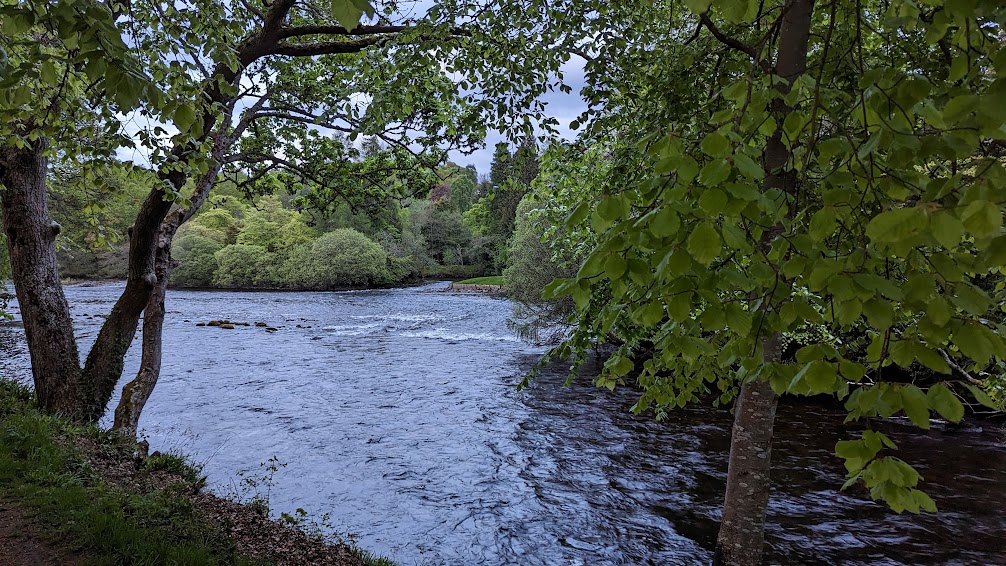 Did you know?
"Inver," in Scottish place names, means "river mouth." So Inverness is at the mouth of the River Ness. The entire river is just 6 miles long. It flows out of Loch Ness into Beauly Firth. ("Firth" is the Gaelic word for fjord. In other parts of Scotland, they're called "sea lochs." And "Beauly" comes from the French for "beau lieu," meaning "beautiful place." Beauly is also a town I visited near Inverness. It was named by Mary, Queen of Scots, who was raised in France and spoke French. She was passing through the area and said, "Beau lieu!" and the name stuck.) (That story may or may not be apocryphal.)
I have more pictures of the city of Inverness in my Google photo album, and there are some pretty buildings, but overall, compared to other places, it just didn't measure up.
More Scottish History
I already shared some history about how Scotland became part of the United Kingdom, and about Bonny Prince Charlie and the Jacobite efforts to restore the Stuarts to the Scottish throne. In the last few days I've had multiple encounters with the Jacobites, but not quite in chronological order. A few of my guides have offered up the story, so I'm becoming an expert.
After the Glorious Revolution of 1688, the exiled Stuart court took up residence in Rome, and that's where Charles Edward Stuart was born in 1720. He came to Scotland in 1745, mustered support from the Scottish clans, and they fought the Redcoats successfully, entering Derby, just 120 miles from London, in December of that year. The Jacobites expected financial and military support from France, but it never came, and Charles made a decision to retreat. Historians generally believe the could have taken London, but the Redcoats, led by the Duke of Cumberland, youngest son of King George II, would have arrived within a few days. The Jacobites likely would have failed to hold the city.
The Battle of Culloden
In any case, Bonny Prince Charlie and his men returned to Scotland, arriving in Inverness in February 1746. Aware that Cumberland's army was still in pursuit, the Jacobites selected a stretch of open moorland at Culloden to set up their defenses. They encamped there on April 15.
By 10am on the 16th, Cumberland's army was approaching. At 1pm the first shots were fired. Within an hour it was over, and the Jacobites were routed.
An estimated 1,250 Jacobites lost their lives at Culloden or were captured and executed. By contract, 50 to 100 from the English army died.
At the top of this post is a picture of the battlefield as it looks today.
At the edge of the battlefield are mass graves. These are marked with the names of the clans that are believed to be buried in each one.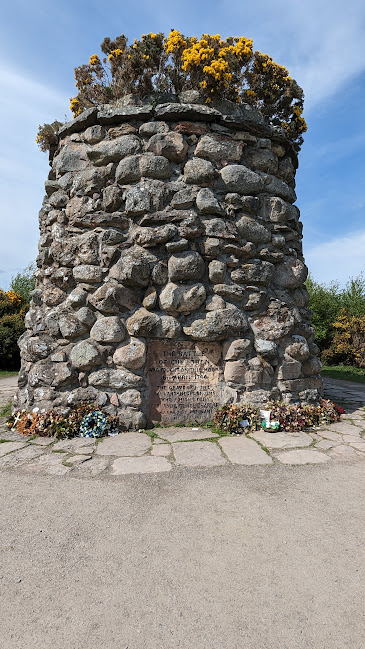 Aftermath of Culloden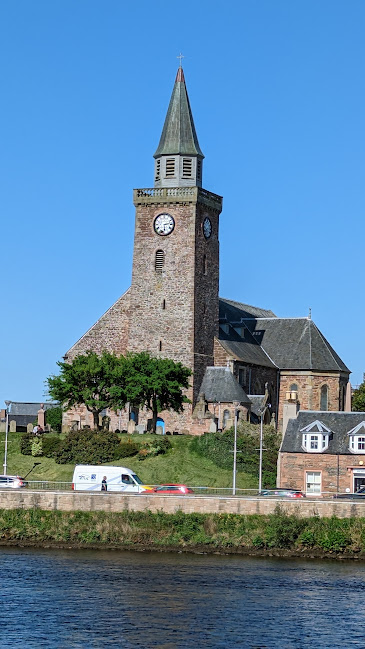 Prince Charlie fled when it was clear the Jacobites were outmatched. He headed west. On Skye he was aided by a woman named Flora MacDonald, who helped him escape to the neighboring island of Raasay. For her trouble she was arrested and imprisoned in the Tower of London, but she was released the following year in a general act of amnesty.
The Skye Boat Song was written in the 19th century to commemorate Charlie's journey to the Isle of Skye. Outlander fans will recognize the song as the TV series' theme.
Charles fled to France, and later went back to Rome, the city of his birth, where he died in 1788.
Other stuff near Inverness
I saw a few other interesting things outside Inverness. I took a van tour with a group of eight. Culloden was the highlight of our tour. Our guide, Craig, showed us around and explained a lot, but I would rather have had time to visit the museum at the visitors centre.
We saw some other cool things on the tour.
Urquhart Castle
This castle, dating from the 13th century, sits on the shore of Loch Ness. After the 1688 Revolution that overthrew James VII/II, supporters of William of Orange garrisoned the castle with 200 soldiers. The Jacobites laid siege to the castle, but the garrison held out. When they finally left, they blew up the gatehouse; the rest of the castle was plundered over time and gradually collapsed. This is what remains.
It was nice to see, but I would rather have gone in.
Singleton Distillery
We stopped at this distillery for a tasting. We didn't get a tour, just a tasting (which we had to pay for). I tasted one whisky. It was not bad.
The main thing I got out of it was learning how all these brands are owned by big corporations. There are very few independent distilleries left. Singleton is owned by Diageo. So are 26 other brands of single-malt whisky in Scotland, plus nine brands of blended whisky, and dozens of liquor and beer brands around the world. Diageo is the second largest distiller in the world by market cap. (The largest is a Chinese company.)
I would rather have had a tour of the distillery.
Beauly Priory
A ruined church sits in a graveyard in the town of Beauly. The church dates from the 13th century, and was part of a monastic community that was active until the 17th century. Little is known of the priory's history. Craig took us around and explained some things.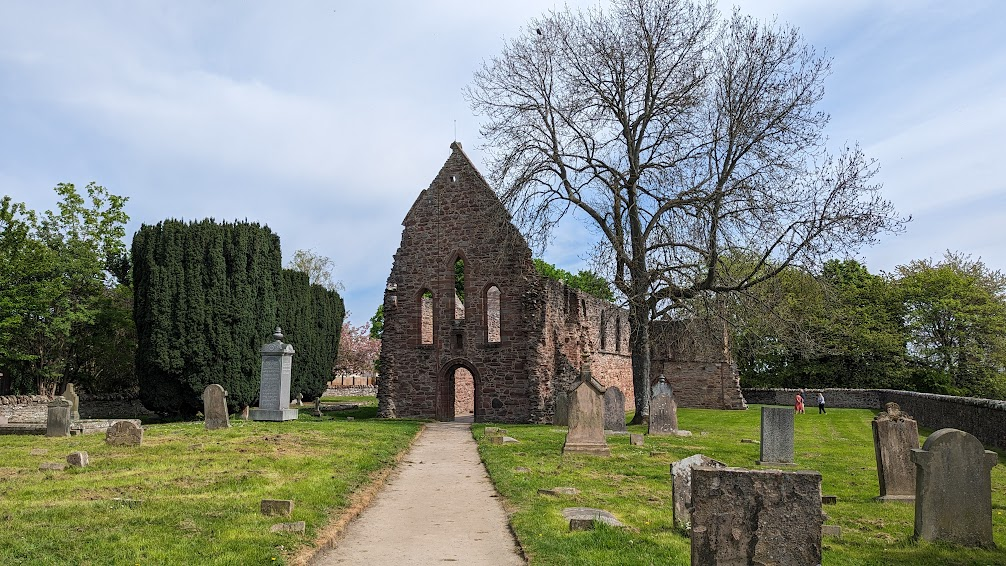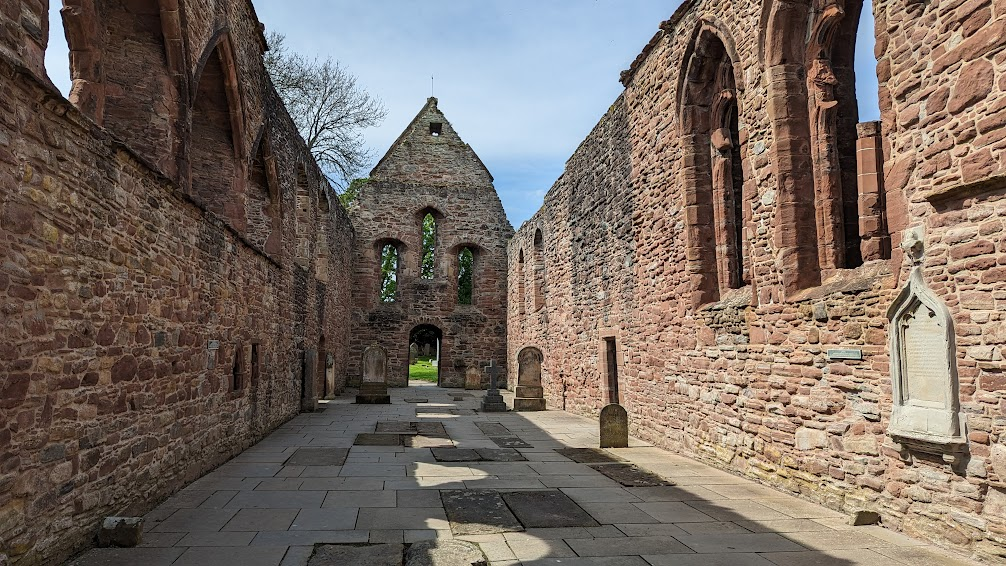 I was really struck by the peaceful beauty of this place. But I would rather have had time to be there by myself.
Balnuaran of Clava
The cairns of Clava at this site are a big mystery. They are dated to the Bronze Age, about 4,000 years ago. But how they were built and for what purpose are unknown.
Two of the cairns at Balnuaran of Clava have an opening at one end; it is possible to enter through the opening. At the enter is a circular chamber. The one without an opening still has this chamber in the middle.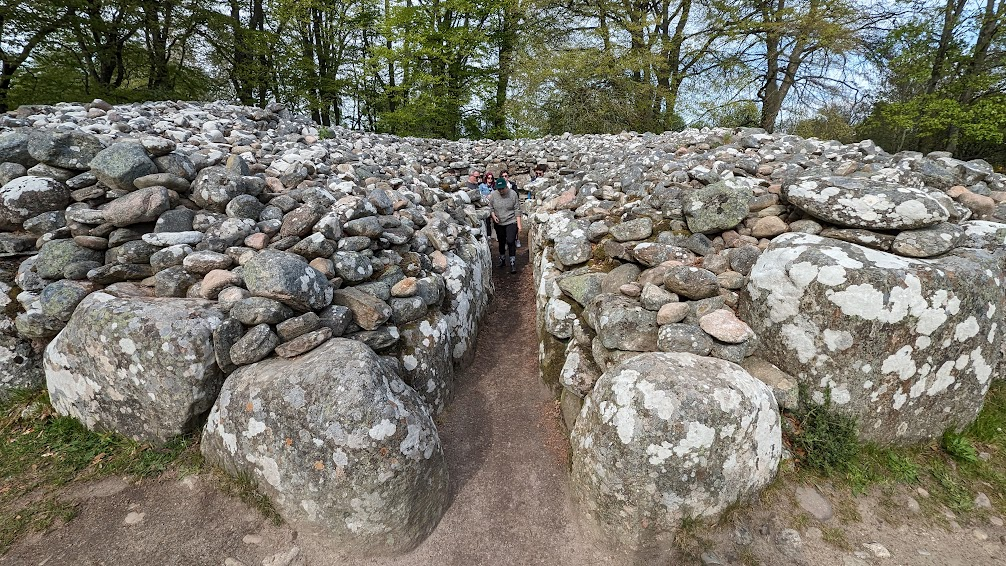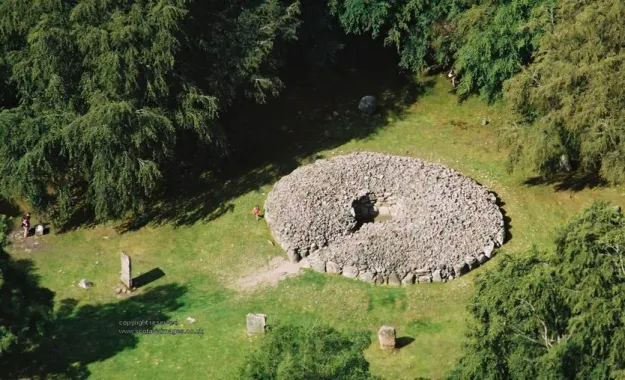 In case you can't tell, this wasn't my favorite type of tour. I prefer not being herded around as a group, always following the guide. I like having time to explore on my own.
But it was a good day, with great weather, for seeing some interesting things.
Be sure to check out all my photos from Inverness and my tour of the surrounding area.