Fort William is the second largest settlement in the whole of the Scottish Highlands. It's kind of the unofficial capital of the West Highlands, since it is the terminus of the West Highland Way, a 96-mile hiking trail that starts just north of Glasgow. It's also very close to some of the tallest mountains in Scotland. And it's at the start of the Road to the Isles, which leads to Mallaig, a port city with ferry connections to several isles of the Hebrides.
So when I was planning my Scotland itinerary, it was a natural place to base myself to explore this part of Scotland.
Not that Fort William itself is particularly interesting itself. Here's what Rick Steves says about it:
For William's glammed-up, care-free main drag feels like one big Scottish shopping mall (with souvenir stands and outdoor stores touting perpetual "70 percent off" sales). The town in clogged with a United Nations of tourists trying to get out of the rain.… Given its strategic position…you're likely to pass through Fort William at some point during your Highland explorations. And…"just passing through" is the perfect plan here.

Rick Steves Scotland
I think Rick is unfair. He must have visited on a miserably rainy day. I have found High Street (the pedestrian mall) rather ordinary, but in good weather it's not an unpleasant place for a stroll. And there have been no any-percent-off sales that I have seen.
What is completely soulless is my hotel, the Premier Inn. This is the largest hotel chain in Britain, and I'm sure their not all as bad as this one, which is about a half-step up from Motel 6. Unfortunately, when I was booking lodging back in December, there was little else available within walking distance of the train station. So I'm making do. At least the room is big enough to spread out a little. Not so in some of the places I've stayed so far on this trip.
So let's get out of Fort William.
Glencoe and Glenfinnan
I hired a guide through Tours By Locals to take me on a day-long excursion yesterday. I've had a mixed experience with Tours By Locals in the past, because many of the "locals" who offer "tours" have no qualifications and don't really know much. But the guide I hired, Andrew, is a registered tour guide, and he offered an excellent experience and was able to answer all my questions. (Andrew also works as a tour experience leader for OAT, which is a company I've traveled with several times and with which I have several more trips scheduled.)
Glencoe village
Andrew picked me up (1), and we drove to Glencoe (2), a small town with some of the charm that Fort William lacks. Historically, Glencoe is significant as the site of a massacre in 1692. Government forces attacked the MacDonald clan, who lived in the area, killing their leader and more than 30 others. The reason for the massacre was the MacDonald clan's failure to pledge allegiance to the new monarchs, William and Mary.
Turf House
After our visit to the town, we headed to the Glencoe Visitor Centre (3). There we visited the reconstructed turf house.
In the last ten years, archaelogical experts uncovered evidence of houses built from cut turf on a foundation of stone. People lived in these turf houses in the 17th century, though there is photographic evidence as recently as the 1930s of people still living in these primitive dwellings.
This turf house was reconstructed based on forensic data culled from an archaeological dig site. All the materials used in this house would have been used in houses of three hundred years ago.
The Glen
Next we drove along a section of the A82, considered Scotland's most scenic highway. We drove as far as the Kinghouse Hotel (4), then turned back and had a stop at one of the viewpoints before stopping for lunch at the Clachaig Inn (5).
Glen Coe is the name of this glen and this entire area as well as the small town we visited.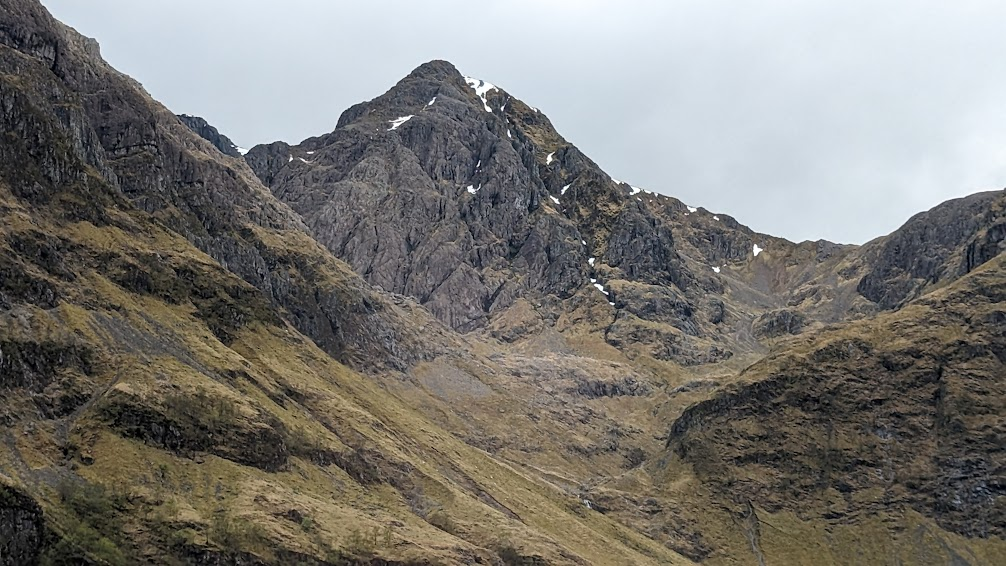 Right by the Clachaig Inn is a hillock where Hagrid's hut and the pumpkin patch were constructed for Harry Potter and the Prisoner of Azkaban. Apparently the cast and crew ate at the Clachaig Inn. Also, along the route we drove was a location used in the James Bond movie Skyfall.
Glenfinnan
Then we went to Glenfinnan (6), another town with a significant historical event, but that's also famous for scenes from the Harry Potter movies filmed there.
Andrew took me on a hike starting and ending near the Glenfinnan viaduct, which is featured in Harry Potter and the Chamber of Secrets:
When we arrived, it was about 45 minutes before the Jacobite Steam Train was scheduled to come through. This is a big deal for muggles, who gather in large numbers to watch it. Even though it's not the same train used as the Hogwarts Express, it evokes that feeling among fans. Andrew and I escaped the crowds and took the hike in the opposite direction. We headed up to the train station first (where we saw the train), and hiked across a hillside with spectacular views of Loch Shiel.
Loch Shiel also appears in Harry Potter and the Prisoner of Azkaban (it's where Buckbeak dips his toe in the water as Harry is riding him at the end of the movie), and in Harry Potter and the Goblet of Fire (it's where the underwater stage of the Triwizard Tournament takes place).
The end of the hike took us right under the viaduct (photo at the top of this post). Then we approached the loch. Can you tell it's the same lake?
Bonny Prince Charlie
Charles Edward Stuart was the grandson of James VII of Scotland, who was also James II of England. In 1688, James, who had converted to Catholicism, was deposed via the "Glorious Revolution." His daughter, Mary, and her husband, William of Orange, took the throne. William and Mary were Protestants.
The Jacobite movement had as it's primary goal the restoration of the Stuart line. Because William and Mary died without progeny, her sister Anne became queen. Anne, too, had no children, so the crown went to her German cousin, George I of the Hanover line. The Jacobites believed in the divine right of monarchs, and therefore supported Charles Edward Stuart's attempts to claim the throne for his father, James Francis Edward Stuart.
Charles, also known as Bonny Prince Charlie, and as Charles the Pretender, raised an army of supporters in what is known as the Jacobite Uprising of 1745. When he felt he had enough miltary support, he raised his royal standard in Glenfinnan. This happened on August 19.
By the edge of Loch Shiel is a monument honoring this event.
In spite of a few early successful battles, the uprising failed at the Battle of Culloden in April 1746. (I'll be going there later on my trip.)
Andrew told me a funny story about this monument. Although today it's not allowed, you used to be able to climb to the top of the monument. Inside is a spiral staircase leading to a ladder and a small trap door.
Once he brought a group of older American women to Glenfinnan. He asked them if they wanted to go up, explaining that it was not easy. But they wanted to go, so he led them to the top.
About halfway up, he heard a shriek from down below. He thought one of the women had fallen and gotten injured. Then he realized why she shrieked.
He was wearing his kilt.
Cow Hill
I wasn't sure what I would do with my second day in Fort William. I wanted to do a hike, but many of them would have required transportation to get to the trailhead, and then I would have to coordinate a pickup time as well.
This wonderful website and phone app called Walkhighlands gave me just what I wanted: a hike of reasonable length and difficulty that I could do right from Fort William: the Cow Hill circuit.
Cow Hill is the reason Ben Nevis is not visible from Fort William. It's just 298 meters high (less than 1,000 feet), but it is right on the outskirts of town and right in front of Ben Nevis.
I did the loop clockwise. It took me two hours to get to the summit of Cow Hill, and about as long to come down. The views from the top were spectacular, and there were many stunning vistas along the way.
I really didn't know what to expect from my time in Fort William. First off, I thought it might rain the whole time. I did get rained on briefly at the end of my hike today, but otherwise it's been beautiful. This afternoon the sun was out and it was 65 degrees Farenheit.
I also thought I'd be stuck here today with little to do. But this morning's hike was one of the highlights of my entire trip so far. And between yesterday and today, the scenery here exceeded my expectations.
There's lots more pictures from Fort William, Glencoe, Glenfinnan, and Cow Hill. Too many, probably (140 of them, and that's after I did a lot of culling), but check them out!
Tomorrow morning I head off toward my next destination. See you soon!