I spent the last three nights in Oban, which I used as a base to explore several islands of the Inner Hebrides. Now I'm on the train heading to my next destination.
I previously wrote about my adventure getting to Oban. I will try to avoid any such adventures going forward.
Oban
Oban itself was a charming place to spend a few days. There were some decent food options and shops, and a pleasant waterfront promenade. While there were plenty of people around, I think it's still early in the season, so there wasn't a mass of tourists. I enjoyed walking around the town.
Last night after dinner I decided to take a walk, and I found a sign marking a path to Pulpit Hill. I never turn down an invitation like that! It was a wee bit of an uphill climb, but the views were worth it.
And this morning before I caught the train, I walked further up the promenade, which is lined with grand Victorian mansions. Today they are almost all inns and guesthouses.
And I came to another path. This one led to Dunollie Castle. I didn't walk all the way to the castle, but I got some good views of it. (I'd previously seen it from Kerrera during my walk yesterday, and from Pulpit Hill — you can just make it out in the photo above that I took from there.)
The Three Isles Tour
In advance of my trip I booked a tour to three of the islands in the Inner Hebrides.
The Hebrides consist of hundreds of islands off the west coast of Scotland. They are divided into the Inner and Outer Hebrides; the Inner Hebrides, with 36 inhabited islands, are closer to the "mainland." The Outer Hebrides have 15 inhabited islands.
I booked the Three Isles Tour with West Coast Tours. They provide bus service, and they coordinate with ferry operators and make it easy to book everything in one place. You could do it all independently, but this made it a lot simpler.
The tour started with a CalMac ferry from Oban (1 on the map) to Craignure (2), on the island of Mull. The ferry ride was about 45 minutes.
Mull
When we arrived on Mull, we boarded double-decker bus to drive across the island to Fionnphort (3). My Rick Steves Guidebook warned that it is a good idea to get off the ferry quickly to get a good seat on the bus. I was the first one, so I went up top and sat in the very front row for a panoramic view.
The drive to Fionnphort took a little over an hour. There was some impressive scenery, but I was surprised at how desolate it seemed. The hills were mostly brown and barren.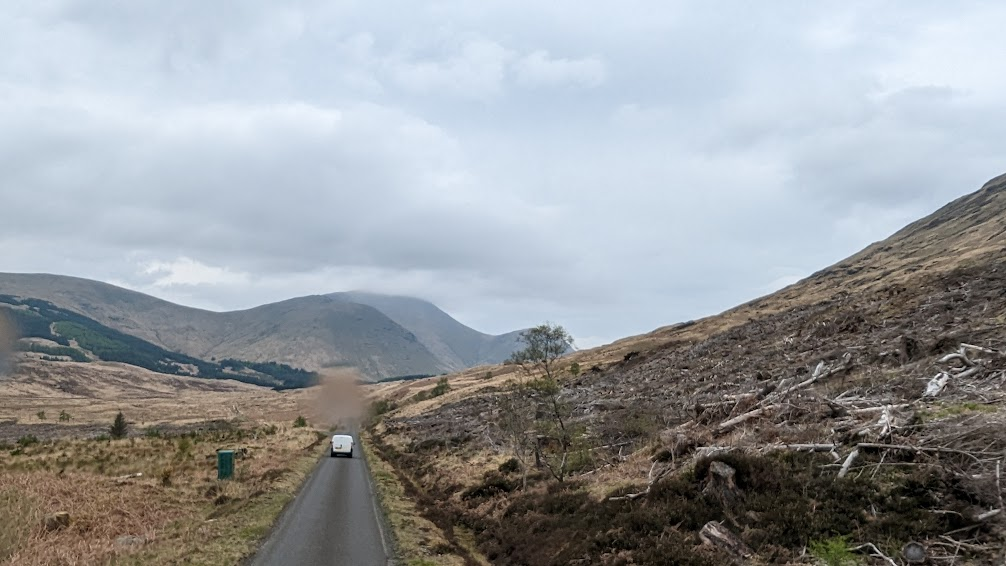 Notice how narrow the road is? There's no way oncoming vehicles can pass. Rather than build an entire two-lane road, they have "Passing Places" every hundred yards or so. You're supposed to pull over when approaching an oncoming vehicle. But sometimes it's too late, and the bus had to back up a couple of times to let cars pass.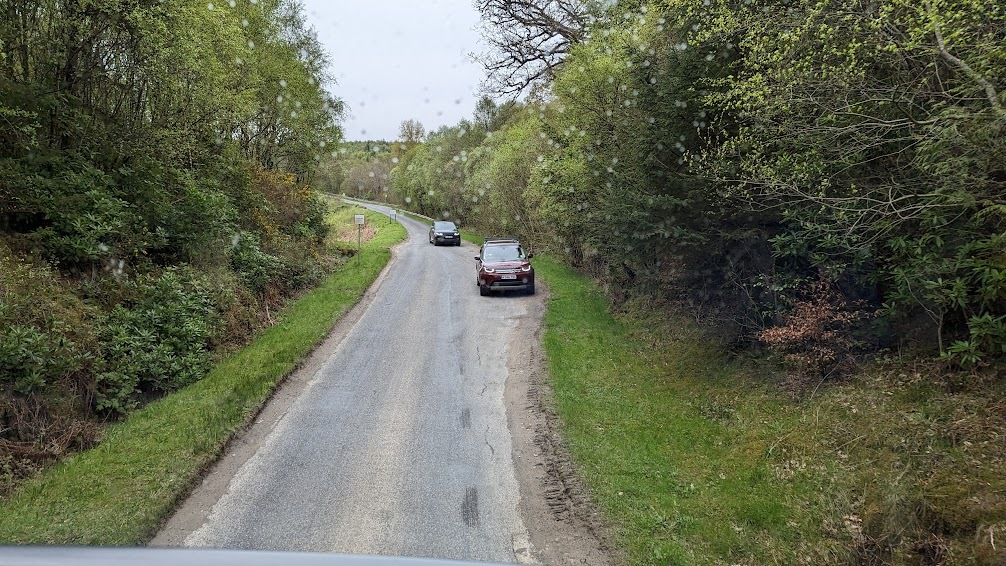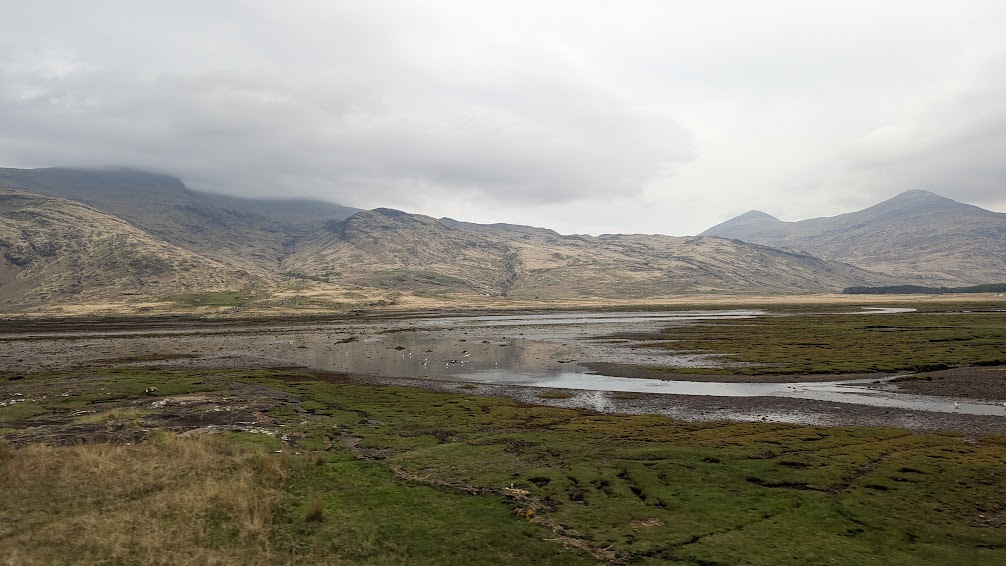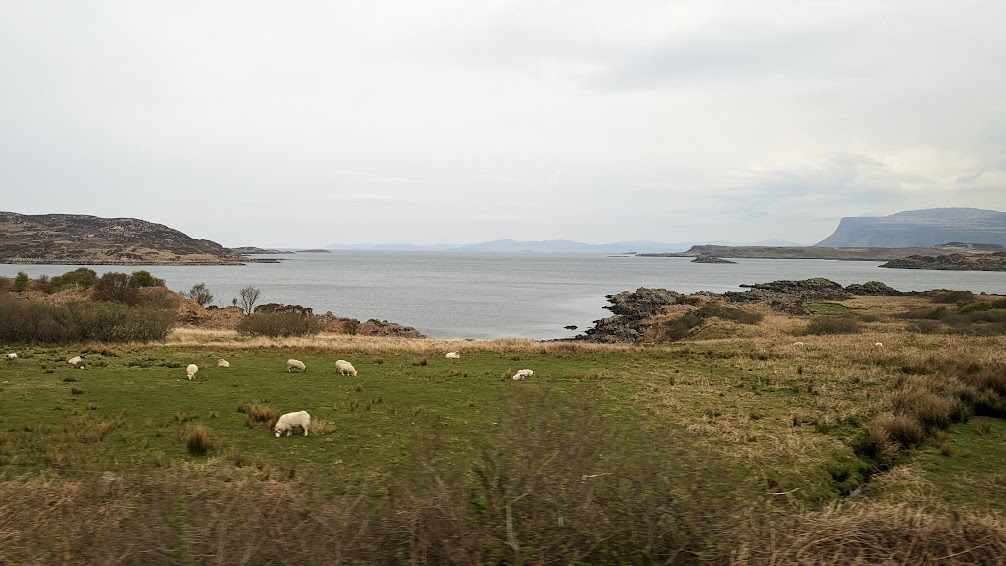 At Fionnphort, those who were going to Staffa got on this smaller boat.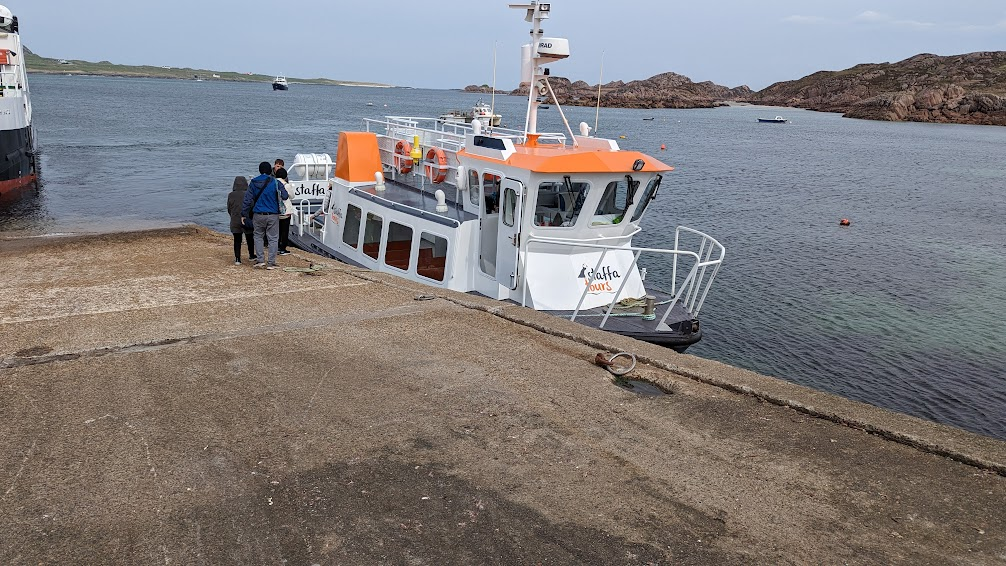 The ride to Staffa (4) took about a half hour.
Staffa
When we approached Staffa, it was hard to imagine how we could land. The seas were very rough. But our two-man crew seemed to be experts, and they pulled right up to the landing platform like they'd done it a thousand times before.
Fingal's Cave
But before I show you more of the cave, you need to listen to this.
Felix Mendelssohn wrote his Hebrides Overture in 1830. The year before he visited Staffa. It is said he was inspired by the sound of the waves echoing in the cave.
Now make sure the music is playing while you look at the photos below.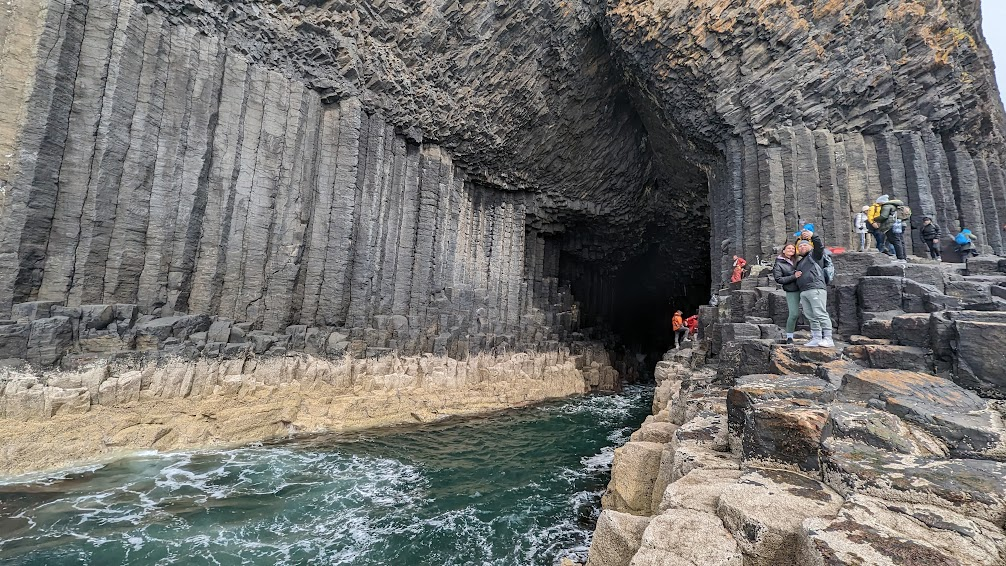 Fingal
Fionn mac Cumhaill was a mythological Irish folk hero. Various medieval Irish narratives tell his story. In one of those legends, he makes a great pathway to Scotland. This is knowns as the Giant's Causeway. The Scottish end of the Giant's Causeway is at Staffa, which has the same hexagonal basalt columns as are found in Northern Ireland. One legend tells that the path to Scotland was smashed by another giant who feared Fionn and attempted to escape to Scotland over the causeway. And the giant got as far as Staffa, where the other end of the causeway remains.
In the 1760s James MacPherson, a Scottish poet, published a cycle of epic poems about Ossian. Ossian's father is called Fingal, and he is based on Fionn mac Cumhaill. MacPherson claimed to have collected these poems from ancient sources by word of mouth, but generally it is believed that he composed the poems himself.
Wildflowers and Puffins
Besides Fingal's Cave, Staffa enchanted me with its profusion of wildflowers, and with its colony of puffins. It is a beautiful and wild place, uninhabited by humans.
I could have spent another hour on Staffa. We only had an hour to visit the cave, wander around, and watch the puffins. For me, it was not enough time.
Our next stop was Iona.
Iona
It was a half hour back to Iona (5 on the map). This island is known as a place where Christianity came to Scotland. St. Columba came here from Ireland in 563 and established an abbey. The island became a pilgrimage site. But gradually its importance waned. Today there are fewer than 200 residents. (I suspect more than that show up every day on the ferries.)
St.Columba's original abbey is long gone, but Iona Abbey stands in its place. Some of it remains from roughly the 13th century, though much of it was rebuit in the 20th century. Today it serves as the home of the Iona Community, an ecumenical Christian spiritual community.
The other historical structure on Iona is a nunnery, considered to be the best-preserved medieval nunnery in Britain. It dates from the early 13th century, and was abandoned at the time of the Protestant Reformation.
I can understand why Iona has an important place in Scottish religious history. But it didn't really impress me. We had two hours there, and I would have much prefered to spend some of that time on Staffa.
I love history, and that includes religious history. I love learning the stories about saints and other reilgious figures and how they lived. Iona certainly has many such stories. For some reason, though, I didn't feel a connection to that history while visiting Iona.
Kerrera
Pronounced with the accent on the first syllable, Kerrera sits just off the coast of Scotland. It was just a ten-minute ferry ride from Oban.
I walked the entire length of Kerrera from north to south and back, about 4 1/2 hours total. I loved Kerrera. The scenery, the sheep, the wildflowers, and the goal of my walk, Gylen Castle, at the southern tip of the island.
\
I started writing this on the train from Oban to Fort William, but the internet was sporadic at best, and the scenery was too special to miss. So I'm finishing it now in my hotel room in Fort William. Stay tuned for all about this leg of my Scotland adventure.
Photos
In case you want more photos than I've included here: