I spent the last two days exploring Cairngorms National Park, with Aviemore as my base.
My first day here, I hired a driver to take me around the park. And yesterday I walked to the nearby estate of Rothiemurchus for some fun and some hiking.
Aviemore
I decided to stay in Aviemore even though some advice I got was that are more charming alternatives. Even though Aviemore is not very interesting, it has a lot of facilities and is conveniently located. It worked out fine.
I knew I had booked a hotel (The Cairngorm Hotel) very close to the train station. But when I walked out of the station, here's what I saw directly across the street: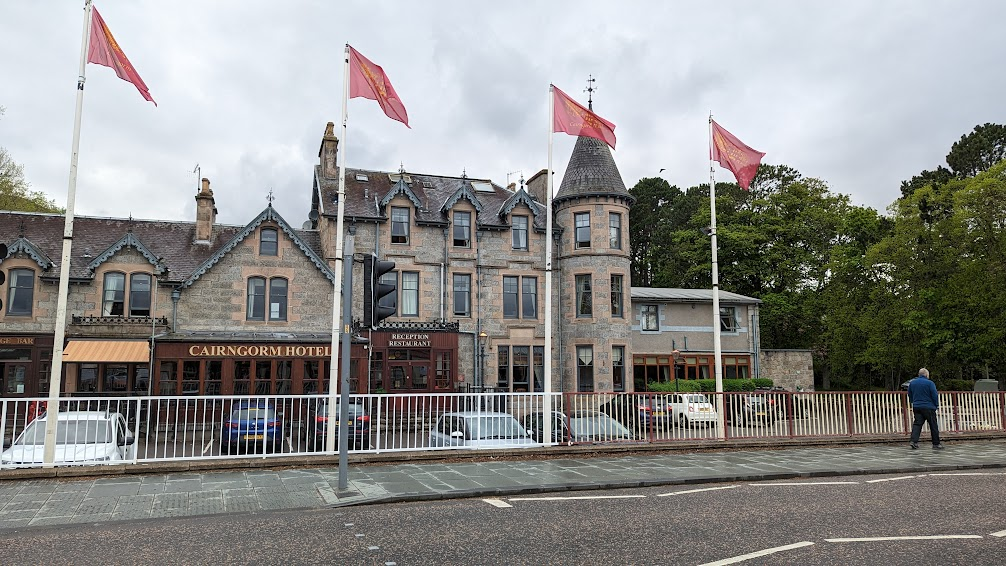 It is a charming hotel with a nice bar and restaurant, but the WiFi here is as slow as frozen molasses.
Last night they had a trivia quiz night in the hotel bar. I joined a family who were up for a short holiday from Edinburgh. We did not do well. I think I have turned off my memory brain during my travels. I'm concentrating too much on not losing anything, not falling, not getting lost, and not spilling food on my clothes. So far it's all been working great (with one notable exception). But last night I was not much help to my team.
Cairngorms
I arranged a tour of Cairngorms National Park with Grand Tours of Scotland. Gordon Davidson, the owner, worked with me to put together a plan. My guide turned out to be his wife, Gill (short for Gillian). She picked me up at my hotel, and we were off on an adventure.
I pretty much left it to Gordon and Gill to take me to places they thought I would enjoy. I told them I love seeing great scenery, doing a little hiking, and seeing historical sites. In retrospect, I wish I had asked for a stop to explore one of the charming villages we passed through. Most of what we saw was awesome, but there were a couple of stops I could have skipped in favor of different activities.
Using the map, you can see where each of our stops was located relative to Aviemore (1), the starting and ending point.
Ruthven Barracks (2)
Our first stop was one of my favorite sites in all of Scotland. I love old ruins, and I had this 18th-century garrison all by myself, except for some Highland cows hanging out in back. (Gill waited in the car).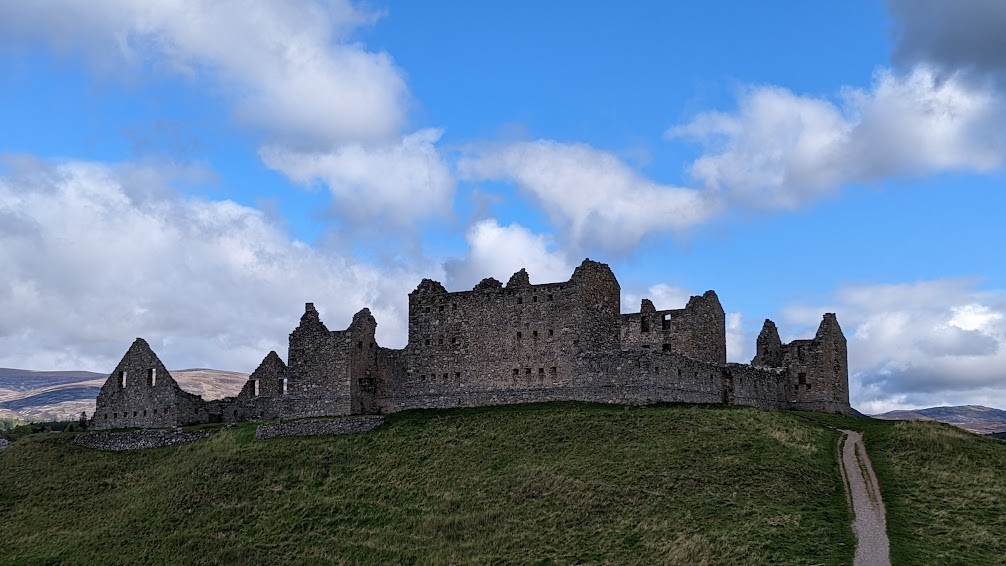 Highland Folk Museum (3)
I read that this outdoor museum was a worthwhile stop, so when Gill asked if I wanted to go here, I said yes. But I should have known better. I generally don't love walking through this kind of reconstructed village from earlier times. I'd rather see actual living places that are historically interesting and still alive.
Cairn Gorm (4)
A funicular goes up the side of this mountain, the sixth highest in the British Isles, and a popular ski resort in winter. The funicular ride was fun, and the views were spectacular. We also had lunch at the restaurant up top, the highest restaurant in the UK. ("Cairn Gorm" is Scots Gaelic for "A blue pile." This mountain gives its name to the entire national park.)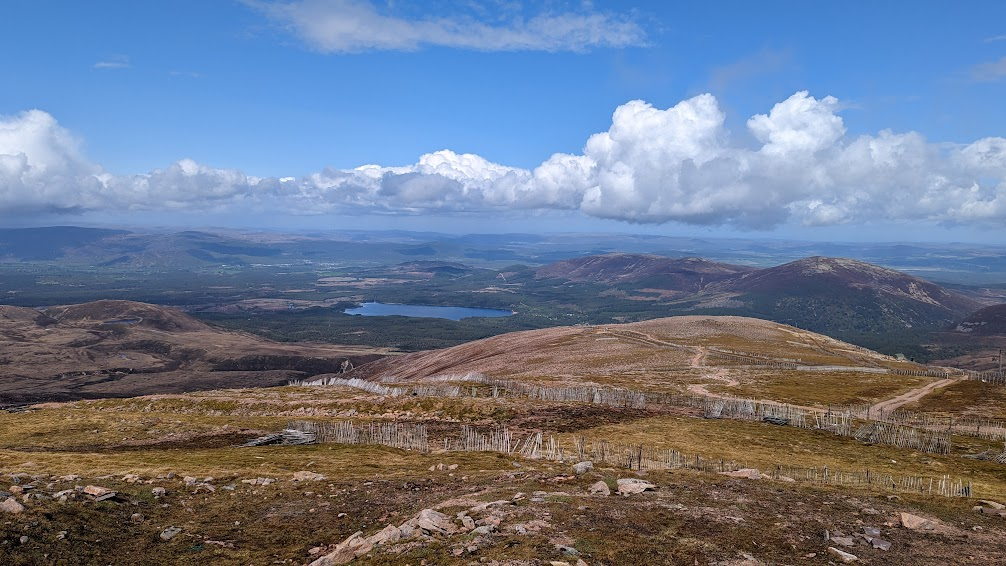 An lochan uaine (5)
About a twenty minute walk from the car park, this very pretty loch ("an lochan uaine" means "the green lake") was a pleasant spot. And it really is green.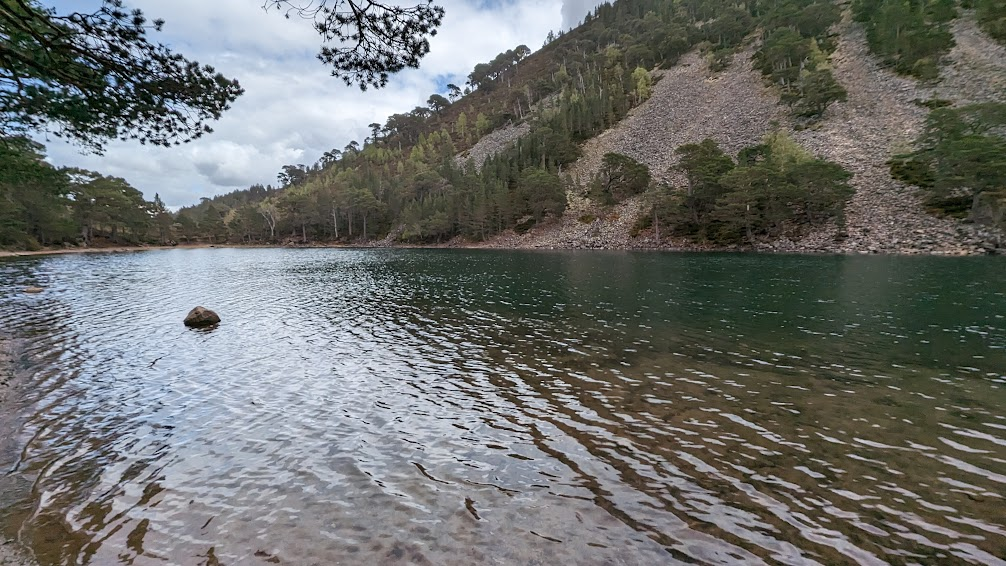 Loch Morlich (6)
At the foot of the Cairngorms, with great views up to the mountains, Loch Morlich has a sandy beach at one end and is very popular with kayakers, windsurfers, and sailors.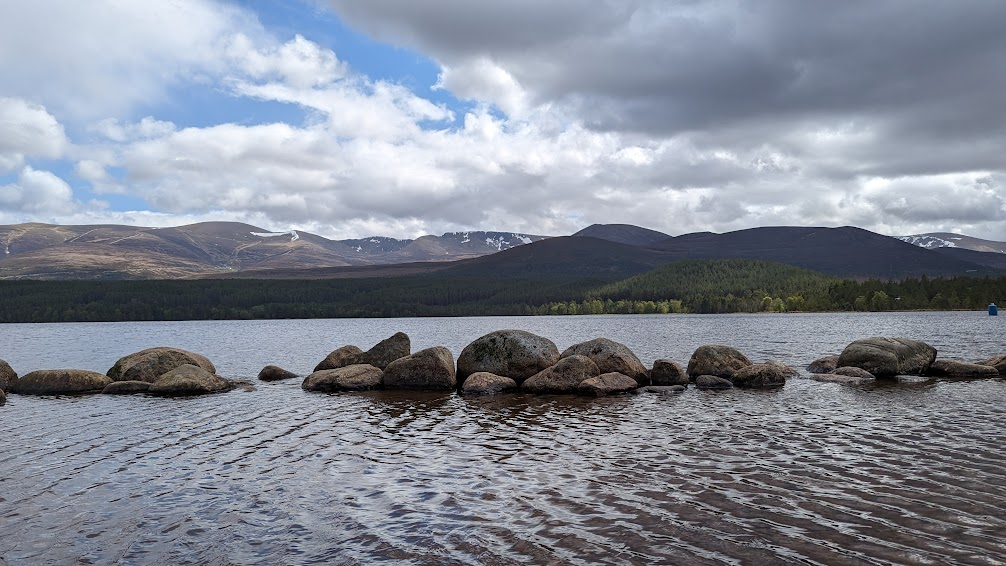 Castle Roy (7)
This 12th-century fortress was a forgotten ruin, and only in 1994 was a Trust established to stabilize it and make it suitable for tourists to visit. They also have weddings here, and it's home to a couple of Highland cows.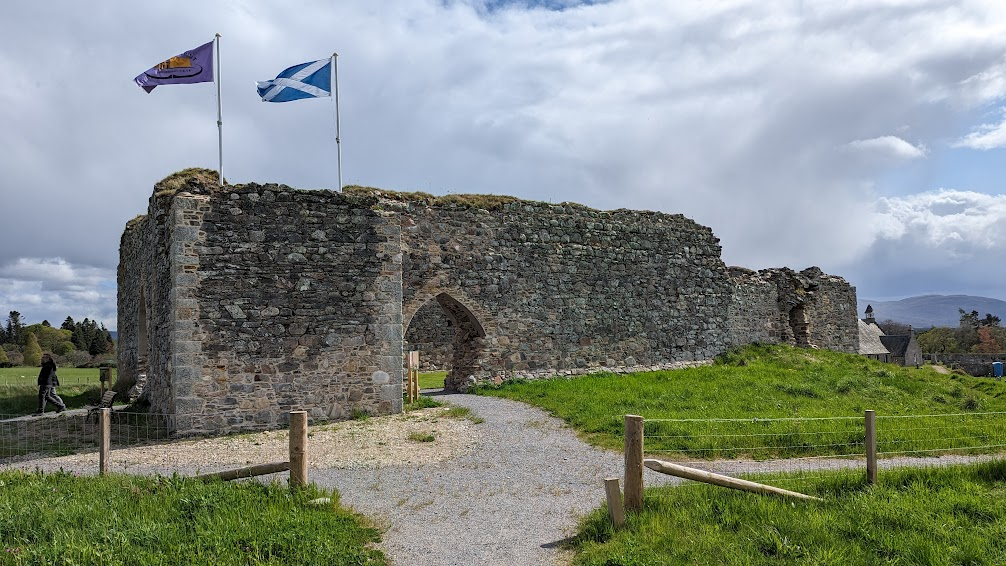 Lochindorb (8)
This is not one of the prettiest lochs I have seen. It has an island with a ruined castle built around the same time as Castle Roy. It's also not the prettiest castle ruin I've seen.
"Lochindorb" means "loch of the minnows."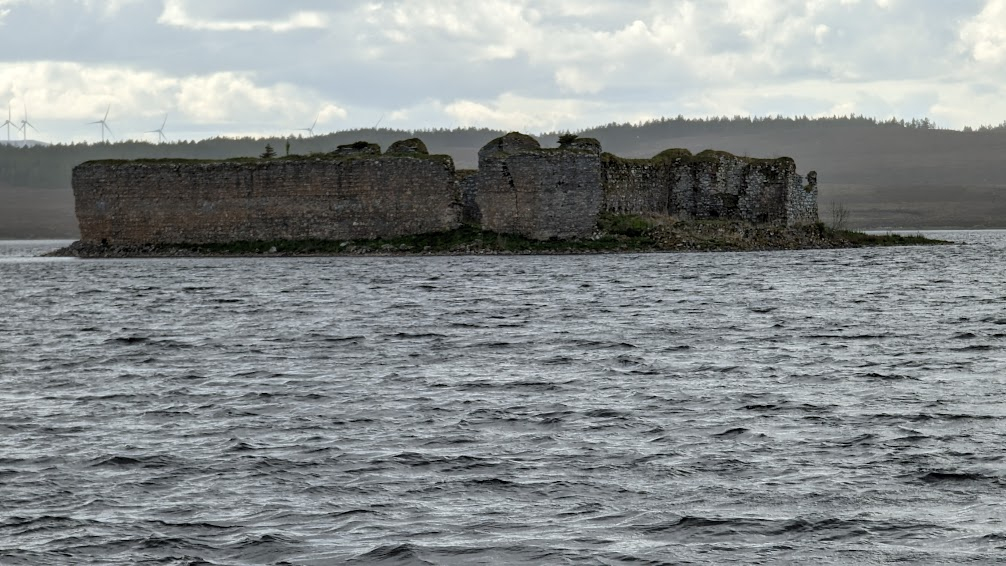 Old Packhorse Bridge (9)
I loved this bridge. It was constructed in 1717 at a cost of £100 to allow funerals to proceed across the River Dulnain to Duthil Church. The bridge also provided a way for tradesmen and locals to cross the river. It is the Scottish Highlands' oldest known stone bridge.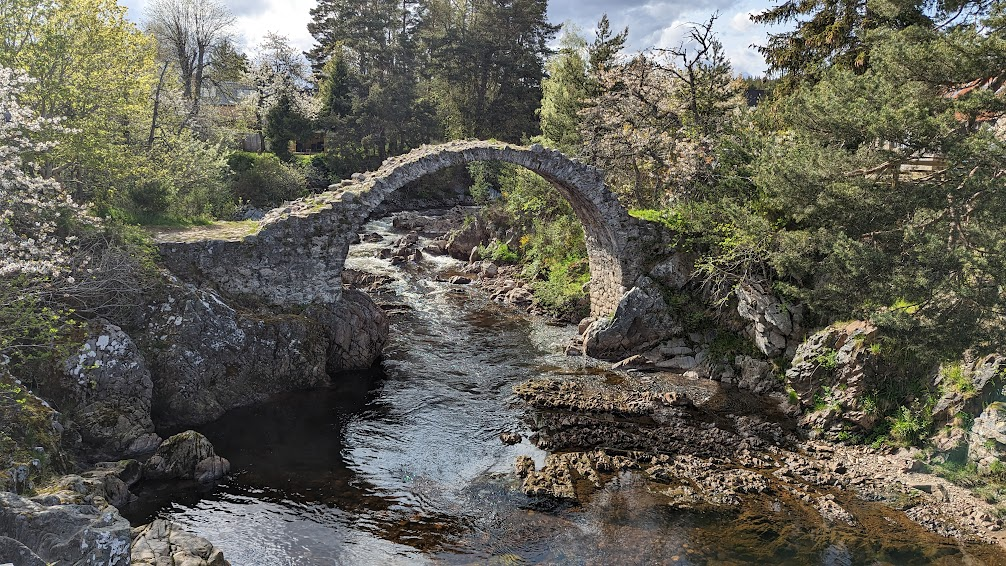 Some of the towns we passed through looked so enticing. If I ever come back here, I think I'd stay in Kingussie, the next train stop south of Aviemore. And I would have loved to have time to walk around Grantown-on-Spey; we drove through both of these towns too quickly even to snap a photo. Gill certainly would have stopped if I'd asked her. But I didn't.
Lots more pictures are in my album.
Rothiemurchis
It's hard to know how to define Rothiemurchus (pronounced rothy-MER-kus). Here's what it says on their webiste:
Rothiemurchus is the area between the River Spey near Aviemore and the top of the Cairngorm Mountains; within it are thriving communities, farms forestry, lochs rivers, part of the ancient forest of Caledon and it lies at the heart of The Cairngorms National Park. Rothiemurchus has been managed for nature and people by the Grant family for almost 500 years. It is widely recognised for its exceptional scenery and includes a wide range of rare and threated birds, animals and plants, as well as ancient monuments and historic buildings. You can experience Rothiemurchus through many outdoor activities which have been carefully chosen so you can enjoy this special place and help care for the wildlife as well as discover more about the wildlife, the stories, the people, the history and the Cairngorms National Park.

https://rothiemurchus.net/about/faqs/
That's really pretty vague. It's not a farm, though there is farmland. And it's not an estate, though maybe at one time it was, or there was an estate there maybe. It's just an area of Cairngorms, I guess, but it seems to have its own management.
In any case, I was able to walk to the visitor centre from my hotel in about 20 minutes. I had booked a quadtrekking experience, which they promised required no previous experience. There were three of us, me plus a Romanian couple, and they gave us a very good orientation and practice session before we were off on a fun ride through farmland and forest. It was a lot of fun. Toward the end we rode for about 200 meters in a river, and our guide went ahead and took our phones so she could capture video.
Loch an Eilean
After my quadtrekking adventure, I went for a walk to Loch an Eilean (Scots Gaelic for "loch of the island"). I had planned to hike around the loch, about three miles, but the walk to the loch turned out to be much longer than I'd anticipated. So I just walked a short part of the way around, far enough to get a close view of the castle on the island.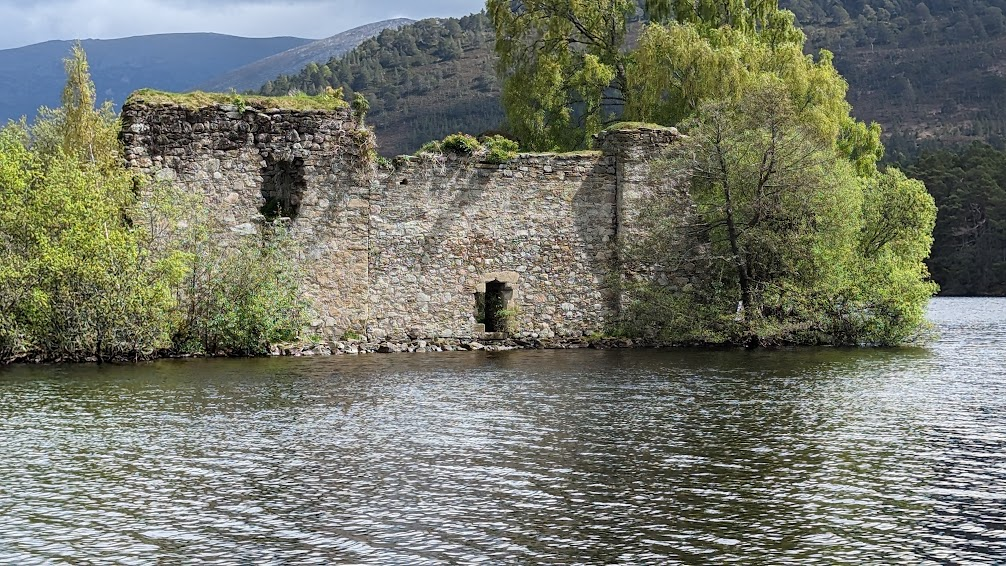 The picture at the top of this post is from my hike to Loch an Eilean. The forests here are so varied; I've seen a number of birch forests like this interspersed with pine forests and other kinds of trees. (One of the surprises I've had traveling around Scotland is how much logging there is, so many of the forests are not old growth.)