I stayed three nights in Pitlochry, and I took a day trip to Dunkeld. I loved both towns. They are both charming, compact, and pleasant places to wander up and down their main streets.
I did a hike starting and ending in each town. These were filled with photo-worthy moments and places I just wanted to linger to enjoy the views, the quiet, or the roar of rapids and waterfalls.
Pitlochry
I chose to stay in Pitlochry because it is a popular town for tourists and so has many options for hotels and restaurants. Before I started planning this trip, I'd never heard of Pitlochry. I was originally working with a travel company to put together the itinerary, and it was their suggestion. So I just went with it.
Here's what Fodor says about Pitlochry:
In the late 19th century Pitlochry was an elegant Victorian spa town, famous for its mild microclimate and beautiful setting. Today it is a busy tourist town, with wall-to-wall gift shops, cafés, B&Bs, large hotels, and a huge golf course. The town itself is oddly nondescript, but it's a convenient base from which to explore the surrounding hills and valleys.

Fodor's Essential Scotland
Rick Steves is a tad more kind:
This likable tourist town, famous for its whisky and its hillwalking (both beloved by Scots) makes an enjoyable overnight stop.… Just outside the craggy Highlands, Pitlochry is set amid pastoral rolling hills that offer plenty of forest hikes and riverside strolls. It seems that tourism is the town's only industry.… But Pitlochry aslo has the feel of a real community. People here are friendly and bursting with town pride.… It's also a restful place, where–after the last tour bus pulls out–you can feel your pulse slow as you listen to gurgling streams.

Rick Steves' Scotland
Rick mentions how Pitlochry is on the edge of the Highlands. It's impressive how the terrain is so different here compared with Aviemore, just 34 miles north. Here are the lush rolling hills I associated with the Scottish countryside. The majestic mountains further north and west were a real surprise to me.
There were certainly plenty of tourists around in Pitlochry, but I didn't really mind. The people were friendly, the streams did gurgle, and my pulse did seem to slow. I had some excellent meals here, and I found things to buy (or lust after) in the many shops and in the Saturday market.
Pitlochry Dam
Pitlochry sits on the River Tummel. Between 1947 and 1950 a dam was built at Pitlochry, and this created Loch Faskally. I took a walk across the dam.
Pitlochry Festival Theatre
I also went to the theatre.
Pitlochry Festival Theatre has been around since 1951. Their current theatre building opened in 1981.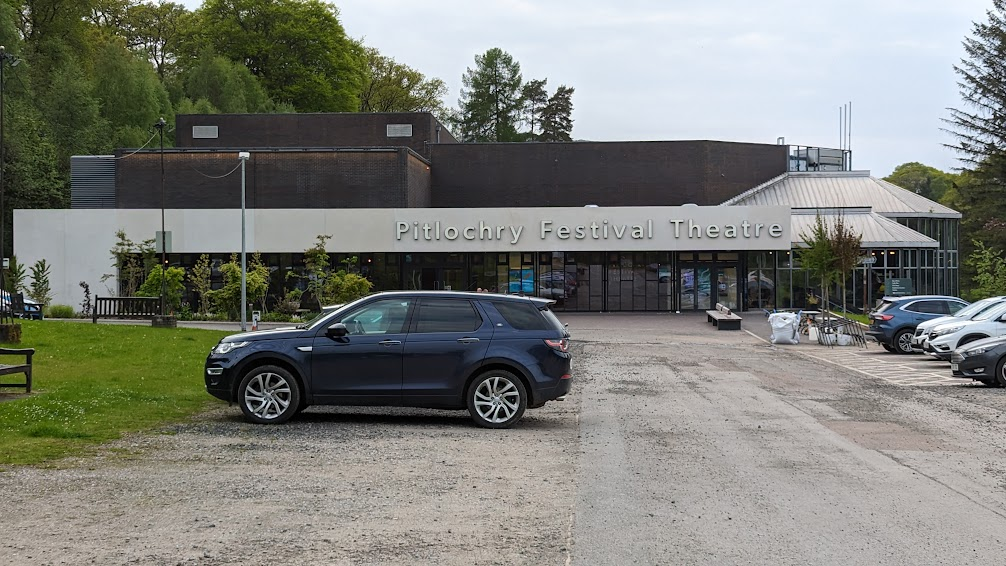 Their website promises "internatioal-standard performances," so I thought it might be worthwhile to see a show here.
The show was Gypsy. They apparently do several productions in repertory, but this was the only show that fit my dates. In fact, last night was opening night.
The theatre seats 538. Last night it was about one-quarter full. That's sad.
Far be it from me to diss regional theatre. They did a lot of things right. The twelve-person cast, with the six orchestra members doubling as cast members (newsboys, "toreadorables," and strippers), was impressive for their versatility. They played well and moved well while playing their instruments.
It was a bit of a stretch that June and Louise were played by the same actors as young children and as older performers. And it was weird that June was played by a black actor in a blond wig. I'm all for color-blind casting. And June being blond is scripted. But her makeup was so weird that at first I thought she was a white actor in blackface.
I also didn't mind that the actor playing Rose seemed to be trying her best to talk and move like Bette Midler. She didn't really have the vocal chops, but her mannerisms and accent made it hard at times to realize it was not the Divine Miss M.
The real problem was that the actor playing June was so weak, both in her singing and her dancing, that it was impossible to understand why Mama Rose thought she had all the talent. If Louise doesn't come across as obviously less talented than June, it's a problem.
Dunkeld
Other than my walk around town, which I did on my first afternoon, and the theatre, I didn't have an agenda for Pitlochry. But there were two nearby places I wanted to visit. The first was Dunkeld, a thirteen-minute train ride south.
Rick Steves writes this about Dunkeld:
This appealing wee town…is worth a stretch-your-legs break. While the town center is pleasant–with flower boxes, cleverly named shops, folk music, and a growing foodie scene–its claim to fame is its partially ruined cathedral on the banks of the River Tay.

Rick Steves' Scotland
And Fodor says this:
The historic town of Dunkeld remains intact and beautifully preserved with its rows of white houses around the town square. The original village was destoryed in 1689 in a freocious battle during the Jacobite Rebellion and was eventually rebuilt.… The town is overlooked by the grand but semiruined 12th-entury cathedral (still used for services). The bridge across the River Tay takes you to Birnam Wood, where Shakespeare's Macbeth met the three witches who issued the prophecy about his death.

Fodor's Essential Scotland
Birnam Wood
The River Tay is Scotland's longest river. The River Tummel flows into the River Tay about halfway between Pitlochry and Dunkeld.
In Act IV, Scene 1 of Macbeth, one of the apparitions tells him this:
Macbeth shall never vanquished be until
Great Birnam Wood to high Dunsinane Hill
Shall come against him.
In Act V, Scene 3, Macbeth responds to reports that Scottish and English armies are preparing to attack, saying, "Till Birnam Wood remove to Dunsinane I cannot taint with fear."
But when passing through Birnam Wood, Malcolm tells his men
Let every soldier hew him down a bough
And bear 't before him. Thereby shall we shadow
The numbers of our host and make discovery
Err in report of us.
In Birnam is an oak tree at least 600 years old. It would have been a mature tree in Shakespeare's day, and it is believed to be the only remaining tree from Birnam Wood that Shakespeare might have known. Records exist of a theatrical troupe's visit to Perthshire in 1589. While there is no record of the names of any of the members of that troupe, it is possible that Shakespeare was there and took inspiration from this visit when he wrote Macbeth.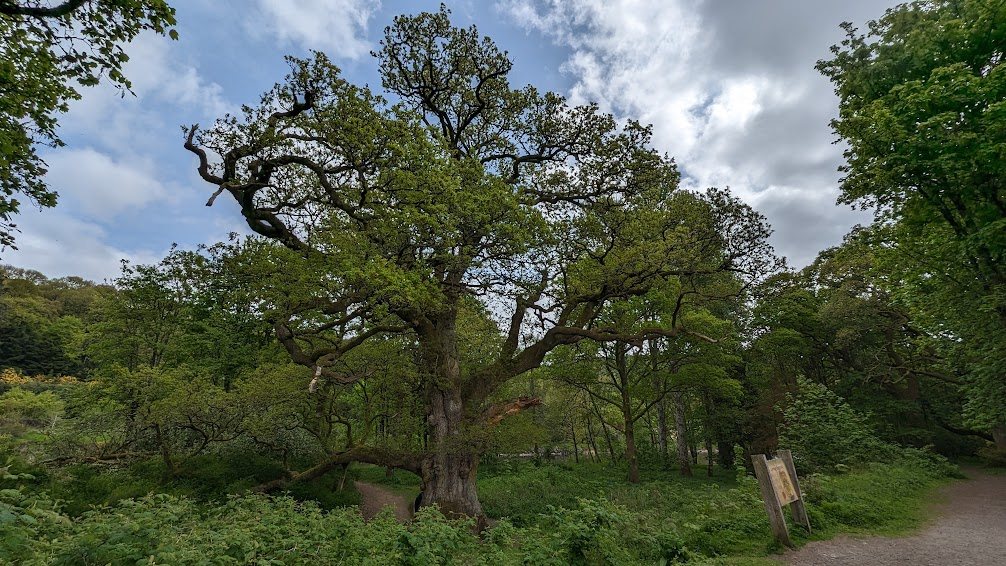 Dunkeld Cathedral
Construction of the Cathedral at Dunkeld began in 1260. It was completed in 1501. It is no longer a cathedral, and Reformation iconoclasts tore most of it down later in the 16th century. Today, what was originally the cathedral's choir is used as a parish church; the rest is a ruin. Unfortunately, the ruined nave is undergoing a major restoration project, is covered by scaffolding, and is inaccessible.
Dunkeld town
The town is as appealing and beautifully preserved as Rick and Fodor say.
Hiking in Perthshire
Much as I enjoyed both Pitlochry and Dunkeld, the surrounding hills, valleys, rivers and lochs beckoned powerfully. I can't begin to describe how gorgeous the Perthshire countryside is. Fortunately, I don't have to. I have photos!
I have to call out the walkhighlands app and website. They have hundreds of walks, from short, easy city tours to multi-day treks across Scotland to technical climbs on the highest Munros. For each walk they give detailed directions, so it's easy to not get lost and to know what to expect.
Fiddler's Path
The Fiddler's Path, starting and ending in Dunkeld, was 9 km (5.5 miles) and took me about 2 1/2 hours. The path was rich with gorgeous wildflowers, fabulous trees, and beautiful views of the River Tay.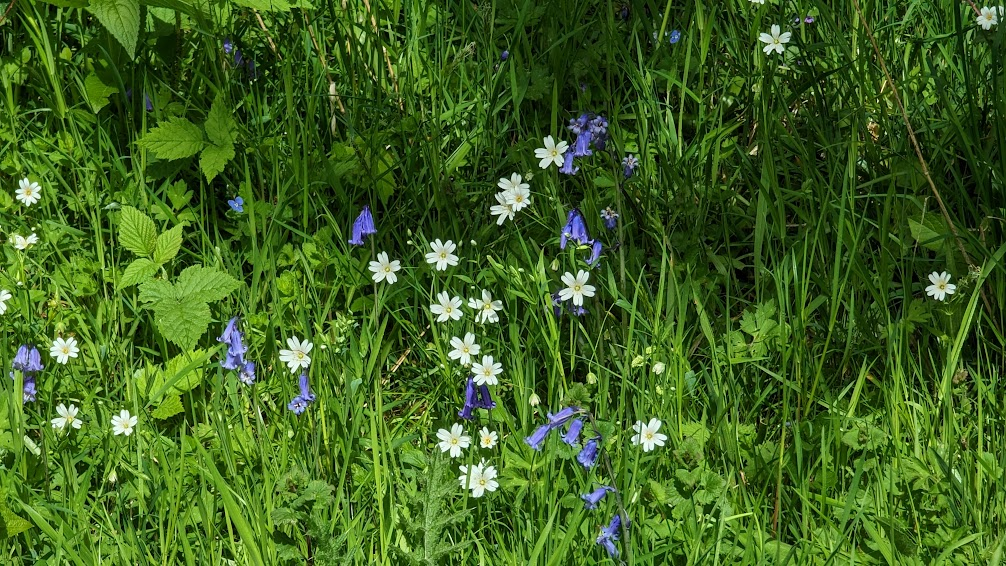 Loch Faskally and River Tummel
This was actually a combination to two hikes: Loch Faskally and the Linn of Tummel circuit. I did a figure eight, starting and ending at my hotel in Pitlochry, a total of a little more than 13 km (8.2 miles). It took about 5 hours.
You can probably tell how hard it had to be to select just a few of the photos I took from these hikes. There are plenty more:
Dunkeld (including the Fiddler's Path hike)