I stopped at a local grocery store this evening and picked up some fixin's for dinner instead of eating at a restaurant. I did this because (1) I was too tired to sit in a restaurant and entertain myself while eating dinner; (2) I have been eating a lot of food that isn't green, and I was craving something green, and (3) I missed the entrance to the parking lot for the restaurant I was going to, and the next turn was a local grocery store.
I bought salad fixin's plus a bottle of wine, and I've already drunk most of the wine but there's still some left, so this post will probably be incoherent, and I will probably be embarrassed that I posted it.

My frame of mind is also attributable to solar insanity. That's what happens to Seattle residents when we spend too much time in the sun.
I had a 9:00 reservation for a Pink Jeep Tour, and I woke up early enough to stop at some cool spots for hiking and looking at red rocks.
Did I mention there are a lot of red rocks around Sedona? And whichever direction you point your camera is the most stunning. Though they're at their best at sunrise and sunset. Judge for yourself. I can't decide which of these pictures of Cathedral Rock is best. I took all of these at the end of the day today. Please vote for your favorite.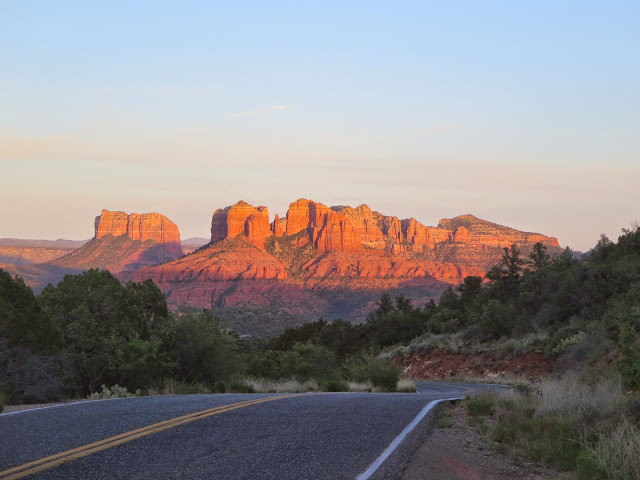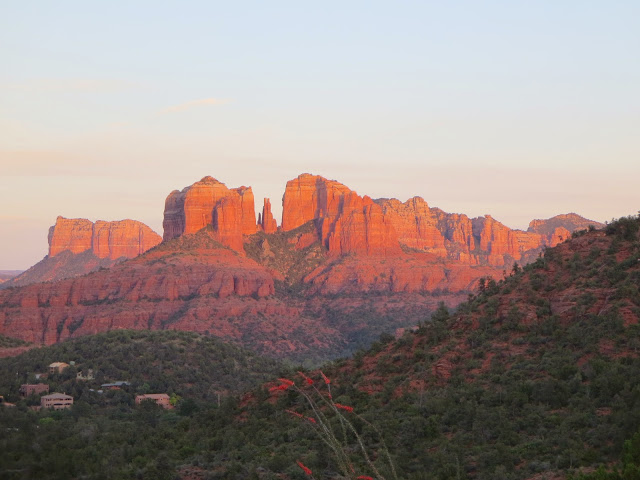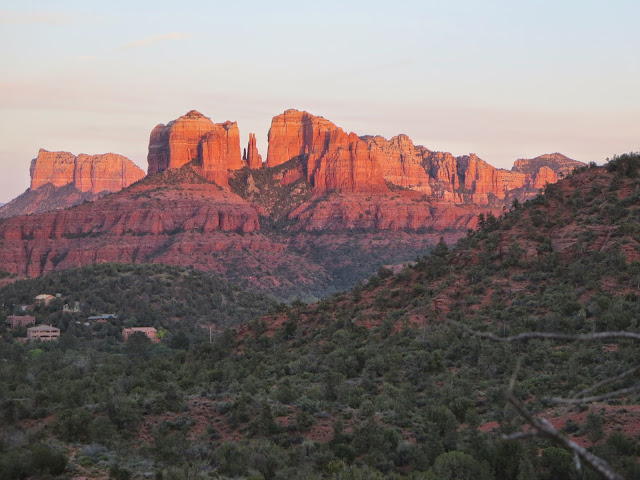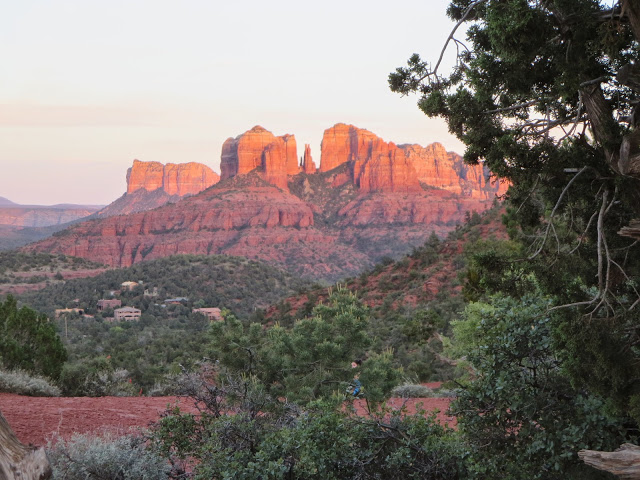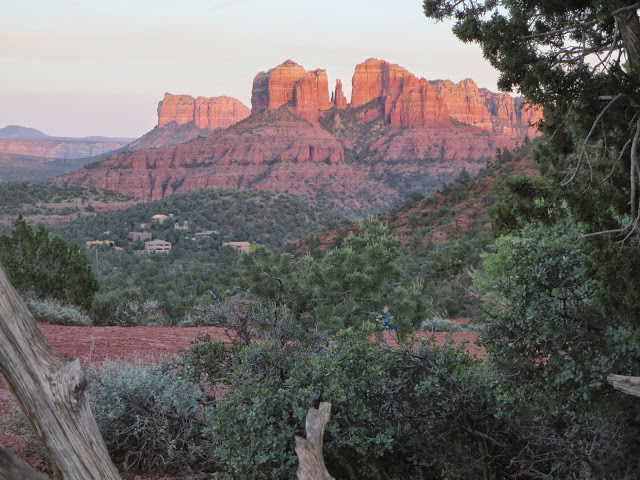 Before the Pink Jeep Tour I went to do some hiking near Sedona Airport, where there are some good views of red rocks. The I went on the Pink Jeep Tour. We saw a lot of red rocks while riding in a pink Jeep. The best pictures were videos, but the WiFi is slow here where I'm staying, so I'm not uploading them right now. If you want to see more pictures of red rocks, you can probably find some here.
After the tour, I walked around the main commercial area of Sedona. This is a town that suffers from sprawl in the worst way, and most of it is only accessible by car, but there's a central area that's walkable, about 2 or 3 blocks with shops and a lot of eateries. I had lunch at a place that's supposedly famous, but I would venture to guess a lot of places here are supposedly famous. John Wayne supposedly ate (or drank) at this place when he was filming a movie around some red rocks. It's called the Cowboy Cafe or the Cowboy Inn or the Cowboy Kitchen or something with Cowboy in the name. I had a combo of buffalo skewers, rattlesnake and rabbit sausage, and cactus fries.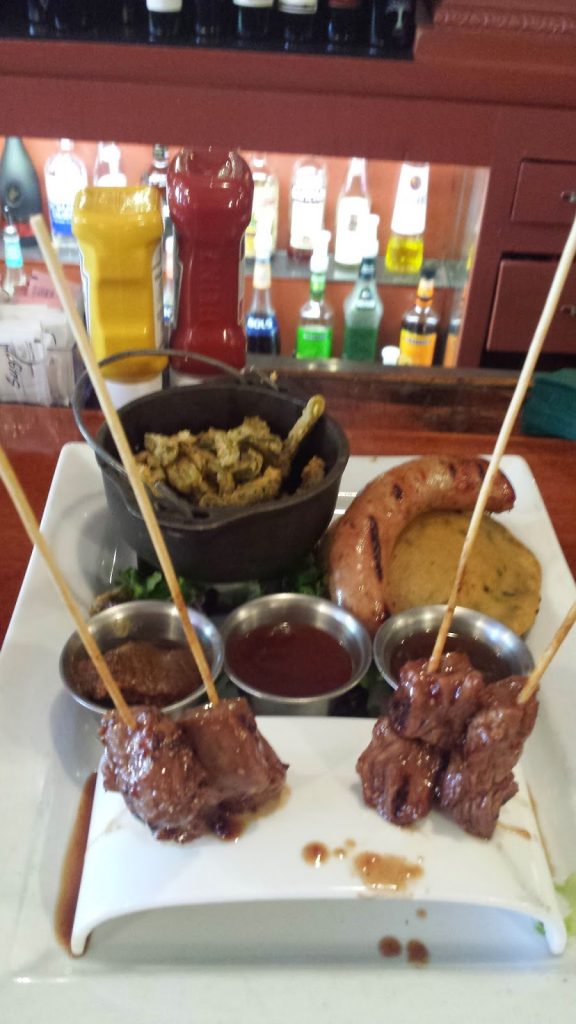 After lunch I drove to a place where someone built a chapel among the red rocks.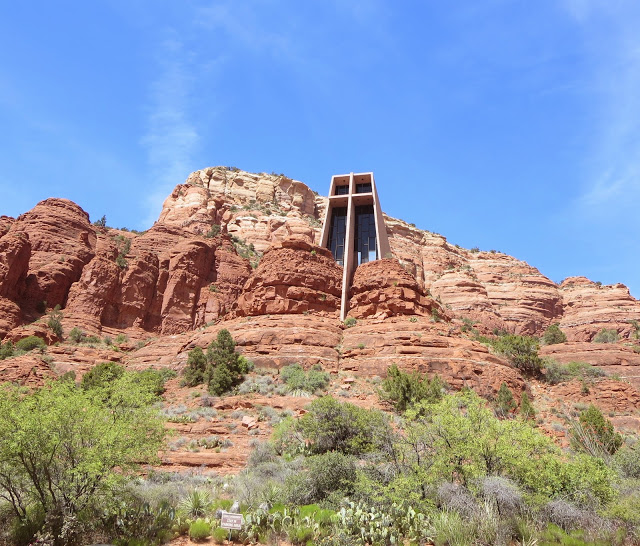 Then I drove to the town of Jerome, about 27 miles southwest of Sedona. Jerome was a major copper mining town that had more than 10,000 people in its heyday; now it has a few hundred, plus a lot of tourists who come to see it because it's a national landmark and has a lot of art galleries and restaurants and such.Then I came back to Sedona and took another side road to look at some more red rocks. Then I failed to find the restaurant where I was planning to eat dinner, and then I bought some groceries and then I ate some dinner in my little cottage which is very pleasant and then I'm ready for bed. Thanks for reading. And don't forget to vote for your favorite view of red rocks.