Thursday 24 May, 22:30
We set sail at 17:45, went through about 4 hours of the most beautiful scenery, the sun has set but the horizon is still glowing red out my cabin's porthole.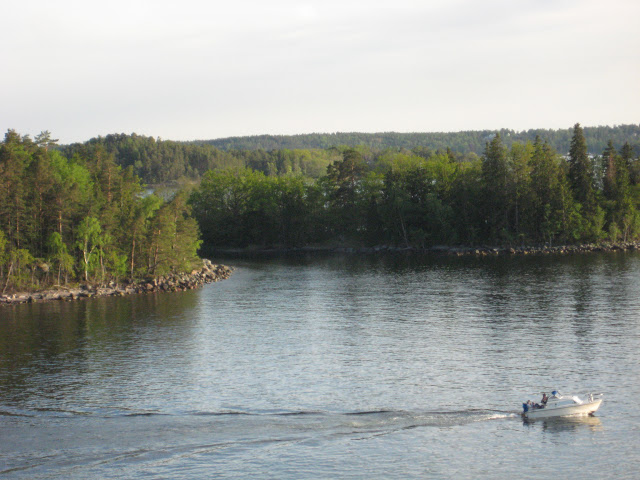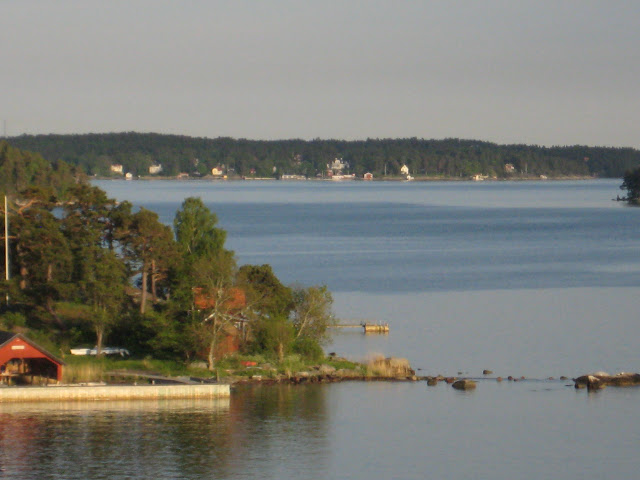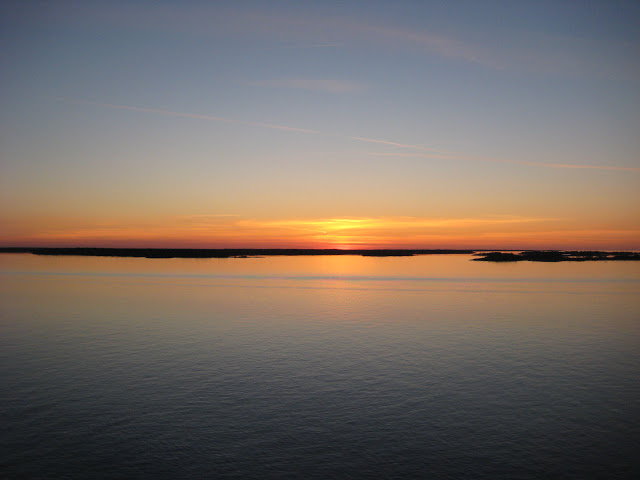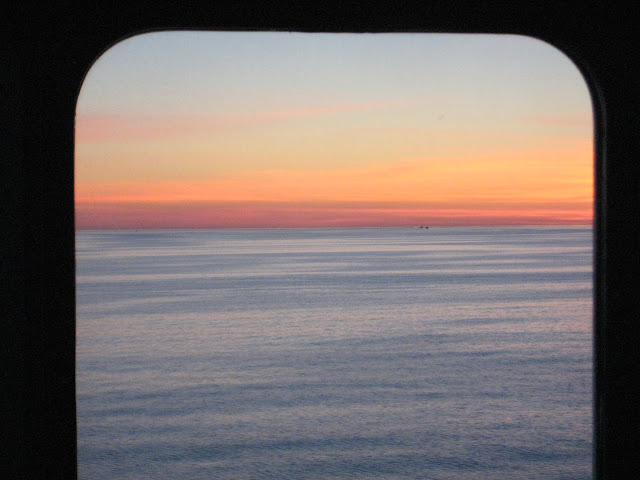 We arrive in Tallinn at about 10:00 tomorrow. I loved Stockholm, but I was ready to move on after four days. It's a large city, and it kind of wore me out. I think the rest of my trip will be much more relaxed. Tallinn, Helsinki, and Reykjavik are smaller cities, so I don't think I'll have to strategize so carefully about where to be when and how to group my activities most efficiently.
I took the train to Uppsala this morning, partly because I needed a day out of the city. Uppsala is a pleasant university town; its university is the largest in Scandinavia. Among its most famous graduates is Carl Linnaeus, father of taxonomy.
I started by going into the main university hall, which had a big auditorium and impressive lobby area.
Then I went to the cathedral. It's a huge medieval church, built between the mid-13th and early 15th centuries. There was a big fire in Uppsala in 1702, which damaged the original roof and towers and interior, but the basic structure remains, with the addition of two tall spires and a spruced-up interior. Carl Linnaeus is buried there, as is Gustav Vasa, the national hero of Sweden. My favorite sculpture in the cathedral is a 2005 piece by Anders Widoff called "Maria (The Return)." I'll post photos when I get back.
Then I went to the Museum Gustavianum, the oldest building in the university, which has two main attractions: an anatomical theatre where students and guests could watch dissections, along with some gruesome relics from said dissections, and the Augsburg Art Cabinet, a piece of furniture that took six years to build in the late 1620s/early 1630s. It was built to contain more than 1000 tiny objects of art and science and live in the first half of the 17th century. The objects from the cabinet are on display in various cases, and an interactive computer program allows you to locate the objects and see where they were stored in the cabinet. Fascinating stuff.
The I saw the house where Carl Linnaeus lived (it's a museum now) and his garden, where everything is organized taxonomically. The garden was originally established by Olof Rudbeck, and in his honor, Linnaeus named a flower, Rudbeckia (aka black-eyed susan). I have some in my garden in Seattle.
After that I went back to Stockholm, rested a bit, and took the tunnelbana to the ferry terminal, boarded the ferry, and here we are. The ferry is more of a cruise ship; there was a salsa band playing when we came in (and they had salsa dance lessons); there's a sauna and spa, a casino, about a dozen bars and restaurants from fast food style to fine dining, duty free shopping which was mobbed by locals getting good deals on stuff they usually pay exorbitant taxes on. (I bought some cookies with my last Swedish kronor.)
I prepaid for the buffet. It was an impressive layout of different kinds of food, and I had tasting portions of almost everything, but everything was mediocre or worse.
Okay, I'm pretty much falling asleep at the keyboard. I'll try to post this tomorrow. (There's wifi on board, but only in a small area, and it's a really slow connection.)
See you in Tallinn.
Friday, 25 May, 17:00
I'm in a park in Tallinn, up on a hill with a view of mostly modern Tallinn (see photo). But it's quiet and pleasant, with lots of shade trees.
Tallinn is enchanting! It reminds me of Venice in the sense that it works best if you are willing to wander aimlessly and get lost in the winding streets. The old town (aka the tourist area) is small, but there are countless streets to meander in, and I feel like I've just begun.
The ferry arrived almost on the dot at 10:00 (I'm now at GMT +3, so ten hours later than Seattle.) Disembarking from the ferry was a mad rush of humanity from everywhere carrying sacks filled to the brim with alcohol and cigarettes. I wonder if there's a limit; otherwise, why wouldn't they wait to buy all that crap on the way home. The prices, as best I could tell, weren't anything special from my perspective, but if you're Swedish, you probably save a bundle by making this trip a few times a year and stocking up on the fuel for your vices.
It was about a 20 minute walk from the ferry terminal to my hotel, which is really quite nice. The carpeting in my room could stand to be replaced, but otherwise it's spacious and comfortably modern, but with character. The desk clerk was so friendly and warm. She seemed thrilled to welcome me on my first visit to Tallinn, gave me a great orientation to the town, and answered all my questions.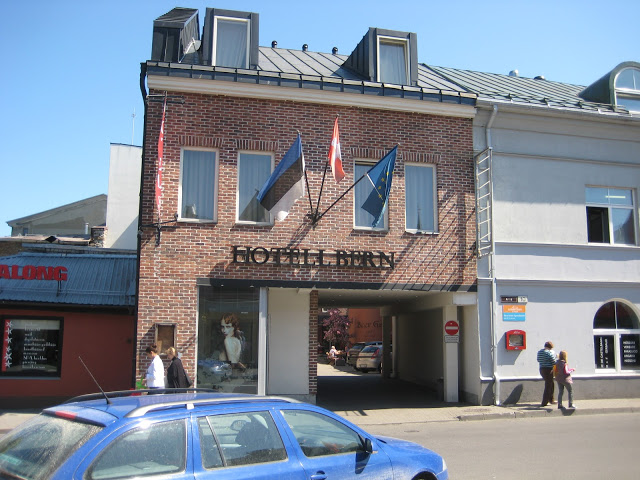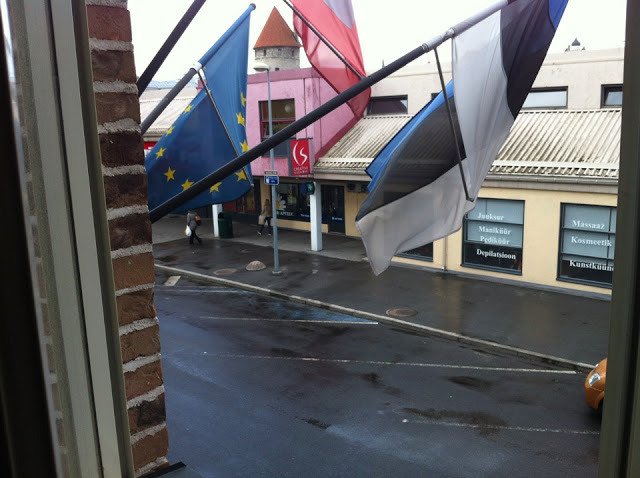 The hotel isn't in the old part of town but is right on the edge, about 2 blocks from one of the gates. It was 10:30 when I set out, and there was a free walking tour at noon, so I just roamed about until then. Everyone speaks English, and unlike in Stockholm, it's the assumed language in the old town. There are some great maps to help get oriented, but I only used them if I was looking for something specific; otherwise, as I said, it's a blast to just wander into narrow streets. I had to keep remembering to look up, because often there are interesting facades on buildings several stories high. And the entire area has cobblestone streets, or as the locals boast, you get a free foot massage just walking around the old town (or, in Estonian, Vanalinn, though I haven't heard a single person refer to it as anything but the old town).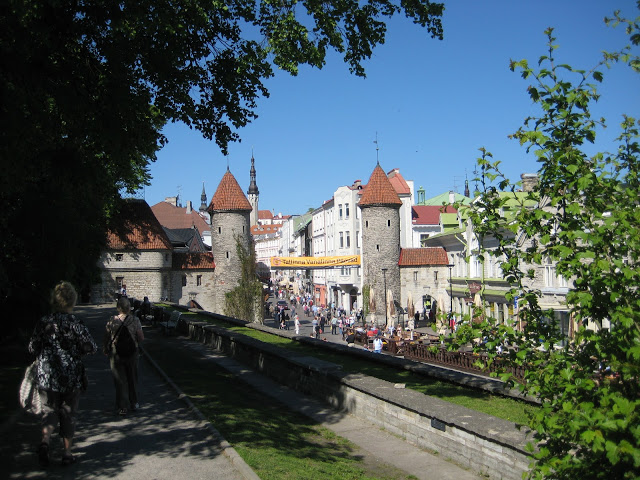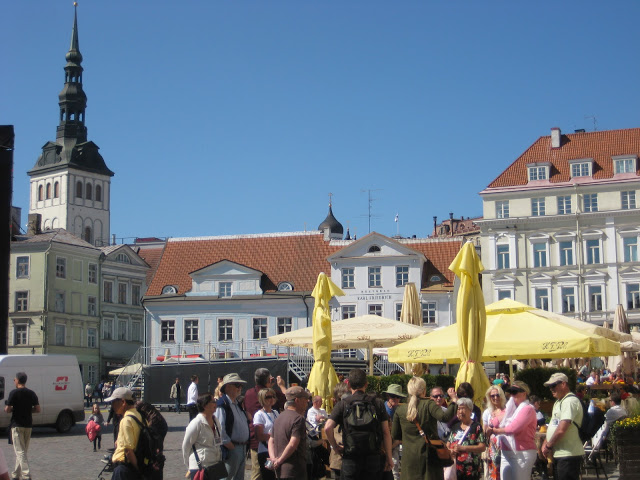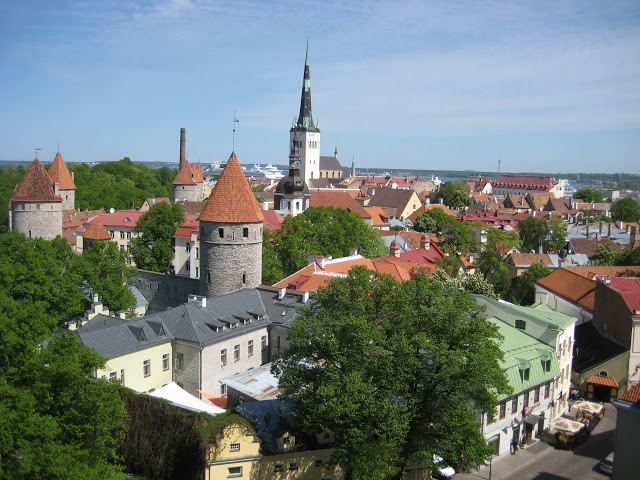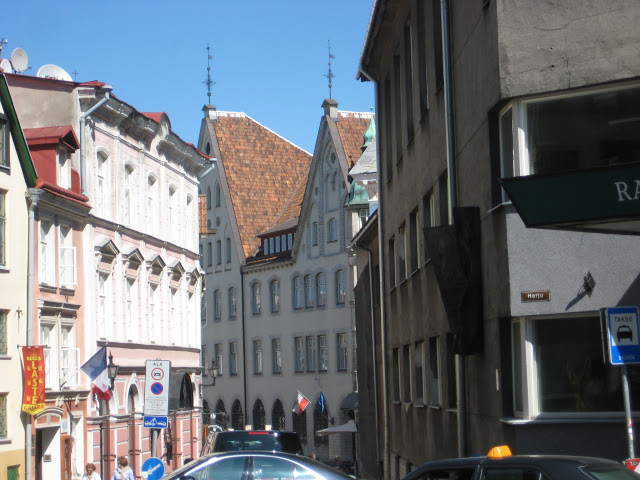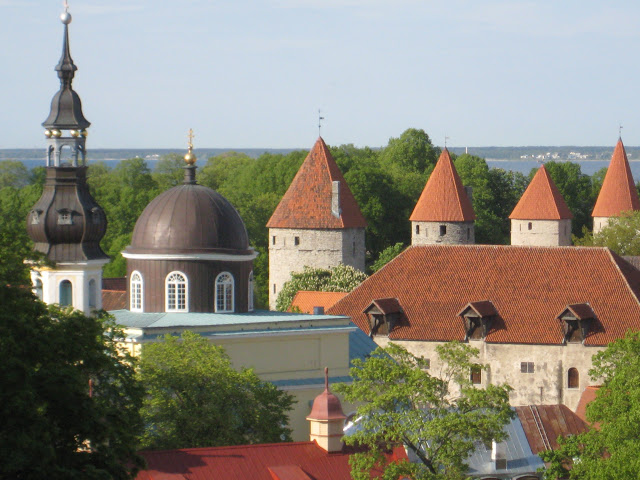 The daily free tour is put on by a non-profit group, and they do accept tips. The guides are all students; ours was a pretty blond (as she said, we want to be Scandinavian, and it's natural, thanks for asking) named Ann. Her English was better than anyone I've spoken with on this trip; she peppered her talk with idioms and humor, and she shared a lot of fun stories and legends. It was a fantastic tour, and it gave me a good orientation and whetted my appetite for seeing more., which I'll get back to as soon as I'm done.
I was surprised by the number of tourists in general, and there are a lot of Americans. Since I don't actually know anyone back home who has been to Tallinn, I never thought of it as a destination for American tourists before. I suspect they are largely day trippers on an excursion from Helsinki (though I don't know anyone back home who's been to Helsinki either). If that's the case, when I start back to my wandering, there won't be as many tourists around.
On the tour I learned a lot of interesting tidbits about Tallinn and Estonia, none of which I can remember now. Which probably means I didn't learn anything.
At the end of the tour Ann steered us toward some good places to eat (steer clear of the ones in the Raekoja Plats, or town square, as they are the most touristy and overpriced; as you move further from the center, the prices go down. In fact, the prices for food are absurdly cheap. I went to a place she recommended for crepes and had a huge crepe with mushrooms and onions and blue cheese sauce, plus a 50 cLglass of beer, all for 6.5 euros (about $8.50). In Stockholm a standard lunch was close to $20 without a beverage.
After lunch, more wandering, and then I went back to the hotel to actually get my key and get into my room (it wasn't ready this morning). And now I'm here. I'll be posting this later when I'm back in my room tonight.
Tomorrow my ferry for Helsinki departs at 18:00. (Now that I've gotten used to 24-hour time, I really like it.) So I have the day free for more exploration, plus I'm going to catch a bus out to the Song Festival Grounds. I'm looking forward to seeing the place where history was made through choral music. You have to love a people who sang for their freedom — and won.