The train ended up arriving in Stockholm 35 minutes early last night. I'd originally messaged Niklas, the owner of the apartment where I arranged to stay via airbnb.com, with my expected arrival time, but then when my plans changed, I messaged him several times over the course of the day to let him know, but he never replied, so I was concerned he hadn't gotten the messages. I tried calling him when I got off the train, but I got a message that the number was not in service. Then, starting to feel uneasy, I got on the metro, traveled the three stops, and walked the eight blocks to his address, which I couldn't find.

There's a nice park right across from where the building ought to have been, so I went there and tried calling Niklas again. This time I got a voice message, so I left my number, tried messaging him again. I started thinking I'd have to call airbnb because I had no idea what to do at that point, but I called him one more time and he answered, came down, and we finally connected.
The apartment is tiny, one room plus a kitchen, bathroom, and small entry. The neighborhood is a wonderful mix of residential and commercial, with restaurants and shops, as well as that nice park. I feel like I'm living like a Stockholmer (Stockholmite? Stockholmian? Stockholmese?) And I think this neighborhood is Stockholm's version of Seattle's Capitol Hill. I'll have to take a walk around the area in a little while, when I go out to get dinner, to get a better feel for it.
Niklas was still cleaning up and finishing laundry from the previous guests, who had left just about an hour before I got here. By the time he was done and I was settled in, it was late and I fell into bed. I woke up early and was feeling a bit fatigued. A part of me felt like I needed a vacation from my vacation, but there's just so much to see and do and not enough time. Reconciling the desire to see everything with the need to pace myself is a hard lesson to learn, but today was a real turning point for me. First, I didn't rush out at the crack of dawn. I had a leisurely breakfast and tried to plan my day and week. I set out at 9:30 after deciding to spend the day exploring the old town (Gamla Stan) and then playing it by ear.
I should share some general impressions of Stockholm first. It's big! Much more than Copenhagen, which felt quaint and charming, where commuters traveled primarily by bicycle, Stockholm has the feeling of a major urban center. The metro (Copenhagen's metro consists of two lines which overlap for half their distance; Stockholm's is a sprawling, tangled network of subway and commuter rail lines) and the buses are crowded with commuters, there's lots of traffic, hustle, and bustle, people on the go everywhere. Getting off the train last night, I found myself in a vast underground transportation center, nothing like the compact station in Copenhagen. The metro stop closest to this apartment is three stops away from downtown but when I came out of the station and emerged onto the street, I still felt like I was in the heart of the city.
That first impression, along with a general feeling of fatigue, was largely responsible for my funk this morning, a feeling that nearly led me to spend the day in the apartment and just take a break from being on the go. But today ended up being one of the highlights of my trip so far. On three separate occasions as I wandered about the city, I found myself becoming verklempt, just overcome with joy and awe about being in this beautiful city on a perfect bright, sunny day with temps about 17 degrees Celsius (just under 70 Fahrenheit).
I just relocated to a restaurant on the corner called Roxy's, sitting outside across from the park, enjoying a glass of wine and deciding on what to have from the menu.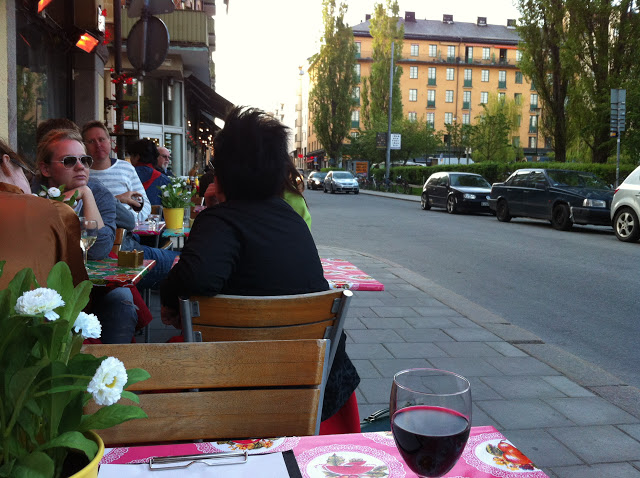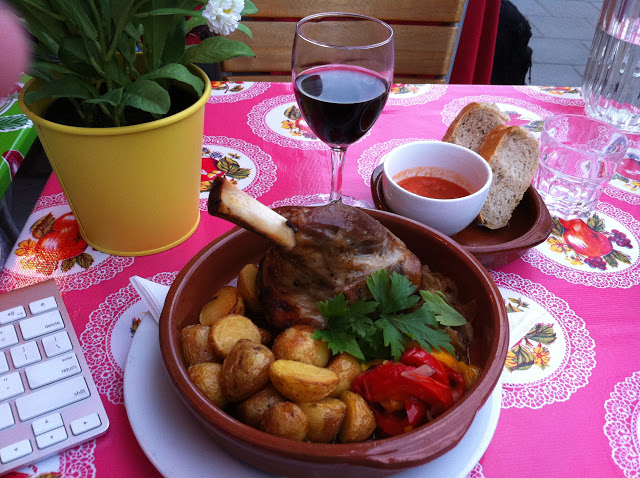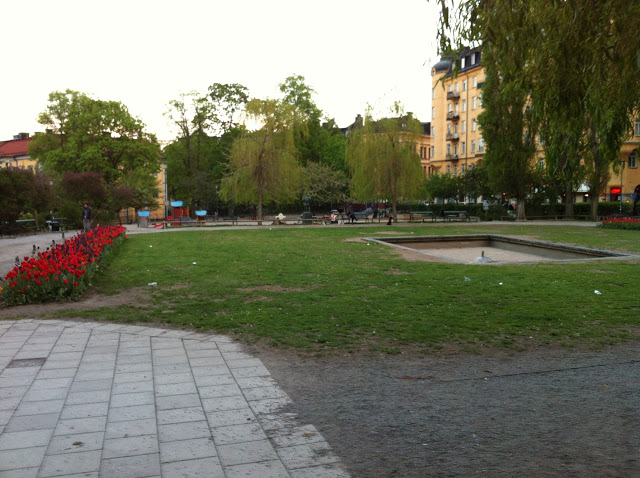 This morning I rode the metro (they call it Tunnelbana, or T‑bana for short) two stops to Gamla Stan, came out of the station, and there I was, overlooking the harbor, this gorgeous city all around me. There was the statue of King Gustav III, who shouldn't have gone to a certain masquerade ball, but did, inspiring Verdi's opera Un ballo in maschera.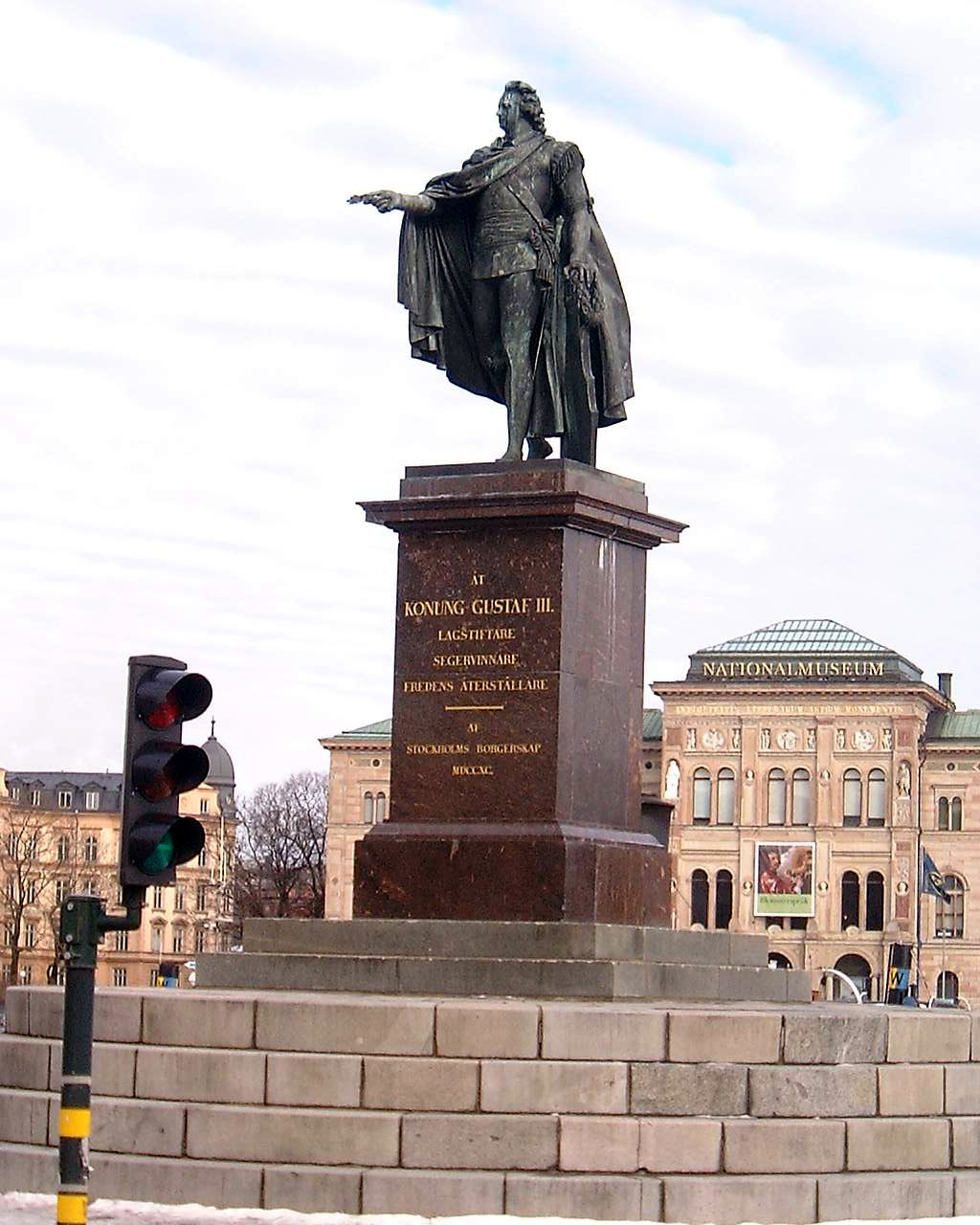 I roamed around, taking in the sights. The narrow cobbled streets, the Royal Palace, the sculptures, statues, and street art, both large and small (the smallest sculpture, of a kneeling boy, is about 3 inches high), the wonderful views across the water to the other islands.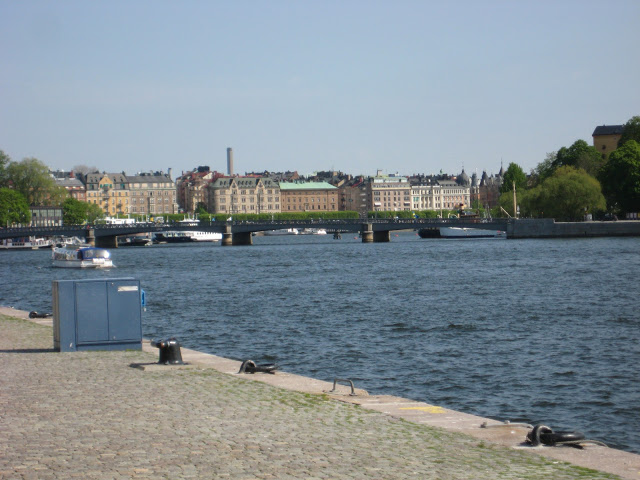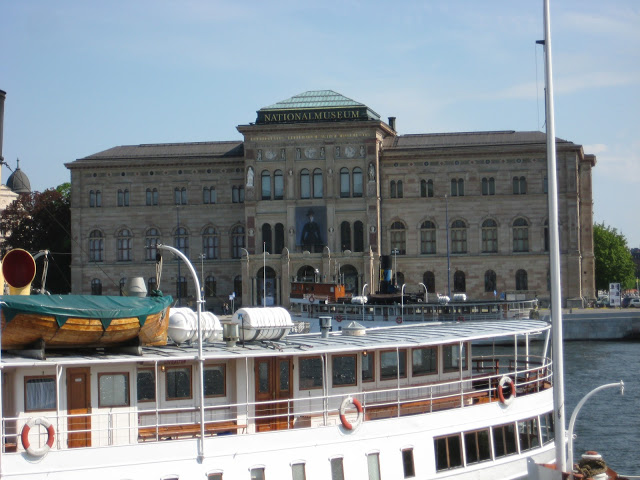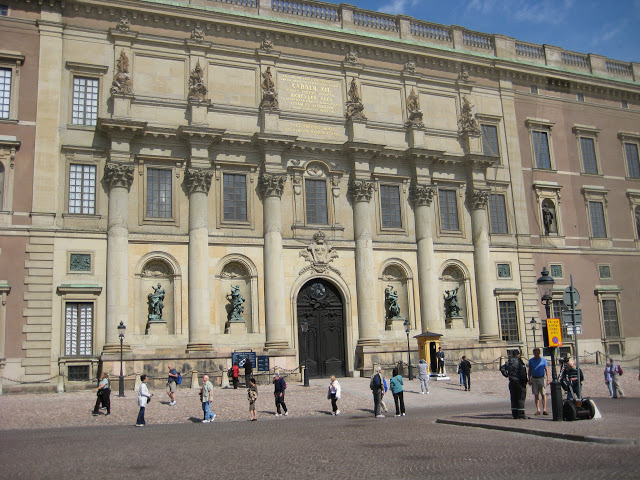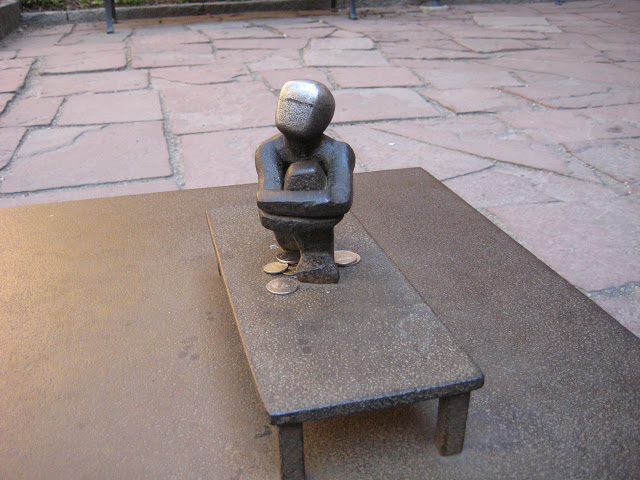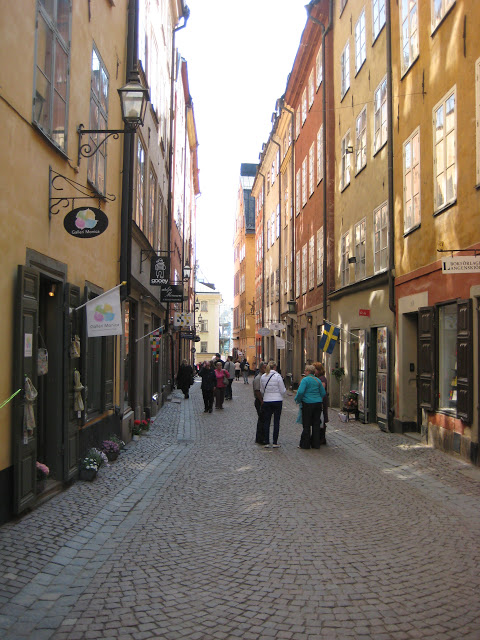 I came upon the Nobel Museum and went in. (The Stockholm Card is turning out to be a huge benefit, allowing me to ride the T‑bana and get into everything.) It's a really small museum, but the exhibits are really interesting, and they had an English language tour, which primarily talked about Nobel's life and about the prizes and how they're awarded. (I never knew this before, but the Economics prize is not a real Nobel prize.) Other things I learned:
If you've won a Nobel prize, you are not designated a Nobel prizewinner; you're a Nobel laureate, and there are few titles more prestigious (although the guide said that President of the United States is one).
Nominations for the Nobel prize come from leaders in the various disciplines along with past laureates. The names of nominees are not revealed until fifty years later.
Among the nominees for the Nobel Peace Prize are Adolf Hitler and Josef Stalin. The guide said they are pleased and relieved that neither of those two won.
After I left the museum it was about time for the changing of the guard. I got a prime viewing spot, but it turned out to be a dud. There was no military band or anything cool. The announcer said that they will have a bigger ceremony with a military band on Wednesday, so I'll try to time my day to go back for that.
From there I paid a visit to the cathedral.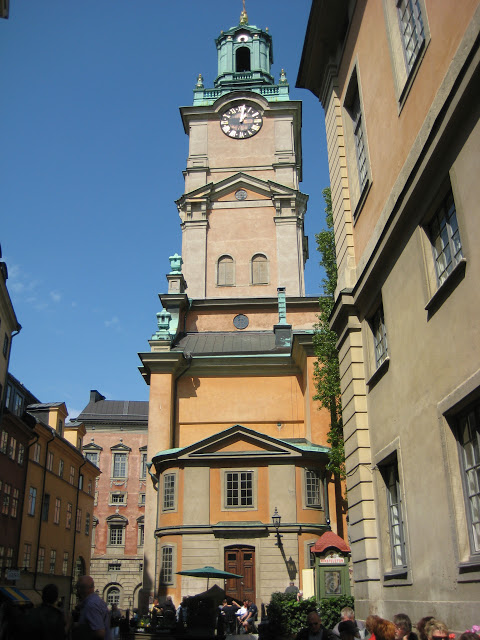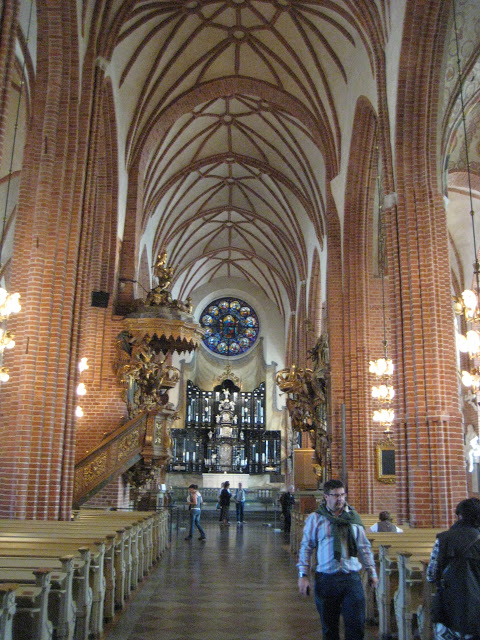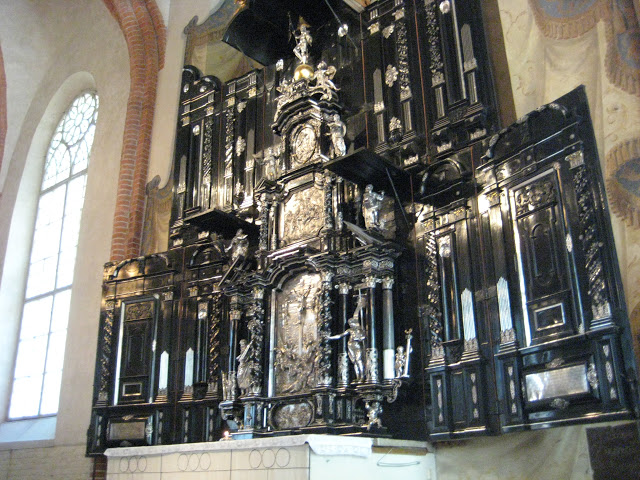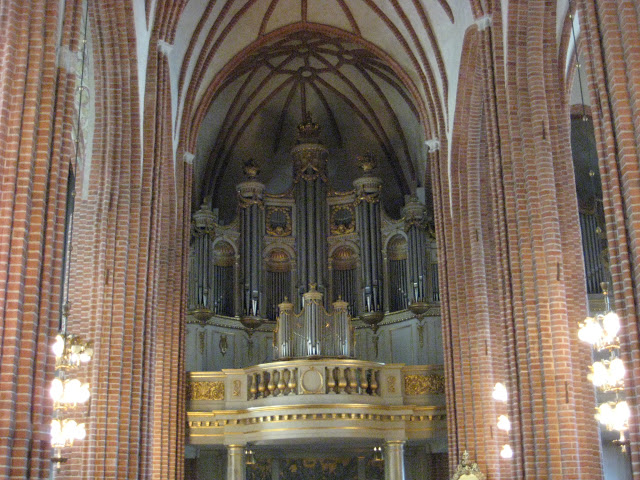 Then I had a lunch of sausage and potatoes and salad, and stopped in a bakery for a fantastic almond nougat pastry.
Stockholm originally had just the one cathedral , but after they allowed worship in the vernacular, instead of Latin, each community built their own church, so there's the Finnish church next door, and the German church down the road a bit. The German church was a lot simpler, but I really liked it because it had stained glass windows along one wall depicting daily life, which I thought was very interesting.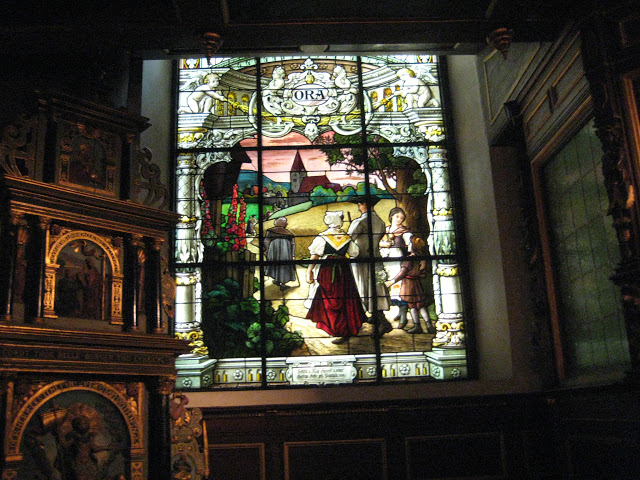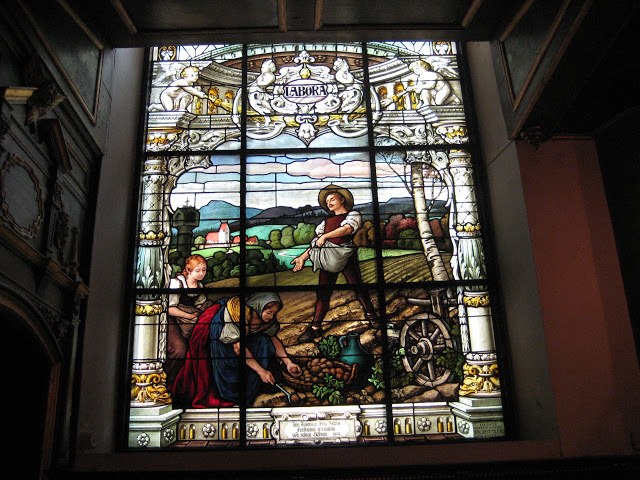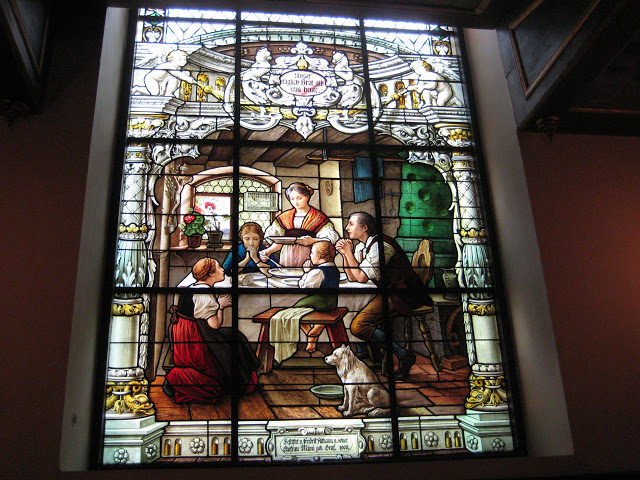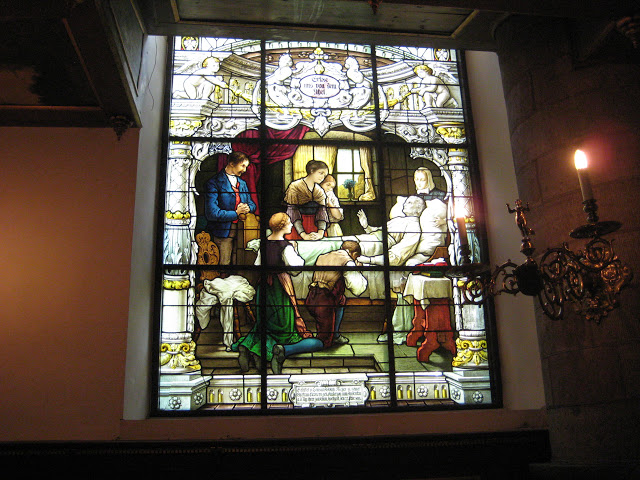 As a Jew and an Atheist, I find myself drawn to churches as places of great beauty. Seeing the art and architecture that was inspired by the people's belief in God, I'm always amazed, and I struggle to reconcile that with the violence, ignorance, and intolerance that were central to the church. I think every religion has had a period of radical fundamentalism; Islam sects that promote terrorism are still mired in that phase, but the only thing that separates them from Christianity is that Christians have evolved past that. (Although the bombing of abortion clinics and the murder of doctors who perform abortions is right in line with that history.)
My point was that the inspiration that led to the creation of amazing places to worship was something I am in awe of, even if I am sure their beliefs were misguided. It's also interesting that in our current times, there is far less energy and effort devoted to creating beautiful places for worship. I really like spending time in churches and cathedrals. I've also noticed that church spires can usually be seen from a distance and were probably important ways to assist medieval travelers in finding their way from town to town.
I bought my first mini-vase today. I found a shop in the Gamla Stan that had all hand-made ceramics, and they actually had several I had to choose from. According to the shopkeepers, the one I bought was made by an Armenian artisan who actually lives in Estonia. I told them I'm heading there next, but she said I won't find his work there. They asked me where I'm from, and when I said the United States, they said I'm the first person who's ever answered that way. They said everyone says "Texas" or "New York" as if it's obvious they're from the USA because they're speaking English with an American accent. I think that's so funny, as if a Swede could tell the difference between an American accent and a British accent and an Australian accent, not to mention the accent of an Italian or German or Czech or Spanish visitor who'd also be speaking English in order to communicate with the locals.
After I finished wandering the Gamla Stan, I crossed over to the more modern downtown area (both the Gamla Stan tour and the modern Stockholm tour are outlined in Rick Steves' book. The downtown tour was really great. It started in the Kungstradgarden (King's Garden Square), which was originally the king's vegetable garden but is nowadays (including today) a center for Swedes to hang out. I was in no hurry to leave, but I was in need of a WC. So I made my way to the nearby NK (Nordiska Kompaniet, AKA No Kronor left), and found a pay toilet there for 10 kr (about $1.50). Wandering around the store was amazing. I actually don't think I've ever seen a department store anywhere else as beautiful.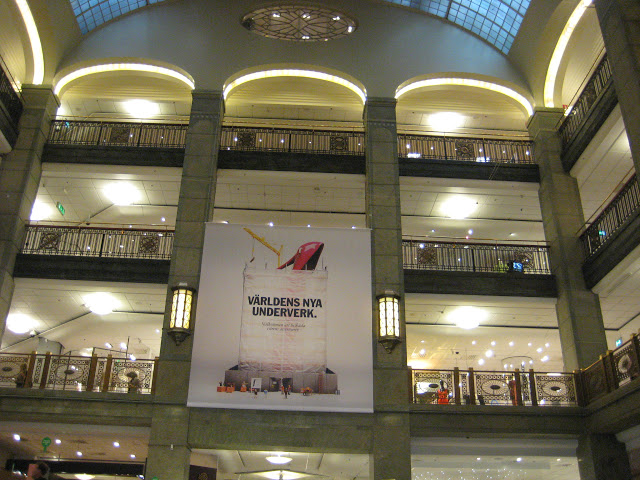 I also wandered into a nearby shopping mall, and here the thing that impressed me most was that it was packed with Swedes spending kronor on a Monday afternoon at 3pm.
The walk ended up at the Hotorget, or Haymarket, which has a daily farmers market. I bought some strawberries to have with my muesli in the morning. The Concert Hall (which hosts the Nobel Prize award ceremony, and where I have tickets to the symphony on Wednesday evening) faces right out on the Hotorget, so I know exactly where to go for that.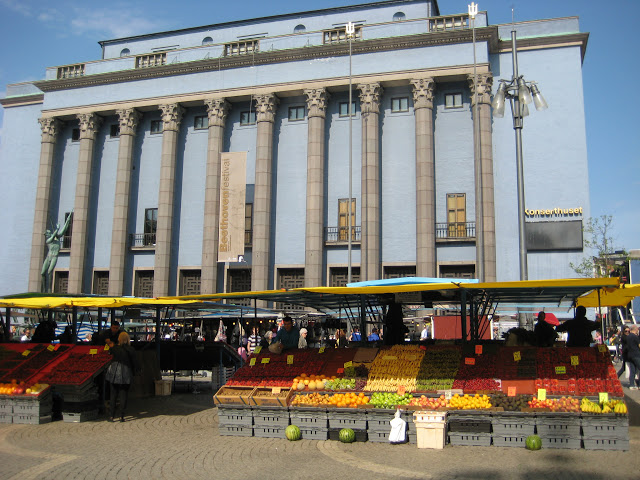 By then it was past 16:00 and I was ready to call it a day. I took the T‑bana, which was jam packed, back "home," and did some laundry (nice benefit to staying at an apartment is that is has free laundry facilities in the building. Never mind that I had a hard time telling which was a washer and which was a dryer, not to mention figuring out the instructions on how to use them. But laundry done, I'm here at the Roxy, fabulous dinner of lamb shank with new potatoes and sauteed onions and peppers eaten, two glasses of wine drunk, ready for an after-dinner walk, so I'm going to sign off now. This has been a long post! Did you read it all? Are you enjoying my posts? Please comment! I'd love to hear from friends and family back home or wherever you are!
Tomorrow I'm going to take an excursion to Uppsala. I'm not sure how long I'll spend there, and I don't want to be pressured to hurry back. I'll have Wednesday and Thursday to finish my exploration of Stockholm, but Wednesday night I have the symphony concert, and Thursday evening I leave on the ferry for Tallinn.
It's starting to get chilly. I'm going to get my jacket and go take my walk. Cheers!
P.S. I've added a few pics of things I found on my walk, including a really nice sunset from up on a hill where there's a church and a park where kids were hanging out drinking.