I'm at a restaurant that's actually in the same building as the apartment where I'm staying, and it's one I'd read about before my vacation started. It's called The Urban Deli. Niklas also recommended it. Unfortunately when the waiter came and I asked him to recommend something, he recommended a cod dish and then remembered that they just ran out. So I asked him to recommend something they have, and I'm going with pluma iberico, which he says is a Spanish pig that's slow roasted at a low temperature overnight and then finished in a pan. I'm very hungry, so anything would be fine. Plus the waiter has a nice smile, so anything he recommends will be great.

I forgot to mention in yesterday's post that there are a lot of tourists in Stockholm. Fortunately, most of them stay close to the Gamla Stan, so getting away from there means fewer tourists. Many of the tourists are American, but I've heard a lot of different languages in my wanderings.
Today was a big day in Stockholm and in Sweden in general: the baptism of Crown Princess Victoria's first child, Estelle Sylvia Ewa Mary. (Sweden, I learned today, passes the crown to the oldest child regardless of sex, so since Victoria was the oldest child of the current king, she's next in line, and Estelle is next. Victoria's husband was her personal trainer; they were married in 2010, and there's been a lot of pressure on her to make an heir because she's in her mid 30s. So as I said, big day for Sweden. When I walked through the area by the royal palace, there was a huge presence of the royal guard and the police. Not to mention the press and the faithful subjects.
Oh, I didn't end up going to Uppsala today, and I think I won't be going after all. I've asked a few different people, and they said it's nice but not really worth the time to get there and back, and since there's so much to see and do in and around Stockholm, it's a big relief not to take a day away.
That said, I actually did make two excursions out of the city today, but they both counted as part of the Stockholm experience. First I went to Drottningholm Palace, which is where the royal family lives. It's 50 minutes away by boat (although it's also possible to get there by bus, but who wants to take a bus when you can ride in a boat on a gorgeous day like today? Although the boat ride itself didn't go past much interesting scenery.
I had about a half hour to kill while I was waiting for the boat to depart, and the dock is right next to the Stadtshuset (City Hall), so I wandered around the grounds there.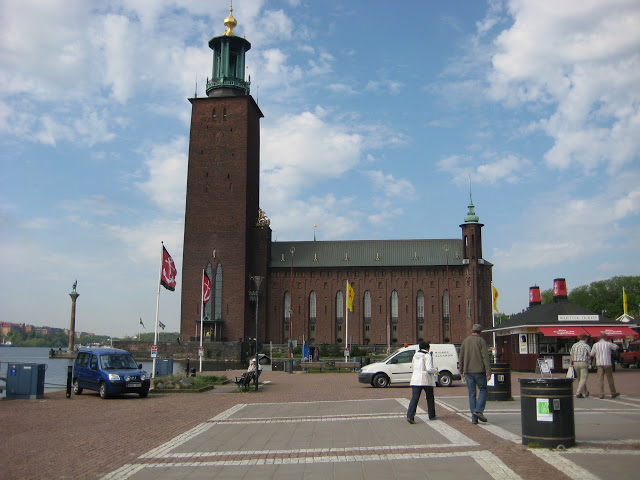 By the way, Sweden has a lot of statues of naked men, so I have plenty of photos of granite and marble penises. (I do take pictures of granite and marble titties too.)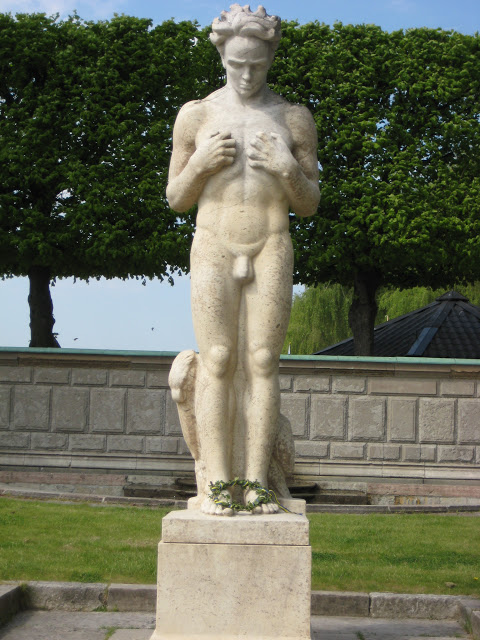 Drottningholm itself was magnificent. They had an interesting guided tour in English, but they didn't allow photography. Of course the private residence isn't open to the public, but there's still a lot of the palace open to view, and some of it has original furnishings from the 17th and 18th centuries.
It's also interesting because on the outside the building is very understated, yet the interior has some rooms in Baroque style and some Rococo.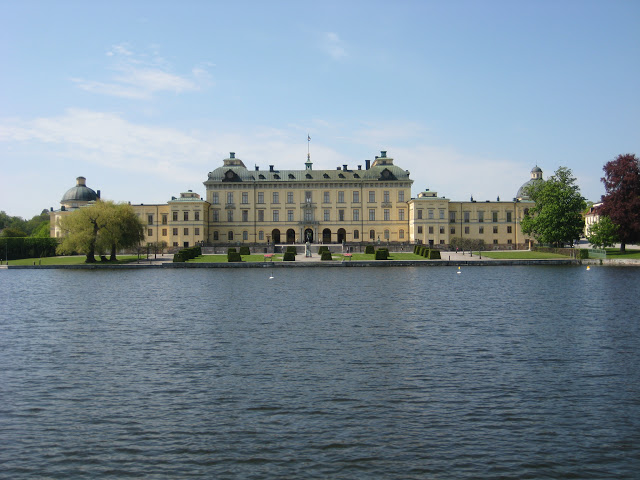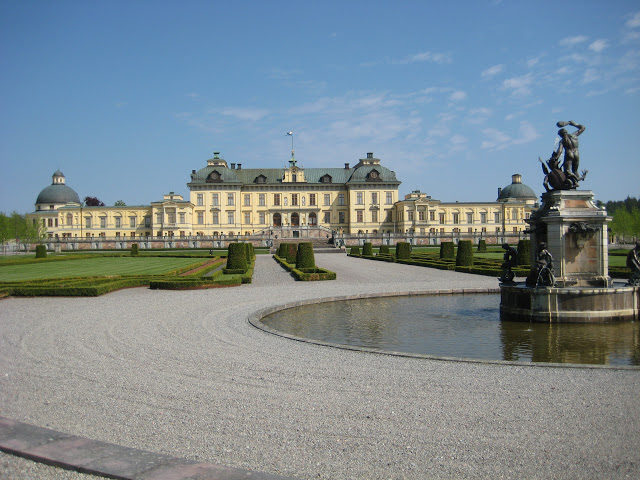 But the most interesting thing on site was the theatre. It's the oldest surviving theatre in Europe, and it still has all it's original functioning stage devices. After Gustav III was assassinated, the theatre was shut down, and eventually it came to be used for storage and by the early 20th century, no one seems to have remembered that it was ever a theatre. Then in the 1920s a historian got permission to go through and look for some art work in the building, and he discovered that it was a theatre, and they restored it. Well "restored" is the wrong word, because nothing needed to be restored. Other than replacing the ropes, everything on the stage still worked. They still use it to put on Baroque opera and theatre, complete with period instruments. When we went into the theatre, the stage was set up for an upcoming production. The stage is very deep and gets narrower and shorter as it goes back, so they could create perspective and simulate distance. They would use children dressed like the adult actors in the back of the stage to make it look like they were far away.
The grounds were also beautiful, and the setting, approaching the palace from the water, was idyllic.
I took the boat back and arrived back in Stockholm around 14:00, and I decided to take another boat ride, this time in the opposite direction, to the island of Fjäderholmarna. Aline, the woman from the train, recommended it as a great spot to just go and walk around, and when I asked in the Tourist Information center, I was told that it's really nice.
On the way to where I had to go to catch the ferry, I stopped at a Tunnelbana station that Rick Steves says is a must-see. And it was the most amazing metro station you could imagine. I took some pictures, they don't do it justice.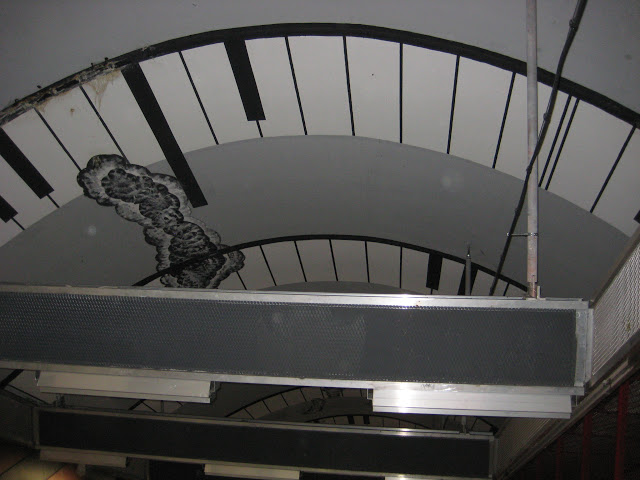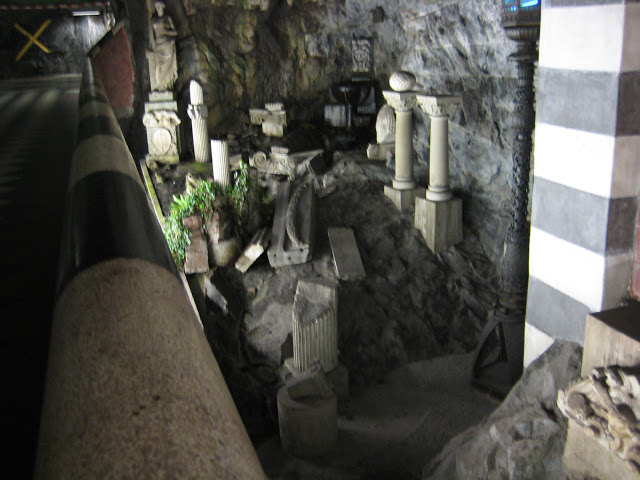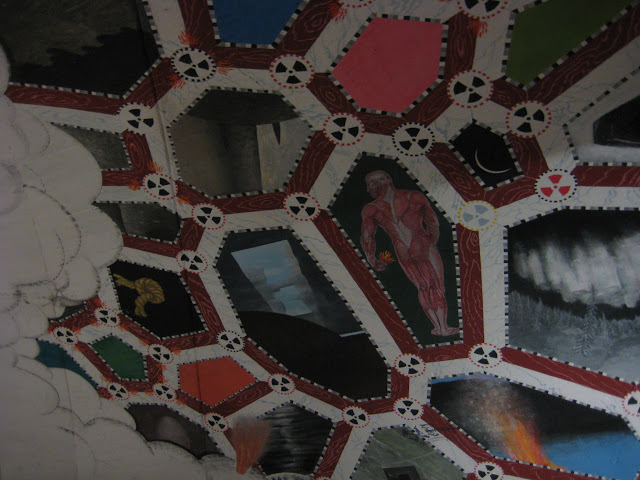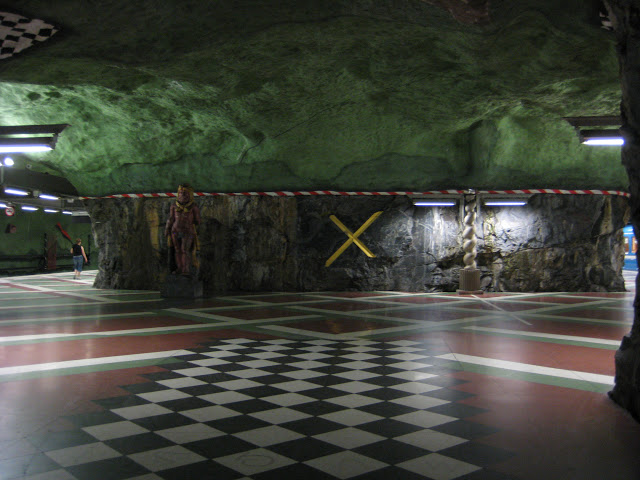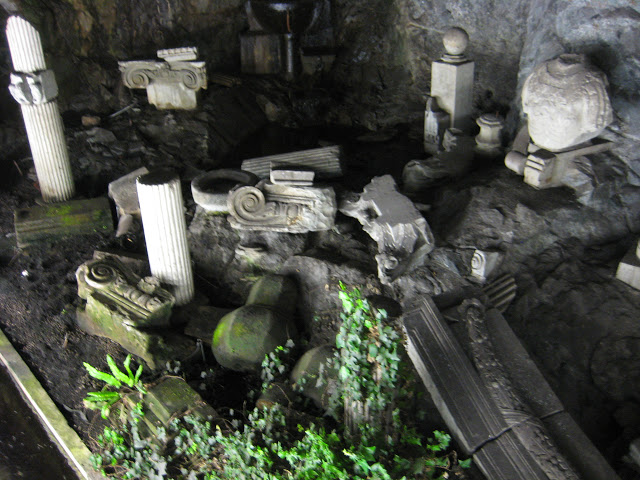 The ferry ride to Fjäderholmarna was more enjoyable than the ride to Drottingholm. It only had a handful of people on board, and we went past some nice scenery.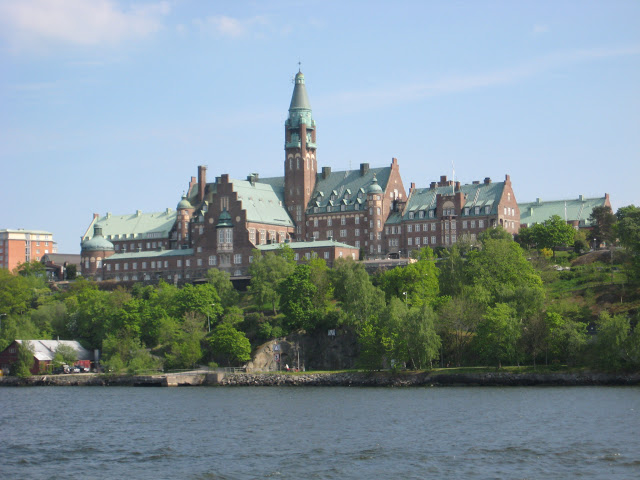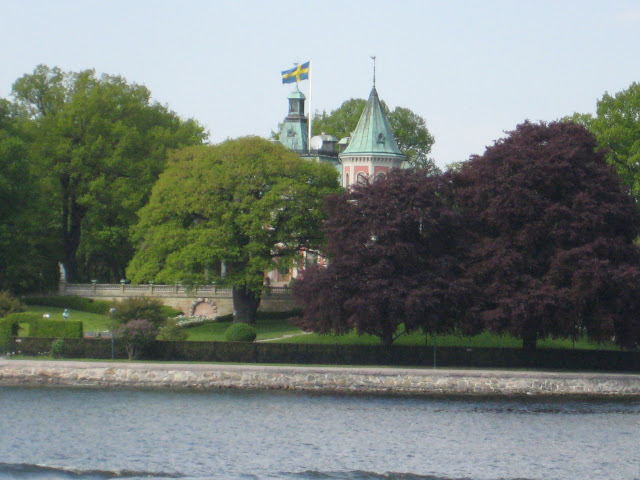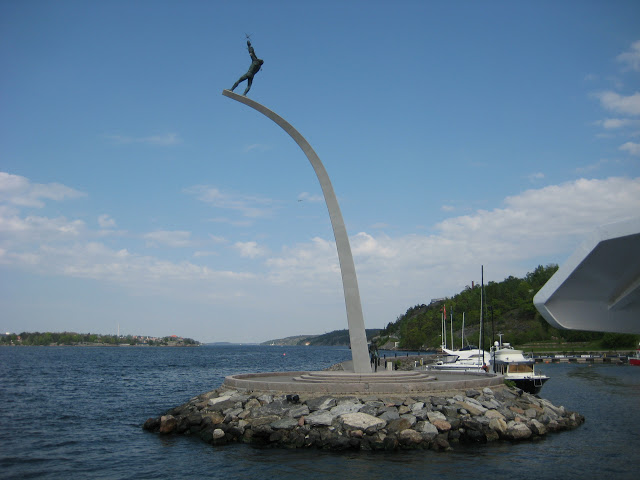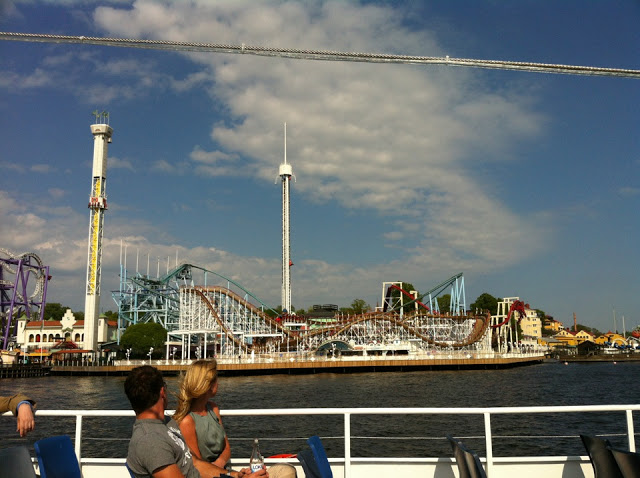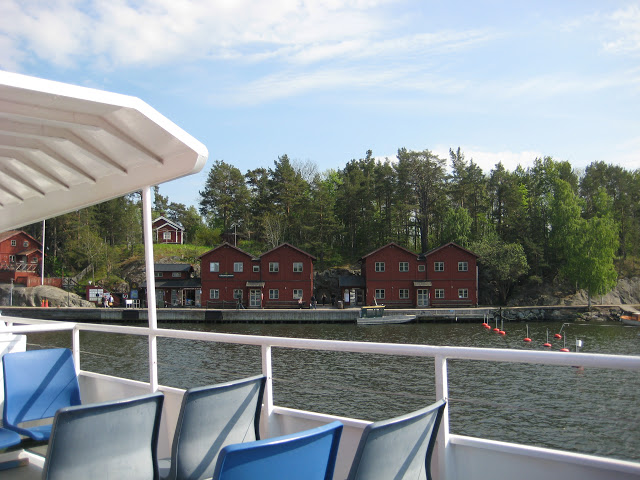 It was a 30 minute ride, and the island is tiny.
(I just told the waiter that I'm blogging about my trip, and he said, "Am I mentioned?" So I asked him his name and said I'd mention him. So here's a shout-out to Jonathan with the nice smile at the Urban Deli in Nytorget.)
There are a whole range of craft shops on Fjäderholmarna, and of course I was most eager to find a another mini-vase to add to my collection, so I headed first to the ceramic shop, but there were no vases. The other crafts included textiles, glassblowing, woodworking, and a few others, but I didn't find anything to buy.
All over the island were nesting seagulls and barnacle geese. It was hard to walk anywhere without disturbing them, and while the seagulls would move away if I approached, abandoning their nests full of eggs and screaming from a distance, the male geese stood guard and postured aggressively. In fact, I was attacked by one goose who beat me with his wing and attempted to peck at me. This species of bird is in no danger of extinction any time soon.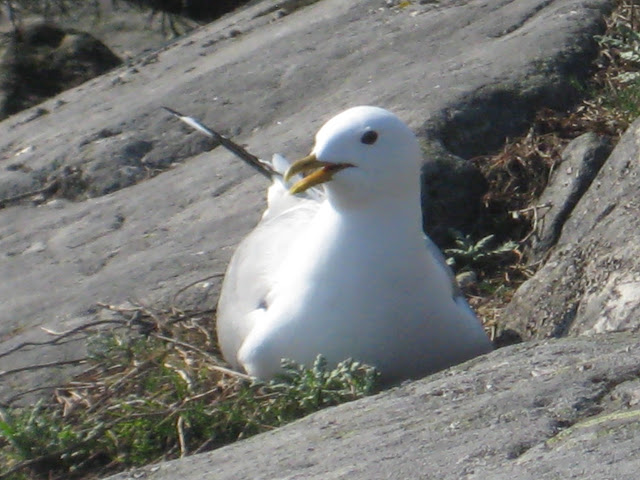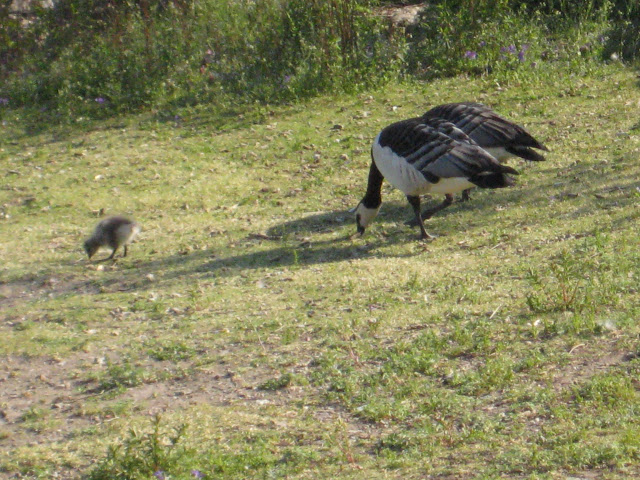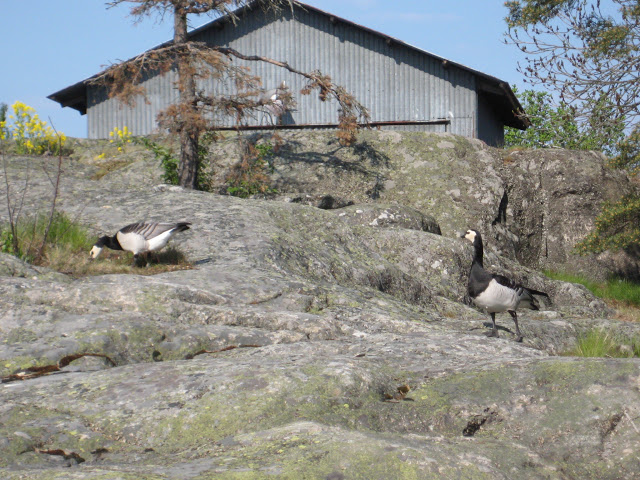 There not being much to do on Fjäderholmarna (I could have had dinner there, but it was too early), I came back to Stockholm after an hour, arriving at 17:00. I took a walk then to the island of Skeppsholmen, and from there to the littler island of Kastellholmen. On Skeppsholmen there are two connected museums that are open late on Tuesdays, the Modern Museum and the Architecture Museum. The Modern Museum had some of what I'd call classic modern art (Calder, Warhol), but they had a large exhibit by Sturtevant, and a lot of other pieces and installations that were just weird. I'd like to think I'm pretty open-minded about art, but pretty much none of the work in this museum spoke to me. Not my kind of art. My favorite piece was the Calder installation out in front of the museum.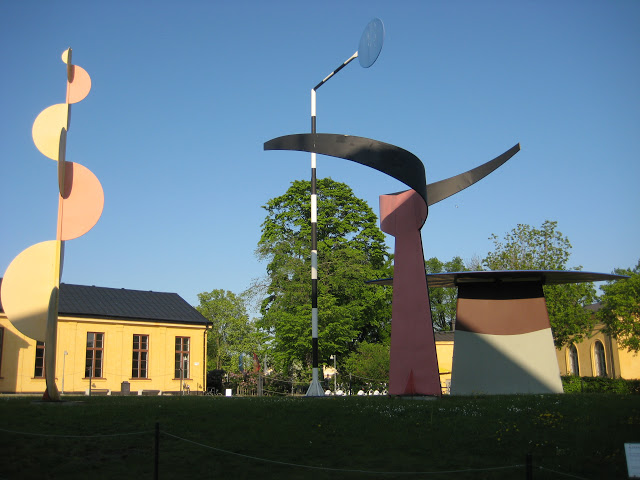 The Architecture Museum was having an improvisatory concert in the lobby, and there were probably 150 people crammed in watching. It was just awful. I watched for about 5 minutes. It was a "bassist," a "percussionist," and two "dancers." The percussionist made some sounds by crumpling up paper and banging on the walls and the floor. The bassist did everything with her instrument except actually draw a bow across the strings. And the dancers struck bizarre poses.
I snuck past to go and look at the exhibits, which were interesting but laid out in a way that made it hard to derive any logic. It just felt kind of random, various displays of different architectural styles and philosophies in Sweden.
Kastellholmen has a couple of interesting buildings and some nice walks around the edge of the island. The Kastellet (nothing like the fortress of the same name in Copenhagen we visited on the bike tour last week) is up on a hill with a great view of Djurgården and Gruna Lund amusement park.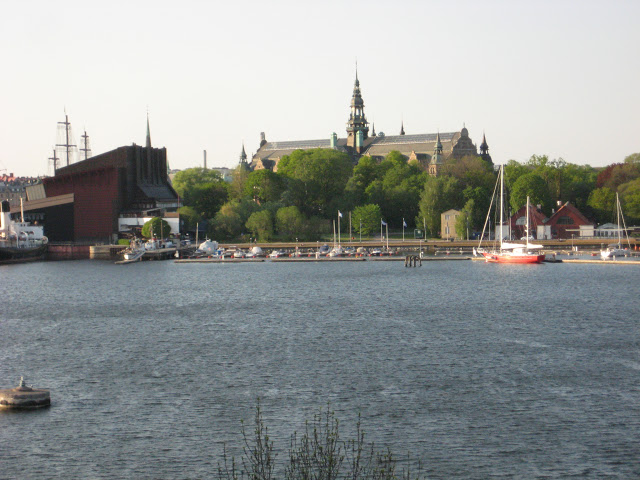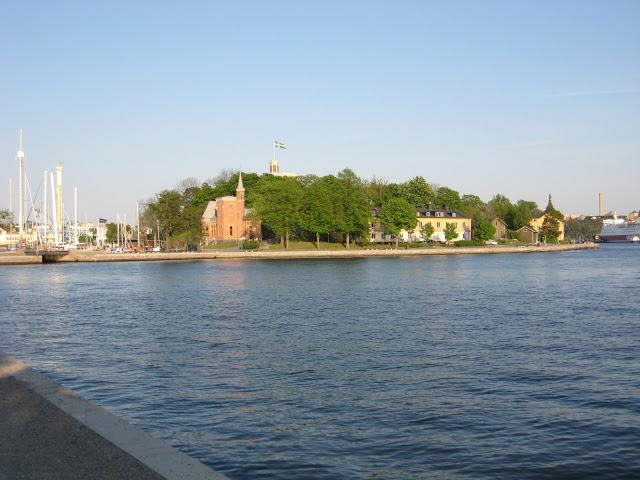 I caught the bus from Skeppsholmen to the central train station, and from there there Tunnelbana back to Sodermalm, and now here I am finishing up dinner, which was excellent.
Here's the pluma iberico, which was scrumptious: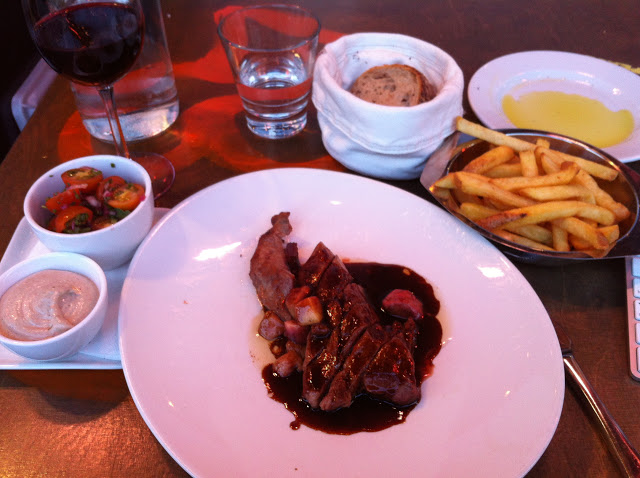 And for dessert, crème brûlée: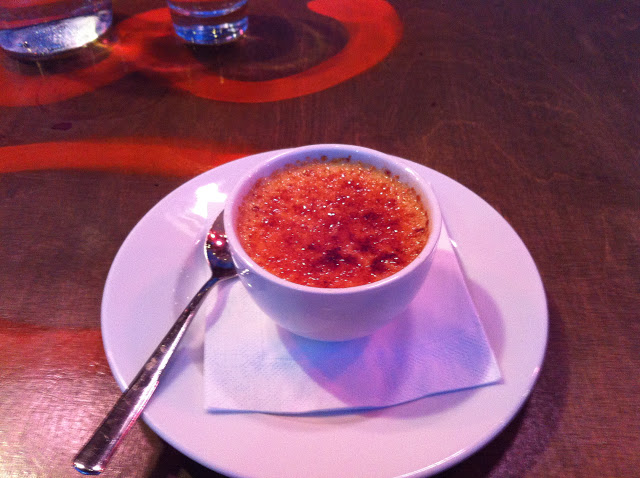 Thank you, Jonathan, for the great recommendations!
It's 22:30 now, just getting dark.
Tomorrow, Djurgården, including the Vasa Museum, the Nordic Museum, and Skansen, plus probably rent a bike and ride around.
God natt!