Today was an "Intro to Helsinki" day. Mary and I bought one-day Helsinki Cards, thinking we'd cram as many of the things that are covered by the card as we could into one day. It was a good idea in theory, but there was only so much cramming we could do, especially given that Mary was jet-lagged and that her shoes turned out to be unsatisfactory for walking on cobblestone streets.
The first thing we did was catch a guided bus tour. It picked us up two blocks from our hotel and took us around to see all the main sights. We had two stops along the way. The first was at the Temppeliaukio Church, also known as the Church in the Rock (it was blasted out of solid granite and capped with a copper dome and skylight, and the interior ceiling is a spiral ribbon of copper 13 miles long. Very impressive. (It was built in 1969.)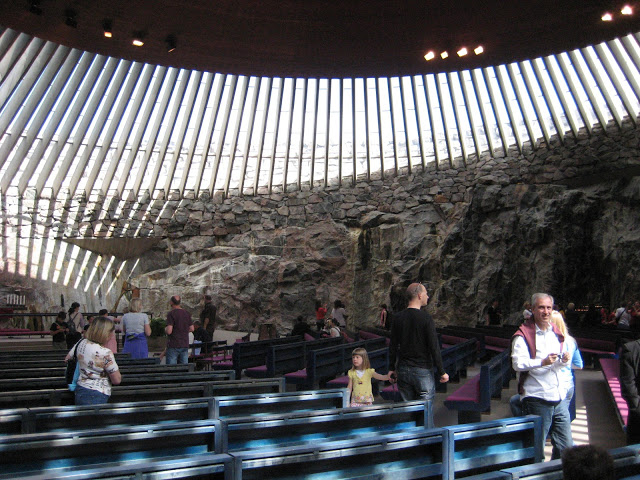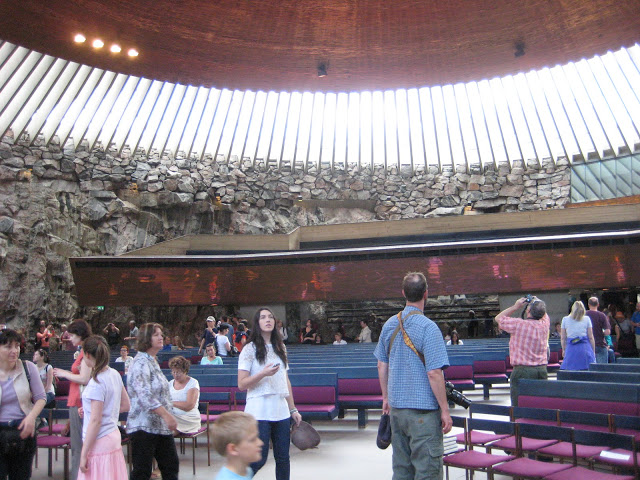 The second stop was at the Sibelius monument, an abstract sculpture of stainless steel that looks like a mass of organ pipes but actually is supposed to represent a forest. After it was unveiled, there were complaints that it didn't particularly evoke Sibelius (he loved trees, but still, that wasn't enough), so she added a bust of his face on a blob of stainless steel.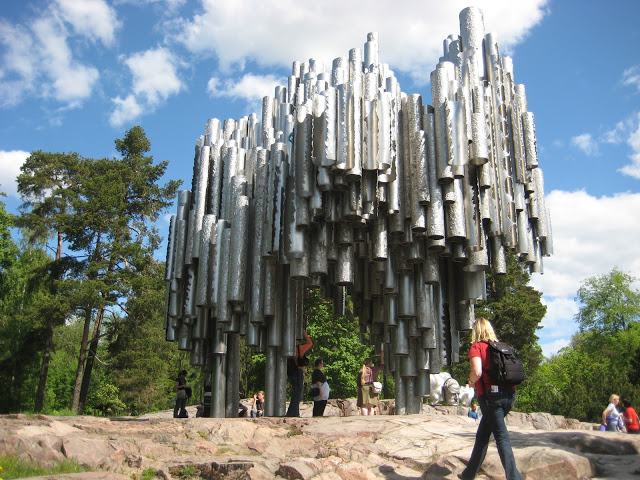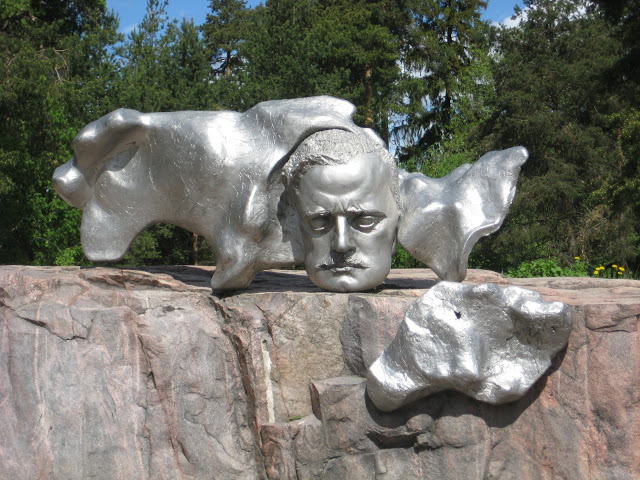 After the tour we took the ferry to Suomenlinna, an island fortress not far off the coast. The ferry (included on our Helsinki Cards) took about 15 minutes, and then we joined a guided tour (also covered). Part way through the tour, we both decided it wasn't that good, so we struck off on our own. Then Mary got tired of walking, so she said she'd meet me back at the ferry, and I went on by myself. It's really a great place, with wonderful walking trails that are just as popular with locals as with tourists.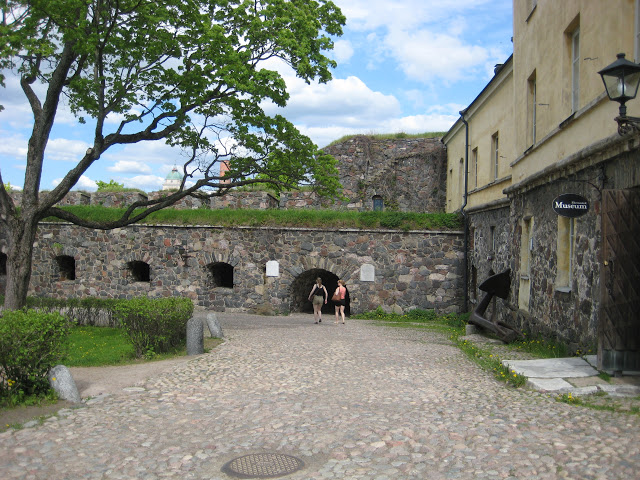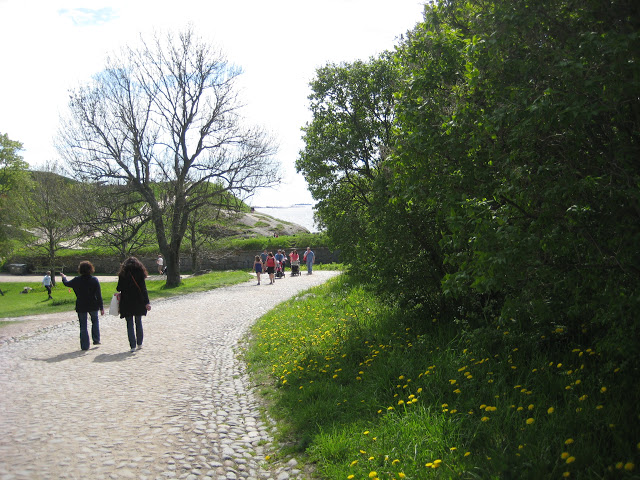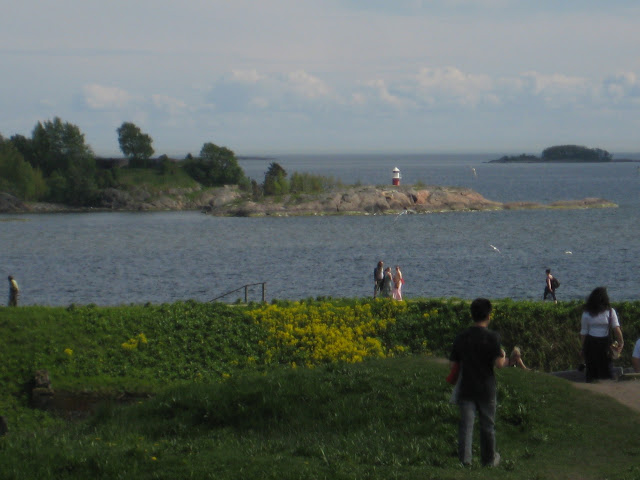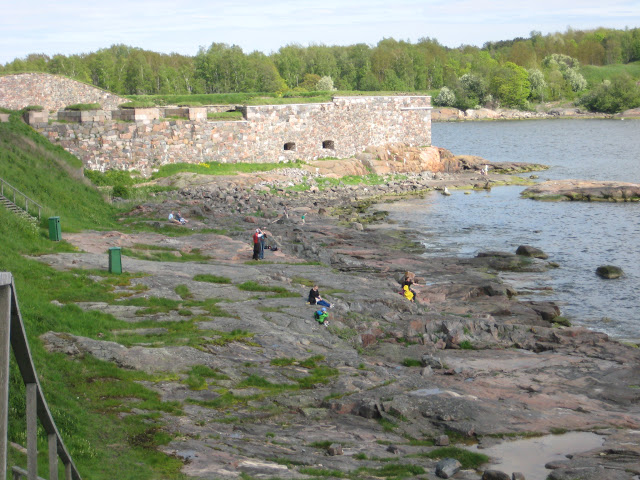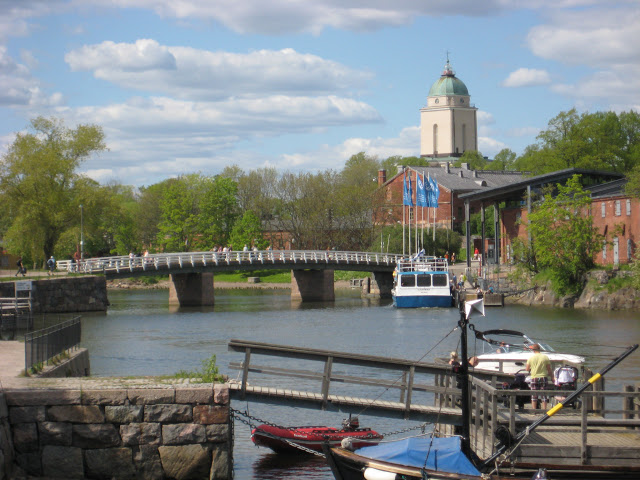 Once we got back to town, we decided to find at least one museum we could visit to try to get our money's worth from our Helsinki Cards. We ended up at the Design Museum, which is tiny but I thought was a lot of fun. It should examples of Finnish design from throughout the last hundred years or so, including a ton of things that looked like stuff I grew up with. Imagine finding your old kitchen table or clock radio or cordless phone or armchair in a museum!
Like Tallinn, though, I think the best thing about Helsinki is the city itself, so tomorrow we're going to just enjoy the city, wander, shop, and see what we see. We will probably split up, since my pace is significantly faster than Mary's. Then on Tuesday the plan is to visit Turku, a two-hour train ride east from Helsinki. And Wednesday, Mary is off to St. Petersburg and I'm off to Reykjavik.
No memorable food stories to share for today, sorry. I'll try to eat something interesting tomorrow.
I did want to explain why we're staying in a Best Western after I've spent the trip in boutique hotels or apartments or B&Bs. This hotel was originally a jail. It seemed like it would be cool. And it is. But it's very much like a business-class hotel, and it's not in an ideal location, so in retrospect I would like to have stayed elsewhere. But it's comfortable and they have a great buffet breakfast included.
I'll conclude with some tidbits about Estonia that I learned on the tour with Ann but was too tired to remember yesterday.
Estonia is the most atheistic country in Europe. Less than 20% of Estonians are religious. If you ask the average Estonian what he/she believes, the answer is, "I believe in nature."
In Estonia everyone gets an ID card. Estonia is the only country in the world where you can plug your ID card into a USB port and vote on line.
Estonia's flag consists of three horizontal stripes, blue on top (representing Estonia's lakes and the sea), black in the middle (representing the rich soil), white on the bottom (representing hope and happiness). There's only one other country in the world whose flag has those three colors: Botswana.
Okay, bye.