Pretty much all I did today was walk. Helsinki is a very walkable city, but I really covered a lot of ground today.
Mary and I started out together. We went to Uspenski Cathedral, the main Finnish Orthodox church. It's normally closed on Mondays, but there was a service going on (about four practitioners, a choir of three voices singing a cappella, and I think five women worshipping), so we were able to stand in the back and listen to the service, smell the incense, and enjoy the music and the ornate iconography. It looks Russian (and the tour guide yesterday referred to it as Russian), which makes sense because it was built originally in 1868, when Finland belonged to Russia.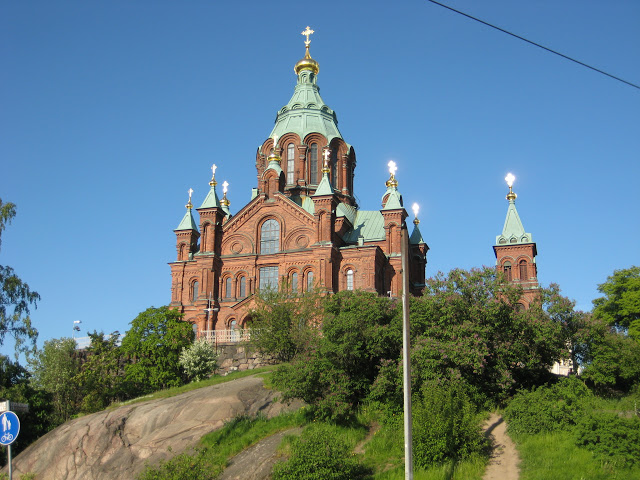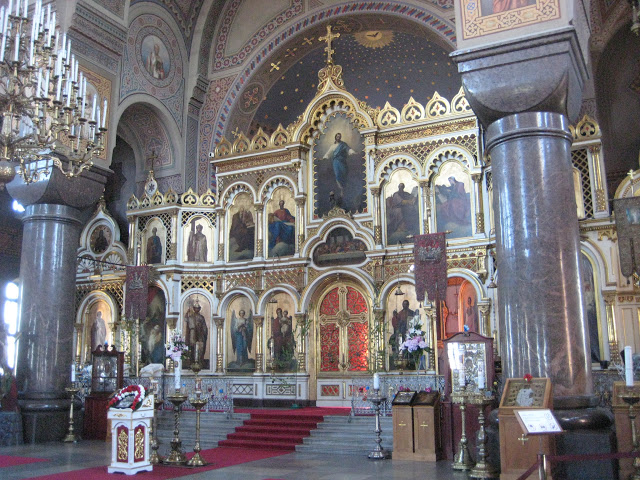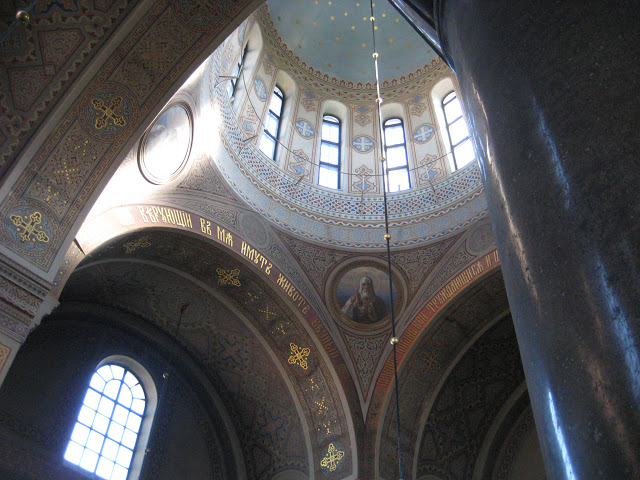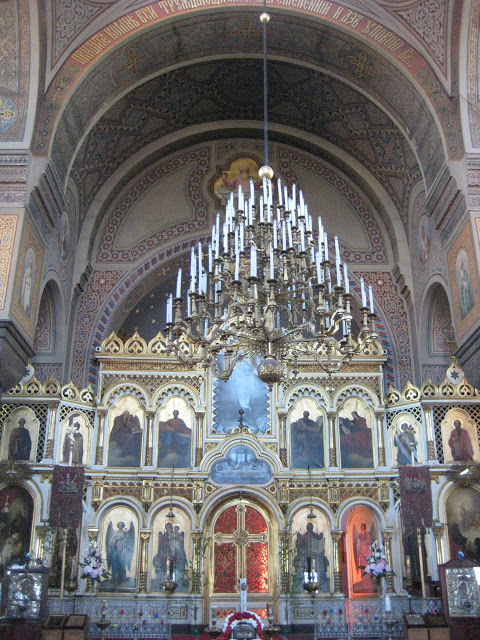 From there we walked to the harbor, and at that point we decided to split up, do our own things for the rest of the day, and meet back for dinner at 18:00. I then started wandering. First I walked along the west side of the harbor, down toward a beautiful neighborhood of homes and a lovely park. I also went past the embassies of France, the UK, Estonia, Italy, and the USA (no photos allowed on that street).
From there I headed up to Stockmann's the largest department store in Finland. It didn't begin to compare to NK in Stockholm, but it was very nice and, like Stockholm, the Finlanders or Finlandians were out in force spending Euros
Then I went back to the Church in the Rock, which I keep wanting to call Temple Liliokalani because the name sounds and looks Hawaiian to me. (It's actually Temppeliaukio.) In his guide book Rick Steves says to sit in a pew and try to tune out the crowds and contemplate God, but I found that the space impresses as an architectural feat, not as a spiritual one. I like the idea of the architect seeing a big chunk of granite on a hill and being able to imagine turning it into a church. And Rick says the ceiling is a 13 mile copper coil, but I studied it for a while and I'm convinced it's concentric rings.
From there I walked to what's called the Design District. It's an area filled with interesting buildings and shops selling furniture and home furnishings. It's close to the Design Museum I visited yesterday, and at least two of the shops I went in had better displays than the museum.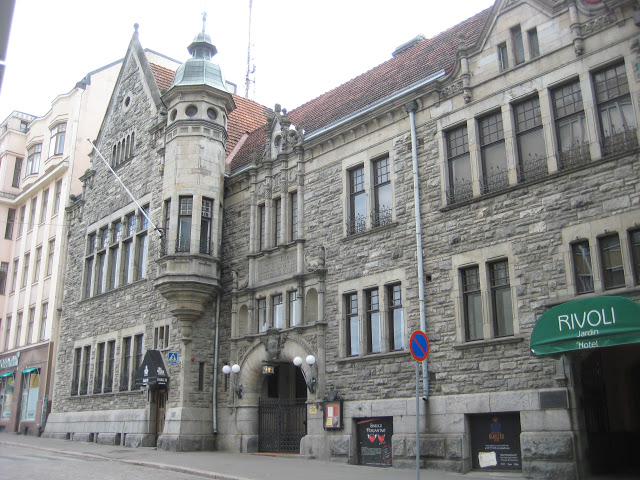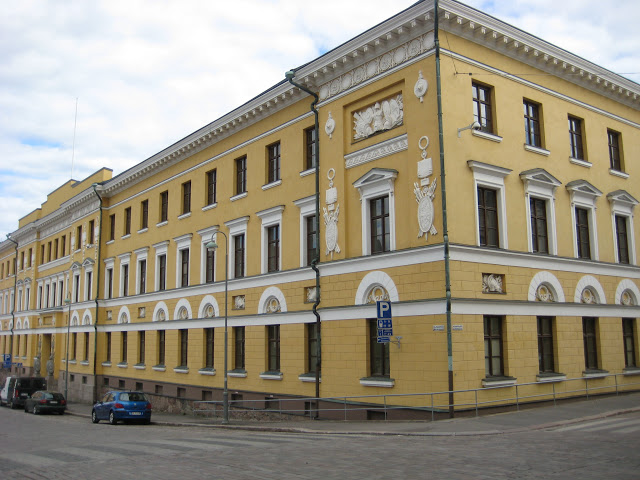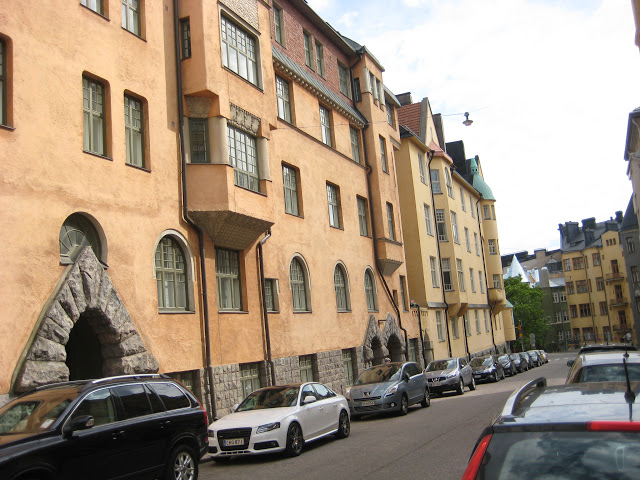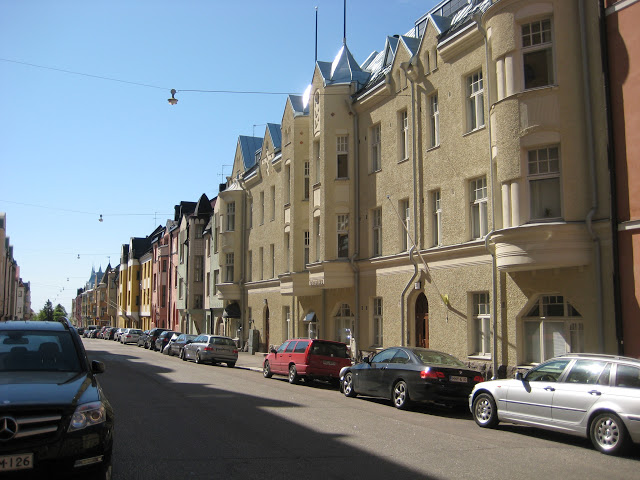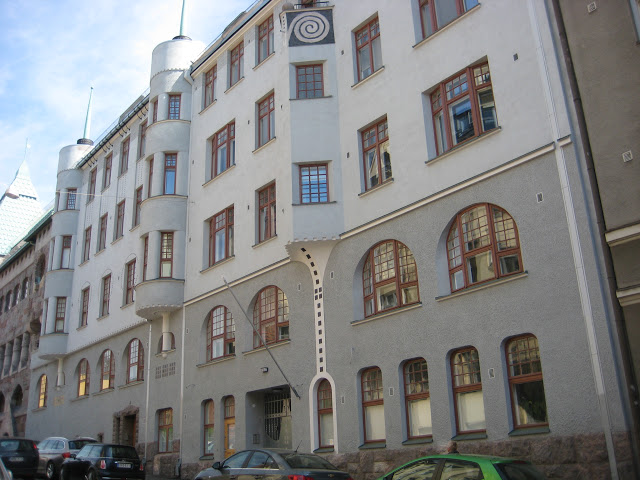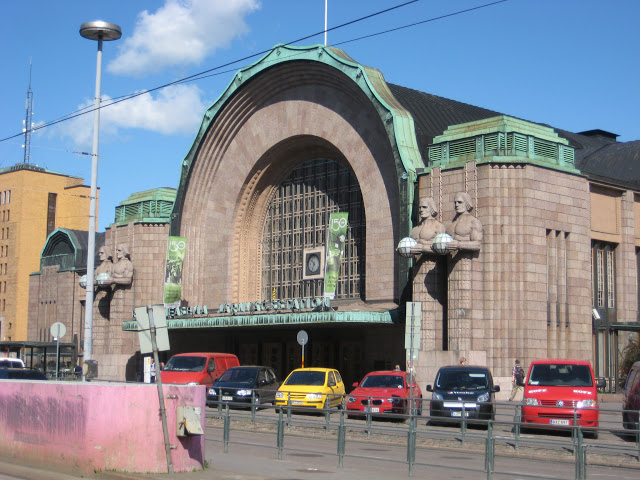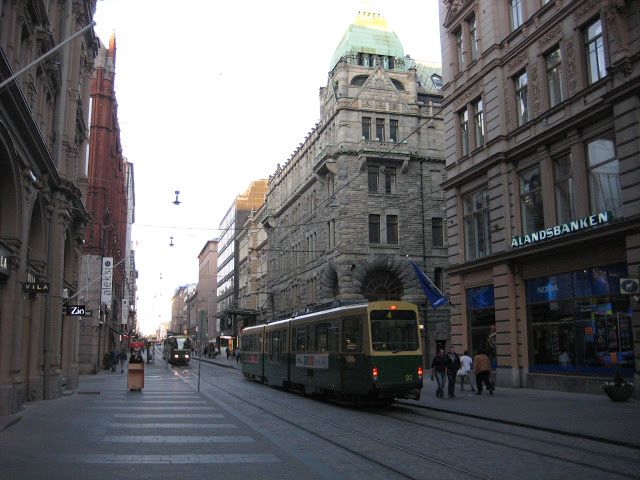 Then I walked to Esplanadi, the main shopping and strolling boulevard in Helsinki. Mary and I had already visited this lovely street, and we drove through it on the bus tour, but this time I stopped in some of the stores along the way.
By now it was about 14:00, and I hadn't had lunch, so I went back to the market at the harbor and ate some vendace, which are small, white, freshwater fish from northern Finland. They are served whole, lightly breaded and cooked in a giant wok or paella pan. Very enjoyable.
Then I walked up to the Lutheran Cathedral. This church is a huge contrast with Uspenski Cathedral, both inside and out. It's serene, stolid, and solidly Lutheran. There's very little imagery inside, and it's white both inside and out. Both cathedrals are up on hills, but Uspenski is approached via a narrow, winding, stepped path, whereas the Lutheran church has grand staircases on all four sides, and in the front it's nearly the entire width of the church.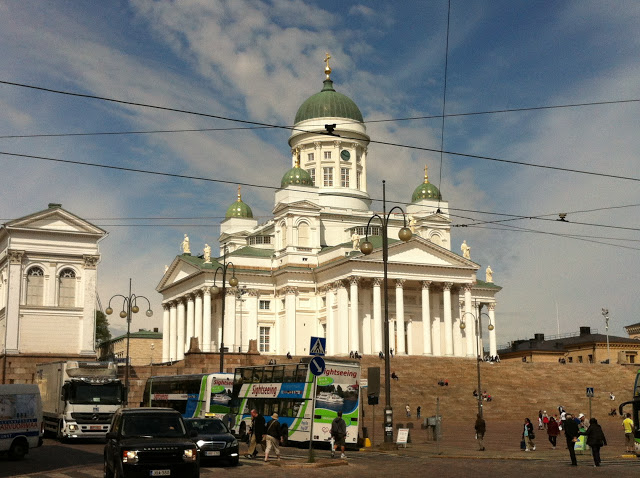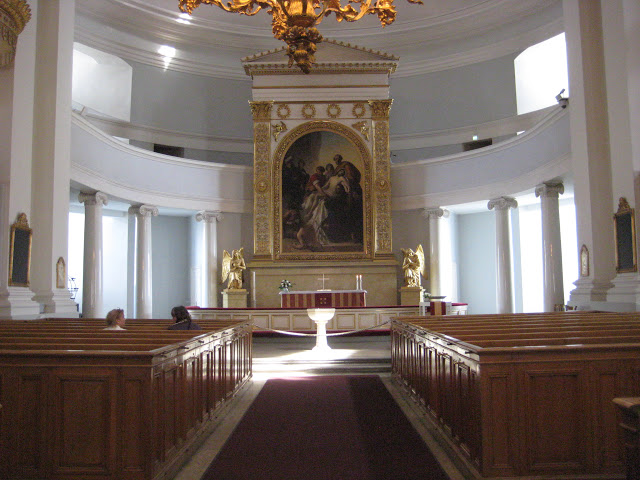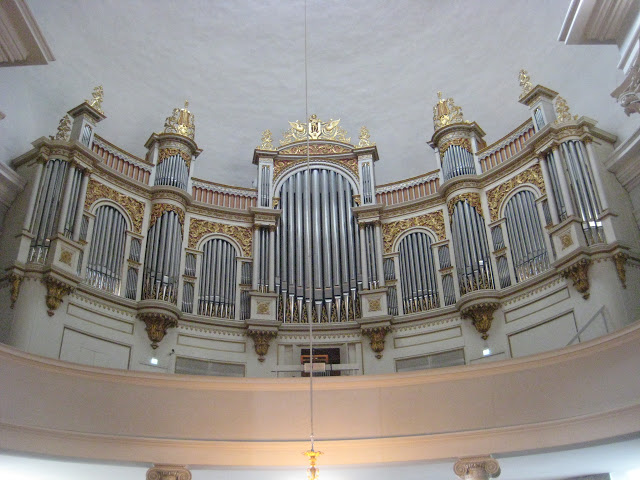 Then what? I can hardly remember.
Oh yeah, it was looking like rain, so I texted Mary and said I was heading back to the hotel. On the way I stopped at the market and bought some goodies that made for a little picnic in the hotel when the rain started.
And that was the day.
Oh yeah, I found a really nice handmade vase at the market. That's my third of the trip. (I know I wrote about the one I got in Stockholm, but I can't remember if I mentioned the tiny dolomite vase I got in Tallinn.)
Turku tomorrow.