Yesterday was mostly a travel day, so there wasn't a lot to blog about, and there still isn't, since I just woke up and am at a neighborhood coffee shop having what they call an Americano. (I'd call it a slightly watered down espresso.)
Mary left early to catch her train for St. Petersburg, and my flight didn't leave until 15:30, so I used the morning to visit one last museum and do a last bit of shopping to try to use up my remaining euros. Then I took the bus to the airport and arrived at Keflavik at 15:55. I got some cool pics from the plane: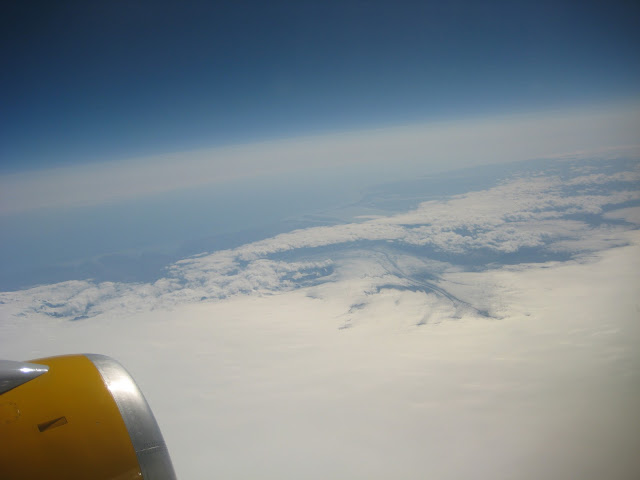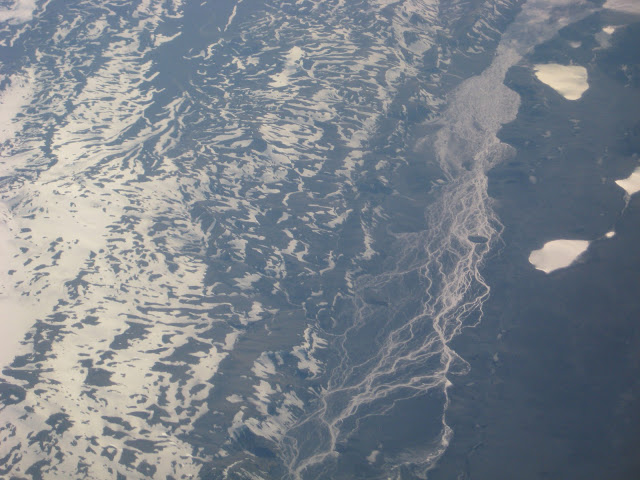 The airport is a long way from Reykjavik, and transportation to the city is via private bus. They bring you to a central bus terminal, and from there in separate vans to the hotels. The route goes through lava fields, past a few small towns, and little by little the moonscape turned to civilization.
I called the place where I'm staying (it's an apartment, so no one is onsite) to let them know I was on my way from the airport, and when the van dropped me off, they were there waiting for me. He said they had a bigger apartment available, so they upgraded me.
This is the building. My apartment is on the top floor. (The two windows and the little window just below the eaves are in the bedroom, the first two dormers are in the living area.)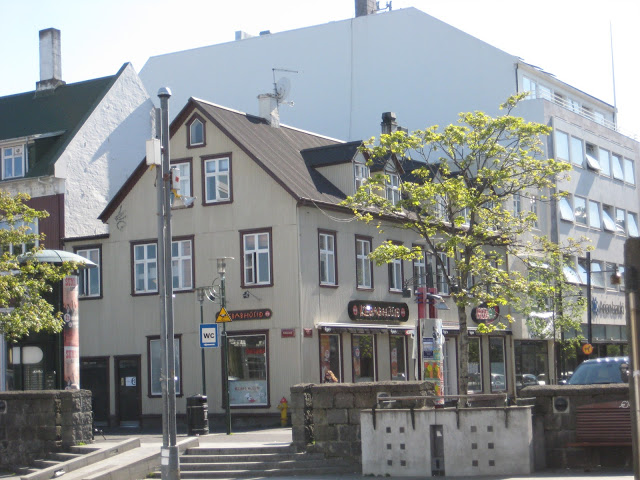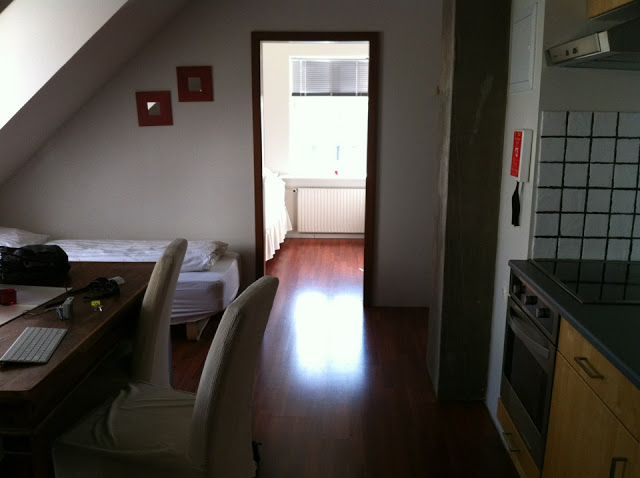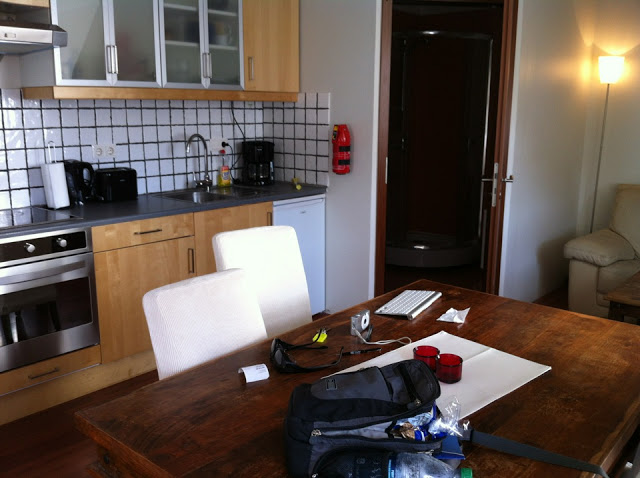 Reykjavik (at least the parts I've seen so far) doesn't feel particularly European. I think if you replaced the street signs, you could be fooled into thinking you were in the United States.
With the three-hour time change I had a hard time staying awake last night. I still managed to sleep through until 6:00, thanks to earplugs and blindfold. It's not only never dark, but being right smack dab in the heart of the city, it was noisy with drunken revelers. And this was Wednesday night. I can only imagine what the weekend will be like.
I've decided to remain in Reykjavik for the remainder of my trip. I canceled my car reservation and my lodging in Hvolsvöllur. Partly this is because it's easier and I'm tired of packing and unpacking, but mostly it's because there are things I can only see, or see better, on an organized tour than I can on my own. Some of the roads to places I want to see require 4‑wheel drive, and one of the places I want to go is in the opposite direction from where I was going to be staying.
Last night I went into one of the tourist information places (which is actually a tour company and booking agent called MyReykjavik), and came up with a plan:
Today: explore Reykjavik. There's a free walking tour later that I may or may not join. Mostly just wander around on foot. Tonight I have tickets to "How to Become Icelandic in 60 Minutes" at Harpa, the new performing arts venue that's on the waterfront just about three blocks from where I'm staying.
Tomorrow: I booked a tour to the south coast and Þórsmörk. In all my research and planning for this trip, Þórsmörk kept coming up with expressions like "jaw-dropping scenery." So I should enjoy that.
Saturday: I'll do a Golden Circle tour. This is the most touristy, frequently visited stuff, relatively close to Reykjavik. It includes a national park, Þingvellir, where the world's first representative parliament assembled over a thousand years ago; the original geyser, Geysir, and a waterfall, Gullfoss. The tour I'm thinking of doing also includes a monster truck off-road experience and a glacier visit with the possibility of snowmobiling.
Sunday: There's a tour to Snæfellsnes, a peninsula just north and west from Reykjavik, but they were not sure yet whether it's going to happen, so I need to check back later today.
Monday: A lot of the bus and tour companies provide a visit to the Blue Lagoon on the way to the airport. They'll hold my luggage on the bus while I visit the Blue Lagoon, and then, fully refreshed and invigorated and relaxed, I can board a plane at 17:00 for my flight back to reality.