Part One: Written in the Oslo Airport
I'm not supposed to be in Oslo. But here I am.
Actually, I'm at the airport, not actually in Norway.
All seemed to be going well yesterday when we pulled away from the gate at SeaTac right on time. We taxied a while and then stopped. The pilot came on and announced that we were returning to the gate to remove a passenger who was ill. Fifteen to thirty minutes, he said.

But after they removed the sick passenger, he came back on to announce that TSA required that we all deplane with all our carry-ons. They did a sweep of the plane to ensure nothing was left on board, and by the time we finally got underway, we were two hours late.
When we landed at Keflavik, I found out that my flight to Copenhagen had already departed. So they put me on a flight to Oslo, and now I'm waiting to board my flight to Copenhagen. I'll arrive there at 14:35, about 3 hours later than planned, which is okay, because it's that much less time I have to stay awake.
First impressions: landing at Keflavik, it is such a bizarre landscape. There are no trees anywhere. Flying over houses, I didn't see any landscaping; they looked like boxes on top of the earth.
Norway, as seen from the air, is beautiful, not unlike the Pacific northwest. Green, covered with conifers, snow-covered peaks, and lakes in between. This is a really nice airport, too (even if the first thing I saw when I exited security was Pizza Hut), but I'm unable to get on to the Internet. There's wifi, but they're supposed to send me an SMS with a password when I enter my phone number, and it's not working. So I'll have to post this later.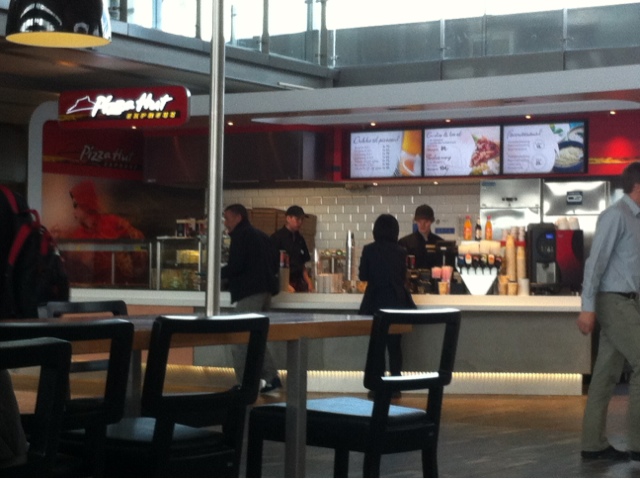 My flight to CPH leaves in about 45 minutes and takes about an hour. So I'm hopeful that getting to my vacation will soon be done and the actual vacation will soon begin.
Part Two: Copenhagen at last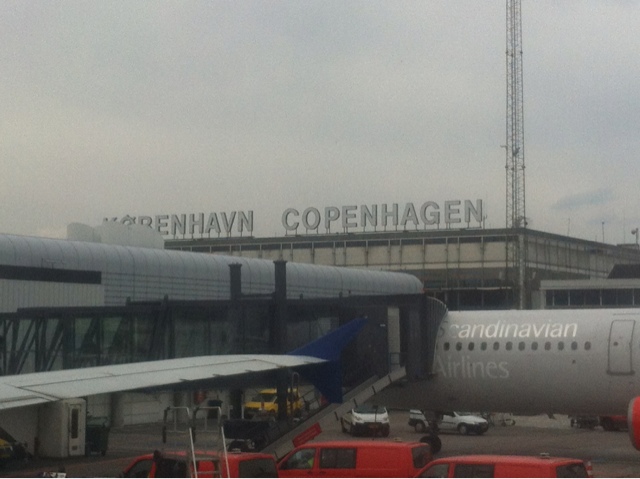 I did arrive and I did begin my vacation.
Getting from the airport to the place where I'm staying was incredibly easy. I couldn't help but compare with my experience arriving in Rome three years ago and trying to figure out how to get out of the airport, find the train to the bus station, and then figure out which bus to take to get to Siena. Here everything was clearly marked. (No one checked my passport, so I'm not sure I'm here legally.) The metro was efficient and speedy, and the walk from the metro to the Gemini apartments was pleasant. I was still wearing just my t‑shirt, which I wore because it was 80 degrees when I left Seattle. It was about 60 here but anyone who knows me knows that's okay with me!
I met Ivan, one of my hosts, and after a shower and a freshening up, he gave me a great overview of the city, handed me a map, and I was off.
I previously posted about the Gemini apartments, so I won't describe this place again, but my first impression of Copenhagen is that it's a marvel of great modern architecture (along with plenty of older buildings), and this place fits right in.
Here are a few of my pics of where I'm staying. From halfway across Brygge Broen: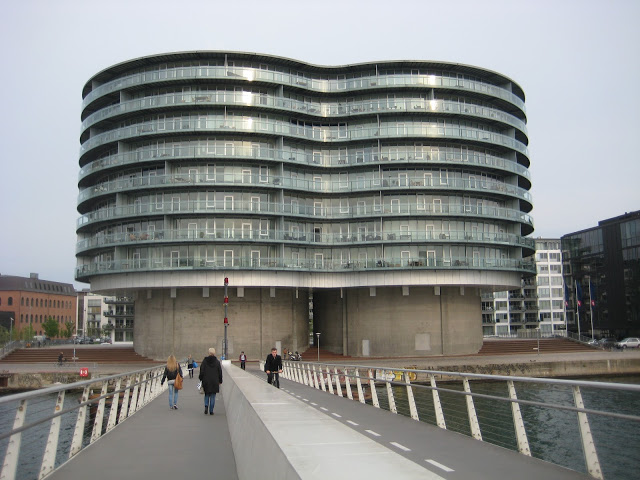 And here are some pics of the lobby and interior of the building: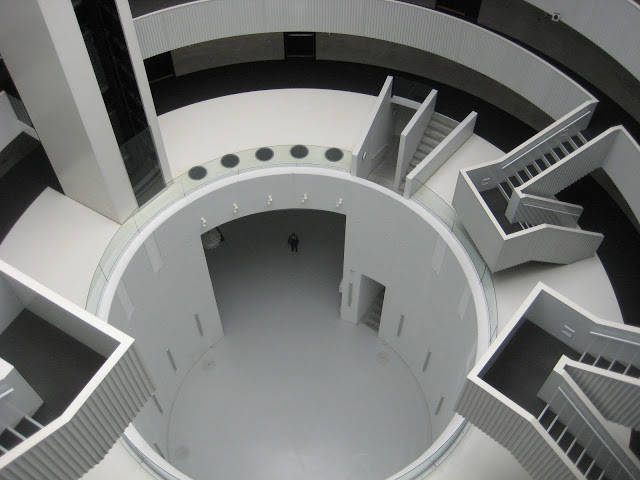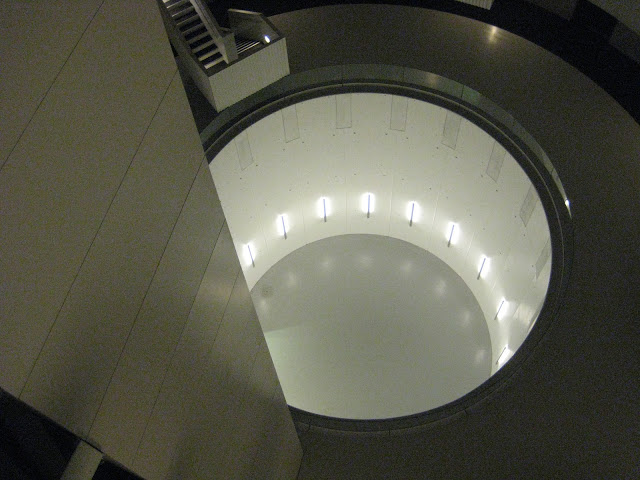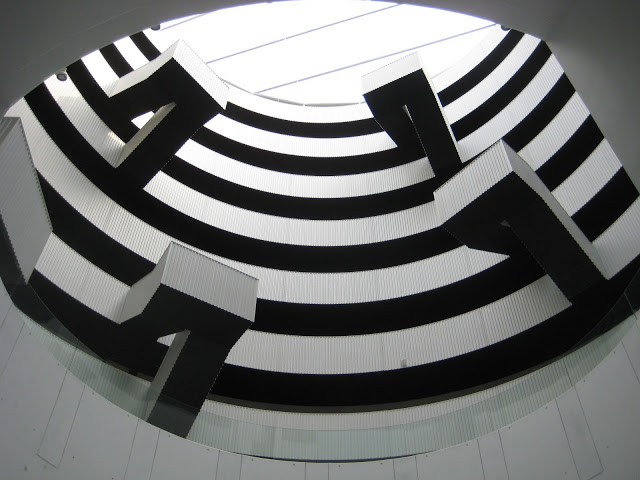 And here's the kitchen. I defy you to find the dishwasher and refrigerator, both of which are clearly visible in this pic.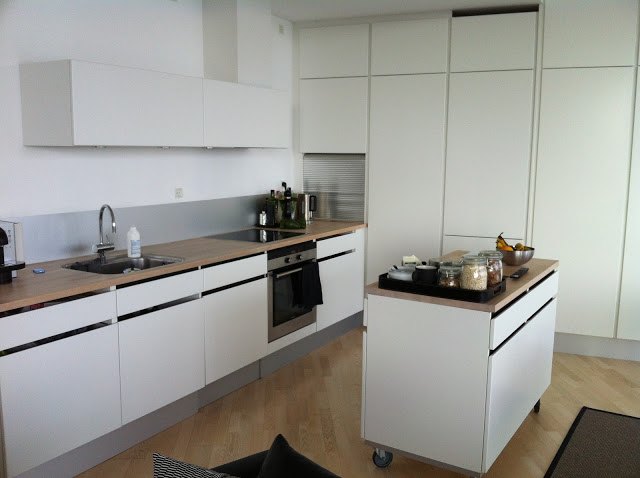 My other first impression of Copenhagen is how incredibly bike friendly this city is. Seattle, with its "sharrows," ought to take a lesson from Copenhagen, which has dedicated bike lanes all over the place, even dedicated traffic signals for the bikes. As a driver or a pedestrian, you'd never have to worry about bikes, because they're in their own part of the road. And there are so many people on bikes. Even now, after 23:00 on a Monday night, I just glanced down and saw five bicycles going by at the same time.
And here's something I've never seen in the USA: bike friendly stairs: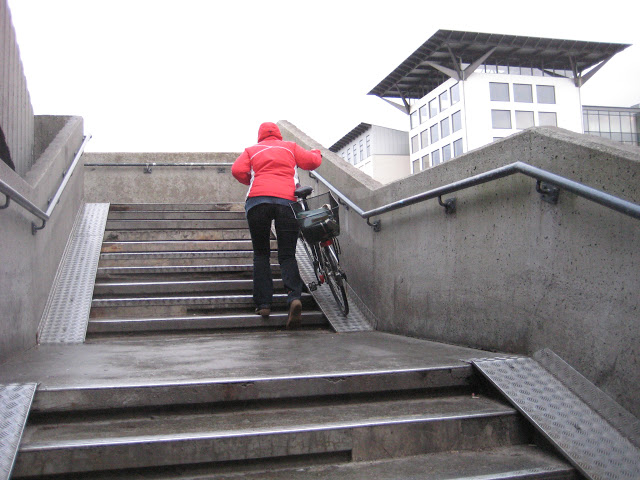 I decided to spend my first evening in Copenhagen at Tivoli. Ivan suggested I go when it gets dark so I could see it all lit up, and that was a great idea.
First, though, I stopped at the train station, which is right across the street from Tivoli, to get my Eurail Pass validated. And I asked about whether I'd need a reservation for my upcoming trip to Svendborg (where I catch the ferry to AEro. It's a good thing I did, because she told me the train was almost sold out.
Then I found a place for dinner that was recommended by Rick Steves. It was a vegetarian buffet. It was okay, and a good deal — about $15 for all you can eat, with lots of variety — and the food was good but not memorable.
I got to Tivoli about 20:30, and well, I've never seen any place like it in the USA. It's an amusement park, but the emphasis is really on "park." There are about 10 or 12 rides, an arcade, shops, restaurants, and beautiful grounds with lots of flowers, a pond, and oh, the lights! When it got dark as it approached 22:00, it just lit up with colors. Just lovely. And the fact that it's smack dab in the middle of downtown Copenhagen adds to the charm.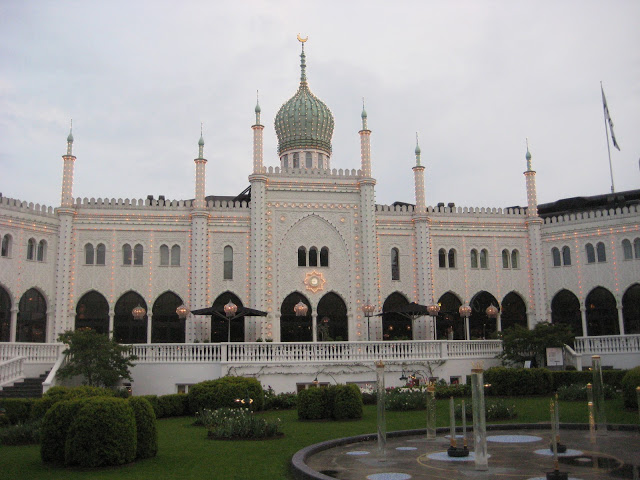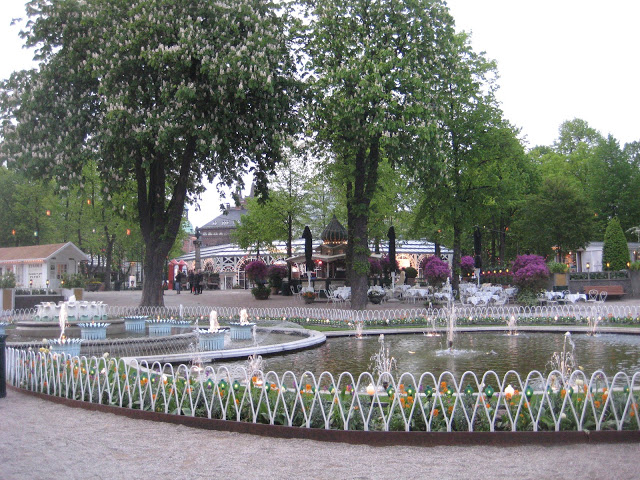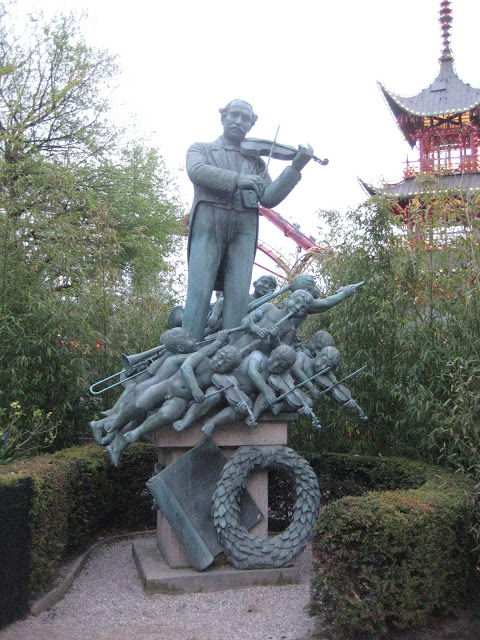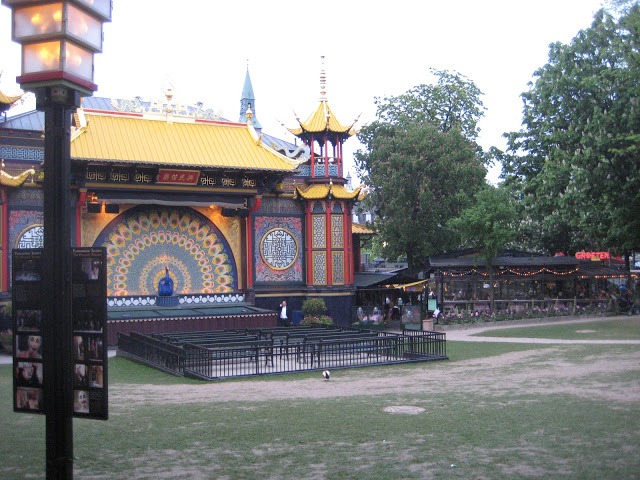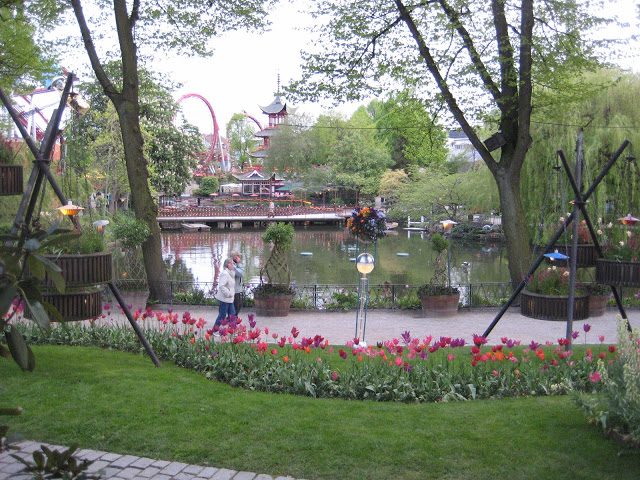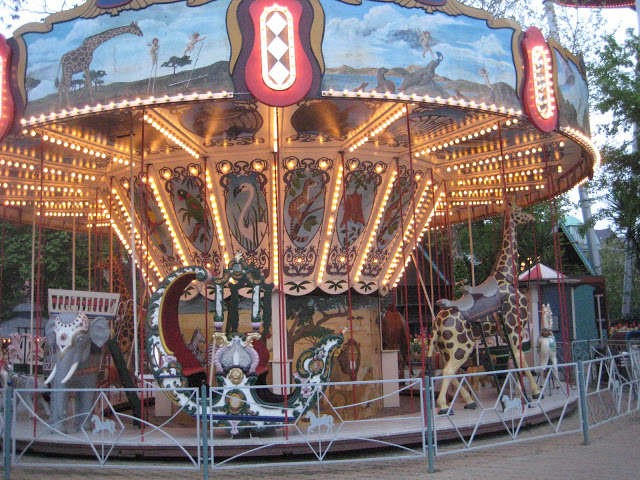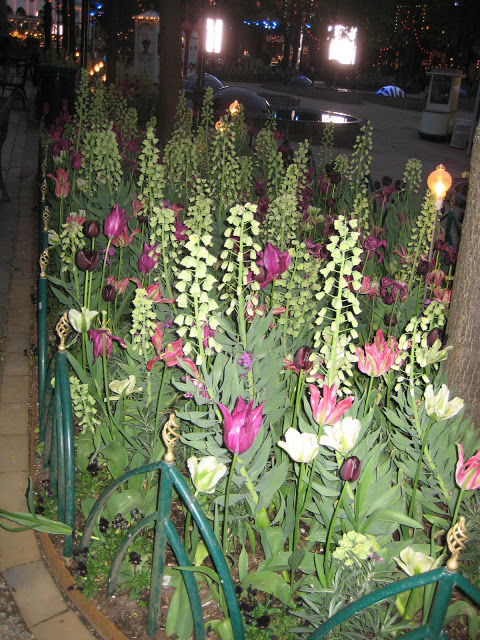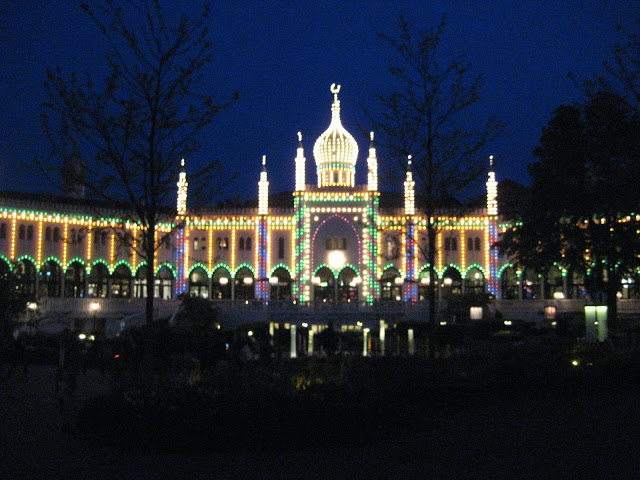 Now I'm back "home," sitting out on the balcony overlooking the canal, six stories up. I'm about ready for bed, so I'll sign off here. More tomorrow.