Thursday, December 20, 7:00 am
It's Thursday morning, and my time at Arenal is coming to an end. In a little over an hour I will get picked up for my ride to Monteverde. Once I get there, I have the rest of the day free.
The volcano finally made a complete appearance this morning. It was mostly visible yesterday afternoon and evening as well, but since it is west of here, it was silhouetted against the sky. This morning it is beautifully lit by the morning sun.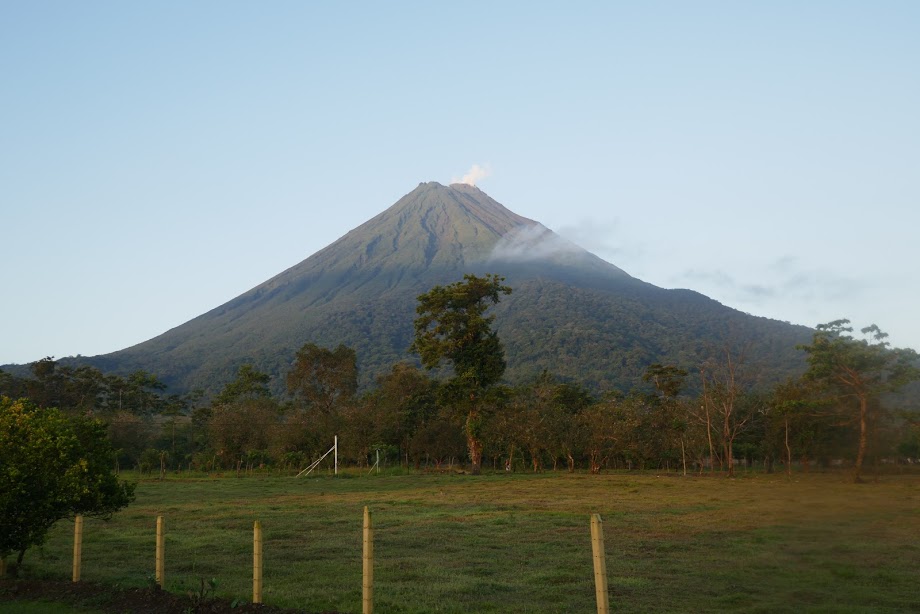 Blue Water
Yesterday's excursion was to Tenorio Volcano National Park. Although it is named for one of Costa Rica's 100+ volcanoes, it is more famous for its river, Rio Celeste. And the river's fame derives from its blue color.
There's a spot (actually at the very end of a difficult hike) where two streams meet, and what appears to be a line in the water where it turns blue. As my guide book explains,
The color results from a substance composed of aluminosilicates—a combination of aluminum, silicon, and oxygen—that coats the bottom of the river. The substance, which forms where the two streams meet, absorbs all colors except blue, which is reflected back and gives the water a blue appearance. Local lore offers a different explanation: when god was finished painting the sky, he dipped his paintbrush in the river.
It was really remarkable and very pretty. If you could start at the end of the hike and work backwards, heading downriver, it would be a better experience. The trail was quite muddy in sections (and we were there on a dry, sunny day; they provide rubber boots when it's raining, and even then the mud can get inside your boots). There's an area of the river called the Blue Lagoon, where it widens and is very calm. And there's a very dramatic waterfall.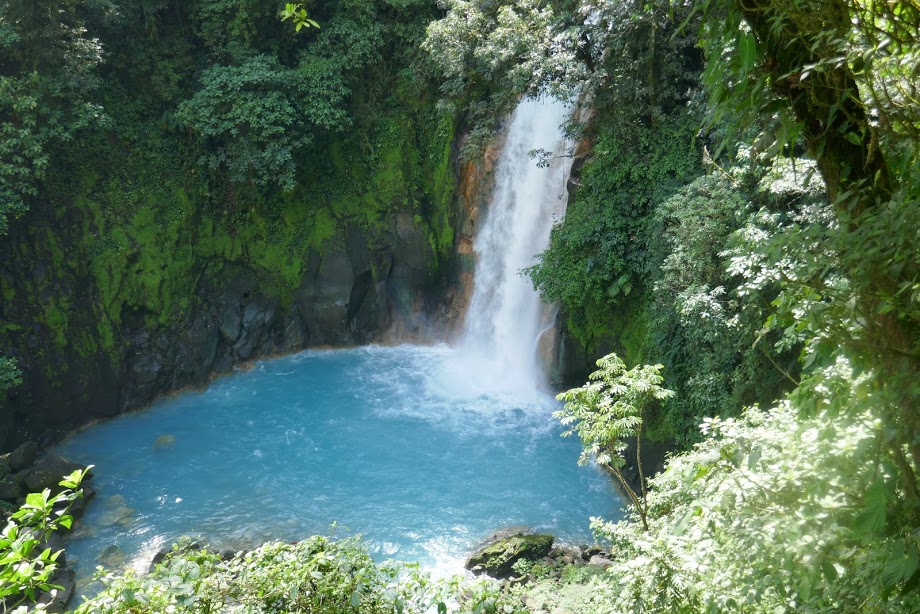 The trouble with most of the hike is that the footing was so uneven and slippery that there was no way to take in the surroundings. But it was an enjoyable outing.
Pineapples
On the way to Tenorio we passed a number of pineapple farms. Gabriel, our guide, told us about how pineapple farming works. It takes about a year to grow a pineapple, but the big producers, like Dole and Del Monte and Chiquita use chemicals to speed up the process and make bigger pineapples. But in the process, they kill the soil. This is what happened in Hawaii, and now very few pineapple farms are left there. For now, pineapples are Costa Rica's second largest export, but in another twenty years, Gabriel said, this will end.
Don't buy these mass-produced pineapples! Stick with organic pineapples! (The ones I've eaten here are so much sweeter and juicier than what we can get back home.)
Four Hours, Fifteen Miles
It's now 9:30 pm, and I'm in Monteverde. The journey here was epic. A van picked me and several others up at the hotel in La Fortuna. Our luggage was hoisted in through a window. We stopped at several other hotels to acquire more passengers and more luggage until the van was full. Then we drove for about 20 minutes until we arrived at a ferry launch on Lake Arenal. (By "ferry launch" I actually mean a small dock. We and people from multiple other vans boarded three vessels that motored slowly across the lake.
After about 40 pleasant minutes we arrived at the other end of the lake, where only one boat could dock at a time. In fact, there was no dock at all, just a road that came to an end at the edge of the water. We were the last to unload. When we were picked up, we each got a number representing the van number to ride from there to Monteverde. And once we found the right van, we were off on a two-hour drive on some of the twistiest, steepest, roughest roads I've ever been on. The scenery was spectacular. Finally we arrived at the Cala Lodge.
Total travel time: four hours. Total distance from La Fortuna to Monteverde as the crow flies: fifteen miles. (If we had driven all the way, it would take longer. There's no even somewhat direct route.)
After I got checked in I promptly locked myself out of my room and had to go back to reception to let me in. (The balcony has a sliding glass door that locks from the inside. I didn't realize that until I closed it to prevent insects from entering, because there's no screen. I was able to climb over the railing. Fortunately my room is on the ground floor.)
Saint Elena
The name of the town center of Monteverde is Saint Elena. I walked into town for lunch and to wander around. I'll write more about that next time. It's getting late and I have an early morning and I'm tired.