It's 8 am on Christmas morning, and I've seen and done so much since my last post, five days ago, I can't begin to recap it all. Much as I wish I could write about every experience and all my impressions as they happen, its not possible. The little things, the minuscule observations, the momentary sensations, all of which I wanted to capture and preserve forever, all have faded from memory. But I hope they remain buried deep inside me. Maybe I'll recall one of them at some random future date. Or maybe they will just contribute, in some unknowable way, to my total makeup and to the long roster of experiences that lead me to seek new travel adventures.

Of course I have taken hundreds of photos, and I look forward to organizing them into album. Flora, fauna, and scenery abound. And in the last two days, which I've been spending with my friend Linda in Dominical, I've taken lots of pictures of her and us and her friends.
Monteverde
My first full day in Monteverde was filled with activities. It was also filled with very strong wind, gusting nearly to the point of knocking me over. The wind continued for the remainder of my time in Monteverde, and by the end of the day it was joined by a misty rain whipped into a drenching frenzy.
Cloud Forest
First thing in the morning I was picked up for a tour to the Monteverde Cloud Forest Biological Preserve. The goal was to see lots of birds and maybe some other wildlife, including the Resplendent Quetzel.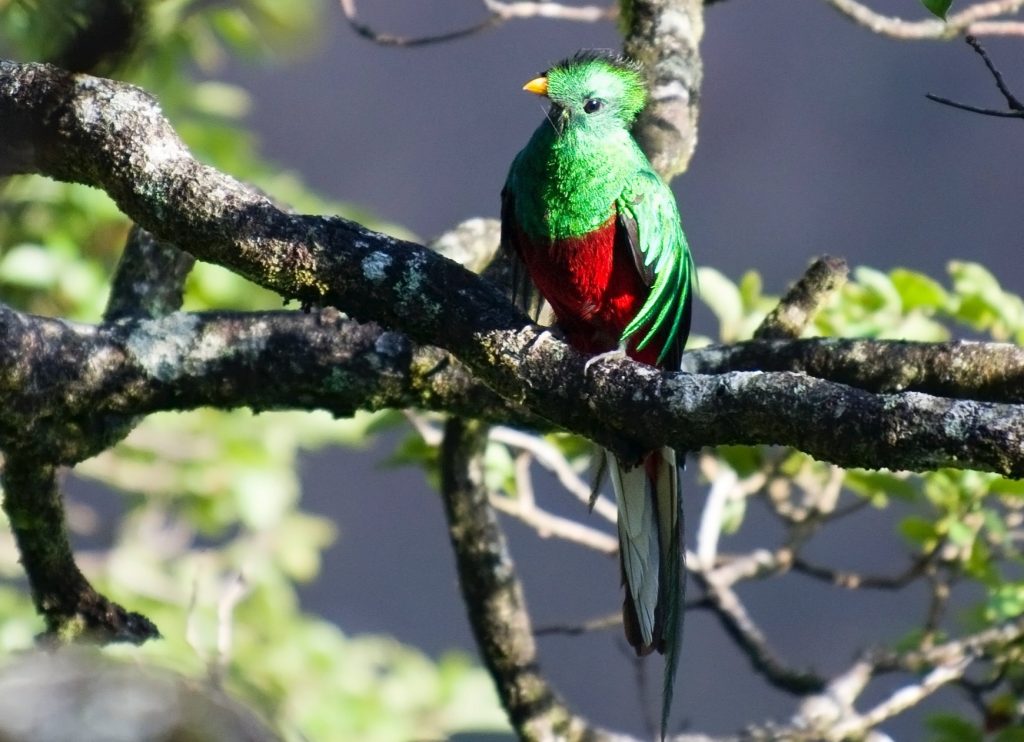 The cloud forest visit was largely a disappointment, as there was very little wildlife to be seen. But afterwards, we stopped at a hummingbird garden just outside the entrance, and that was really cool. Lots of feeders and probably hundreds of birds buzzing all around us. Plus an olingo paid us a visit and drank most of the contents of one of the feeders.
Coffee
That afternoon I went to visit Café de Monteverde. I had other coffee tour options, but I chose this one because it's a smaller cooperative venture committed to sustainable farming practices. I got to help harvest some coffee and operate a hand‐crank machine that separates the beans from the hulls. And at the end they had a tasting of different roasts and alternative processes: full‐washed, honey process, and natural process. And they showed us how they make the perfect cup. (Personally, I'd use a higher coffee‐to‐water ratio…) The tour was interesting, and I learned a lot.
Night Walk
The final activity of the day was a night walk. Unfortunately this is also when the rain started, but that didn't prevent to tour from proceeding. And it certainly didn't prevent the animals of the night from putting on a show. It was challenging to get good photos in the dark with a flashlight, but some of them came out far better than I was expecting.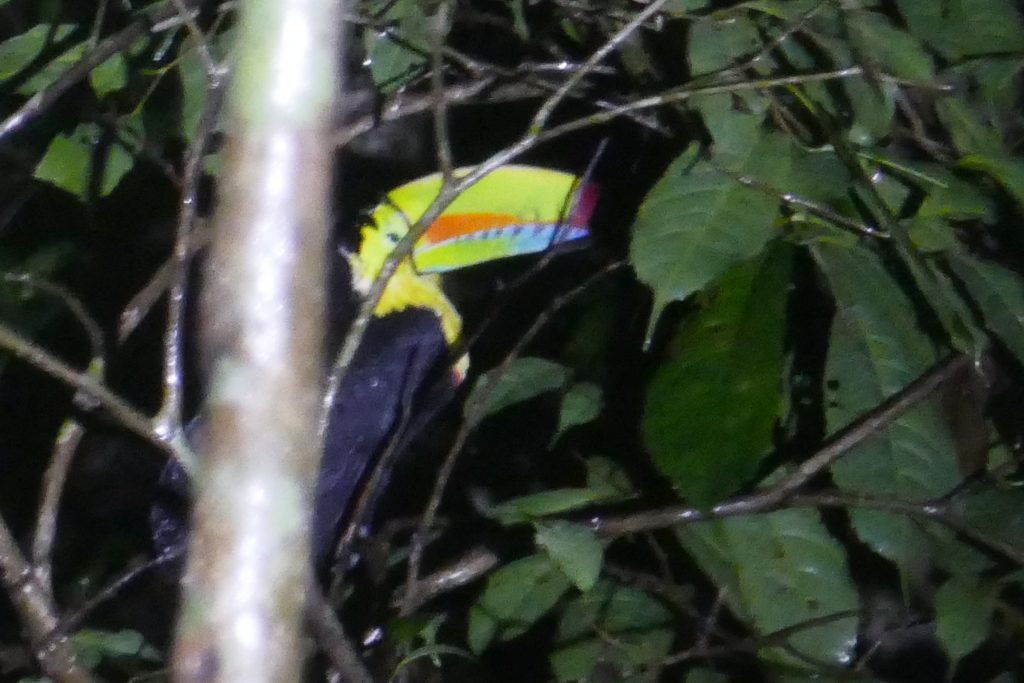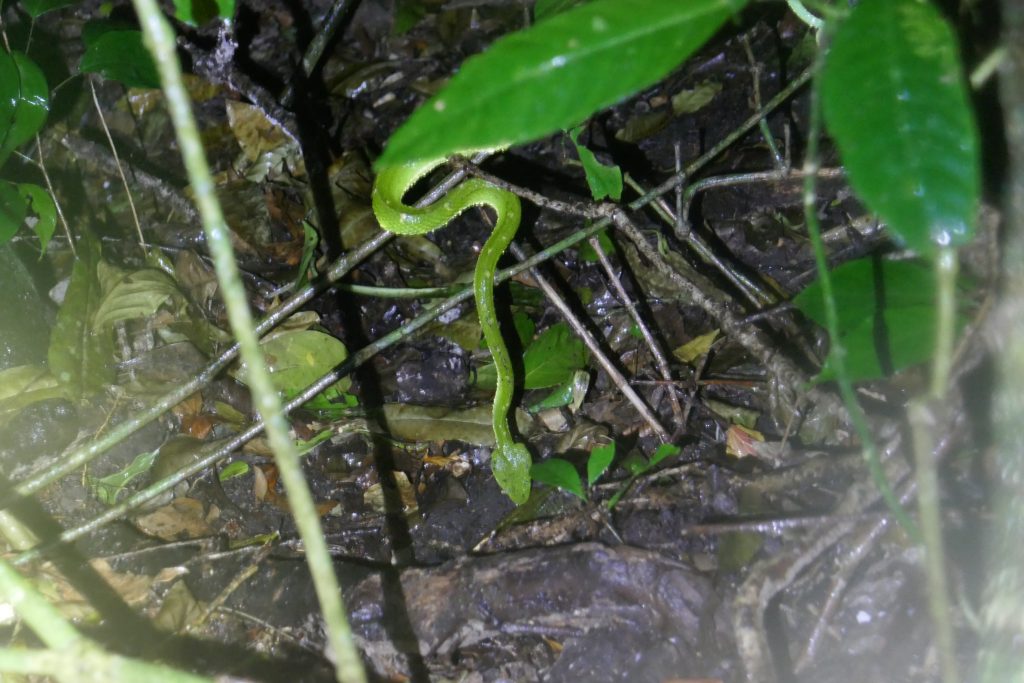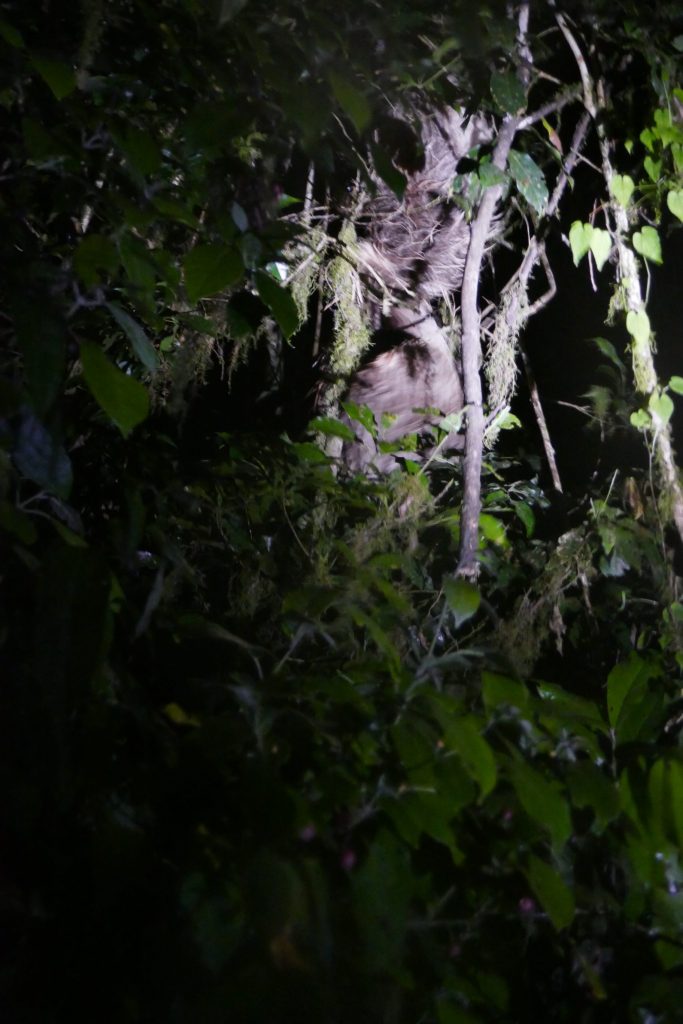 Butterflies
The next day it was still windy and rainy and chilly. I decided to visit a butterfly garden that was close to the hotel. It was so cool to be able to wander through these enclosed gardens and have these beautiful insects fluttering all around me. After I went through on the guided tour, I was able to go through again on my own. It was then I was able to get the photo up top of the Blue Morphos. Normally they fold their wings when resting, but this one sat on a leaf for several minutes with its wings open. There were many other beautiful butterflies (and not just in the garden—they are everywhere), but getting a picture of the Blue Morphos feels like one of the big prizes of the trip so far.
Frogs
Because of the wind and rain, I took a taxi into Saint Elena (the town center of Monteverde) to get lunch and then visit a frog pond. To call it a frog pond is a gross misnomer, though. There are glass exhibits where the frogs live. It was interesting to see them all, ranging from tiny (fingertip‐size) to quite big (the size of a fist).
Dominical
I got an 8am pickup on Sunday for the drive to Quepos, where I would get another ride to Dominical. The drive from the mountains to the coast went through some truly spectacular scenery. By the time we got to the coast the temperature had risen from about 60°F to almost 90°. The rain was gone and the sun was strong and the humidity was, well, humid.
We stopped a few times along the way, to check out the scenery, for our driver to get breakfast, at a souvenir shop selling all local crafts, and to observe, from a bridge over the Tarcoles River, about a dozen crocodiles just lazing in the sun. We also stopped when the driver saw a pair of scarlet macaws in a tree along the side of the road.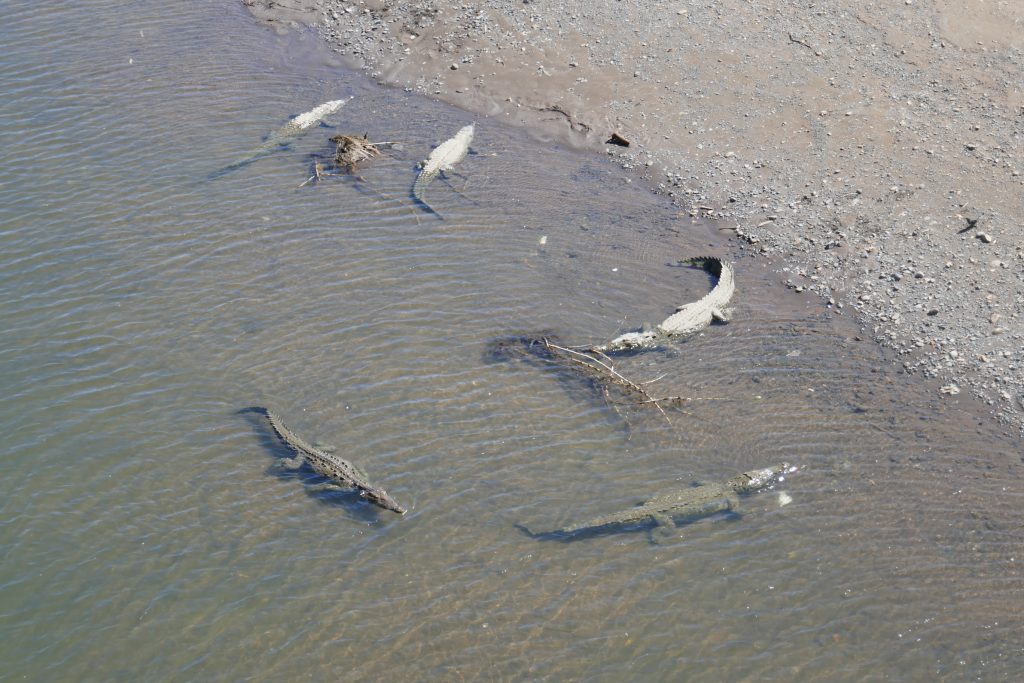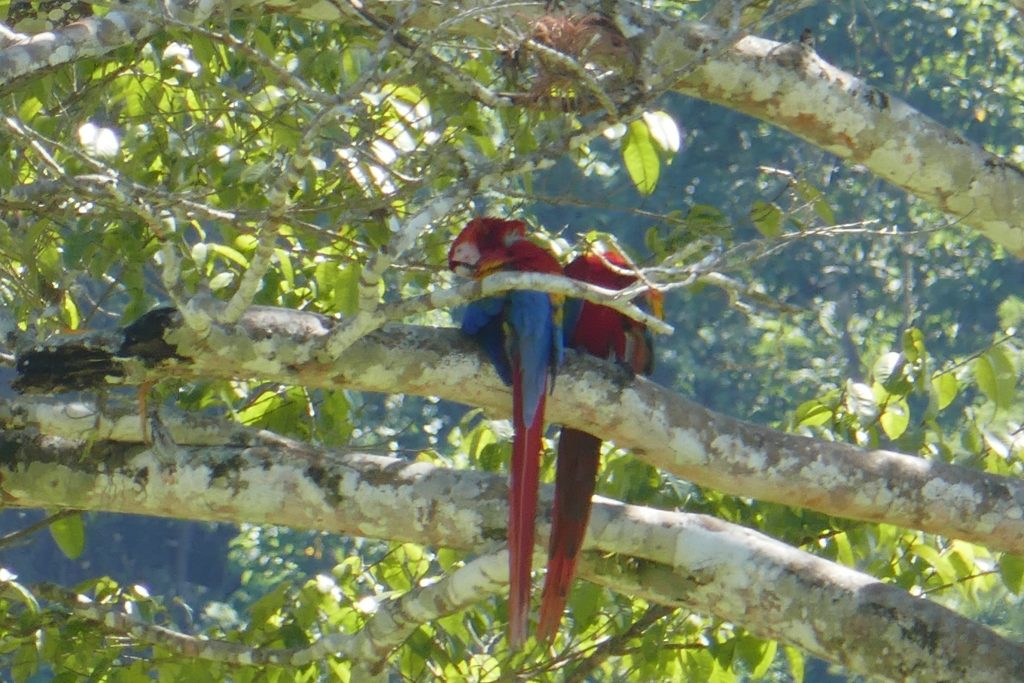 When we arrived in Quepos, we drove to where I was supposed to get picked up for the drive from there to Dominical, the last half hour of the 5 1/2 hour trip. But my ride was not there. So the driver got on the phone and discovered that they were running late, and he had other passengers he had to pick up and drive into San Jose. So we drove into Manuel Antonio to drop off the other passengers at their hotels and then back to Quepos about half an hour later, and by now the other van was there. The driver never said a word to me. After conversing with the previous driver briefly in Spanish, he took hold of my luggage and I followed him toward the van. Then when we got to Dominical, he got lost trying to find the hotel which was my drop‐off point. He didn't get a tip.
Linda was waiting when we finally did find the hotel, and she showed me around town a bit before taking me to her house. We stopped at the home of some of her Tico friends. It's a Christmas tradition in Costa Rica to eat tamales for Christmas breakfast, and earlier in the day Linda helped them. So we stopped to pick up some, and first they fed me. Best tamales I've ever had! And such lovely, warm, hospitable people.
When we got back to Linda's we jumped in her pool. Then her partner Michael came over and we had dinner and drinks and great conversation.
I'm rambling about what we did and then what we did. And I'm going to stop now. No talk of the waterfall and beaches and sunsets and wonderful collection of expat friends Linda has made a part of her life here. It is really special to be here, and I'm loving every minute, except when I'm dripping with sweat. I'll post photos later, and they will do a better job of describing everything than I can with words..
Tomorrow Linda and Michael and I head to the Osa Peninsula for the final few days of my trip. I'm not sure we'll have good Wi‐Fi at the hotel down there, but I'll try to post more.