Some truths about travel
I think I gave some of my readers the wrong impression with the last couple of posts. I haven't been unhappy or disappointed or been looking for reasons to not enjoy myself. But all travel was not created equal, and here are some things I've learned, not just from my own travel experiences, but from reading about others' experiences as well.
Traveling is always awesome, even when it's not.
Traveling is always better than not traveling.
All travel has its ups and downs.
Even if you work hard to have mostly ups, you can't avoid some downs.
The downs of traveling are sometimes better than the ups of not traveling.
I wouldn't even say that this trip has been more down than up. Yesterday was interesting. I learned some things, I had new experiences, and I had opportunities to relax and feel fantastic. In my book that counts as a win.
Hanging Bridges
So today was my first day of real tourism. It was a long day. I was picked up at 7:10 am for the first of three activities: Mistico Hanging Bridges Park. My guide was Hansel, and for this activity I had him all to myself. I guess no one else wanted to get up so early to see hanging bridges, but as it turned out, this was the best of the three activities today. (Hansel was born and raised in La Fortuna and is not German. His mom, he told me, wanted to give him a name that was not too ordinary. I can appreciate that.) (He's also heard all the jokes about "Where's Gretel?") Our driver was Edgardo, and I got the impression that his family owns Rainforest Explorers, the company that ran today's tour.
It's was fun wandering through the tropical rain forest, sometimes on the forest floor, sometimes in the canopy, and sometimes above it all on metal bridges that were suspended across valleys and that probably seemed more rickety than they actually were. Of course, this experience is all about seeing wildlife, and the rain forest did not disappoint. Eventually I'll be posting photos of all the animals I managed to get pictures of, mostly birds, but also insects, reptiles, two kinds of monkeys (howler monkeys and spider monkeys), two kinds of bats, and lots of coati. (Initial inspection indicates a lot of my pictures didn't come out very well. Sadly, wild animals are just not good at sitting still and posing for the camera, and they're often too far away to get good focus.)
Almost as impressive as the wildlife show was the amazing skill Hansel had at spotting them. He's stop and point and all I'd see were trees. Then he'd direct me to observe precisely what he was pointing it, and all I'd see were leaves. He'd set up his monocular on a tripod, point it into the dense foliage, and have me take a look, and there was a bird or other critter. How he managed to spot them will be forever a mystery to me.
Hansel also clarified the distinction between rain forest and jungle. I won't ever confuse the two again.
I felt very lucky to have my own private guide for this experience. And starting early and being here about a week ahead of true high season was good planning. Hansel told me that often groups have to queue up and wait to cross each bridge.
Catarata
For the rest of the day's activities we grew to a party of eight: a grandmother, mother, and three young adult children from Toronto, and two young women from Houston. The next stop was Catarata Río Fortuna, the waterfall just oustide La Fortuna. As waterfalls go, it's not tremendously impressive, but considering I've been to Niagara, Iguassu, and Gullfoss, I'm not easily impressed by waterfalls. But the fun thig here was being able to swim at the base of the falls. This required a walk down nearly 500 steps (and back up afterwards), and I can't say I really did any swimming: I just sat on slippery rocks in the water and flapped my arms a little.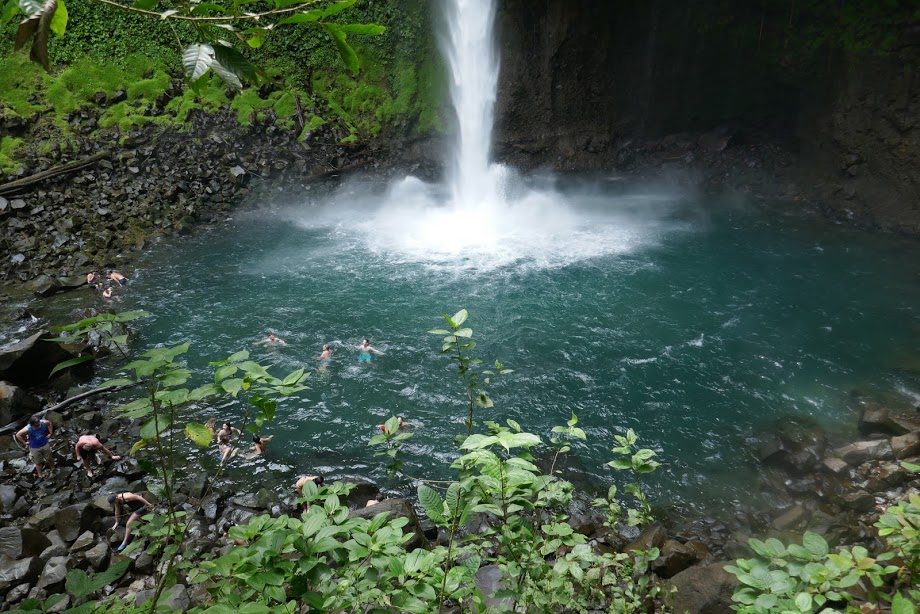 Lunch
We next went for lunch at a lovely place across from Edgardo's family's home. His mother was the cook. The food was good. I only mention lunch because here i had an opportunity to redeem my bird photography failures from earlier in the day. They had a bird feeder, and I got some excellent shots, if I do say so myself.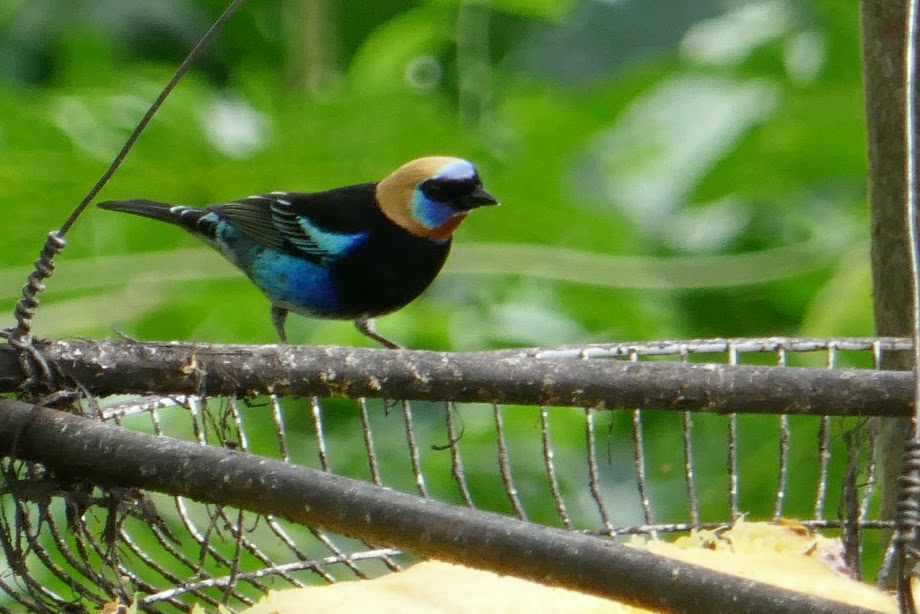 Arenal Volcano Hike
Our final stop of the day was at Arenal volcano, where we hiked a short way up the west side, which was devastated by the eruption. Much of the ground was covered with lava rock, randing from small stones to massive boulders, but it was remarkable how much vegetation is returning. Sadly, the mountain itself was almost completely shrouded in fog, so the views weren't as impressive as they might have been. But it was a good hike.
On the way to the volcano, Hansel suddenly had Edgardo stop the van. He was 99% sure he spotted a sloth in a tree along the side of the road. And so, while we blocked traffic until Edgardo could back up (without a single car honking at us), Hansel got out and confirmed his sighting. And we all got out and got to see a sloth.
That's the day's highlights. If you want to come down here and see this stuff for yourself, I can give Rainforest Explorers my strongest recommendation.
Now a dip in the jacuzzi before bed.