Okay, so this is going to out me, as if it wasn't too late, but I used to love the album "Liza with a Z," a recording of the TV special of the same name, which was in turn a film of a live concert performance. It was directed by Bob Fosse, who won a Emmy.
It included a song called "Ring Them Bells." Take a moment to watch and listen. I won't go anywhere.
The first time I heard that song, I decided I'd go to Dubrovnik one day. And now I'm here. Though I didn't meet my Norm Saperstein, and tomorrow I am leaving.
That's okay, I've already met my next door neighbors. And I'll pass.
But for some reason, that song made me think of Dubrovnik as this exotic place, and I longed to visit it one day. And now, here I am!
I wanted to walk the walls first thing this morning. They opened at 8:00, and there's an entrance right next to where I'm staying.
What a great experience to walk around the old town while it's still waking up and before all the tourists invaded. From where I entered until I got to the Pile Gate entrance, I didn't see another soul on the wall.
The views over the city are amazing.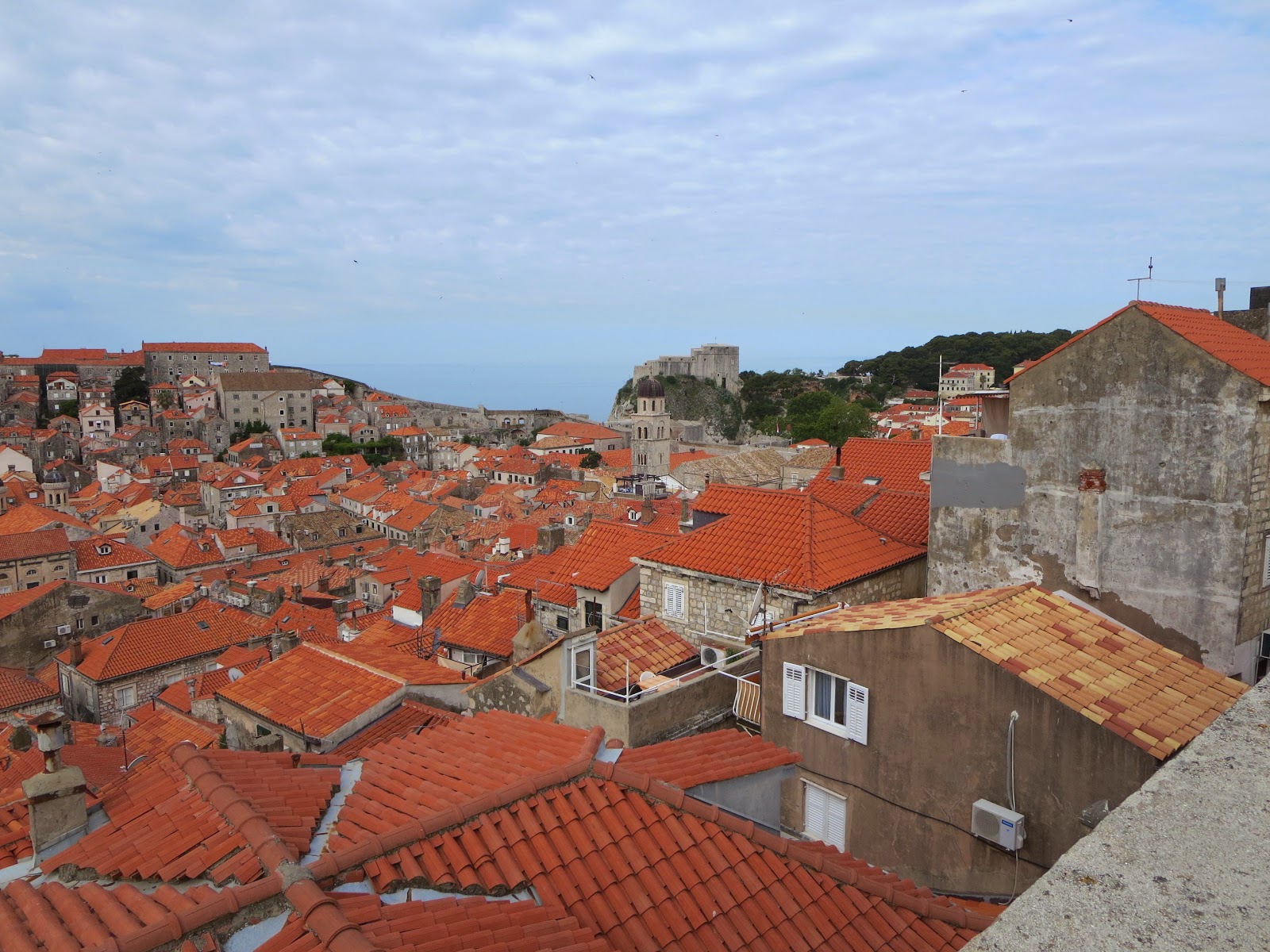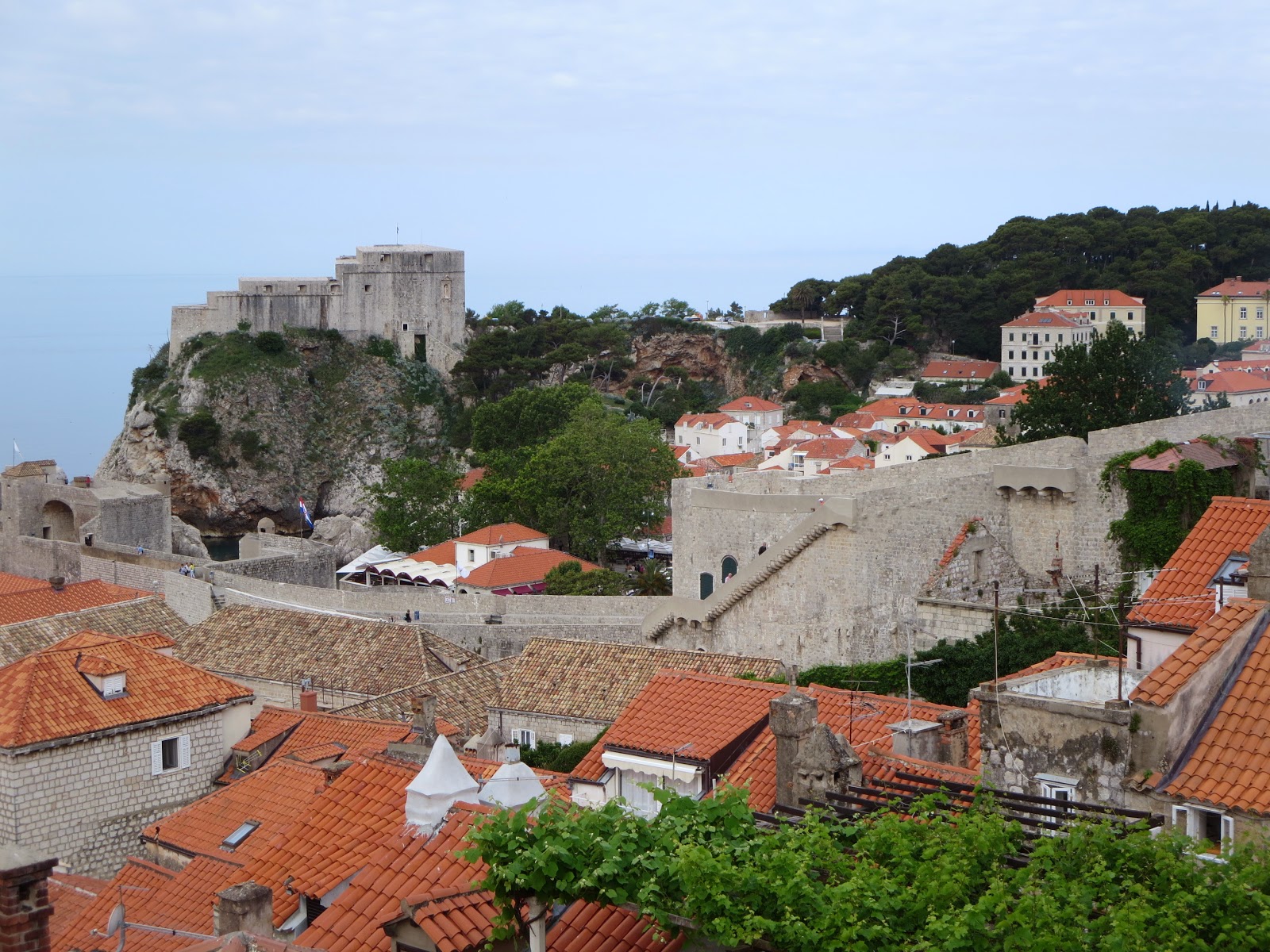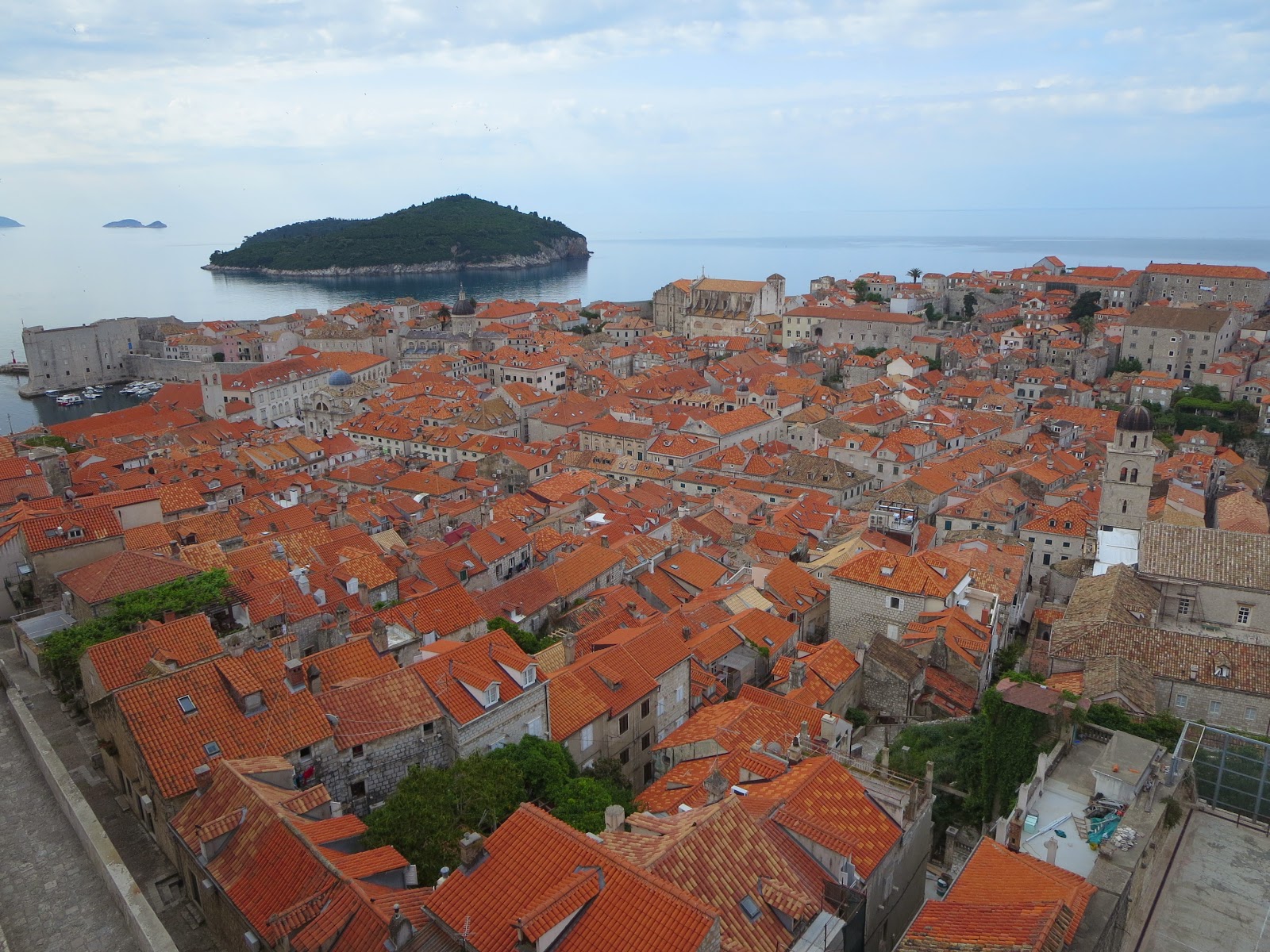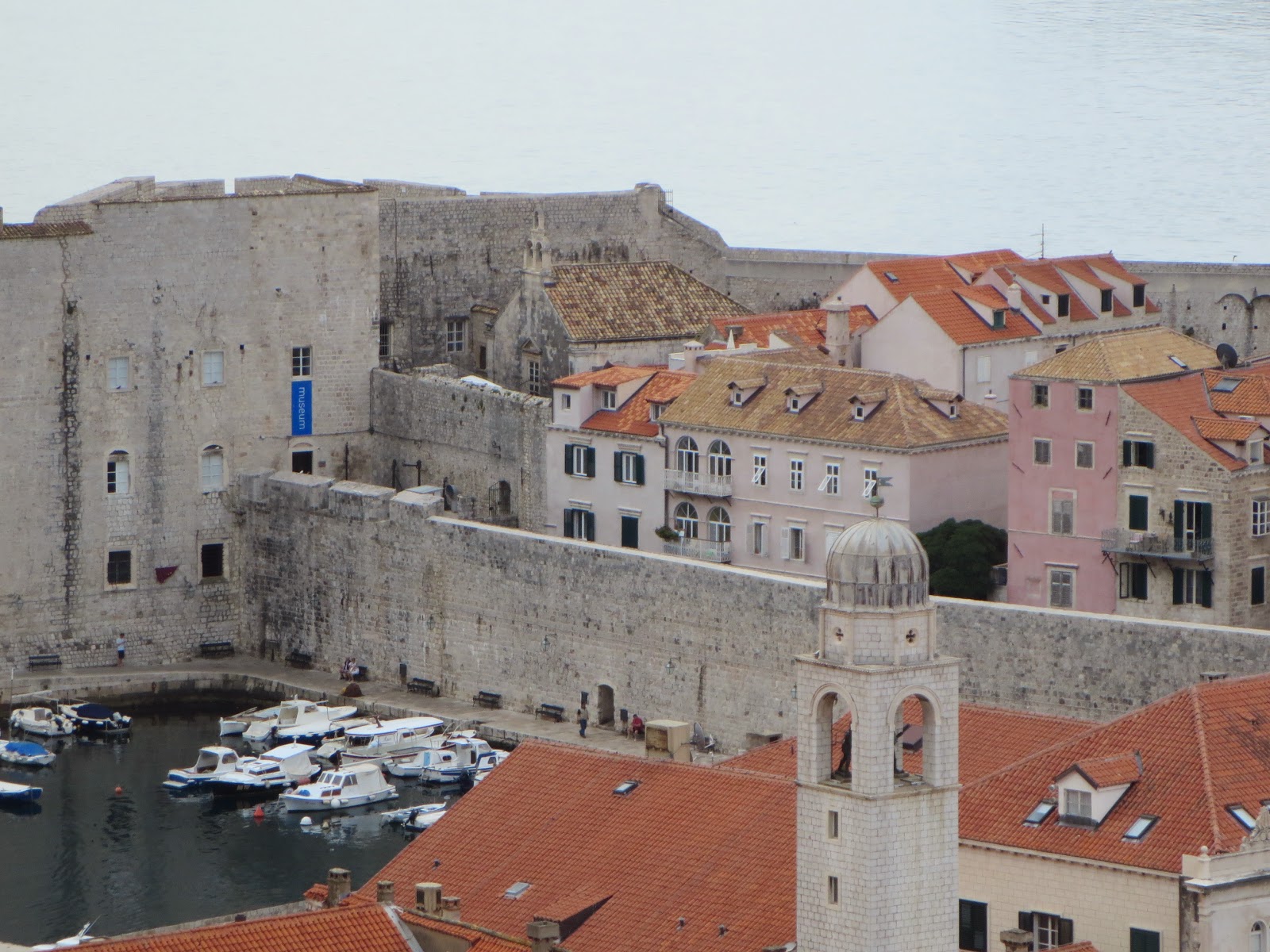 By the time I got to Pile gate, the tourists were starting to pour into the town.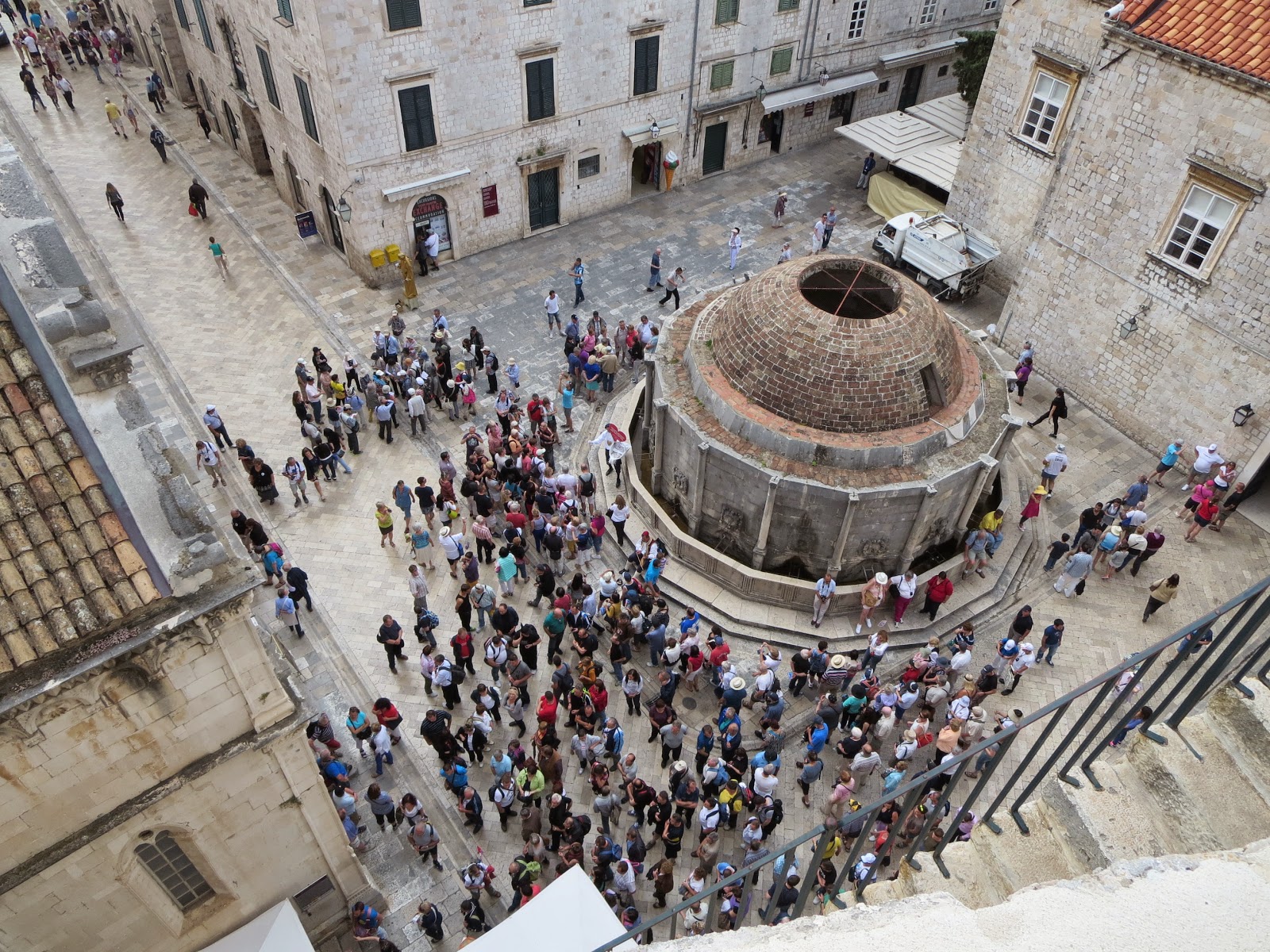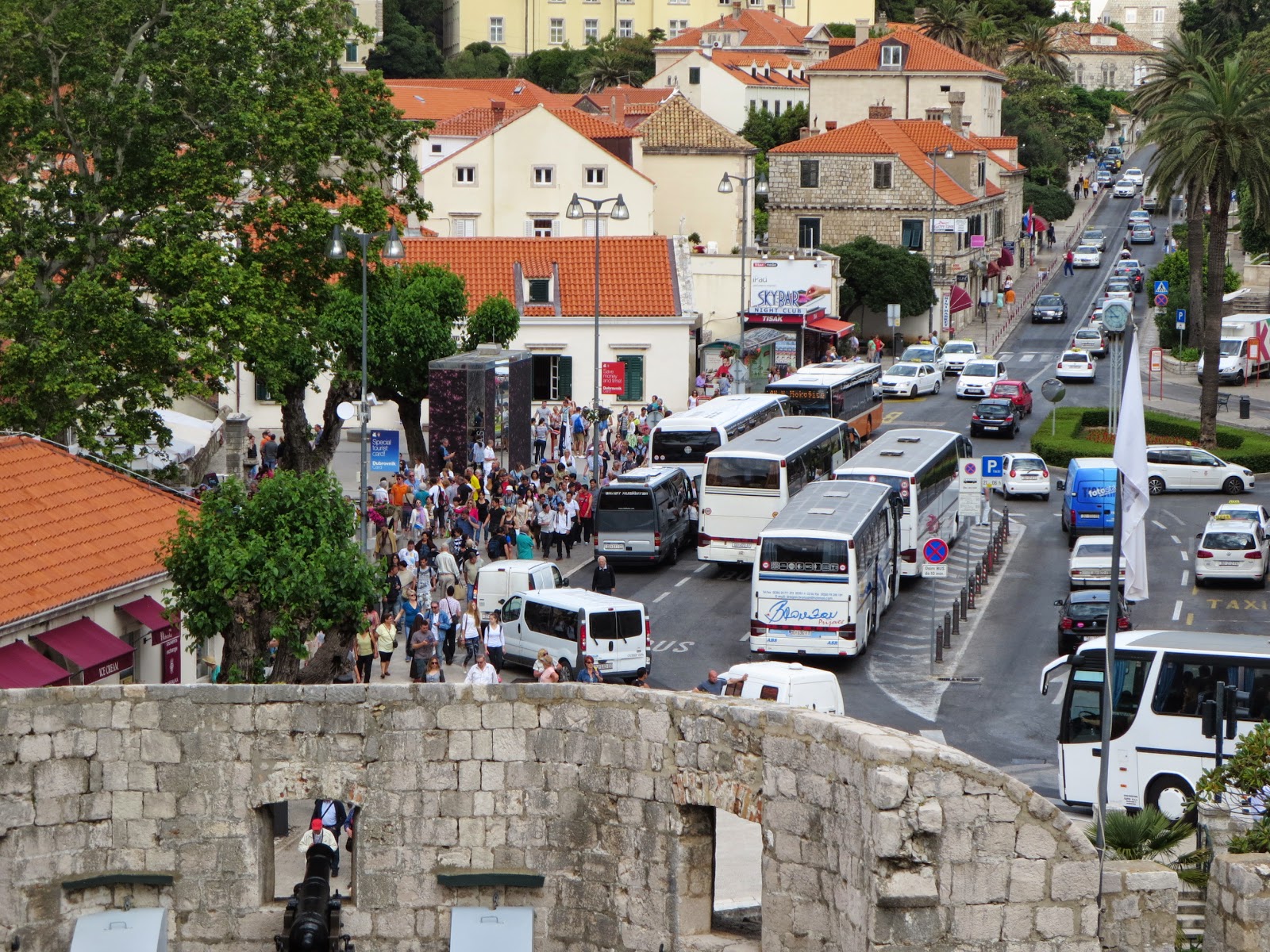 And I was soon walking with other tourists. Then, looking back, I saw this onslaught and joked to another wall-walker, "Uh oh, they're coming. Better keep moving."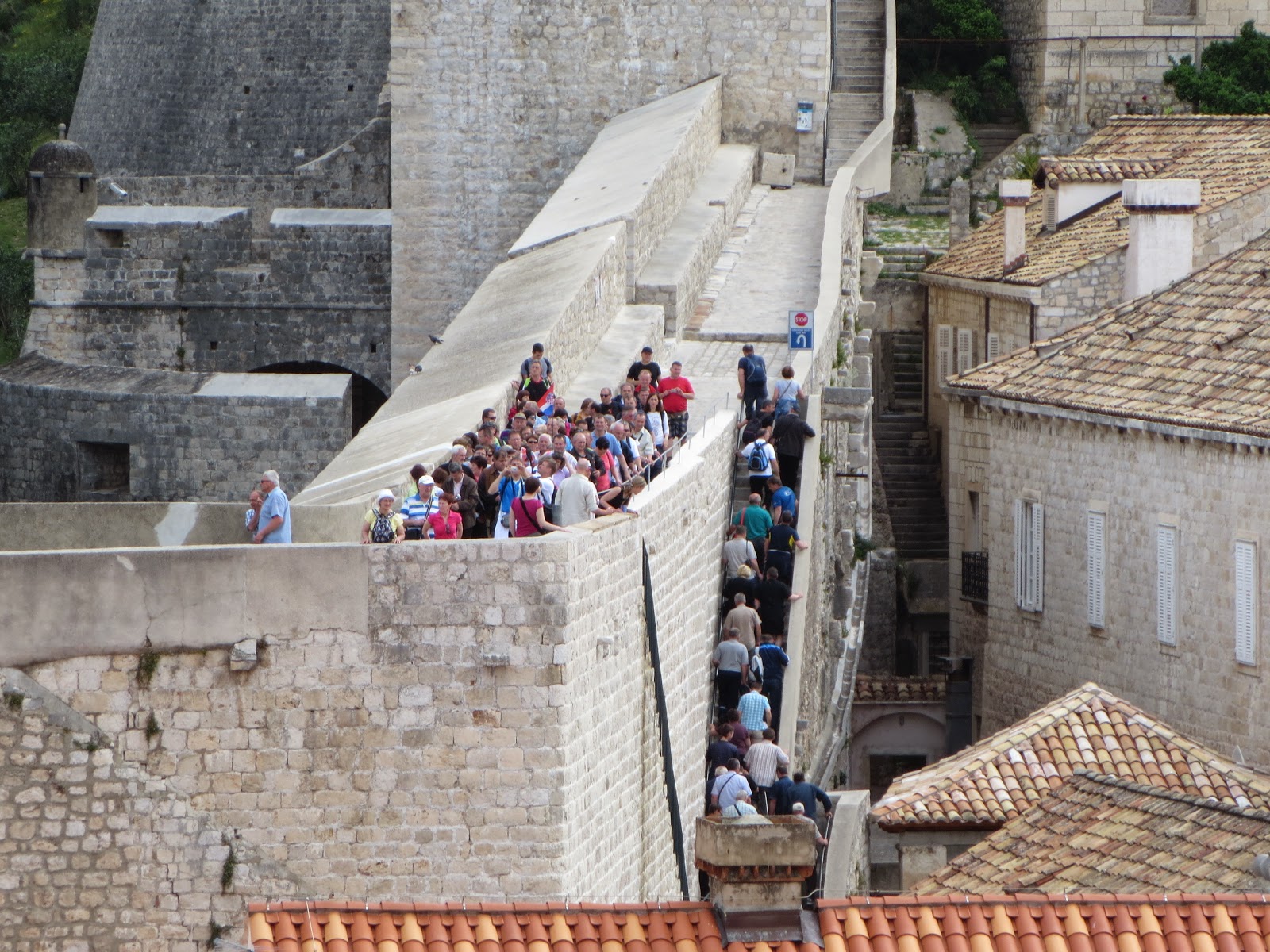 But I managed to stay ahead of the throng and finished the walk in a little over an hour.
I had a few other activities planned for the day: a trip to Cavtat, a small town about 45 minutes south by boat; and a trip up the cable car to Mount Srđ. But I had received an email from my dear friend Cathy, saying, in part" "WHYYYYYYYYYYYYYYY did you not get in a kayak with all that clear blue sea around you? Your pictures all from land are killing me." So I was shamed into doing a kayak tour, and that filled up most of the afternoon, so both Cavtat and Mount Srđ fell by the wayside.
Cathy, who is an avid kayaker, never mentioned that this sport has a few hazards, and I'm enjoying sore shoulders and sunburned feet this evening. But I also enjoyed the tour, around Lokrum Island and then on to this cool cave that is not accessible except from the water.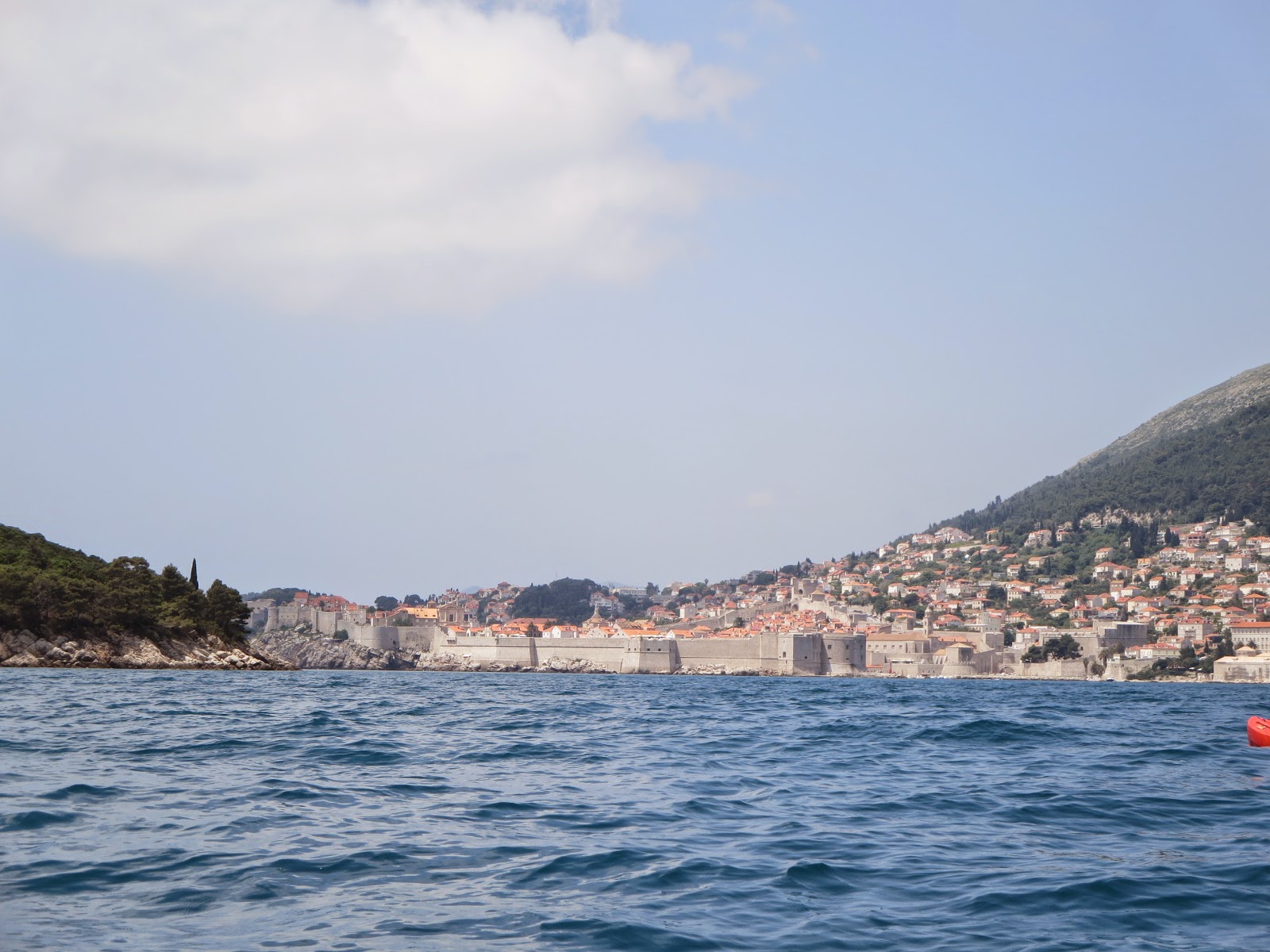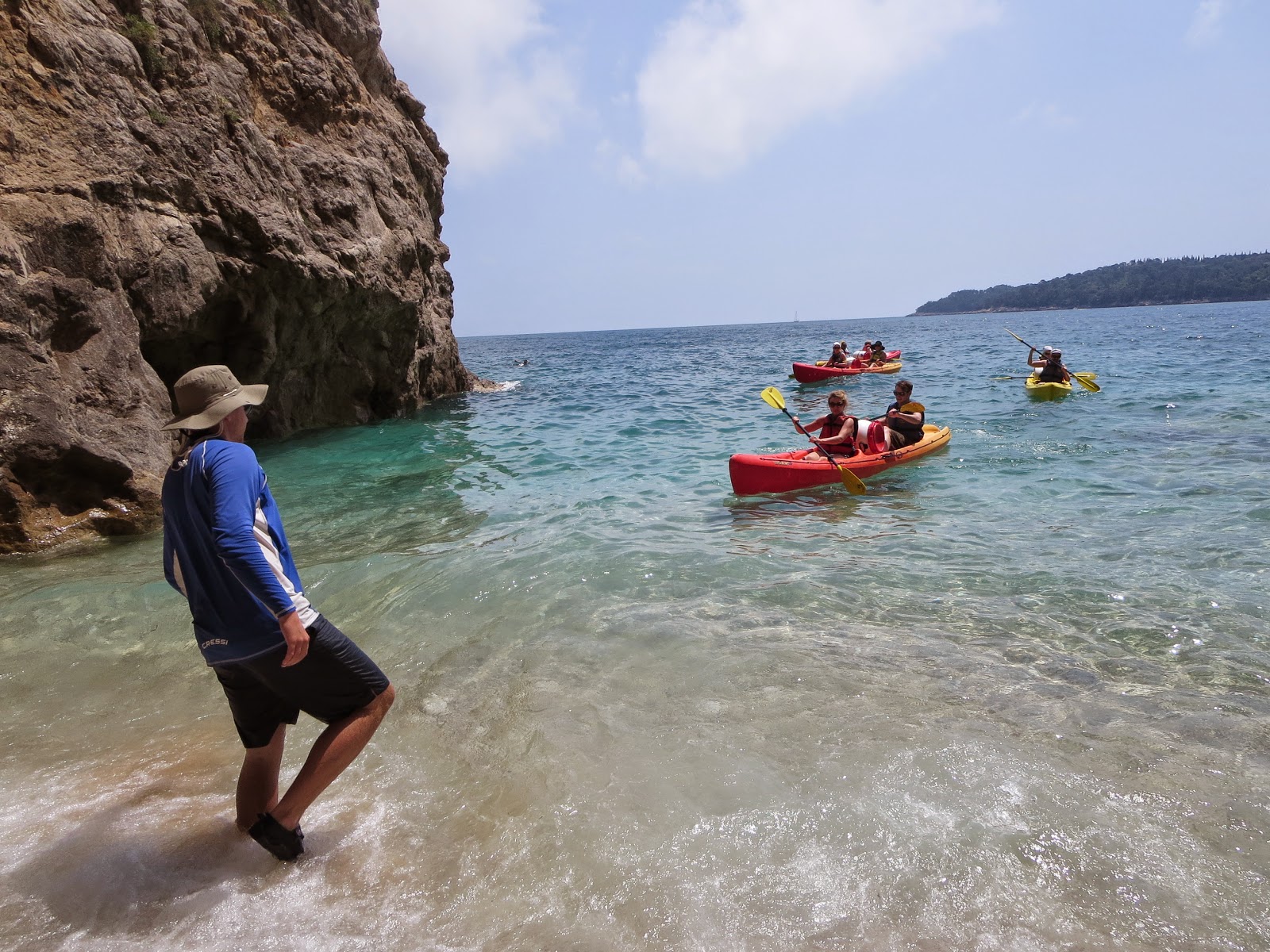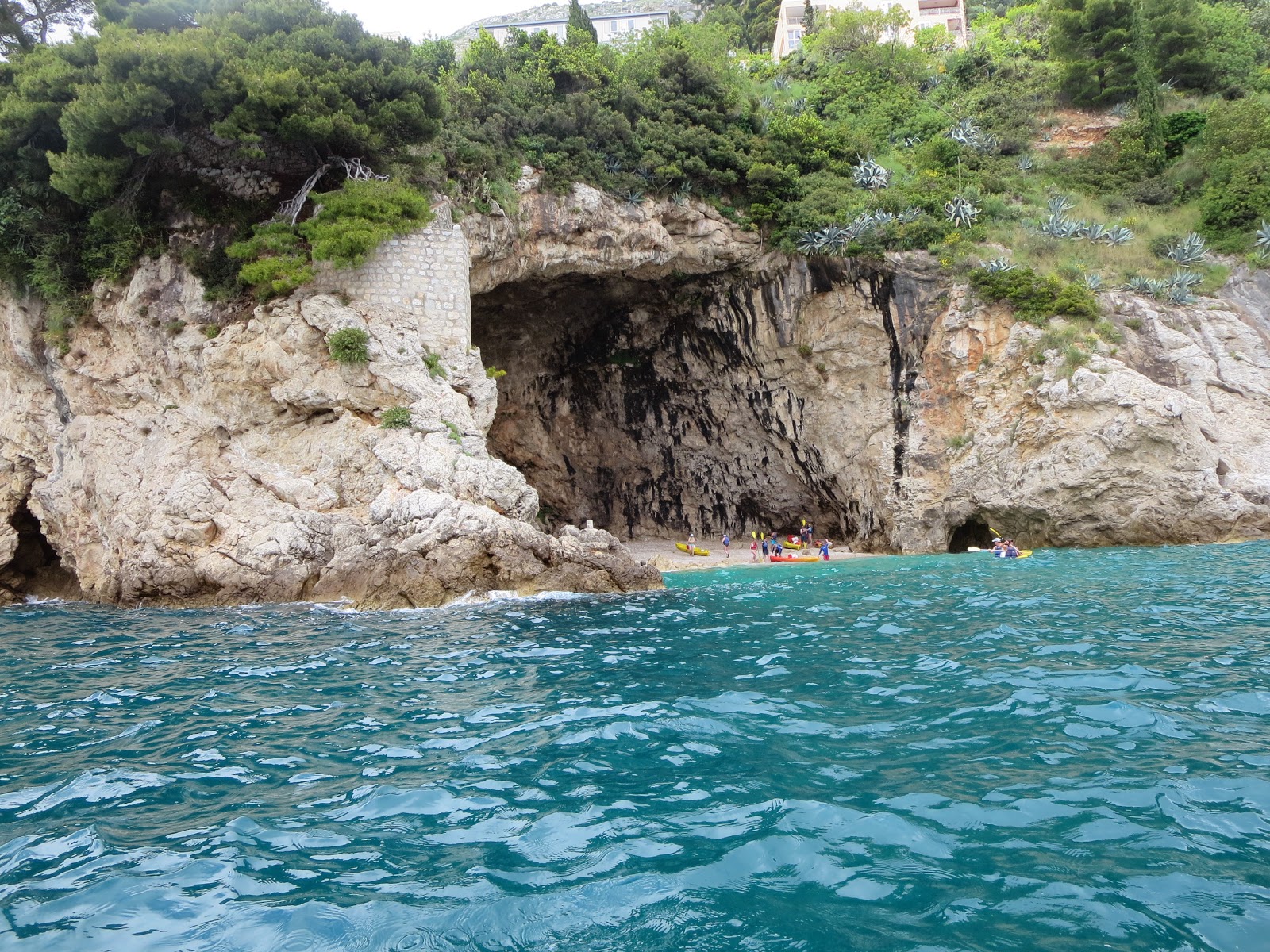 This evening I wandered around trying to spend my last 30 kuna ($6) on some tacky souvenir, but I couldn't bring myself to do it, so I went and bought a few grocery items so I'll have breakfast tomorrow morning before my very early flight (I'm being picked up at 5:30).
Then I went back to the restaurant where I had dinner on my first night in Dubrovnik and had another outstanding meal. Unfortunately, there were no charming Irish ladies to share the evening with, but the sky was beautiful, and above is my final photo from Dubrovnik (and from this trip), the silhouette of St. Ignatius Church against the early evening sky as seen from my table at Kopun.
Goodbye Dubrovnik. Goodbye Croatia. Goodbye Balkans. And Europe: 'til we meet again, soon I hope!