Imagine you're on a Mediterranean island. You're sitting on a third-story balcony. In front of you, not ten meters away, the clear blue waters of the Adriatic reach 500 meters to a rugged mountain landscape, a few red-roofed houses clinging to the shore just below the cliffs. A cooling sea breeze is a perfect antidote to the already warm rays of the morning sun. Palm trees line the path along the water in both directions. The sound of the water lapping against the shore is punctuated by the squawking of seagulls and, every fifteen minutes, the clanging of bells from nearby church steeples.
You're imagining being me right now.
So, okay, I'll say a little about yesterday, but then I want to get back to enjoying my second paradise in a row.

After breakfast I hopped on my scooter and headed out of Hvar town. There are two roads that go to the same place: the "old road" and the "new road." My plan, as suggested by the woman at the rental place, was to go out on the new road in the morning, when there would be less traffic, and come back on the old road.
The new road hugs the south coast of Hvar Island for about 10 km before cutting north, passing through the mountains via a long tunnel and heading up to several towns on the north shore. To say I enjoyed the scenery is an understatement, and if it's getting tiresome to my blog readers, I don't care, because it's not getting tiresome to me at all.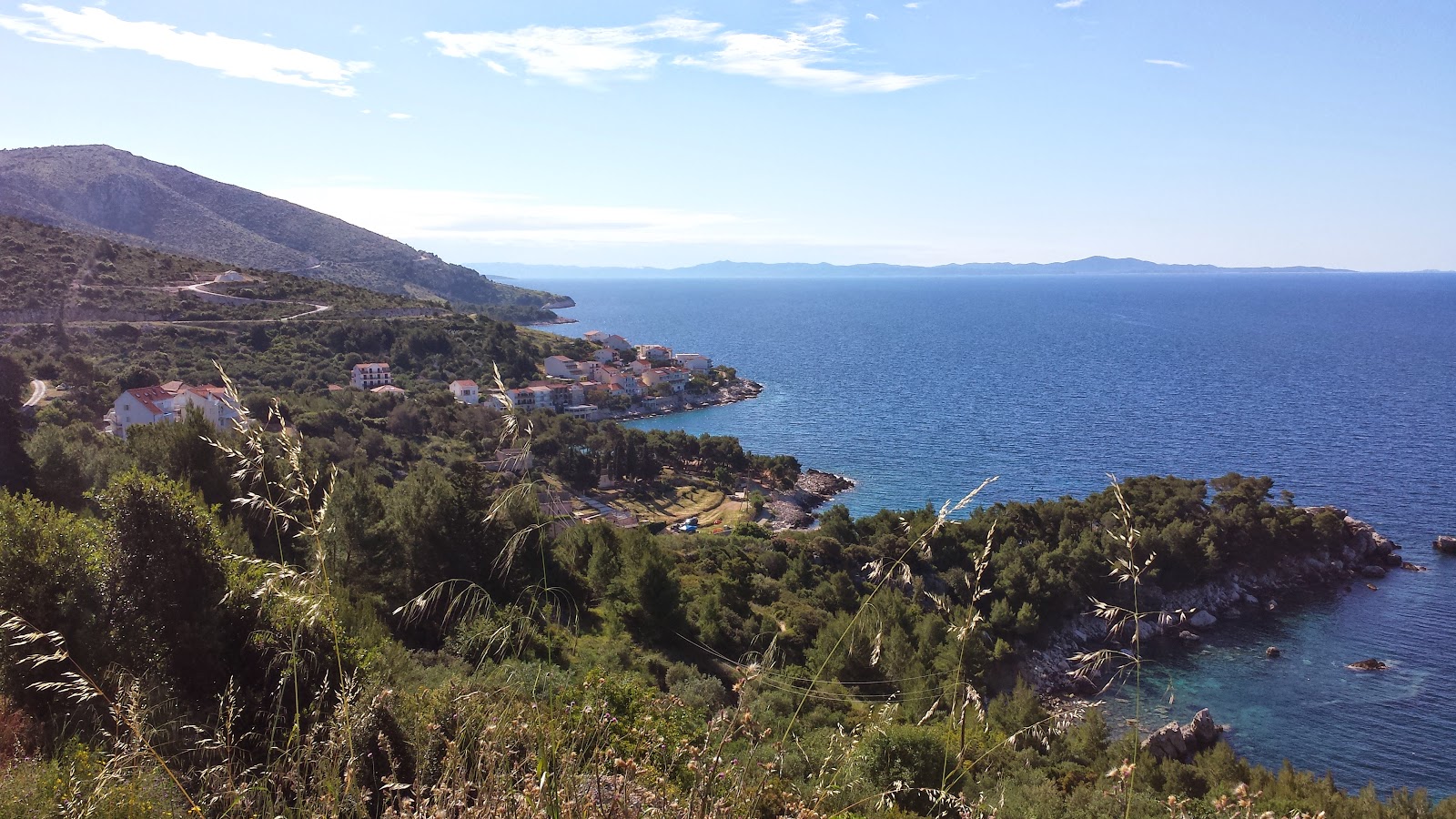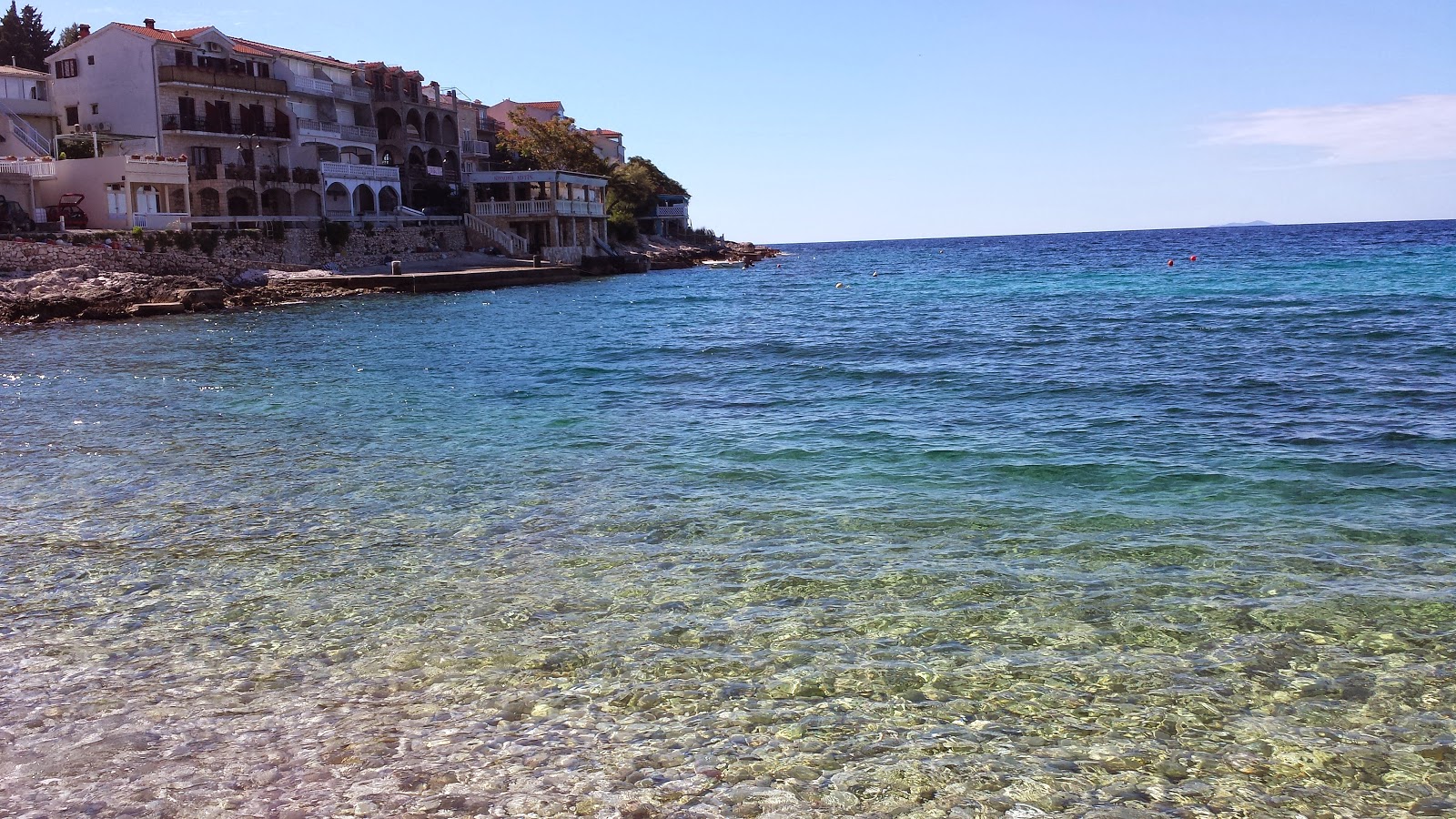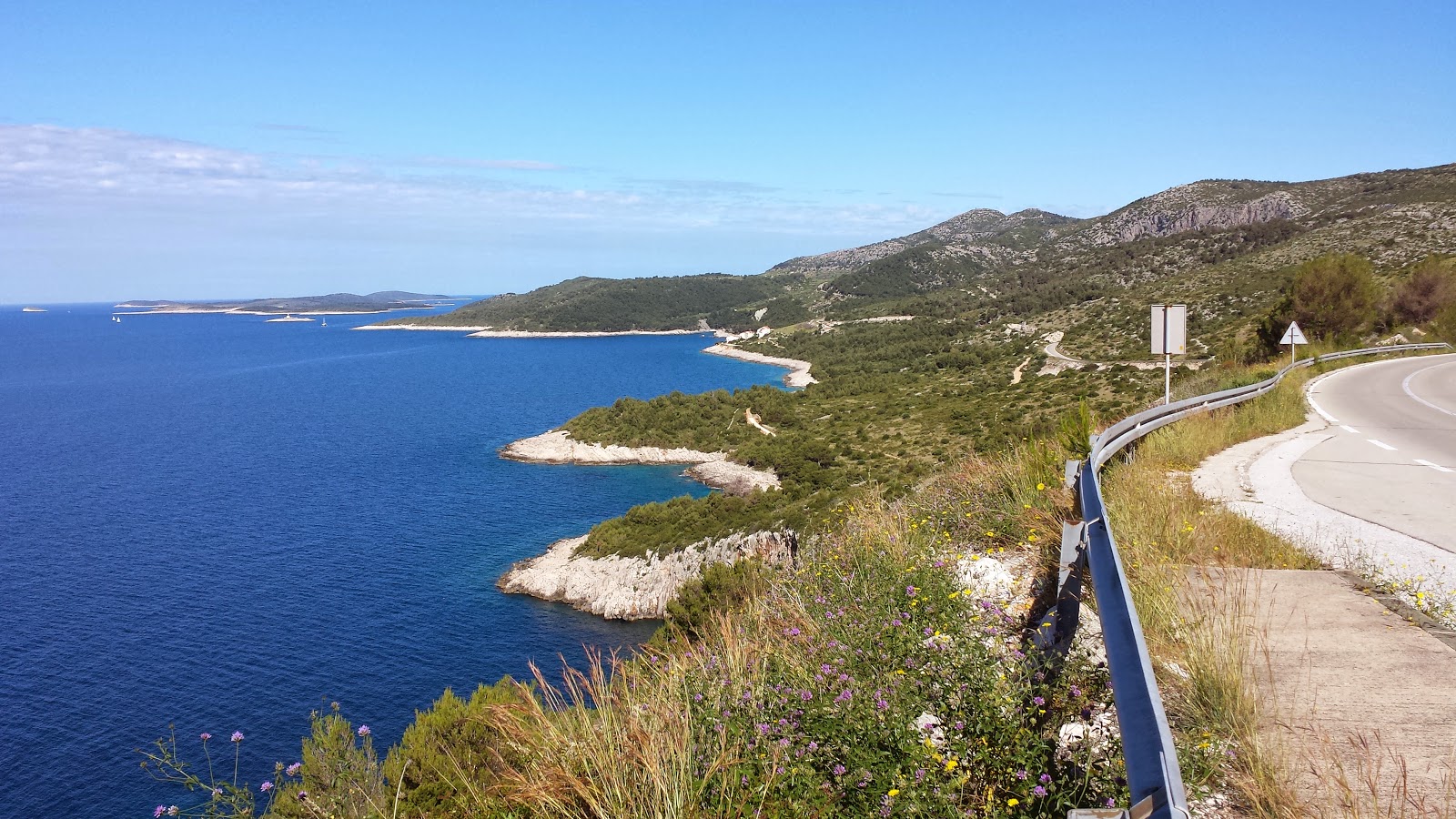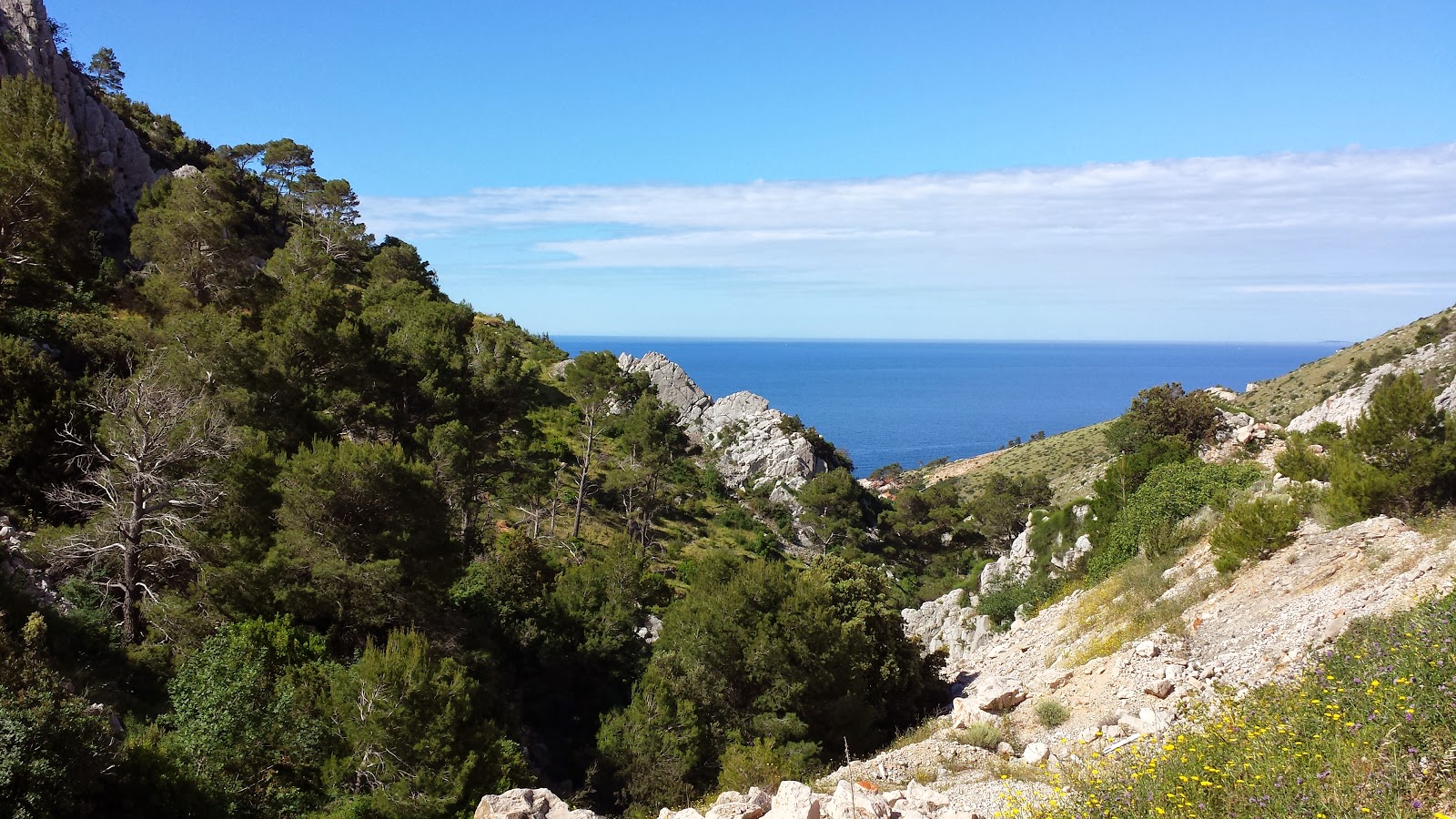 I thought I might visit a few of the towns, but I headed first to Vrboska, and by the time I got there, I discovered that, while riding a scooter can be fun, either I need more experience until I'm going to feel entirely comfortable doing it, or I'm just not a scooter guy. There's something about moving along at almost 80 km/h (about 50 mph) with nothing between me and the pavement, that feels inappropriate. (This was a 50cc scooter, by the way, so I was shocked when I saw how fast I was going.)
Vrboska was a cute town cut right down the middle by a canal with cute little fishies playing in it. Here, as everywhere, the water was crystal clear. I wandered around and found a 15th-century church that looked like it did double-duty as a fortress, and I sat in a cafe and had a mineral water and just postponed getting back on the scooter.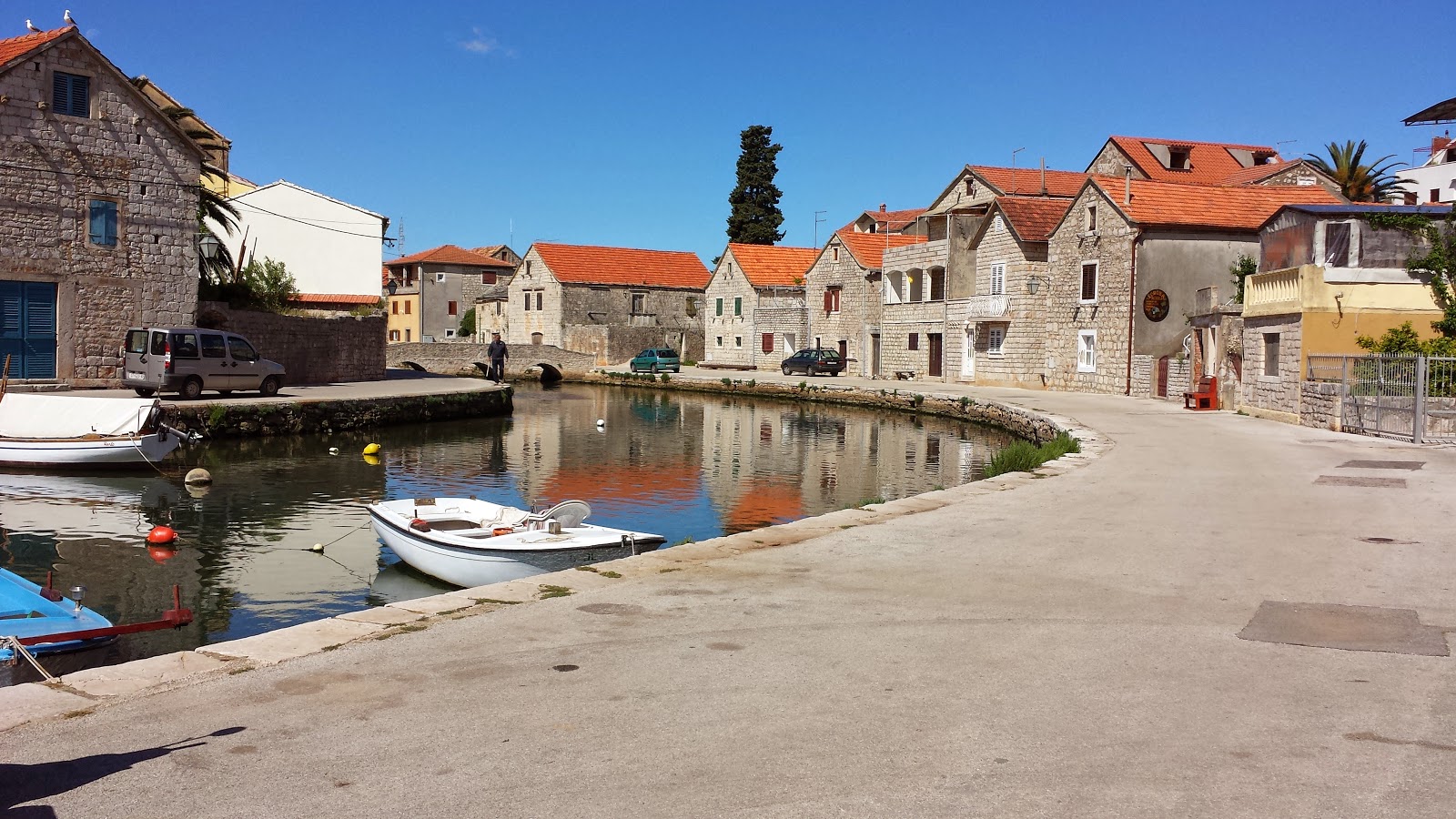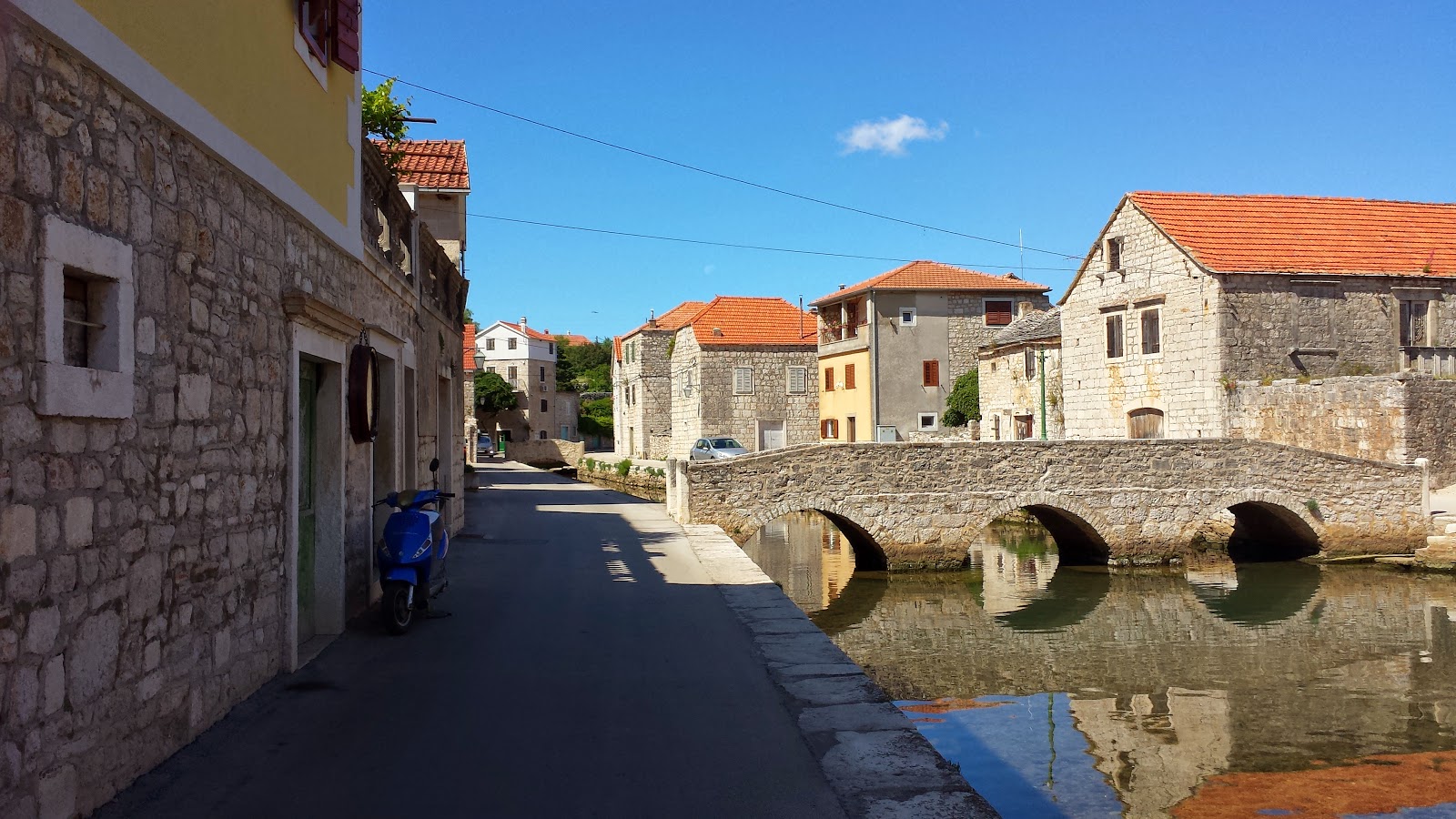 I studied my map to figure out how to go back to Hvar town via the old road, but I ended up missing the turn and so went back the way I came. I enjoyed the views again, but it was disappointing to have missed riding on the other road.
Before I dropped off the scooter, I rode along a narrow street that hugs the cliffs along the south part of the town and leads to a nice swimming beach. Off shore is a tiny island with a lighthouse.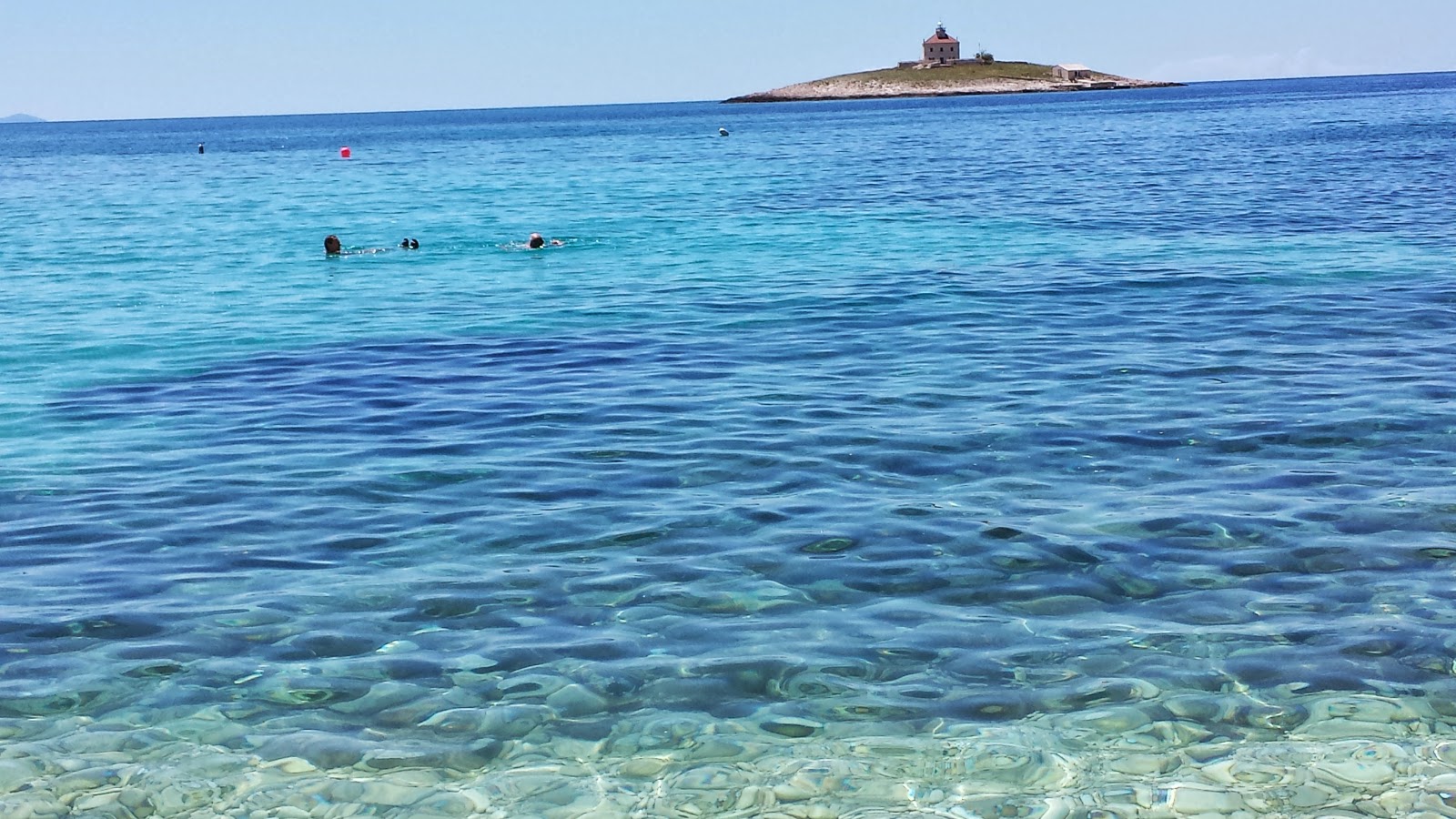 Then I dropped off the scooter. It was lunchtime, so I had a light bite and walked along the waterfront again. I had until 4:30 before my ride would pick me up to bring me with my luggage back down (I really could have walked easily enough; my luggage isn't that heavy, and it was downhill) to catch the ferry.
All along the waterfront are guys with small boats, water taxis, meant primarily for bringing people out to any of the various islands off shore, where there are restaurants, hiking paths, nude beaches, and family-friendly beaches. I didn't really care about going to the islands, but I thought it might be fun to just take a little cruise around them. So I asked a guy how much for an hour cruise, and he said 200 kuna (about $40). That seemed really reasonable, so I said let's go. It turned out he had a passenger to Jerolim Island, so we shared the ride over to there. She was a Slovenian girl on vacation after just graduating from university in London, and had come to Hvar on a lark.
After we dropped her off, we just cruised, and it was lovely. I may be repeating myself, but I've never seen such clear, brilliant, turquoise water in my life. I tried to engage my "captain" in conversation, but I mostly had to ask him questions, which he'd answer. (His name is Stipan, though I'm not sure of the spelling. He's lived in Hvar his whole life, has no real desire to go anywhere else, owns his boat, his father is a fisherman, and he fishes during winter when there are no tourists, and although lots of famous people come to Hvar, he's never had anyone famous on his boat.)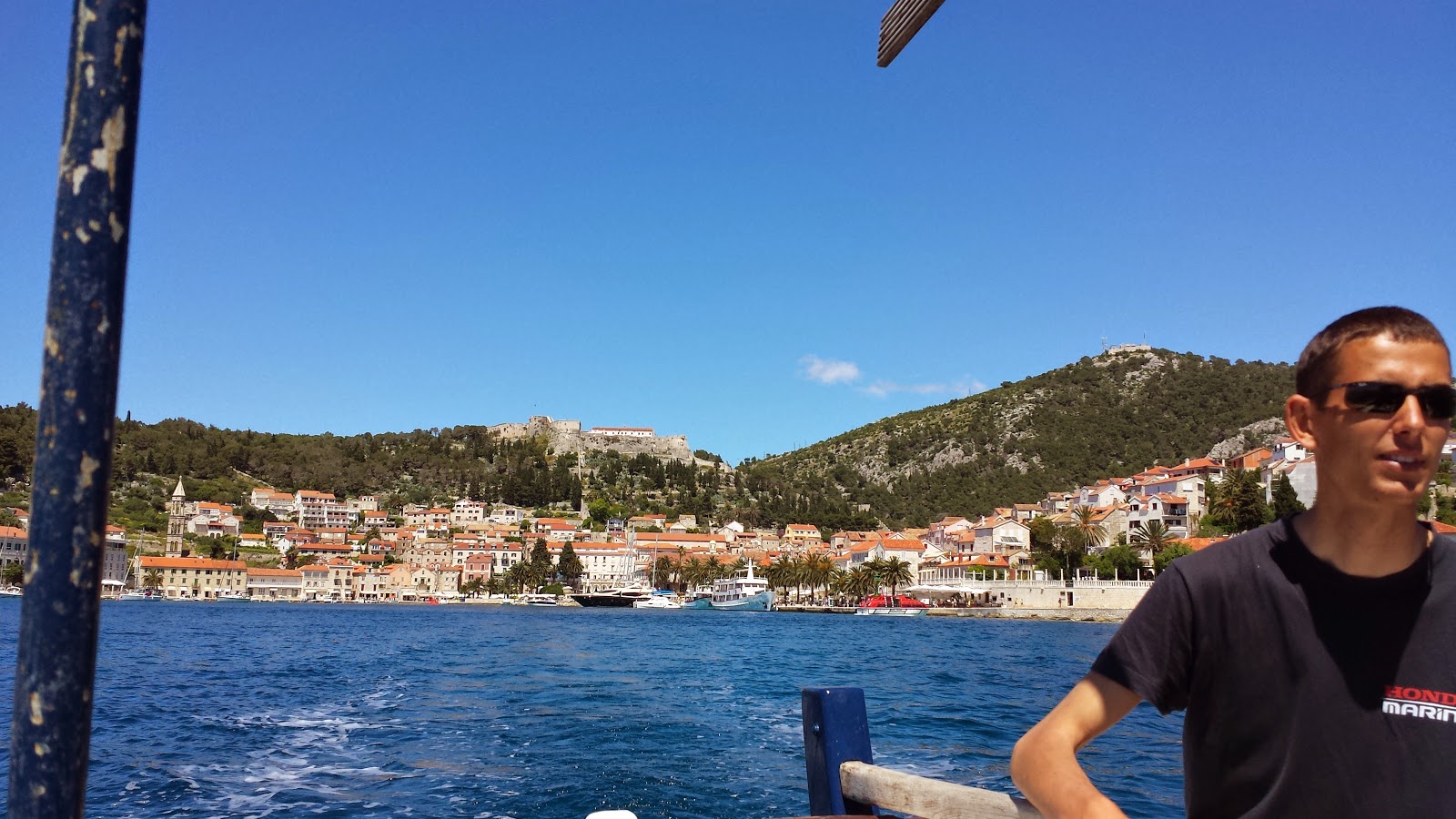 I still had a few hours to kill, but I decided the best way to do that would be to head back up to my room and sit out on the balcony and enjoy that dazzling view.
When my ride came, I told him I didn't want to leave. The ferry (the same catamaran I took to Hvar) to Korčula was well over an hour, and the owner of the apartment where I'm staying, a very sweet woman named Rezi, met me as I disembarked. It was just a ten-minute walk to the apartment, and I realized that my view in Hvar was actually pretty terrible compared to this.

Which I am enjoying now.
Rezi gave me a few food recommendations, with a strong push toward a place called Nonno (the Italian word for grandfather). Their pasta is homemade and cut by hand. (I should mention that Korčula is the birthplace of Marco Polo, who brought pasta from China to Italy. At the time Korčula was under Venetian rule.)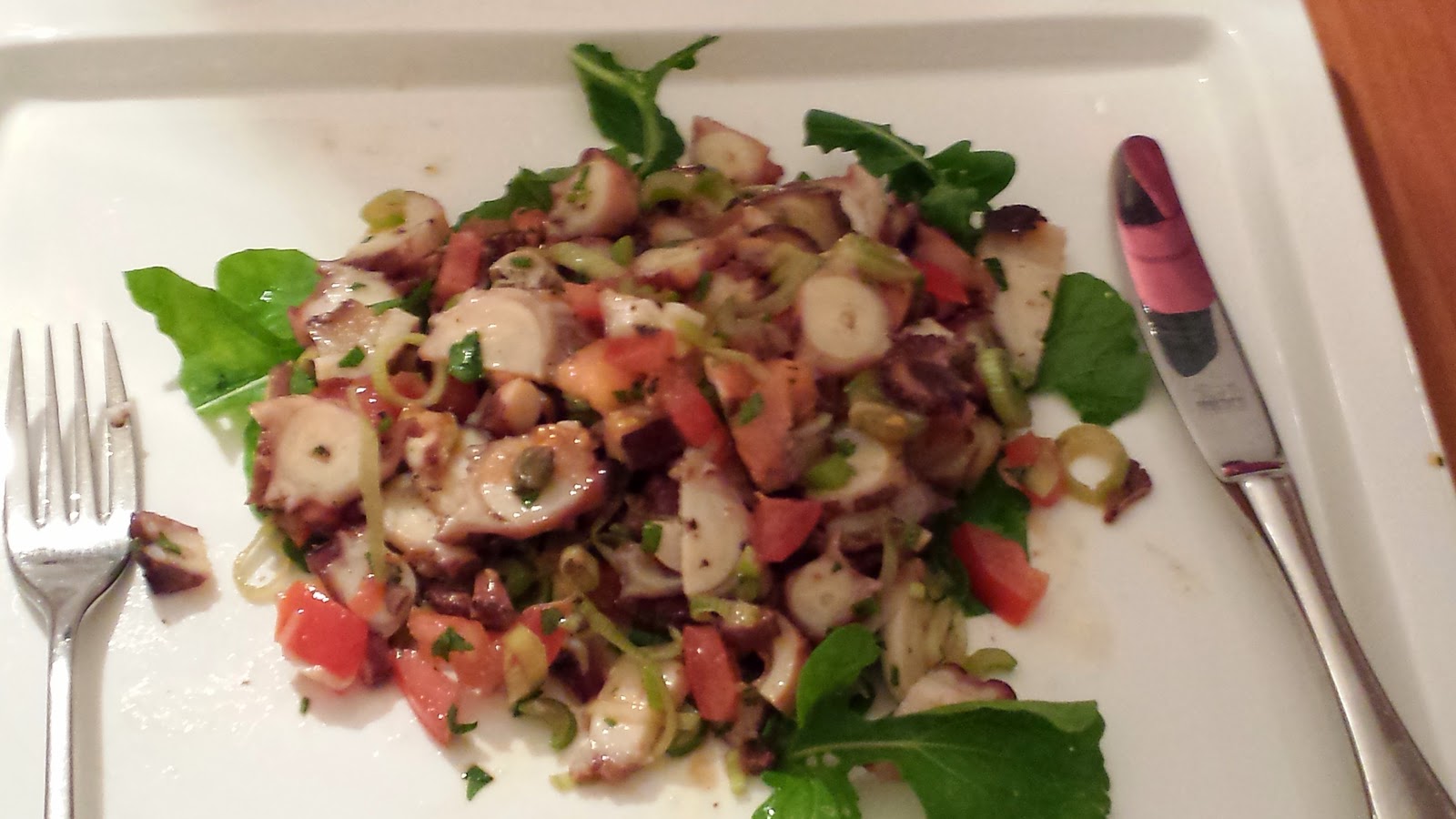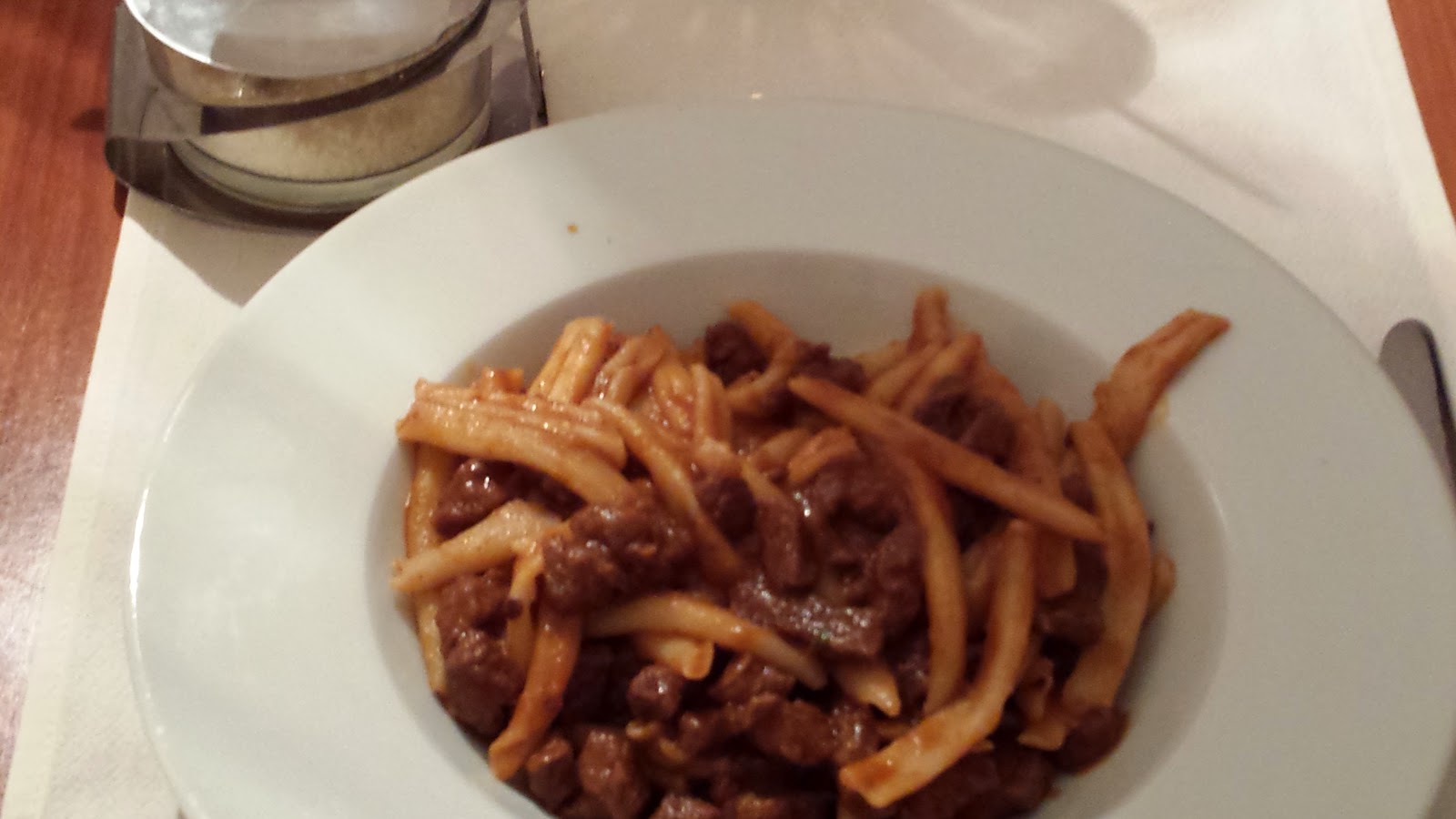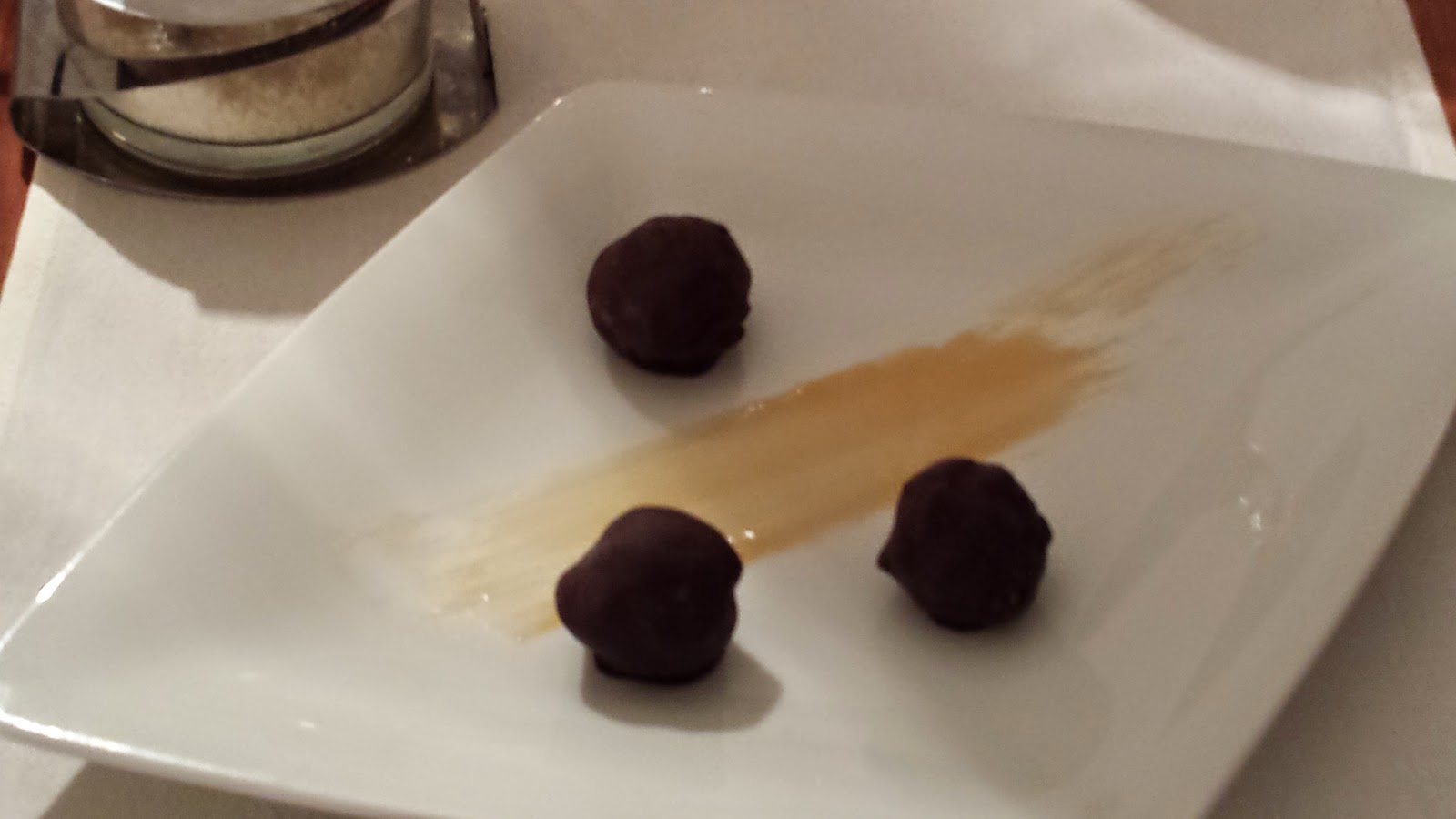 The waiter also brought a cordial to start, and after I finished my first glass of wine, he brought me another glass (of his favorite wine) on the house. I asked what it was, and he said, trust me. So when I left I said if I come back tomorrow, I will just let you decide what I should eat. I may just do that.
At the table next to me were an American couple. We got to talking, and it turns out they're here on a Rick Steves tour, which they are not especially enjoying. (It's their third RS tour, and each time they say they'll never do another one.) They said for all Rick's talk about seeing Europe through the back door, his tours are mostly very conventional. As I described some of the things I've done as an independent traveler, they were definitely envious.
I'm happy (if a tad hungover from two glasses of wine), and ready to go enjoy the day. Ćao! (That's how "Ciao" is spelled in Croatian.)