I am in Mazamitla now.
The north shore of Lake Chapala, where I live, is said to have some of the best weather in the world. The sun shines pretty much every day, year-round. Temperatures are warm, mostly not too hot or too cold. And even during the rainy season, from June until September or October, most of the precipitation comes at night.
Yes, it's a great place to live if you like pleasant weather.
Except from mid-April to mid-June.
When the rain stops in early autumn, the temps are particularly comfortable, with daily highs in the 60s and 70s. But the temps gradually start climbing in February and March, and by mid-April, it becomes uncomfortably hot. Together with the long dry season, the dust becomes equally oppressive.
Fortunately, there are several easy getaways at higher altitudes. Cooler weather beckons.
Last year, in the early months of the pandemic, I couldn't escape; but this year, I was determined, and now that I'm fully vaccinated, I made:
An Impromptu Plan
Last Friday, after I got home from getting my vaccine, I got on Airbnb and found a cabin just two kilometers from the center of Mazamitla that happened to be available for the next few nights. I booked three nights, and the next day I made the 90-minute drive around the west end of Lake Chapala and south into the mountains of southeastern Jalisco. The drive was easy and pleasant, with some views of the lake and passing through some pretty towns. I'm learning (but sometimes not fast enough) to watch for topes, speed bumps, which can present themselves with little or no warning. And I'm always impressed by Mexican drivers' willingness to pass whenever the mood strikes, often forcing oncoming cars to the shoulder (though slower traffic typically moves to the shoulder when cars are behind them).
Pueblo Mágico
Mazamitla is a charming town, well-deserving of its Pueblo Mágico status. The gorgeous white Parroquia de San Cristobal crowns the central plaza. All of the buildings in the center have the same white and burgundy color scheme, with wood featured prominently. Brightly colored decorations hang over one of the main streets.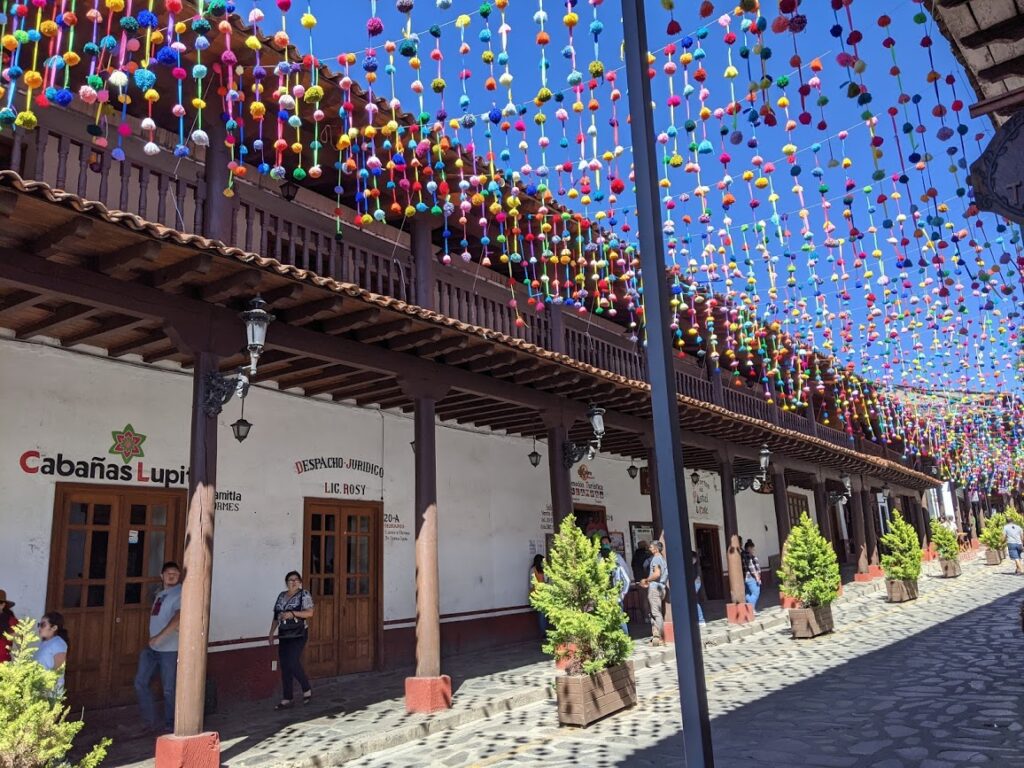 Outside the town, sites abound, but I will have to save them for another trip. I tried to get a tour to Sierra del Tigre today, but I had no luck. When I went by the tour company yesterday, they said they'd be running a tour today at 11:00. When I got there at 10:45 this morning, they said not until 1:30. And at 1:25 they told me maybe at 2:15. Apparently they don't go if there aren't enough people signed up. And Monday must not be a big day for tourism here.
No worries, more reason to come back.
Instead, I spent a little time each day wandering the streets of the town, visiting shops and watching people. And I've parked myself contentedly on the porch of my cabin, where the breeze is refreshing, the bird songs and butterflies entrancing, and the absence of an agenda is a joy.
Tomorrow I head back to hot, dry, dusty Ajijic, but I'll soon be making more plans to come back here or explore some of the other places where I can retreat until the rainy season starts.