After Mostar I return to Croatia, where I spend the last 8 nights of my vacation. My first stop is Trogir, a town of about 10,000 people just 27 kilometers west of Split. Most everyone says Split is a must-see destination, but my agent at JayWay Travel urged me to stay in Trogir instead. I will still have time to visit Split for a few hours before I catch my ferry to Hvar, and he promised me that will be enough time to see all that is worth seeing in Split.

Trogir does sound like a charming and pleasant place to spend a night. It was named a UNESCO World Heritage Site in 1997 (not a unique or even rare designation; seven places in Croatia three in Slovenia, two in Bosnia, and two in Montenegro—and a total of 981 around the world—are on the list). But here's what Rick Steves says about it:
Just 12 miles northwest of Split, across a giant bay, is Trogir, a tiny, medieval-architecture-packed town surrounded by water. This made-for-tourists village lacks the real-world heart and soul of Split, and it's reminiscent of a dozen other Croatian coastal resort towns (Hvar and Korčula are bigger and better). But Trogir's proximity to Split makes it appealing to yachters; the proud masts of tall ships line the harbor three deep. Although Trogir is nothing to jump ship for, it's an easy day trip for those looking to get away from urban Split.
We'll see who's right. (I haven't always agreed with Rick on everything; see my post on Borgholm Castle.)
Other than the Cathedral of St. Lawrence and an old fortress, there doesn't seem to be much to see in Trogir, and that's okay, since I won't be there long. I'm looking forward to a nice place to wander around in the late afternoon and evening, and a quiet place to sleep.
The drive to Trogir from Mostar is about 189 kilometers and should take just about 2 1/2 hours, so I will have plenty of time in Mostar before I leave, and also plenty of time in Trogir that afternoon.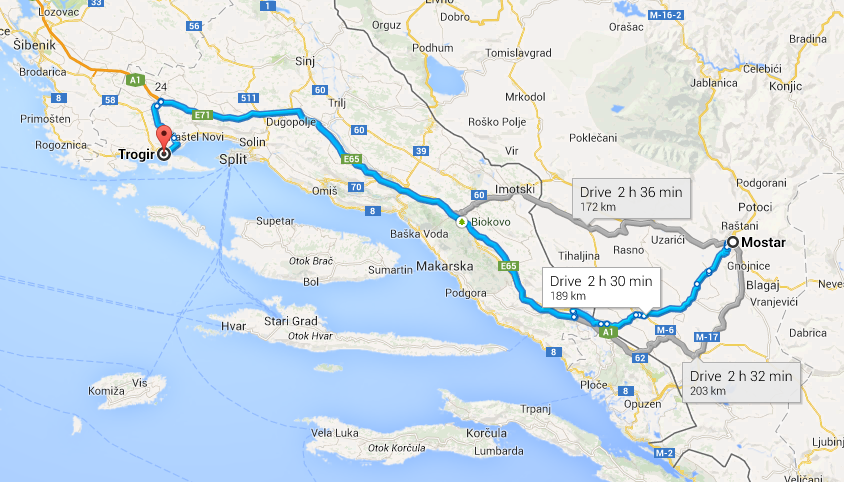 After the short drive from Trogir to Split the next day, I will drop off my rental car, check my baggage, and have the morning and early afternoon to explore Split on foot before I catch my ferry to Hvar sometime in the later afternoon.
Split is the second largest city in Croatia (after Zagreb), but my time will undoubtedly be concentrated on the old town and, in particular, the palace of Diocletian, who was born right outside Split in 245 and was the Roman emperor from 284 to 305. He built the palace in preparation for his retirement, and he lived there until he died in 311. Much of the palace survives and makes up the core of the old town.
From the air, Diocletian's palace looks pretty big. I'm sure I can kill a good amount of time in Split exploring it.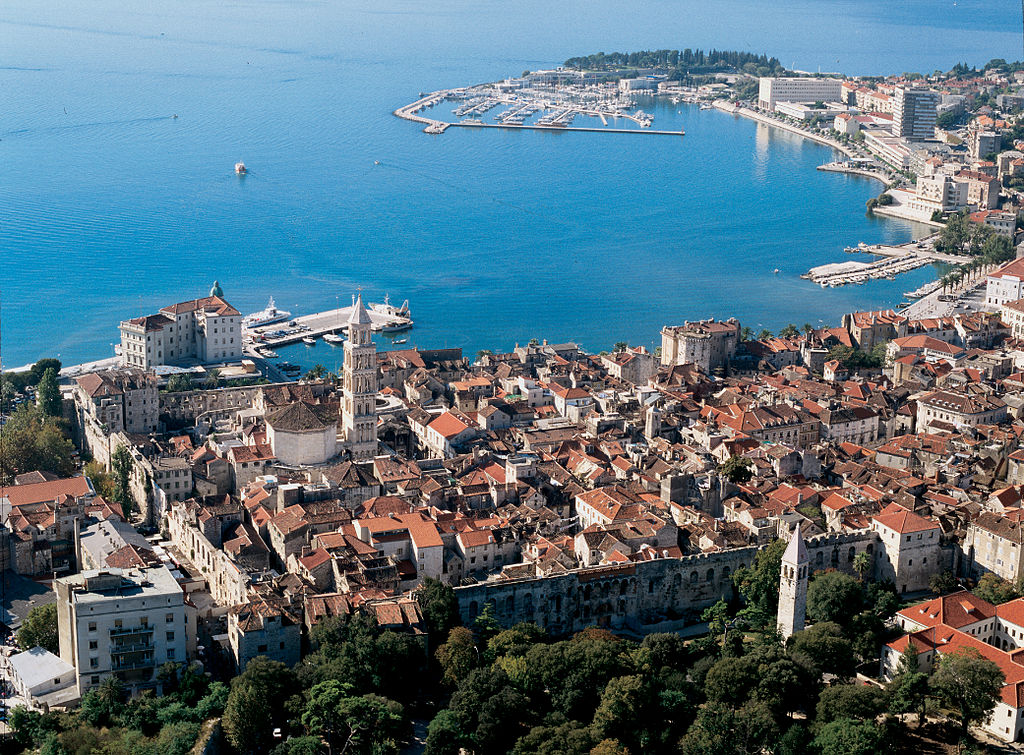 Featured image of Trogir By Adam Jones Adam63 — Own work, CC BY-SA 3.0, https://commons.wikimedia.org/w/index.php?curid=7389479