If you do an image search on Mostar, pretty much every photo is of the same thing. And I'm sure I'll add my own pictures of this bridge when I see it in person. But this, I guess, is Mostar.
The Stari Most ("Old Bridge"), was built in the mid sixteenth century, when Mostar was part of the Ottoman empire, and at the time it was the longest single-arch stone bridge in the world. On November 9, 1993, Croats shelled the bridge and it collapsed into the Neretva River below. This was only partially strategic and largely symbolic, since the bridge was an icon of the Muslim heritage of Mostar.

The bridge was rebuilt after the war, using stone from the same quarry as the original and using the same methods that were used in the 1500s. The new Old Bridge, which took longer to build in the 21st century than in the 16th, was inaugurated on July 23, 2004.
The drive from Sarajevo to Mostar is just about 2 hours. And because Mostar is also fairly close to the Dalmatian coast, a lot of people do it as a day trip, and in the original suggested itinerary I got from JayWay Travel, they suggested that I stop there for the afternoon en route from Sarajevo to the coast. But I wanted to stay overnight, to be able to be there when the tourists go away.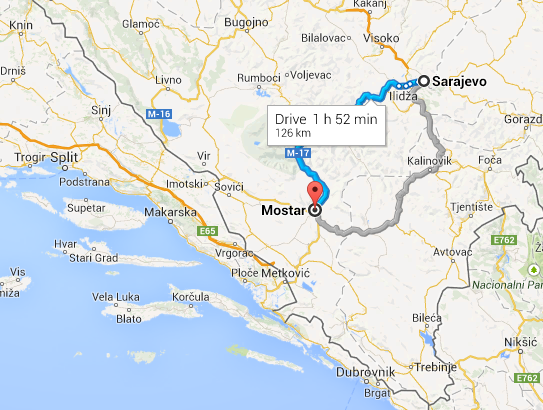 I'm especially excited about where I'm staying in Mostar. Muslibegović House is actually a Bosnian National Monument, and in 2010 Expedia listed it as one of the ten best hotels in the world. There is a museum and some beautiful public indoor and outdoor areas. I may regret that I'm only staying one night.
As for what to do in Mostar, I think it's primarily not about seeing specific things as it is about experiencing the place as a whole. It was a place of terrible violence during the war in the 1990s, and I understand there is still a lot of evidence of that. It's also a distinctly multi-ethnic place, with mosques, churches, and a synagogue (either newly built or under construction or in planning — I can't quite figure out what's going on with that) all clustered within a small area. Rick Steves lists a number of things worth seeing aside from the Old Bridge:
Franciscan Church of Sts. Peter and Paul, built in 1997
Kujundziluk, the old bazaar
Koski Mehmed-Pasha Mosque, one of many mosques you can visit in Mostar
Karadozbeg Mosque, the biggest in Mostar, completed in 1557
The new Muslim cemetery, where every tomb is dated 1993, 1994, or 199
I have never been in a mosque before, and I've never been in a place that is largely Muslim. I am looking forward to immersing myself in that culture in both Sarajevo and Mostar.
Featured Image: By BáthoryPéter (Own work) [GFDL (http://www.gnu.org/copyleft/fdl.html) or CC BY-SA 3.0 (http://creativecommons.org/licenses/by-sa/3.0)], via Wikimedia Commons