With less than two weeks until I leave for my Oregon road trip, I find that I'm already on the verge of putting down a deposit on my next vacation.
I was thinking the Balkans in the fall, but now I'm thinking I won't wait that long. I'm looking at Rick Steves' first tour next spring, May 11 — 24, and then extending it with some independent travel.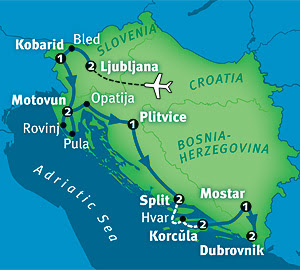 From Dubrovnik, my idea is to take a day trip into Montenegro (just south along the coast), then take a bus-train combination ending in Sarajevo, which is pretty much in the middle of Bosnia. Then I'll take a short plane ride to Zagreb, the capital of Croatia, and finally a train to Ljubljana and fly home from there.
Another option (after the Montenegro day trip) is Bulgaria (just east of Bosnia), but that would probably involve much less convenient travel options.
I'll post more about all the possibilities. I'm trying not to do anything until I get back from Oregon, but I'm so weak!
Photo of Bay of Kotor by User:Ggia (Own work) [CC BY-SA 3.0], via Wikimedia Commons