Two days until I leave on my Oregon road trip.
I'm planning to blog daily while I'm gone, posting experiences and photos.
Meanwhile, I'm continuing to think ahead to next May and my trip to the Balkans. I requested a private tour itinerary from JayWay, and I'm now seriously thinking of doing that instead of the Rick Steves tour.

I'm still working with them to iron out the specifics, but so far, this is the itinerary we're working on (numbers correspond to markers on the map):
Zagreb (1) — 2 nights
Ljubljana (2) — 3 nights
Rovinj (3) — 3 nights
Plitvice (4) — 1 night
Sarajevo (5) — 3 nights
Trogir (6) — 1 night
Hvar (7) — 2 nights
Korcula (8) — 2 nights
Dubrovnik (9) — 3 nights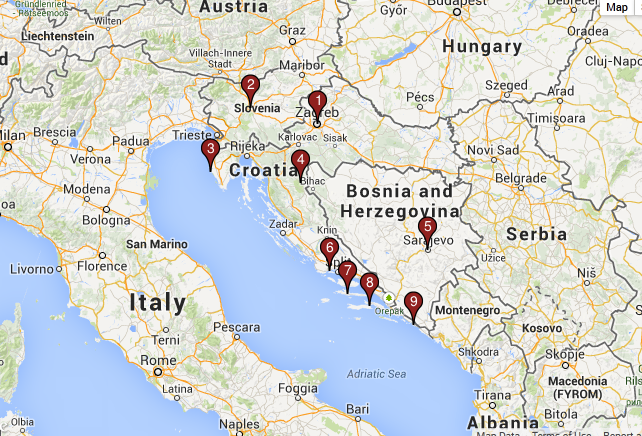 They plan to have me pick up a rental car when I leave Zagreb, returning it to Split, where I'll have a few hours to explore before boarding a ferry to Hvar. Then it's a ferry to Korcula, and a ferry or bus to Dubrovnik.They have a number of great options for accommodations that are not super upscale and touristy, including B&Bs and apartments. And they offer a number of excursions and suggestions for stops and day trips, which I could do on my own with the rental car or via an organized tour:
Some of the modifications I'm looking into:
Wait to pick up the rental car until Rovinj. I can take a train from Zagreb to Ljubljana, and I can take a bus from there to Rovinj. I can also take an organized tour from Ljubljana to Bled, so I wouldn't need a car for that.
Add a night in Mostar between Sarajevo and Trogir (or substitute the night in Mostar for the night in Trogir).
It's a lot to think about, but I will use my upcoming vacation to ponder it all.