I spent most of my fourth day on a walking tour sampling food in Istanbul on both continents. Afterwards, I visited two beautiful mosques.
Food for the belly followed by food for the soul.
Food in Istanbul (European side)
I met my guide, Uğur, and the other two people on my tour (Leigh and Peter from Melbourne), and we set off on our walk. Our first stop was at an Ottoman caravanserai from the 16th century. The Turkish word han is also used to describe these inns where travelers along the trade routes would stop to rest and sleep.
This han was rather decrepit, and it was filled largely with hardware vendors and a lot of junk, but Uğur told us that it is undergoing a government-sponsored gentrification program. They are moving all the junk out and replacing them with art galleries and studios, several of which are already in place. Come back in a few years, he said, and it will be completely transformed.
Though there was no food here, Uğur brought some Simit he had purchased at a nearby gourmet grocery. I had one of those on my first day; it's the bagel-like sesame-encrusted bread. But unlike the tough, chewy one I got from the street vendor, this was soft and almost fluffy in texture, and I devoured it. He also brought a marinated thyme that added a lovely flavor.
Our next stop was a Turkish coffee shop, and here, once again, we ate a selection of typically Turkish breakfast items that Uğur bought at the grocery.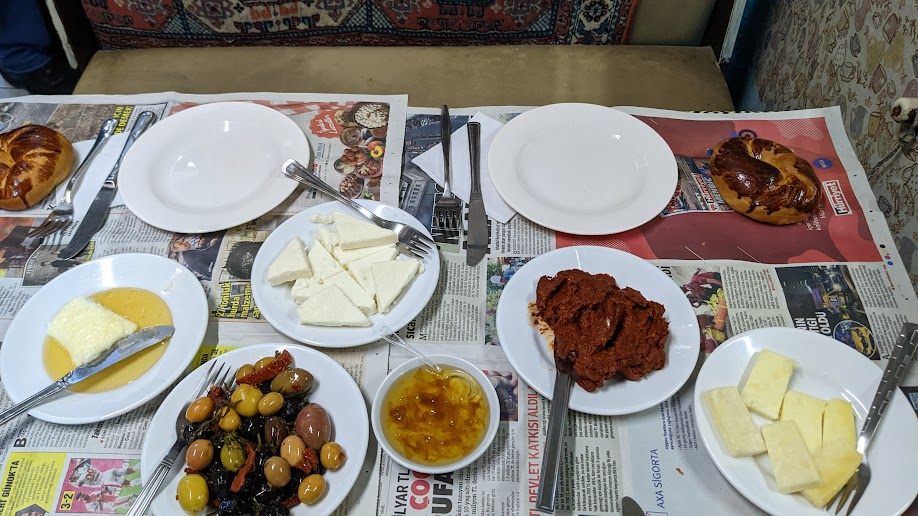 I was already full, but our day of food tasting was just getting started!
Our next stop was for savory pastries at Güllüoğlu:
After wandering for a while (though not nearly enough to build an appetite for more food), it was time for dessert. We stopped at Köşkeroğlu for katmer, the flaky pistachio-filled pastry I previously had at dinner on Day Two. But this one was even better!
Food in Istanbul (Asian side)
Since we still hadn't eaten enough, it was time now to cross to the Asian side. We went to the ferry terminal and rode across to the Kadiköy neighborhood.
The ferry was actually nicer than the boat for the Bosphorus cruise on Day Three. And the ride was very pleasant.
The Kadiköy neighborhood is very different from the areas I've seen on the European side. It feels more like a real place. People live and work here. Fewer tourists. It's grittier, but more charming at the same time. I saw a number of cool murals. And the food here was more like "regular food," if that makes sense. Almost like home cooking.
We finished the tour with a selection of meze (the tapas of this part of the world), but I will left you find the photos in my photo album so I can tell you about the food I ended the day with.
Food for the soul
I'm an atheist. I think God was invented by humans, not the other way around. (I suppose that doesn't necessarily mean God doesn't exist…)
But I also believe the human spirit or soul is a real thing. And it needs nourishment. Many people who believe in God have taken inspiration from their belief to create magnificent things, and those of us who don't share their belief can still fulfill their need for spiritual sustenance thanks to their creations.
The mosques I visited earlier (like Hagia Sophia and Nuruosmaniye) were beautiful. But the ones I visited yesterday moved me at a different level. Perhaps it's because I was visiting by myself, and though other people were around, I could eat and drink the beauty and serenity of these spaces in my own private sphere.
The same man designed both of these mosques. Mimar Sinan was the imperial architect to Sultan Suleiman. Suleiman the Magnificent, as he is known in the west (in his realm he was known as Suleiman the Lawgiver), lived from 1494 to 1566, and was sultan from 1520 until his death, making him the longest-serving sultan of the Ottoman Empire. Mimar Sinan, who lived nearly 100 years, designed over 300 major structures throughout the Ottoman empire, including 94 large mosques, 52 smaller mosques, and 35 palaces. The Hamam where I had my Turkish bath was one of his creations.
Rustem Pasha Mosque is named for Suleiman's Grand Vizier, who was married to Suleiman's daughter. Completed around 1563, it is lavishly decorated with İznik tiles, a style atypical of Sinan.
Süleymaniye Mosque is far more sparsely decorated. It struck me as supremely serene. It was the largest mosque in Istanbul until 2019. Although it feels spacious, it also feels intimate. It is among the loveliest religious structures I've seen in my life.
Because I fed myself so well throughout the day, I didn't need dinner. I went back to my hotel and rested.
And now I'm ready to start my final full day in this nourishing city.
Photos