On yesterday's walking tour I got to see many of Istanbul's historical sites. It was also a very hot day. And in between the sites, the food was delicious.
Despite the heat, it was a great day
Delicious
Let's start with the most important things first: food!
Breakfast
Before the trip I heard a lot about Turkish breakfast. Let's just say it did not disappoint. Although the buffet table was fairly small, it was laden with so many things that were interesting and tasty. I didn't know what a lot of it was, even when I thought I did. (A bowl full of chocolate pudding turned out to be Nutella.) Since I'm an adventurous eater, I tasted nearly everything, and I didn't encounter a single thing I didn't enjoy. (Except a big spoonful of Nutella.) Much of it was definitely not what we westerners commonly think of as breakfast food, but it's good to think outside the box.
The server offered eggs cooked to order, but I found more than enough to eat on the buffet.
Lunch
We stopped for lunch in the middle of our sightseeing day at a traditional eatery adjacent to the Grand Bazaar. We let our tour guide, Seyhan, order for us.
He ordered a lot of food. Which is great, since I can eat a lot of food. And isn't one of the main reasons to travel to sample the cuisines of other places? Still, I think I've been overdoing it in these first two days. I'm going to have to pace myself going forward.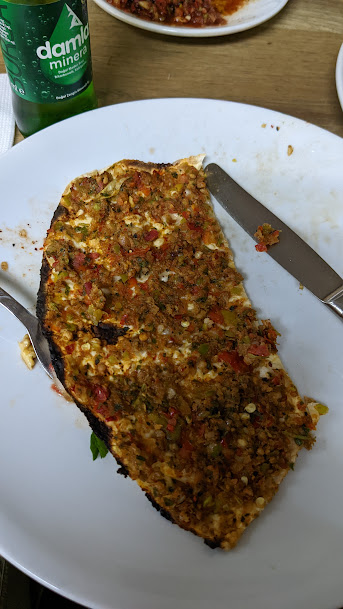 Dinner
I didn't think I'd be hungry again, and I wasn't until about 8pm. At that hour I didn't want to stray too far.
Before the trip I assembled a list of restaurants in each city I'm visiting. I used guidebooks, personal recommendations, and websites like Facebook and TripAdvisor to find what seemed like good places to eat. In Istanbul, I had a very long list, far more restaurants than I could possibly visit. But even the closest would have been a longer walk than I felt like doing last night after the long walking tour.
So I found a restaurant on Google maps that looked good, and I headed in that direction. It was full, so I wandered around the neighborhood until I found a place that seemed popular with the locals but still had a table free. It was called Kadim Meyhane (literally "Ancient Tavern").
I asked the waiter for recommendations, and I had a fabulous dinner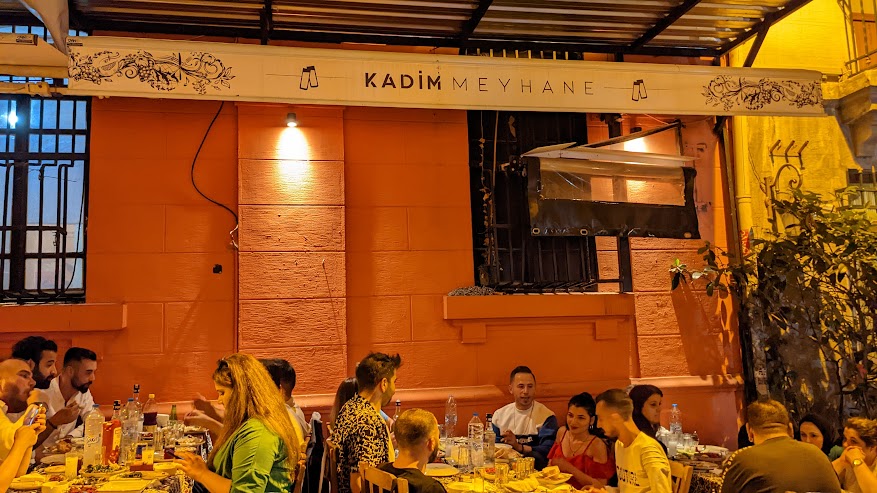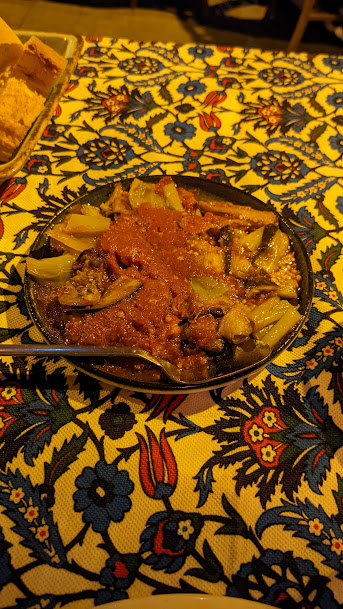 Historical
About ten minutes early for our 9:30 start time, Seyhan, my tour guide for the day, showed up at the hotel. He said there would be two others, and we took a taxi to Taksim Square, close to their hotel. But since we were early, we enjoyed a Turkish coffee at a cafe in Gezi Park, across the street.
Seyhan told me that the park was the site of a massive demonstration in 2013. It started as a protest against planned urban development of the park, but it grew into a nationwide movement against President Erdogan. It lasted almost three months and led to eleven deaths and more than eight thousand injuries, many of them critical. Nearly 5,000 protesters were arrested, including Seyhan's wife; she was in prison for three months.
Te protests gradually waned, and ended even though most of the protesters' demands were not met. The government did drop its plan for development in the park, but, Seyhan said, Erdogan built Taksim Mosque, nearby, in retaliation.
After our coffee we picked up Rachel and Steve, a married couple from Toronto. We took another taxi to the historical center to begin our walking tour.
Our tour covered many of the top historical sites. We started with a walk through Gülhane Park, and since it wasn't yet too hot, this was very pleasant.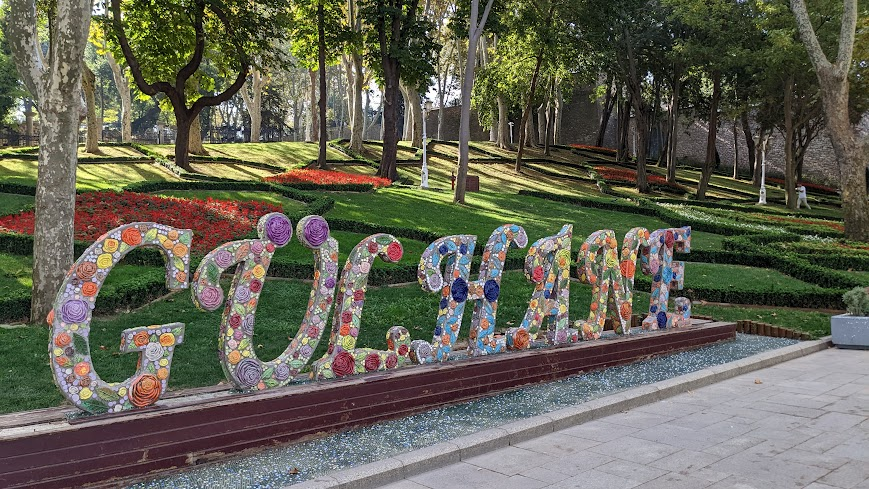 Topkapi Palace
When the Ottomans conquered Constantinople in 1453, the old palace was in ruins. In 1459 Sultan Mehmed II ordered the construction of a new palace and brought in the top masons, stonecutters, and carpenters to ensure what he intended to be a great edifice. The palace was completed in under ten years, though ongoing additions and modifications took place for several centuries. It is actually a collection of buildings, courtyards, and pavillions surrounded by a high stone wall. I would definitely not describe it as "palatial." But the layout and the quality of construction give it an impressive grandeur.
The Ottomans called it the Palace of Felicity. It got the name Topkapi Palace in the 18th century. "Topkapi" means "cannon gate." Seyhan said that archaeologists discovered cannonballs near the palace, and supposedly determined that the city walls were pummeled by cannon fire during the Ottoman conquest of the city. The palace was built near some of the holes in the walls.
Hagia Sophia
Seyhan didn't have any backdoor entrance to Hagia Sophia. We stood in a very long line to get in, though it moved very quickly.
Hagia Sophia (ancient Greek for "Holy Wisdom") was built by Roman emperor Justinian between 532 and 537. At the time it was the largest interior space in the world, and it was the largest cathedral in the world for nearly a thousand years. It served as the religious and spiritual center of the Eastern Orthodox Church until 1204, when, during the Fourth Crusade, it was converted into a Catholic cathedral. With the restoration of the Byzantine Empire in 1261, it reverted to the Eastern Orthodox church.
When the Ottomans conquered Constantinople in 1453, Hagia Sophia became a mosque. All the Christian objects were removed, and the mosaics were plastered over. The four minarets were added. Until 1616, when Sultan Ahmed Mosque (more commonly known as the Blue Mosque) opened, Hagia Sophia was Istanbul's principal mosque.
In 1931, after the establishment of the secular Republic of Turkey, the mosque closed. It reopened in 1935 as a museum. In 2020 the Erdogan government, controversially, reclassified it as a mosque. When we visited today, prayer was in progress.
The Blue Mosque
Officially the Sultan Ahmed Mosque, the Blue Mosque was constructed in the early 17th century. It is called the Blue Mosque because of the blue tiles that adorn its interior walls as well as the blue stained glass that bathes it in blue light.
Supposedly, Sultan Ahmed I asked for six minarets. At the time, only the Ka'aba Mosque in Mecca had that many. When the Sultan was criticized, he ordered a seventh minaret to be built in Mecca, so he could then have six in Istanbul.
Unfortunately, the interior is undergoing a massive restoration and the walls are completely covered. So we didn't go inside. It's a reason to come back to Istanbul and see more.*
Hippodrome
This huge square used to be a race course for chariots. Grandstands surrounded it, with a capacity of 100,000. Today it's just a big empty plaza, except for a few monuments.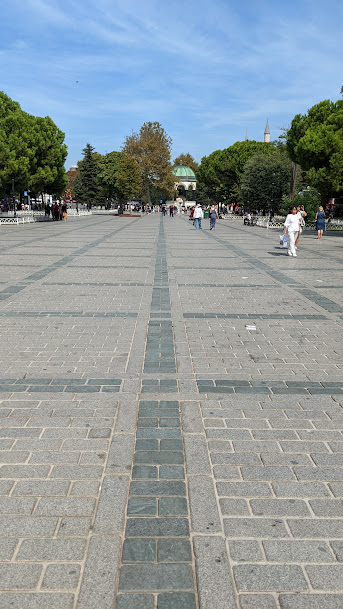 The Fourth Crusade in 1204 marked the end of the Hippodrome and the general decline of Constantinople. Led by the Doge of Venice (who is buried in Hagia Sophia), the Crusaders stripped the bronze from the Walled Obelisk, vandalized some statues, and melted down those made of precious metals. The four bronze horses that currently decorate St. Mark's Basilica in Venice once adorned the Hippodrome's starting line.
The Ottomans arrived in 1453 and used the stones of the grandstands to build the Blue Mosque. They dumped construction dirt in the Hippodrome, leaving the ground level six feet higher.
Grand Bazaar
You can't begin to get a sense of the size of the Grand Bazaar from the photo. It's a maze of corridors and a mass of humanity including pushy merchants and shopkeepers, loads of tourists, and some glimpes of authentic Istanbul. (Not that I saw much of anything besides the tourists and the various kinds of souvenirs tourists would buy. Prior to the 1950s the kinds of things that were sold here were very different.) We didn't spend a great deal of time here, and I might go back to explore in more depth before I leave Istanbul.
Dating back to when Istanbul was Byzantion (before it was Constantinople), the Grand Bazaar consists of over 4,000 shops sprawling across 61 streets. It attracts between a quarter million and a half million visitors every day.
Nuruosmaniye Mosque
Built between 1748 and 1755 in Ottoman Baroque style, this handsome mosque has the fourth largest dome in the city. Nuruosmaniye means "The light of Osman," honoring Sultan Osman III, who oversaw its completion. The Grand Bazaar surounds the mosque.
We ended the day visiting a ceramics studio and a carpet studio in a caravanserai. We got demonstrations on pottery making, spinning silk into thread, and rug making, and we got to see many fine examples of ceramics and Turkish rugs made of wool and silk.
That was the day yesterday, pretty much.
I love this city. From the stunning architecture to the charming narrow streets and back alleys to the lively nightlife, it's bursting with history and energy. I don't know if I've ever been in a place that had so much diversity of humanity–tourists from all over, women wearing burqas or hijabs or scantily clad. Local people are friendly, and it seems to rub off on the hordes of visitors, who are patient and tolerant as they crowd into small spaces for glimpses at religious relics or spectacular views of the cityscape.
But the best moment was watching the group celebrating at the restaurant where I had dinner last night. You can find it and all my photos of the day in my Google photo album.
I have a few more days here, but I already can't wait to come back. I am infected by this city's joy.
Also, there's just so much more to see here than I will be able to fit in my 5 1/2 days.