As I write, I'm sitting at breakfast at my hotel in Kuşadası. This post is about my final impressions of Istanbul, though, so I'll write later about Kuşadası and my day today, but I just wanted to share this glorious view of the Aegean Sea.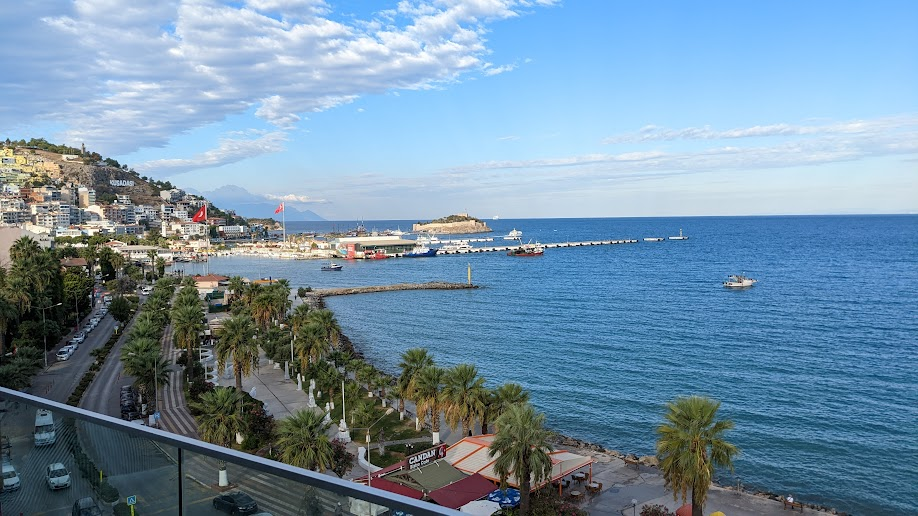 The Kasri that wasn't
My friend Nicci sent me this article from the New York Times from a couple of days ago. Hünkar Kasri, one of the places mentioned in the article was right smack dab in the middle of the Old City, near the Spice Market. So I decided to check it out.
After following Google maps and finding nothing at the location it directed me to, I asked two different people where it was. One of them pointed directly up; it was the building upstairs. I asked her where was the entrance, and she pointed me around the corner. There I finally found a big unmarked door that was closed and locked. But next to the door was a sign suggesting that this was Hünkar Kasri, and there was a doorbell, so I rang.
The gentleman who opened the door looked at me inquisitively. "Hünkar Kasri?" I asked. He said yes. "Is it open?" He said no.
At the end of my trip, when I have one last day in Istanbul, maybe it will be open and I'll have a chance to check it out.
The Cistern of Theodosius
All the guidebooks talk about the Basilica Cistern as one of the must-see sights in Istanbul. As a result, it gets a lot of visitors, and it's best to reserve ahead of time to avoid waiting in a long line.
I read about a lesser-known cistern, the Şerefiye Cistern (better known as the Cistern of Theodosius), so I decided to go here instead. While I can't compare it with the much larger Basilica Cistern, I can say it was well worth the visit.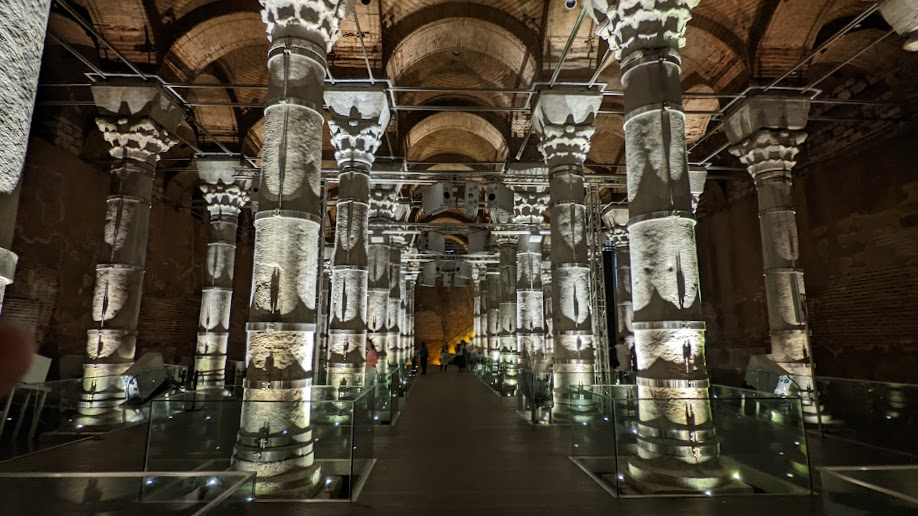 An attendant outside told me there are two light shows in the Cistern, each lasting about ten minutes, and I could see both or just one or a lower admission. I actually didn't care about seeing any light show; I just wanted to visit the Cistern. But I bought the two-show ticket and went in.
I descended a long staircase and entered the cavernous space. Walkways, laid out around the columns, made it possible to explore the entire space. The water level was below the walkways, of course, but when it was in use, the cistern would have been full of water, fed by the Valens Aqueduct I saw the day before.
The dramatic lighting provided a surreal experience. What a great space for quiet reflection! And there were just a handful of other tourists, unlike most of the other attractions in Istanbul.
The first light show started after I was there for about ten minutes. Projectors all over the space cast images on every column and all four walls. The show started with a narration explaining the history of the city and its reliance on water from far away, and then the images depicted that history.
The second show, which started about was less structured, more visual.
I was blown away! These two shows, in two completely different ways, were stunning!
Vase
As you may know, I collect miniature vases. I already bought an inexpensive one on my first day in Istanbul. But when I came out of the Cistern I saw a ceramic shop across the street, so I went by "just to look."
The pieces in the shop were gorgeous. The owner, whose name was Sinan, gave me a lesson on the types of ceramics, how to determine the quality, and the need for a certificate of authenticity.
I couldn't resist. I bought another beautiful vase from Sinan. My two carry-ons are already completely stuffed, and I still have a lot more trip in front of me and a lot more things to buy…
Back to the Grand Bazaar
My visit to the Grand Bazaar with Seyhan on Day Two was not much more than a quick walk-through. In my Rick Steves Istanbul guide book, he offers a more meaningful walking tour through the Grand Bazaar. So I decided to go back for a better sense of what was going on there. I loved Rick's tour! He managed to provide great context and bring meaning to what was otherwise just an enormous collection of vendors selling souvenirs.
I also had a fabulous lunch in a restaurant in the Grand Bazaar.
On to Kuşadası
My final impressions of Istanbul were consistent with my entire experience there. I could have spent many more days and not run out of things to see and do. I think this is a city I would eagerly come back to for another visit.
It helps that Turkish Airlines flies direct from Mexico City. It seems to be an excellent airline I'd happily fly again, even if I weren't going to Turkey. It's easy enough to transit through Istanbul Airport to anywhere else in Europe.
Even on the 47-minute flight from Istanbul to Izmir, they managed to serve a delicious hot sandwich and beverage to everyone on the 777.
Photos
Take a look at my photos from yesterday for more details about what I saw.