Remember when I said I am a worrier?
Two weeks before I was set to leave on this trip, I fell and twisted my ankle. For a day, I couldn't walk, and I wondered if I'd have to cancel the trip.
Fortunately, the ankle healed.
Until I fell again last Monday on the same ankle.
Fortunately, that fall wasn't as bad as the previous one, and I survived and I didn't have to cancel, and I left yesterday for the airport excited to begin my South American adventure.
It was cold yesterday in Seattle. After a beautiful October and two warm, sunny days in November, we got snow.
I was supposed to have a three-and-a-half hour layover in Atlanta on my way to Santiago, so I wasn't worried. Until they delayed. But it was just fifteen minutes. Until then they said we had to deice. But that was only another fifteen minutes. Until they said air traffic control had place a temporary hold on all flights out of SeaTac. Suddenly, my three-and-a-half hour layover was feeling perilously short. We finally got in line for take-off, but then it started snowing harder, and I wondered if any moment they would put another hold on departures. Until we were actually in the air, I worried if I would miss my connection.
It really doesn't pay to worry, though. There is nothing to be gained. Hurting my ankle, unseasonably early snow, or whatever else, it was all outside my countrol. All I could do was proceed as best I could. So I sat there on the plane worrying unnecessarily.
We ended up taking off from Seattle a little past 2:00 pm. (Original departure time was 12:20.) Once we were in the air, I could relax. And we arrived in Atlanta about an hour late, which still gave me two-and-a-half hours to get to my next gate.
We arrived at gate 28E. And we were departing from gate 28E. On the same aircraft.
So even if we had been four hours late, I don't believe my flight to Santiago would have left without me.
So we landed in Santiago on schedule at 10:00 am local time. It took two hours to get through passport control, get my luggage, and clear customs, and then I still had to wait for the other five people who were arriving on the same flight and are part of my tour. Then we got into a van to head to our hotel. Except the van driver had the wrong kind of ticket, and we couldn't get out of the parking lot.
We finally arrived at our hotel a little before 1:00 this afternoon, got checked in, met the other travelers in our group, and went to get lunch at a fast-food cafe with outdoor seating. We ate hot dogs "completo": with avocado, chopped tomato, mayonnaise, and sauerkraut.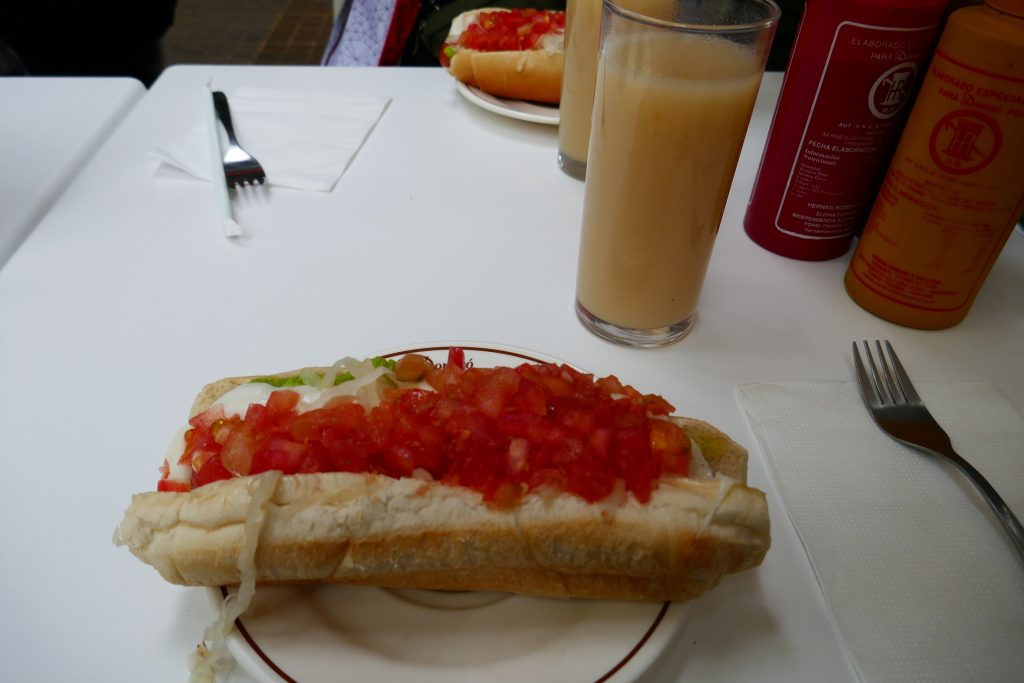 Then we took the Metro the the downtown area and had a short tour of Santiago. Our local guide, Paul (not, he told us, Paolo or Pablo… his mother loved Paul Newman), gave us an excellent history lesson about Chile and showed us some of the main landmarks in the historic downtown area.
The highlight for me was Plaza de Armas. On this square are the beautiful Metropolitan Cathedral, and along the north side, the Central Post Office (originally the Palacio de los Gobernadores), the Museo Historico Nacional (formerly the Placio de la Real Audiencia), and the Municipalidad de Santiago (city hall, formerly the colonial prison).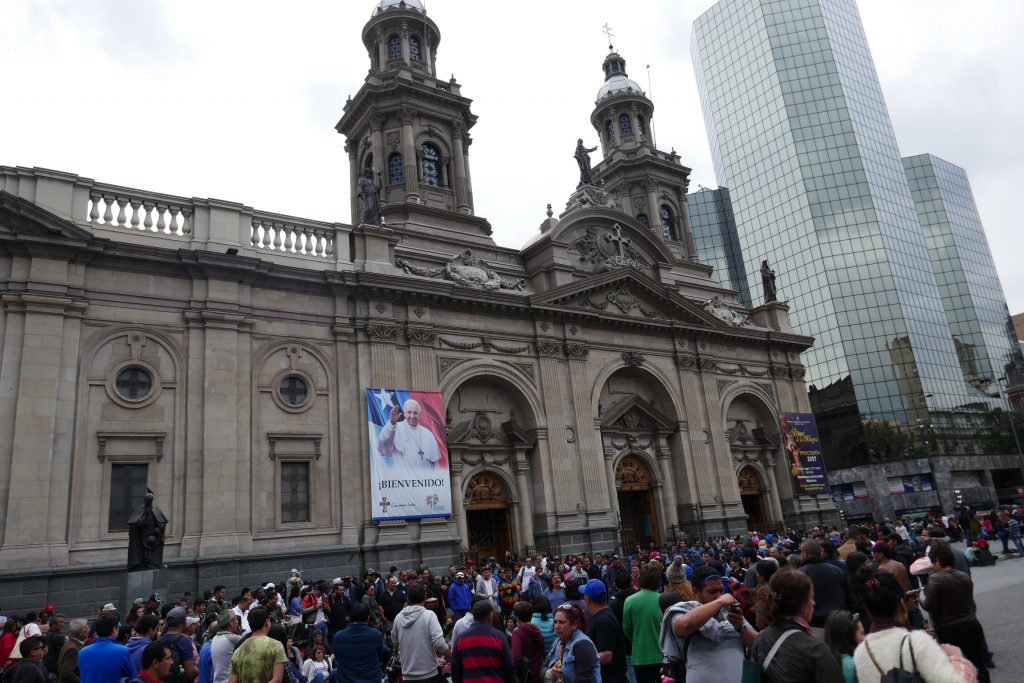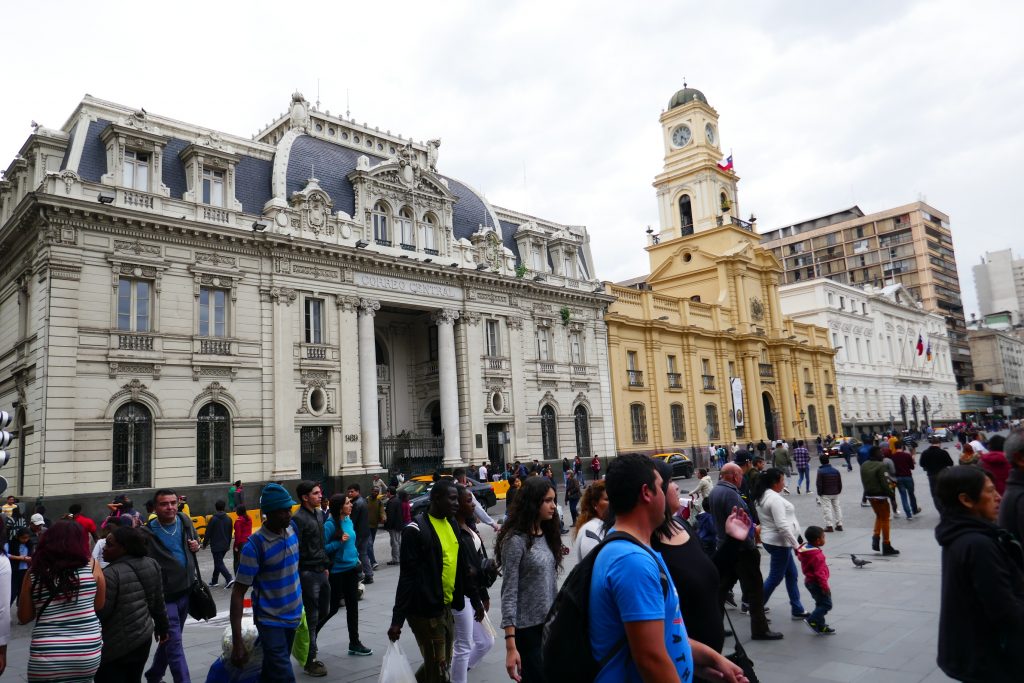 There are twelve of us on this leg of the tour (four others will join us in Buenos Aires next week). I believe I am the only non-retiree, and the youngest by about four or five years. There are two married couples, three women from Wisconsin who are friends, two women from Wisconsin, and three of us are solo travelers. I've made a nice connection with Pat, a former special-ed teacher from Denver. After dinner (a group affair at a revolving restaurant), she and I enjoyed one final glass of wine back at our hotel. It seems like a great group of people overall, and I look forward to getting to know them all as the trip progresses.
Santiago is a lovely city. I wish I had more time here. But tomorrow morning we are flying to Easter Island.
Meanwhile, I am going to try to learn to stop worrying. Federico, our tour director, has everything under control. I am used to being responsible for my own travel arrangements, but I just need to learn to let go, relax, and go with the flow.
See you in Rapa Nui.