I have bid a fond and sad farewell to the lovely land of Caledonia. (Caledonia was the Latin name used by the Roman Empire to refer to the part of Great Britain that lies north of the River Forth, which includes most of the land area of Scotland. Today, it is used as a romantic or poetic name for all of Scotland.)
Here is a brief rundown of my last few days in Edinburgh. And I have some final thoughts about Scotland, some things I learned and observed, and a few of the things that surprised me.
If you want to bypass all the reading, check out my photos from my last few days in Scotland.
The Firth of Forth
I met John and Angela when I went to Colombia in January. They were in the group I toured with, and they live in Edinburgh. When I told them I was going to Scotland, they said I should look them up. They ended up planning a great day. They picked me up in their cute Triumph Stag, and we rode, top down, to the charming town of South Queensferry.
The Forth bridges
South Queensferry is the southern terminus of three important bridges. The Forth Bridge, a railway bridge (photo up top) is the oldest. It opened in 1890 and has been voted Scotland's greatest man-made wonder and is a UNESCO World Heritage Site.
The second bridge, which opened in 1964, is the Forth Road Bridge. At the time it was the longest single-span suspension bridge outside the United States.
The newest bridge, the Queensferry Crossing, opened in 2017. It is the longest 3‑tower, cable-stayed bridge in the world. It is also the largest where the cables cross at mid-span.
The northern terminus of all three bridges is at–you guessed it–North Queensferry. The towns derive their name from a ferry service established by Queen Margaret in the 11th century. That service ended when the Road Bridge opened.
Cruising on the Firth of Forth
After a walk through town, we took a 90-minute cruise on the Firth of Forth.
Blackness Castle
After the cruise we had a bite to eat at the Railbridge Bistro in South Queensferry. We ordered from their "Light Bites" menu, which is a complete lie. I was stuffed! Then we drove to Blackness Castle. John and Angela hadn't been there before, so that was fun to explore together. It was built in the 1440s to protect the nearby Linlithgow Palace, where the Scottish royals had a residence.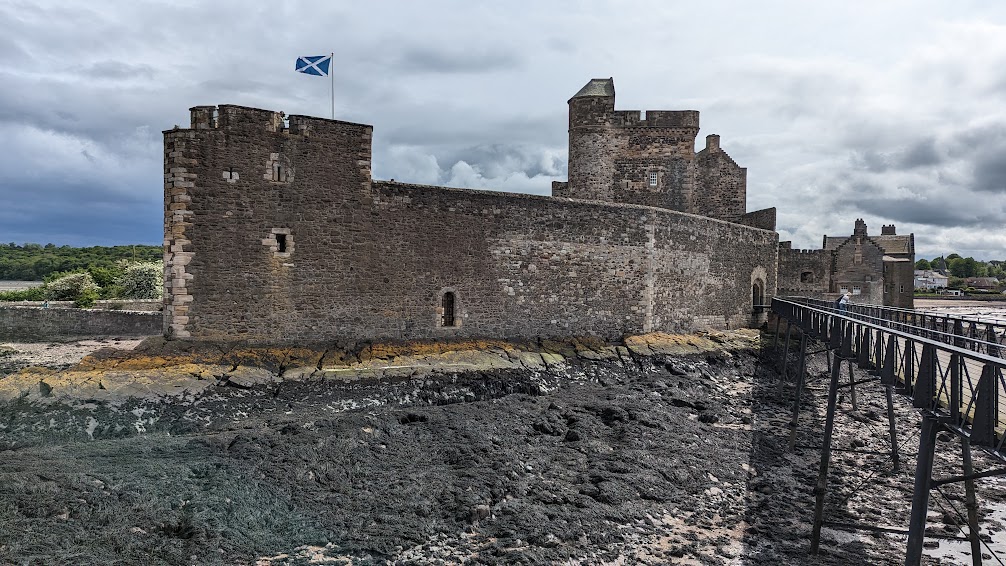 Linlithgow
From Blackness we drove to Linlithgow to look at the palace. Also built in the 15th century, it was a principle residence for James II, III, and IV. In 1512, the son of James IV and Margaret Tudor, the future James V, was born at Linlithow Palace, as was his daughter, the future Mary, Queen of Scots, in 1542. After the Union of the Crowns in 1603, the royal court moved to London, and Linlithgow Palace gradually fell into disrepair. Bonnie Prince Charlie visited in 1745, on his march south, but he didn't stay overnight. Fire largely destroyed the palace in 1746. It is in pretty poor condition and much of it is covered with scaffolding. Still, it was cool to see the birthplace of Scottish monarchs.
Leith
John and Angela live right by Leith, a port area in Edinburgh. Leith is famous as the home of the Royal Yacht Brittania, but it's also a popular neighborhood with upscale restaurants, shops, and traditional pubs.
I'd been thinking about going to Leith on Sunday morning before heading to the airport. But I asked John if he would drop me off there, or near there, instead of at my hotel. And they ended up going for a short walk with me in Leith before they headed home.
It's a nice, gentrified neighborhood. Old warehouses are now high-end apartments. And it was quite busy; on a sunny, pleasant Saturday evening, cafés and pubs were crowded and lots of people were enjoying the outdoors.
I didn't hang out there for long, though. I thought I might find a spot for dinner, but I was still full from the big lunch I'd had. So I began walking back to my hotel (about 40 minutes), hoping to work up an appetite on the way. I wanted one final fish & chips dinner before I had to leave Scotland, and there was a highly recommended place to get them en route.
But it didn't work out that way. I still didn't feel hungry when I got back to my hotel. So I waited until later for dinner, and then just went to Amarone, an Italian restaurant close to my hotel. Even though I didn't get my final fish supper, I had a great meal.
The Palace of Holyroodhouse
Sunday was my departure day. My flight wasn't until 4:30pm, so that gave me time in the morning for more sightseeing. Because let's face it, with five weeks in Scotland, I barely had enough time for sightseeing!
The Palace of Holyroodhouse was one of the last sites on my Edinburgh checklist. This palace is the official residence of the monarch in Scotland, and has been since the 16th century. I'd walked there on my first day, but it was closed for a royal visit. I have no idea which royals were visiting. But it was open on Sunday morning, so I bought an advance ticket and got there right as they were opening at 9:30 Sunday morning. There was already a long line, and it was very crowded inside. Photos weren't allowed in the palace, but there are some good ones on their website, and I got some on the grounds.
Palace History
There's some interesting history around the palace and the adjacent abbey.

This story goes right back almost 900 years to the reign of King David I in 1127. Back then, what we know as the spacious, grassy Holyrood Park at the foot of Arthur's Seat was actually a royal hunting forest.

David liked to spend most of his time here while staying up at Edinburgh Castle on the cold, draughty rock. It sounds like a pretty normal thing for a King to be out hunting in those days but this wasn't just any old day. This was the feast of the Holy Cross and David should really have been in church.

He had ignored the words of warning from pesky priests and headed out with his bow and his spear. At some point, while stalking a majestic, white stag the King was separated from his hunting companions. It was only when he stopped in a clearing and listened to the quiet woodland around him that he realised he was all alone.

Suddenly out of nowhere, the white stag burst out of the undergrowth and startled David's horse which bolted off between the trees. The King was lying on the ground, in amongst the roots and the leaves with a very angry stag staring back at him. His spear lay just out of reach and his bow had disappeared with the horse. The hunter had very much become the hunted.

You might think that deer are lovely and cute but a wild stag is a powerful beast. Definitely not something to mess around with. David was praying for all he was worth as the white stag charged for him with the sharp tines of its antlers bared.

Then instead of seeing his life flash before his eyes, the King saw the Holy Cross appear between the antlers. As he reached out to grab it the stag stopped in its tracks, panicked and fled.

David marked the spot where the miracle had taken place and promised to dedicate an abbey in thanks to the Holy Cross or Holy Rood as it was known. Holyrood Abbey grew into the Palace of Holyrood House that we have today and the forest was cleared to make the surrounding Holyrood Park.

The Legend of Holyrood
It's not exactly correct to say that "Holyrood Abbey grew into the Palace of Holyrood House." More precisely, James IV built a palace adjacent to the abbey, and later monarchs carried out various expansions and renovations. Queen Victoria stayed at the palace frequently, and George V modernized it in the early 20th century, adding central heating, electric lighting, and modern kitchens. Elizabeth II stayed there for one week each year during her reign, and her body lay in repose there for two days after her death at Balmoral Castle last September.
There's also some dramatic history associated with Holyroodhouse. David Rizzio, private secretary to Mary, Queen of Scots, was murdered in the queen's private bedchamber in 1566. And the queen's husband, Lord Darnley, was involved in the plot to get rid of him. And the intrigue goes on from there. Here's a good school-curriculum version of the entire story, complete with photos of the room where it happened, which I got to be in. And here's a less sanitized version of the story.
A Scotland Retrospective
Too soon, my Scotland trip came to an end. I took a tram from St. Andrew's Square, right across from my hotel, to the airport. And though the flights back to Mexico (via Istanbul) took a lot of hours, I did make it back.
Best and Worst
This was a fabulous trip. People ask me what was my favorite part, and it's hard to pick. But here are some bests and worsts:
Fun facts and observations
Along the way, I picked up a number of interesting tidbits, which I would make note of. Here are my favorite fun facts and observations about Scotland:
Every Scotsman needs one good kilt, according to one of my guides. He wears it for "matches, hatches, and dispatches" (i.e. weddings, christenings, and funerals).
At restaurants, when they bring your food, they will often ask if you need any sauces. Things like ketchup only come to your table if you ask.
Also at restaurants, utensils and napkins are often in a container on the table. But at nicer restaurants, there are no utensils until after you order, and then they bring exactly the utensils you need for the food your ordered.
When the host seats you at a restaurant, they will ask if you have any food allergies or dietary restrictions. Your server will probably ask you again.
There is no "e" in whisky. And on restaurant menus, they appear under the heading "Malts."
Hotels generally don't offer early check-in, and they won't even check to see if your room is ready. If check-in is at 3pm or 4pm, that's when you can check in, and no earlier. (Premier Inn offers early check-in if available for a £10 fee.)
In rural areas, many roads are single-lane, with "passing places" where there is room for one vehicle to move aside and allow another to pass. It is customary for the drivers of each car to give a wave of thanks when this happens. If you're walking on a road and a car comes and you step to the side, they will give you a wave of thanks as well (which I always returned).
Electric outlets have a switch on them to turn the power to the outlet on or off. If there are two outlets at one location, each outlet has its own switch.
There is no "exit" at the train station. There is a "way out."
What's next?
My next big adventure is less than four months away. Stay tuned!