Two days in Bogotá were barely enough to scratch the surface. Mornings were sunny, afternoons were rainy. The highlights were visits to two museums: Museo del Oro and Botero Museo.
In addition, I sampled some interesting flavors at Mercado Paloquemao, walked around (when it wasn't pouring rain) to see some of the interesting buildings in La Candeleria, visited Pasaje Rivas, a handicraft market, and rode a funicular to the top of Monserrate for some great views of the city.
I'm now back at the airport waiting for our flight to Armenia, in the heart of coffee country. That's where we spend the next two days.
The Tour
I'm on a tour with Explore! This is a British company, and of the fourteen people on the tour, I'm one of two from the United States. One is from Ireland, and the rest are English. My guess is I'm about the average age of the group. I don't think there's anyone below 50, and there are probably a few in their 70s. Most seem to have done extensive traveling. It's a really nice group of people I'm enjoying getting to know.
Our tour leader is Alejandro, a thin Colombian who wears his long dark hair wrapped in a bandanna. He's doing a good job so far avoiding calamities and keeping us organized.
I did have a near calamity shortly after my arrival at El Dorado Airport. When I found my driver, he had two other names on his sign, and they were arriving about an hour after I did. So I went and sat for a while, and then went back and chatted with the driver, who was standing by the door, where it was chilly. I took my backpack off so I could take out a jacket. After my two other tourmates arrived, we headed to the van. As we got there, I put my rollaboard in the back and realized to my horror that my backpack was no longer on my back. Fortunately, when we returned to where I'd left it, it was still there.
Stay alert, Lane!
La Candelaria
We stayed in La Candelaria, one of the districts of Bogotá. This is the historic core of the city. The main square, Plaza de Bolivar, is surrounded by important edifices: the Catedral Primada de Colombia; the Capitolio, where the national Congress meets; Palacio Liévano, Bogotá city hall; and the Palacio de Justicia. On Sunday (yesterday), when we were there, big crowds filled the square: families and other humans, pigeons, vendors, and at least one llama. I went back today, and it was nearly empty (except for the pigeons and the llama).
The remainder of La Candelaria is a mishmash of colonial architecture along with some newer buildings. Much of the architecture is charming. Many of the older buildings have been lovingly renovated, but there is also a rundown feeling in this neighborhood.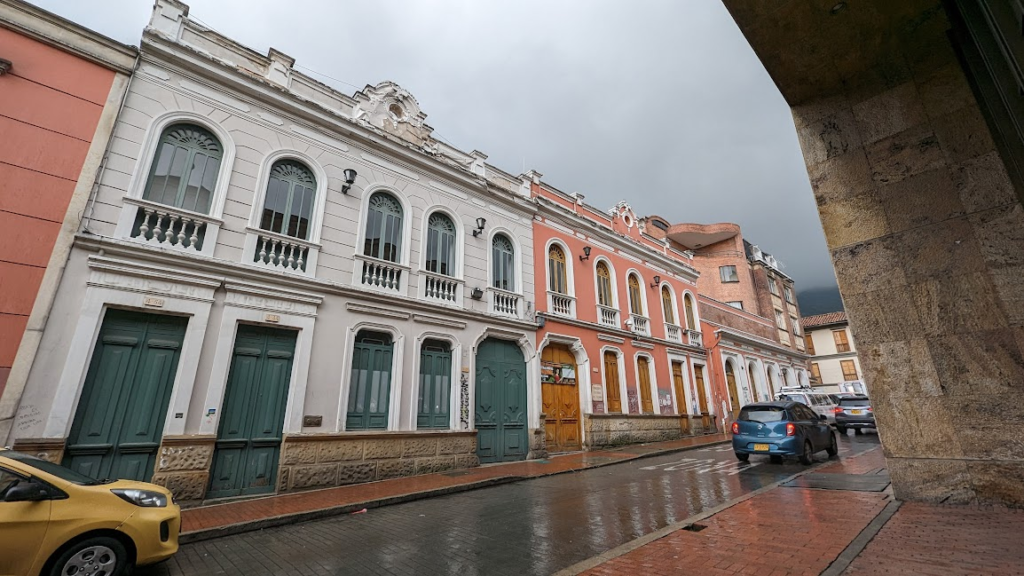 Mercado Paloquemao
I've been to a lot of farmers markets. Mostly they are the same, except for a few local items. It can be fun to wander through and see unfamiliar fruits and vegetables.
Plaza de Mercado Paloquemao was mostly the same as all the others, but we did get to try some things I've never tasted before. We visited a fruit stand, and Alejandro bought a whole bunch of fruit, which they cut up for us so we could sample them. Some were familiar, but most were not.
Museo del Oro
I generally don't like museums full of historical artifacts. Looking at so many arrowheads, military uniforms, shards of pottery, and ancient utilitarian objects bores me. So I wasn't sure how I'd feel about the Gold Museum in Bogotá.
It turns out this was a brilliant museum. This wasn't a bunch of artifacts. It was art made of gold. So much of it was exquisite, and the quality of workmanship awed me.
The collection at the museum includes some 34,000 goldsmithing objects and an additional 20,000 objects of other materials. Here are some samples. And you can see more of the photos I took there in my album.
Museo Botero
Fernando Botero was born in Medellín in 1932. He is one of Colombia's most important living artists, though he currently lives in Paris.
The Museo Botero displays a collection of works by Botero and works that were part of his personal collection, including some great masters of the 19th and 20th centuries. Botero donated the work for the creation of the museum in 2000 on the condition that admission would always be free.
I was not famiiar with Botero's work before I came here. I find his style to be whimsical. I had a lot of fun exploring the collection. Here are a few samples, but you can see all the photos I took in my album.
Monserrate
This morning we rode a funicular to the top of Monserrate, a hill overlooking the city. From there we enjoyed a spectacular view of Bogotá, which you can see at the top of this post.