Today I took and excursion to Gomboa and Gatún Lake to commune with nature and see some of the birds and wildlife of Panama.
There's really not a lot to write about. It's all about the visual. Words can't begin to capture it.
And the photos I took with my phone, even though I have a smartphone with one of the best cameras, don't really do it justice. My guide, Miguel, had a good camera with a telephoto lens. He's supposed to send me pics, so I should warn you that the photos I'm posting today are sub-par. But you can check them out in my online album. When I get Miguel's photos, I'll post an album with those.
A shout-out to Panama Road Trips
I want to start with a testimonial. I booked three days of excursions with Panama Road Trips. All three days were awesome. My guide, Miguel, was knowledgeable and fun to spend time with. The itineraries were all interesting and extremely varied. It's hard to believe how much of Panama I got to experience in such a short time. If you come here, you should book your tours with them.
Miguel told me they are planning on some new tours, including tour packages. Since it's just a four-hour flight, direct from Guadalajara, I will definitely look at coming back to see more of this fascinating country with Panama Road Trips.
Today's excursion
Our route today took us along the Panama Canal to Gamboa. There Miguel and I boarded a boat, and our pilot and navigator, Leonardo, took us through that section of the canal to Lake Gatún.
The lake is artificial. It was created as part of the construction of the canal. The Chagres River feeds into it. (This is the same river we took yesterday to the Emberá Drúa village. If you look at the map, the river flows from Lake Alajuela, north of Caimitillo, south toward Gamboa, where it becomes part of the canal. On yesterday's boat ride, we started at the south end of Lake Alajuela and went further upriver, in the darker green area east of the lake. You can't see that part of the river on the map because it's much more narrow than the portion that flows into Lake Gatún.)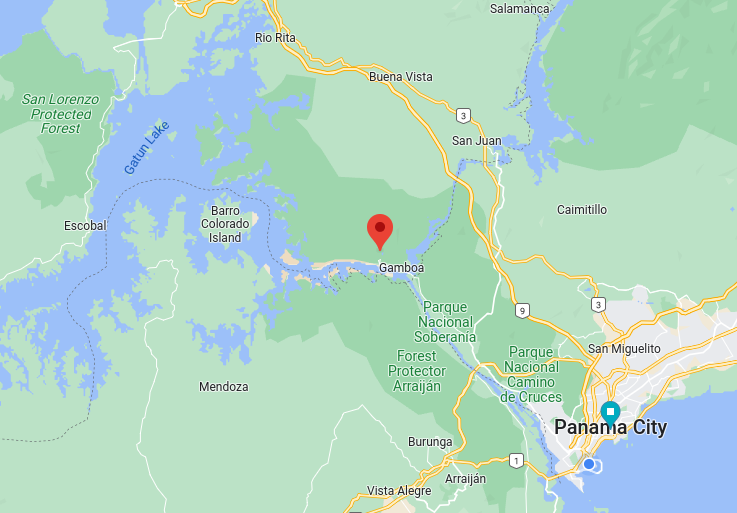 There are a lot of small islands along the shore of Lake Gatún, and Leonardo took us in and out of various narrow channels, in some cases right up to the edge of the islands, where we saw three kinds of monkeys, some other wildlife, and a whole range of birds.
After we got back to Gamboa, we drove to Pipeline Road. The US government during World War II as a backup for moving cargo across the isthmus in case Japan attacked the canal. But they never did. Now Pipeline Road is part of Parque Nacional Soberania and is a popular hiking trail for birdwatching and wildlife spotting. We walked for almost two hours, and we didn't get very far, because we had so much time to gaze at the critters.
Monkeys
I saw three monkey species, two of which I'd previously seen in Costa Rica.
Birds
I saw three species of toucans. Two of those (keel-billed and yellow-throated) I'd previously seen in Costa Rica. The new one is the collared aracari. (At least I think it is.) I didn't get photos of the other two this time around.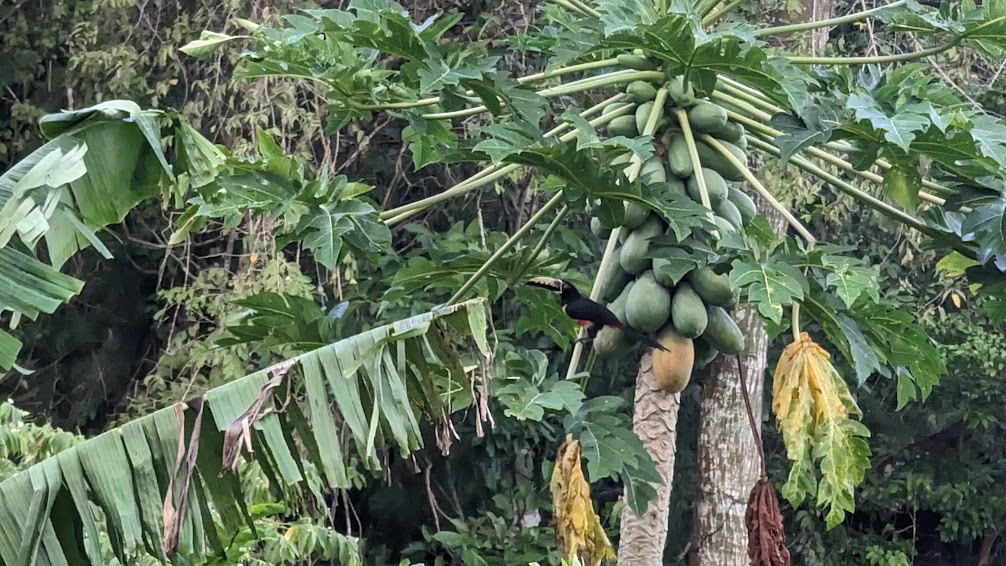 I saw a wide variety of other birds. There were two highlights. One was a cocoi heron, which Miguel said is very rare to see in Panama. It's at the top of this post. The other was a sort of feeding frenzy. A city of ants was carpeting the forest floor in a spot on Pipeline Road. Several species of birds were taking advantage of the ants' activity to partake of some of the insects the ants were stirring up.
I don't the patience to be a serious birder. I'm also unwilling to carry all the equipment around. But I do love seeing different kinds of birds. Here are a few of the others I encountered today. Some of these I'd never even heard of.
Other critters
Biomuseo
After our wildlife expedition, I asked Miguel to drop me at the Biomuseo.
This fascinating museum was designed by Frank Gehry.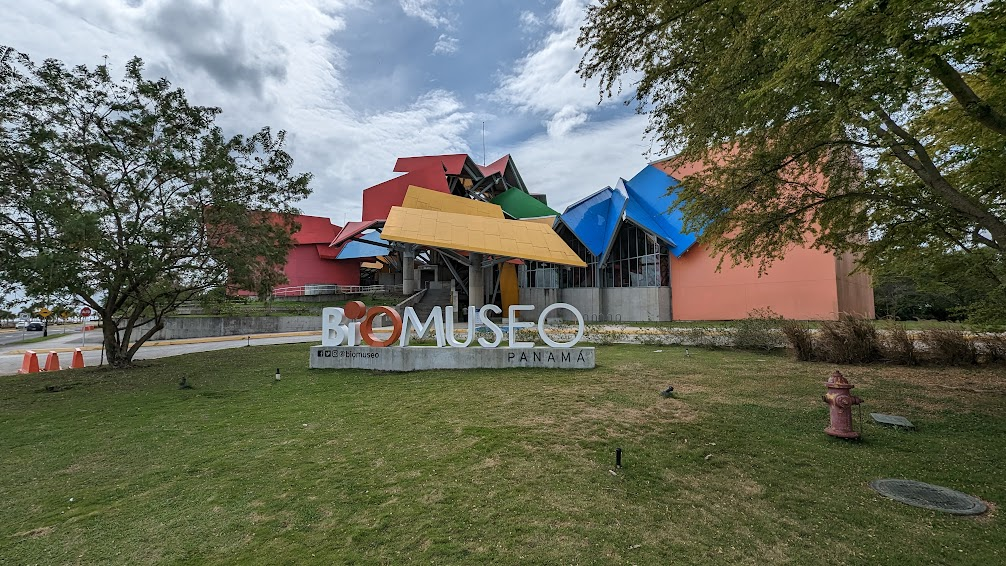 The museum celebrates the geological and biological history and diversity of Panama, focusing on the animal kingdom. It starts with a movie on nine screens (two each on three walls, two on the ceiling, and one below my feet) providing a visual feast of the animals of Panama. Then it takes you back 70 million years and explains how the isthmus of Panama was formed. This was the last part of the America's to come into existence, as South America and North America moved together, pushing tectonic plates upward. Once the land bridge formed, the Great American Interchange took place, with animals from North America moving south and vice versa. The museum shows the many creatures, many extinct but some still around, that participated in the Interchange some 2.7 million years ago.
You then exit the museum into a courtyard where a series of panels describes how humans first came to Panama and traces human history through to the present day.
The last part of the museum is all about the animals, including birds, fish, mammals, reptiles, and amphibians, that inhabit Panama today, illustrating their behaviors and survival techniques. I was very tired, but I'm glad I made it over there before I leave Panama.
Coda
After my visit to the Biomuseo, I took an Uber back to my hotel. Now I'm back from dinner, still very tired. Tomorrow I fly to Bogotá to begin my tour of Colombia. My flight isn't until noon, so I'll have time to pack and maybe have breakfast before heading to the airport.
I have to say that Panama has really exceeded my expectations. I was only coming here because it was on the way to Colombia, and because Copa Airlines offers free stopovers. But I now feel like it's a place I want to come back to and see more of. Since I can come on a direct flight from Guadalajara in just four hours, I do hope to return soon.
I also have to say that one particular way my expectations were exceeded was the food. I had at least two or three meals here that were sublime, meals I will never forget. And the ones that didn't quite rise to that level were still outstanding.
If you're ever in Panama City, you must go to Tres Fuegos and to Fonda Lo Que Hay. And if you're not in Panama City, it's worth it to come here just to eat at these two restaurants.
But while you're here, take an excursion with Panama Road Trips. Stay at La Concordia Boutique Hotel. And you, too, will fall in love with this city, this country, and the warm, friendly Panameños.