Today was a day for feeling peevish and then getting over it.

I didn't really like where I stayed in Bend. The only really good thing about it was that it had a great view. When I arrived I met the owners, was showed the room, which had a separate entrance off the back of the house, and then left to come and go as I please. The room (a bedroom with en suite bath) was big but sparsely furnished. They provided a coffee maker in the room and brought a tray with breakfast (a muffin and some fruit). After breakfast the first day I spent the day out, and when I got back they hadn't cleared the breakfast tray or cleaned the coffee maker. So I skipped breakfast this morning and got on the road early. When I told the host I was leaving, she was really nice and offered to give me a baggie with the fruit, which I declined. But that was the only interaction I had with her other than "hello" when I arrived. None of this is so terrible, but one of the reasons I like Airbnb.com is that it gives an opportunity to meet local people where I'm traveling. If I'm not even going to have that opportunity, I might as well stay in a motel, where at least they'll clean the room while I'm gone during the day.
It all sounds petty, and it's not a big deal, but it set me off feeling annoyed this morning. Plus the wifi, which he only turned on when I asked about it, was turned off, so I ended up going to Starbucks for breakfast and coffee and to do my blog this morning. And that's when I realized one of the main reasons I was coming to Fossil, to see the John Day Fossil Beds National Monument, was going to be impossible because of the government shutdown.
I decided to set out to see Sisters, a small town about 20 miles northwest of Bend. It is a cute western town. Too cute. Annoyingly cute. Wooden sidewalks, swinging saloon doors, the whole nine yards. I tried to find a prototypical street to take a picture of, but every street was prototypical.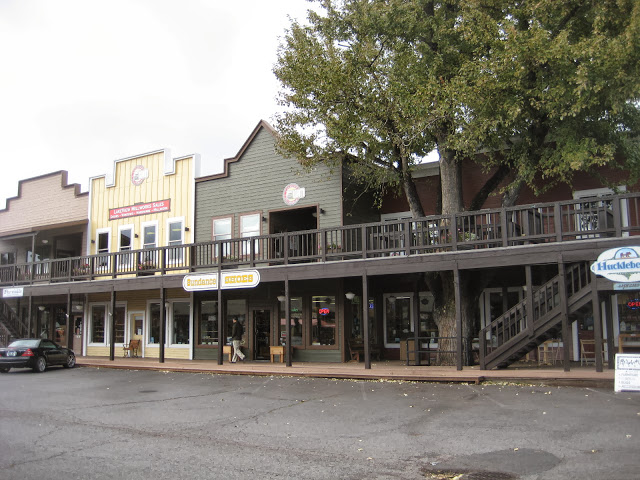 This faux-western town didn't do much to cheer me up, although I did find one nice gallery and bought a unique raku vase for my collection. (I've lost count, but I think I'm up to six new vases during my trip.)
Heading out of Sisters after I found my car (which I couldn't remember where I'd parked), I planned on heading toward Redmond and then to a few sites just north of there. But on the way, I saw a sign for Cline Falls, and I figured I'd check it out. Eleven miles down Cline Falls Highway, no sign of any falls.
On the road back to Redmond, I passed a sign for the Petersen Rock Garden, and I decided to check it out. Some might call it folk art. I think that's awfully generous. Here's a small sampling: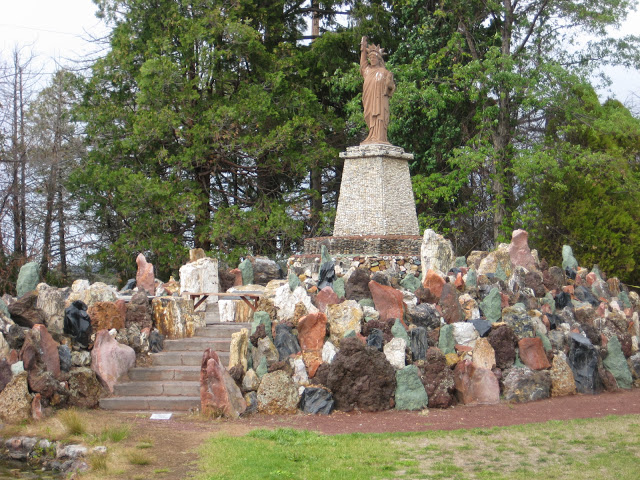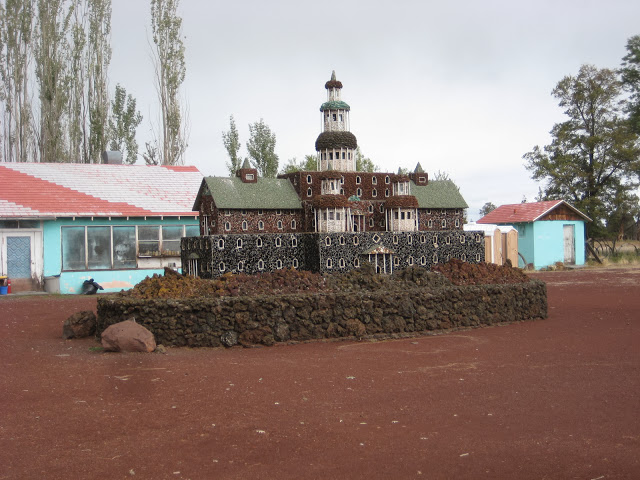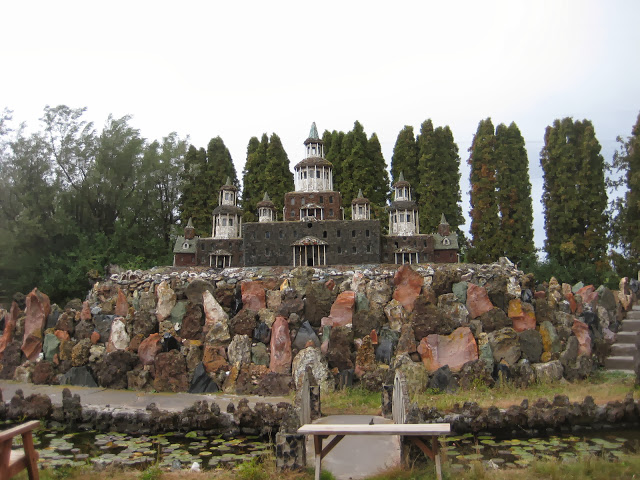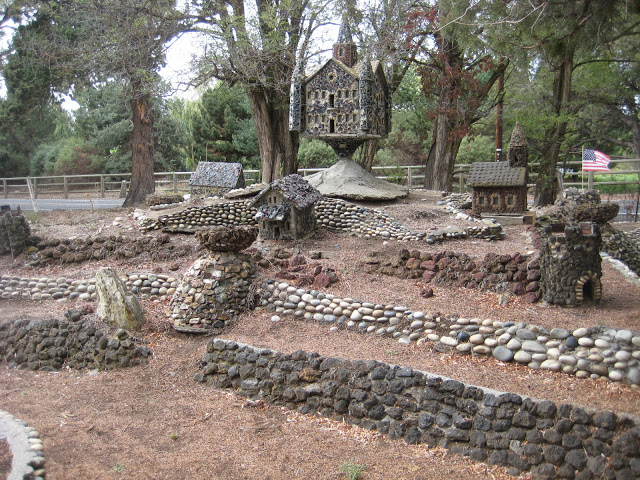 Five minutes later, still feeling peevish, I was on my way.
Next stop was Smith Rock State Park. But by the time I got there it was raining, plus I didn't have the required $5 for the machine to buy a day pass. All I had was twenties, plus four ones, and the machine didn't take anything larger than $10. Still, it was a very impressive sight.
So I left. Still peevish.
Next stop was Peter Skene Ogden State Scenic Viewpoint. Just about five miles up the road from Smith Rock, it's essentially a viewpoint for a canyon with very sheer cliffs. While I was there, the rain stopped and the sun came out, both meteorologically and metaphorically.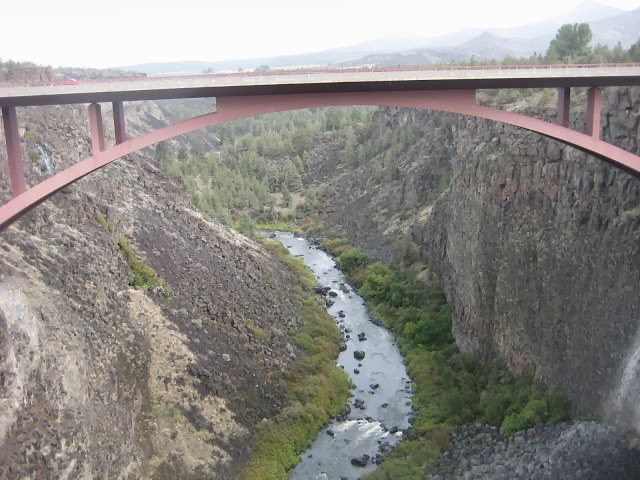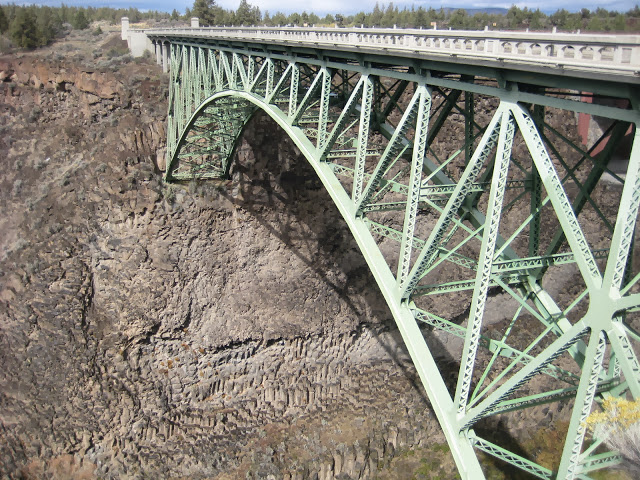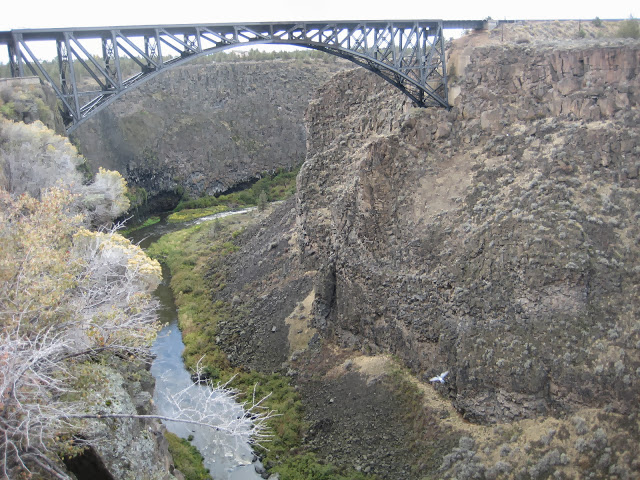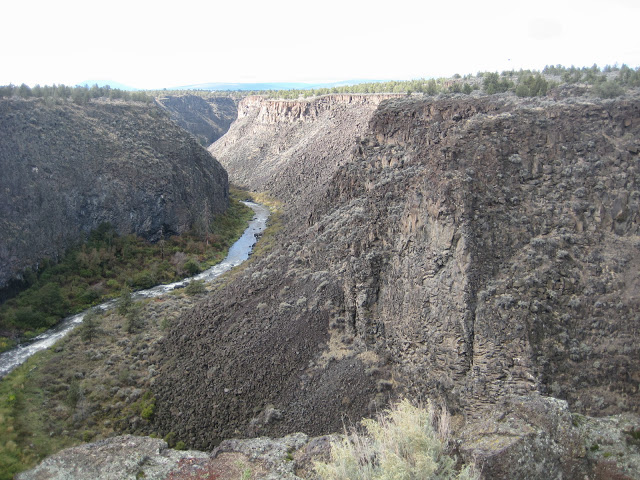 Cheered at last by the sight of something worth seeing, and by the improved weather, I went back to Smith Rock, with a stop on the way at a grocery store to buy lunch and break a twenty. I had a picnic on a slightly damp picnic table and spent a couple of hours hiking and admiring the scenery.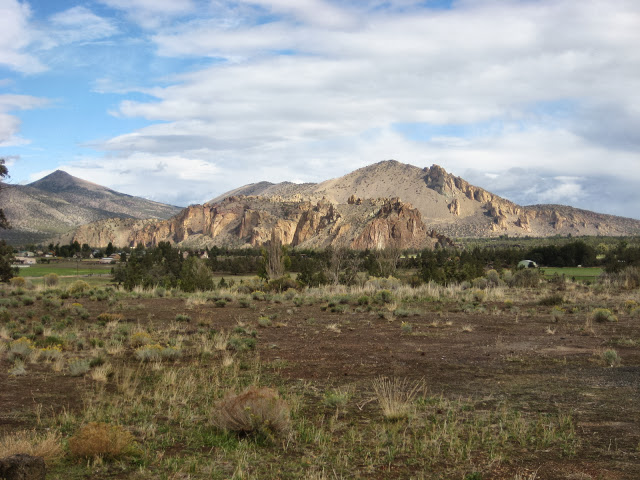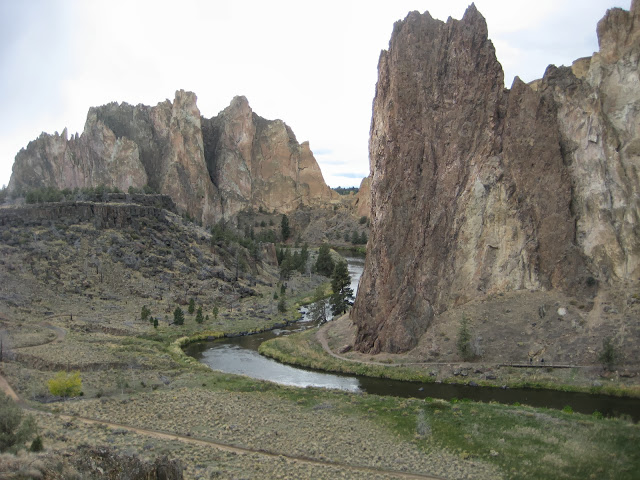 (I took a lot more pictures. I'll have my complete album on Picasa web albums after the trip.)
I left Smith Rock at about 3:00, and I got to Fossil about 5:30. On the way I passed the Clarno unit of the John Day Fossil Beds, where there are actual fossils of plants from 50 million years ago. There was a sign indicating that it was closed, and the parking lot was blocked, but I stopped in front and climbed over the barrier and walked the quarter-mile interpretive trail.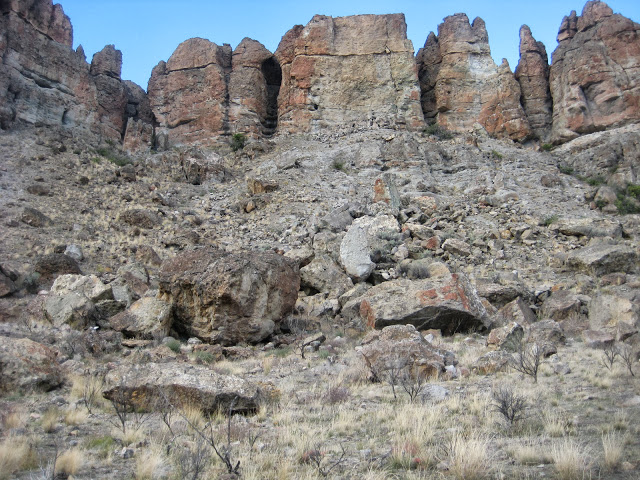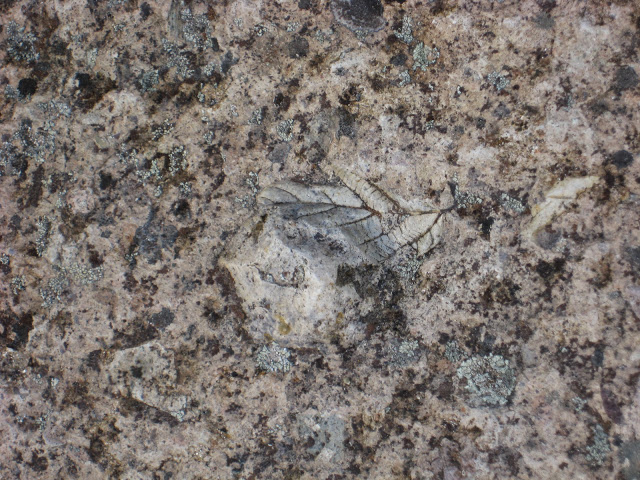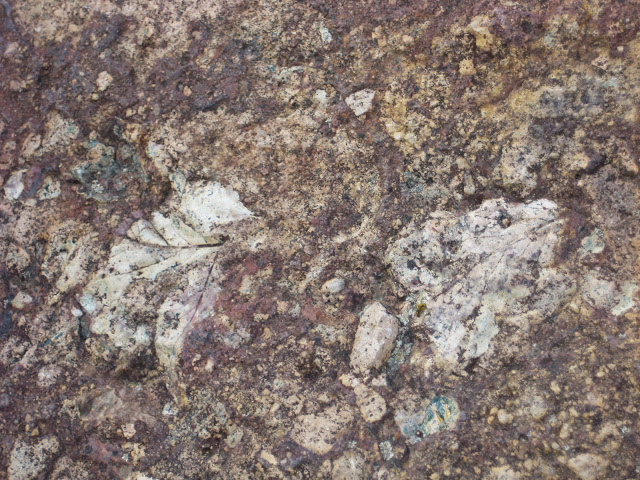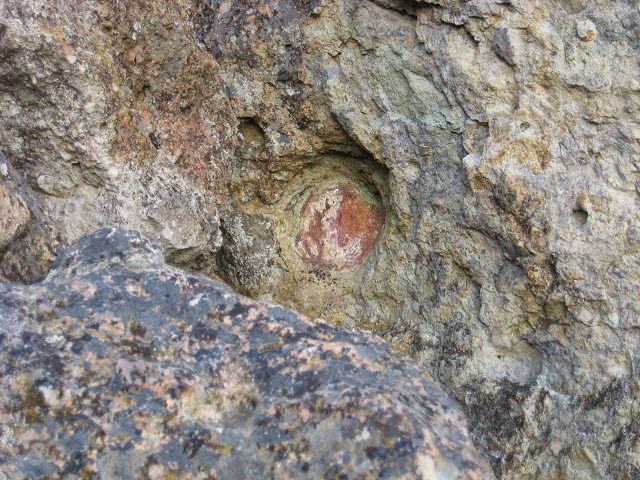 Finally I arrived at Wilson Ranches Retreat, a B&B on a working cattle ranch, got settled in, and went for a bit of a walk.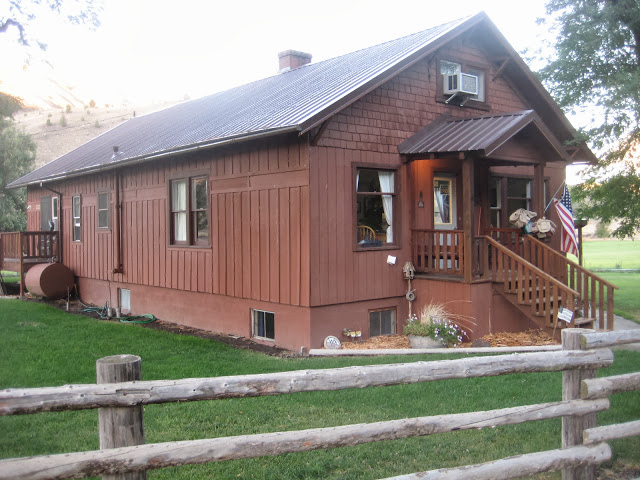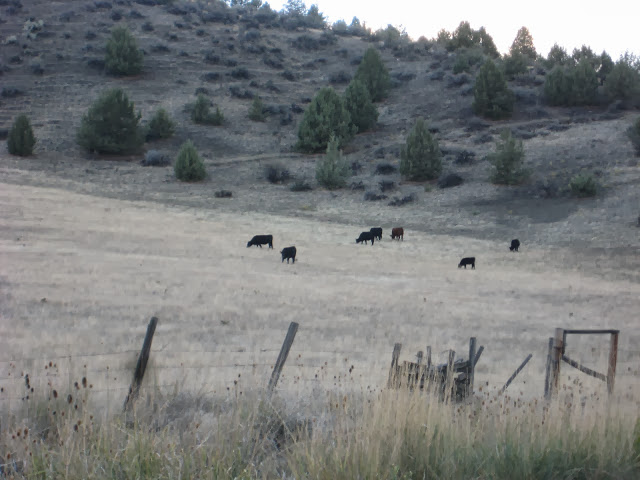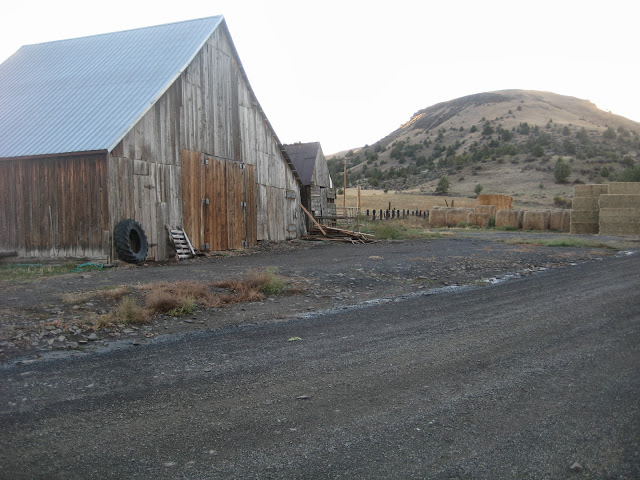 When I got back, I met a few of the other guests, sat around chatting, and then went to Fossil (about 3 miles away) for dinner at Fossil's best (and only) restaurant: RJs. It was just a slight come-down from the two fabulous meals I had in Bend.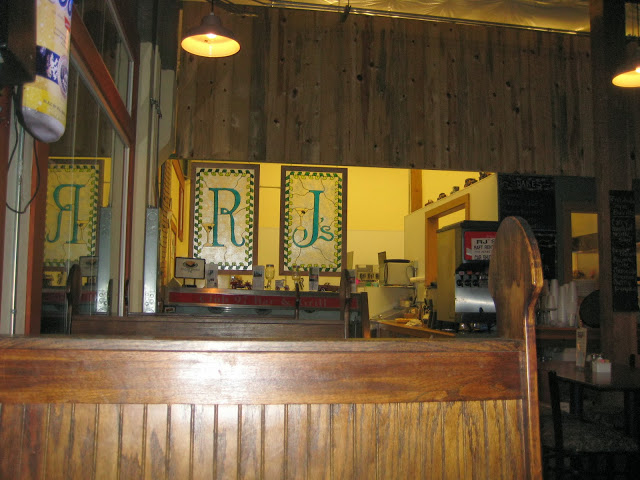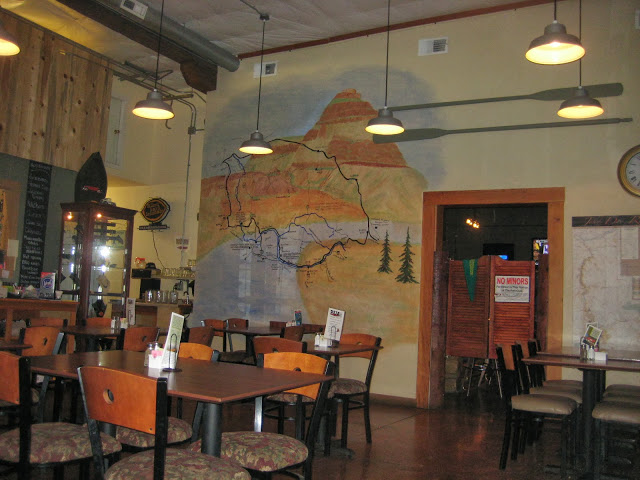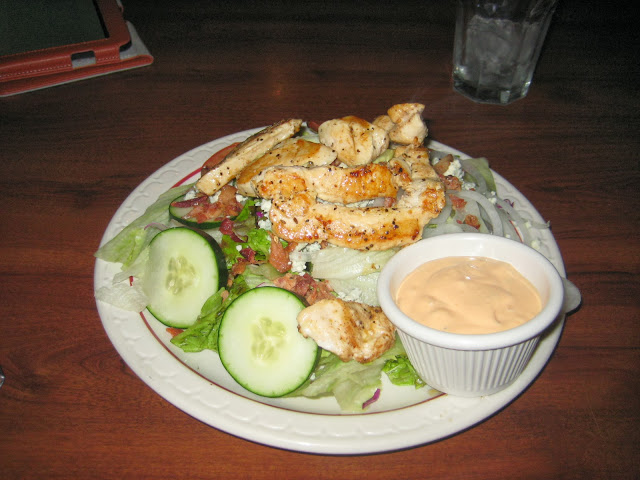 They actually made a decent cobb salad, with fresh-grilled chicken.
Mileage today: 191.
Tomorrow I'll hunt for fossils in Fossil, and I'll take a drive around the area to see what I can see. I'm afraid I won't be able to see the Painted Hills, as the road in will probably be blocked.
But I won't be peevish about it.