I have arrived in the greatest city in the world, and I'm not leaving for a week!
Even though I grew up on Long Island and lived for four years in the Bronx while I was teaching in New Rochelle, just north of the city, I could probably count on the fingers of one hand the number of times I've spent the night in Manhattan. So this is a real thrill for me. I am still not sure how I will spend my days this week, though I do have a list of places to go and things to see. And I will have the opportunity to catch up with some old friends. Evenings (and Wednesday daytime) are devoted to theatre.

This afternoon Mom came in with me and we saw Fun Home.Like the sign says, this is a new kind of musical. So inventively staged and structured, it's performed in the round and has no dancing to speak of. It's comedic and dramatic, not so much telling a story as revealing the personal dynamics of a family with lots of love and also lots of dysfunction. It's a deeply moving portrait, ultimately sad but also uplifting. The performances were truly wonderful; I was disappointed that the original young Allison (she is played by three different actors at three different ages), Sydney Lucas, is no longer in the cast, but the girl who is doing the role did a great job; they all did.
It's now 8:45 p.m. on Sunday night. I sent Mom back to New Jersey on the bus, and I'm enjoying a cup of pear cider in the breakfast room at the Chelsea Pines Inn, where I'm staying. It's a charming place. Each room is named for a star of Hollywood's golden era. (I'm staying in the Yvonne De Carlo room.)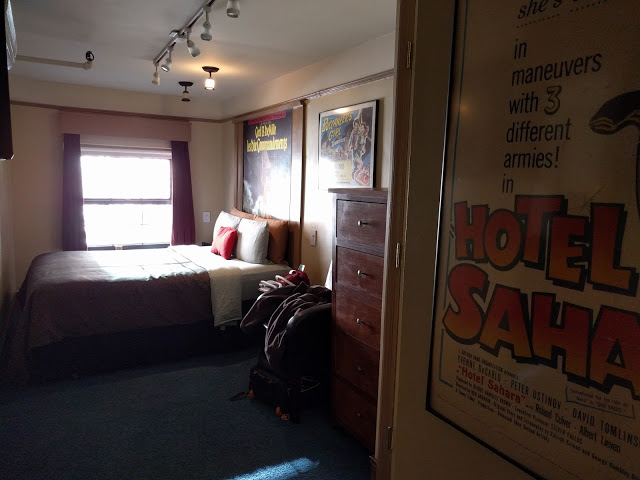 Later tonight I'm heading out to Brooklyn to see a play called Then She Fell. Here's what it says about the play on their web site:
Then She Fell is a fully immersive, multi-sensory experience in which only 15 audience members per performance explore a dreamscape where every alcove, corner, and corridor has been transformed into a lushly designed world. Inspired by the life and writings of Lewis Carroll, it offers an Alice-like experience for audience members as they explore the rooms, often by themselves, in order to discover hidden scenes; encounter performers one-on-one; unearth clues that illuminate a shrouded history; use skeleton keys to gain access to guarded secrets; and imbibe elixirs custom designed by one of NYC's foremost mixologists.
I am intrigued and excited to see what this experience will be like.
Here's what the rest of the week has in store for me: