I missed blogging yesterday because I was too tired, and now I'm a day behind, and the pressure is too great, so this post will probably be boring. Plus I probably don't remember everything that happened yesterday. All I know for sure is I went from Delft to Leiden to Amsterdam.
Best laid plans…
My original plan for yesterday was to go to Leiden and spend the afternoon there before continuing on to Amsterdam. Leiden is just a 20 minute train ride from Delft and about 25 minutes from Amsterdam. (This is such a small country!) I had made plans with my airbnb host to arrive between 17:00 and 18:00, so that gave me plenty of time to see Leiden; in fact, I thought it would give me too much time, so I lingered in Delft for the morning to find some things I'd missed.
While I was walking around Delft I found a synagogue. I didn't even know there was a synagogue in Delft. And there was a sign in front of the synagogue advertising a Klezmer concert there that afternoon at 15:00. So I started to do some calculating. I didn't want to spend all day in Delft. It's a delightful town, but it's small and there really wasn't any more I could do to fill the time (it was just 9:30).
So I figured out I could go to Leiden, spend about three hours there, come back in time for the concert, and still make it to Amsterdam by 18:00.
…often go awry
But as often happens when traveling, shit.
The train from Delft to The Hague (which is the train that continues to Leiden) wasn't running. (Construction, I think.) They had buses running the leg from Delft to The Hague. (I knew this from the day before, when I took the bus to The Hague to go to the Mauritshuis.) And the bus took about a half hour. So if I took the bus to The Hague, then the train to Leiden, then came back to Delft via train and bus to go to the concert, and then had to take the bus back to The Hague yet again to get to Amsterdam, I'd never make it in time.
To make matters worse, I had to wait a half hour for the bus at the Delft train station. (According to the guy working crowd control — literally — that was what it said on his uniform — they were having trouble getting drivers who knew the route.) So it was 11:00 before I got to The Hague, and then by the time I got a train and got to Leiden, it was 11:30.
A self-guided walk around Leiden
I bought a booklet from the tourist information office with a walking tour, and I followed that. Leiden is a very nice city. I think there were a lot of highlights. Enough that I ran out of time and didn't get to the windmill before it closed at 16:30. It was a pretty windmill. This being Holland and all, there are a lot of windmills, so I might have a chance to visit another one, but still…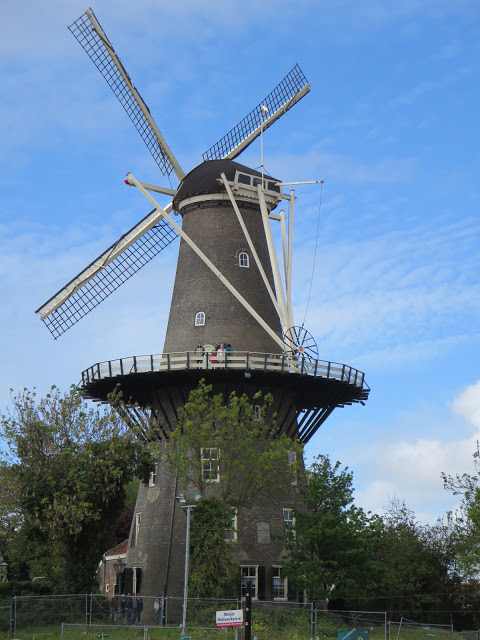 And on to Amsterdam
From Leiden it was actually quicker to go to a smaller train station in Amsterdam which is closer to where I'm staying, as opposed to going to Central Station. I kind of wanted to have the experience of arriving at Amsterdam Central, but the day had gone from having too much time to not enough.
I love where I'm staying. It's not central, but it's in a really interesting neighborhood. All around are different kinds of shops and restaurants covering every ethnicity you can imagine. It's a long walk to the center, but the tram stops 2 blocks away.
After I arrived I went for a walk over to Vondelpark, Amsterdam's big urban park, and there was a free concert going on with a reggae band playing and all kinds of grilled meat and beer flowing. But I was tired (remember the not blogging last night that I'm paying for now), so I didn't stay long.
On the way home, the coolest thing happened. I was walking past some beautiful houses along the side of the park, and two boys, maybe 10 or 11, came out of one with a soccer ball. One of them asked me something I didn't understand. When I asked if he spoke English, he just kicked the ball to me. I kicked it back. And this went on for three or four kicks. Then he did some impressive ball maneuvers (there's probably a word for this, where he was essentially juggling the ball with his feet, but I don't know it) and when he kicked the ball back to me, I told him I was at the limit of my football skill and just kicked the ball back to him.
I was reminded of stories by Seth Kugel, the former Frugal Traveler columnist for the NY Times, about playing soccer with kids in Africa. It's not the same thing, but I kind of played soccer with kids in Amsterdam.
After that I stopped at a grocery store and stocked up on some breakfast food. The I came home, and went to bed.