There's a contest in this blog post. Keep reading to see what it is and how you can win.
I drove around the Sognefjord region today, probably less than 300 kilometers, starting at 8:30 this morning and getting back to Balestrand at 19:00.
I've taken some great road trips. Last year in the southwest, a good portion of my Balkan trip two years ago, my Oregon road trip three years ago, my day trip to Öland four years ago, my Maine and Maritimes trip back about ten or twelve years ago, and plenty more. I've seen some incredibly beautiful scenery out the car window.
I'm not sure any of them compare to what I saw today.
My Route
If you want to look at a map and follow along, here's the route I took:
From Balestrand to Dragsvik
Ferry to Hella
Route 55 to Sogndal
Route 5 to Fjaerland
Short detour down the west side of Fjaerlandsfjord to Mundal, then back
Another detour to the Supphellebreen glacier (which is redundant, because "breen" means "glacier").
Continue on Route 5 to Skei (pronounced like "shy").
Continue on 5 and E39 to Moskog
Route 13 back to Balestrand
There were so many beautiful things to see along the way. I stopped frequently just to gape (and snap photos). I'm just sharing a few highlights for now; I'll post more when I get home.
Mundal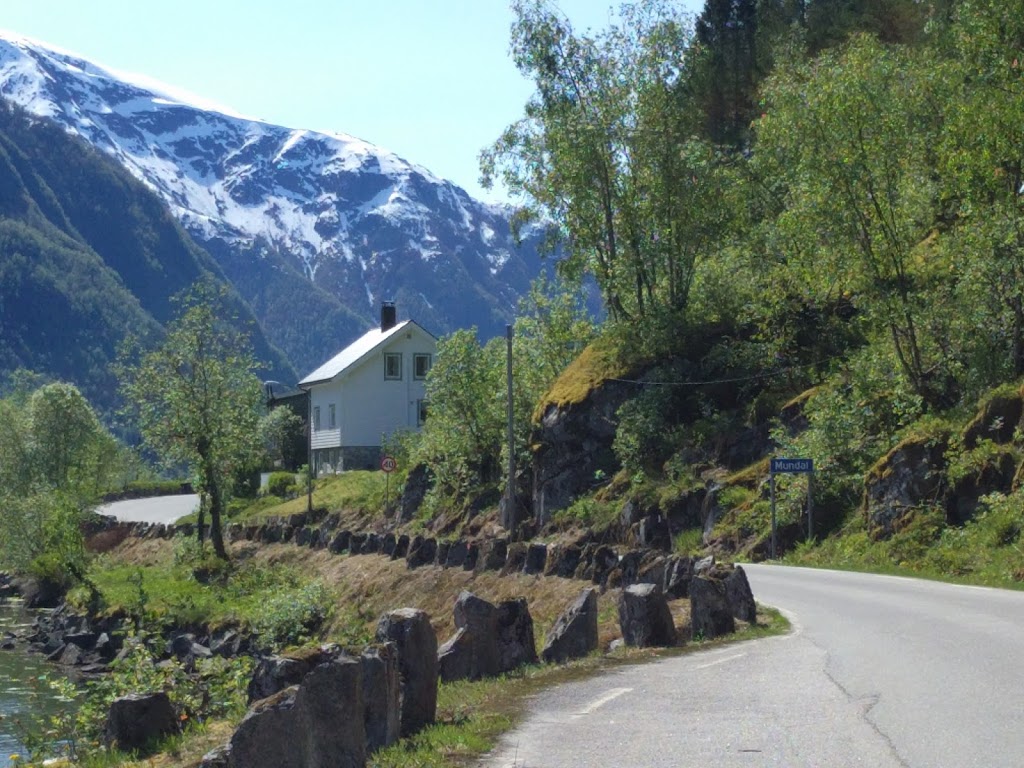 Supphellebreen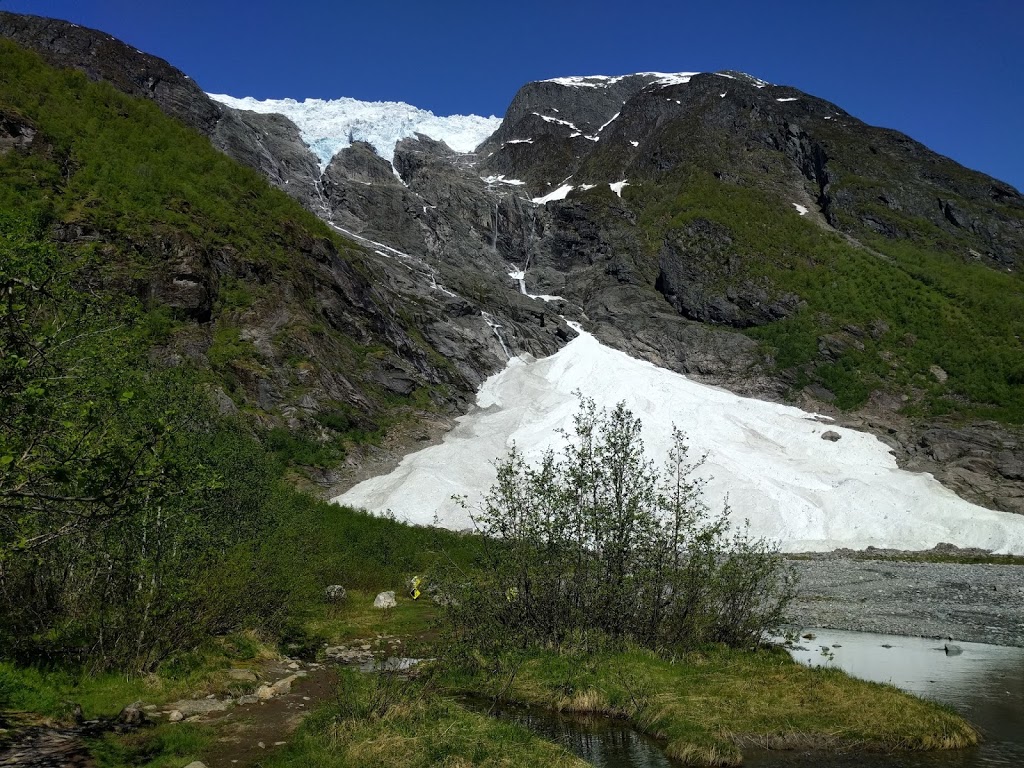 Gaula River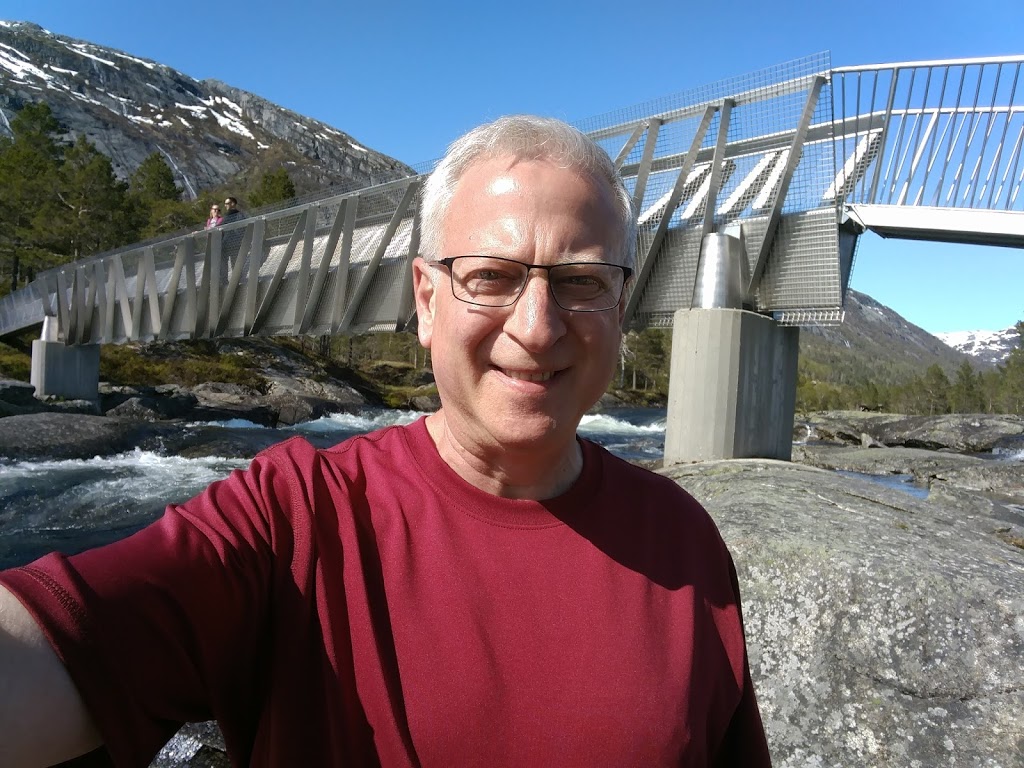 Toward the end of my journey the highway (I use the term loosely; in places it was barely wide enough for two approaching cars to pass each other; fortunately, there weren't a lot of other cars, but I did have a run in on a small side road with a big farm tractor, and another with a tour bus going through one of the many tunnels) rose up above tree line, past lakes that are still partly frozen and snow banks a meter or more deep. This section of the road probably only opened a few weeks ago after the winter closure.
From the top the road plummets dramatically into the valley with a series of hairpin turns. They are building a new viewing platform at the top. Unfortunately a fence kept me from checking it out, but it jetted out precariously over the edge of the mountain. I guess I'll have to come back later this summer when it opens.
Kviknes Hotel Buffet
I was ready for a big dinner when I got back to Balestrand, so I decided to splurge on the world-famous buffet at the Kviknes Hotel. They had some excellent food. One table was salads. Two tables offered cold seafood, including lots of salmon, crab claws, peel-and-eat shrimp, and more. There was a cheese table. Two tables featured main dishes, one fish-based and one meat-based. Each had three options for main dishes and two sides. There was a bread table. And then there were the desserts. About ten different kinds of mousse, ice cream, bread pudding, creme brulee, brownies, cookies, cake, flan, and parfaits. It was mostly all very good, served in a large and crowded dining room, but the lines at the buffet were never long. Of course, like everything else in Norway, none of this came cheap.
And now here I am once again enjoying the view of the Sognefjord from my hotel room balcony, for one last night. Tomorrow I catch the ferry to Bergen at 7:50.
See you there!