Before I proceed with my regular daily blog post, I want to make a special appeal for those who aren't on Facebook and didn't see my appeal there.
As you know, I just spent three days in Sarajevo, the capital of Bosnia and Herzegovina, where it was raining and the Miljacka River was threatening to overflow in some parts of the city. While Sarajevo was spared, many other parts of Bosnia and Herzegovina were severely affected by flooding.
I don't know how much of this has been covered by US media, but it is a terrible situation, and local resources to aid those in need are very scarce.
I connected with many people in Bosnia and will cherish the connections I made there for the rest of my life. These are warm, kind, friendly people, and we in the United States let them down in a big way once before.
If you are enjoying hearing about my travels, please help. Amir sent me links to two web sites where you can learn more about the situation and make a small donation.
Bosnia flooding fund 2014 at GoFundMe.com
Just a Dollar Flood Relief (and while you're visiting this site, be sure to click on the Home link to learn more about poverty in BiH)
Thanks.

I'm back in Croatia, in the town of Trogir, staying in a cute apartment in the heart of the Old Town. This town is friggin' adorable! It's all stone buildings and cobbled walks, tons of souvenir shops selling the same old stuff as every place else (with a few exceptions that I have been seeking out), and lots of restaurants serving all kinds of food tourists love in happy little courtyards. It's actually a lot like Rovinj, only (1) it's not hilly, (2) it's not Italian, (3) it's still an island connected to the mainland by a bridge, (4) parking is free (in Rovinj it was 5 HRK, or about $1.00 an hour, 24 hours a day), and (5) instead of fishing boats, the marina is filled with pleasure boats and big yachts.
This town certainly knows how to play to tourists, but because it's only 20 km from Split, a lot of people come for the day, so now at 19:00 it's gotten very quiet (except I'm right under the flight path for planes coming in to land at Split airport. Oh well.) I will go out to get some dinner soon, except I had a late lunch again today (I had some baked goods from Mostar), so I'm not very hungry yet. I am tired though. I keep waking up at 6:00 no matter what time I go to bed.
The entire island is small enough to walk the circumference in about a thirty-minute stroll. I didn't time it, though, because that's not the sort of thing you're supposed to do when you come to a cute little resort town like Trogir. You're just supposed to wander aimlessly, which I'm satisfied I've done thoroughly. I believe I've walked every lane in this burg, many of them two or three times.
I couldn't begin to say what I've seen, though. It's not a town for seeing things. I suppose there are a few sights. Rick Steves only gives a brief overview in his book, and he mentions only a few.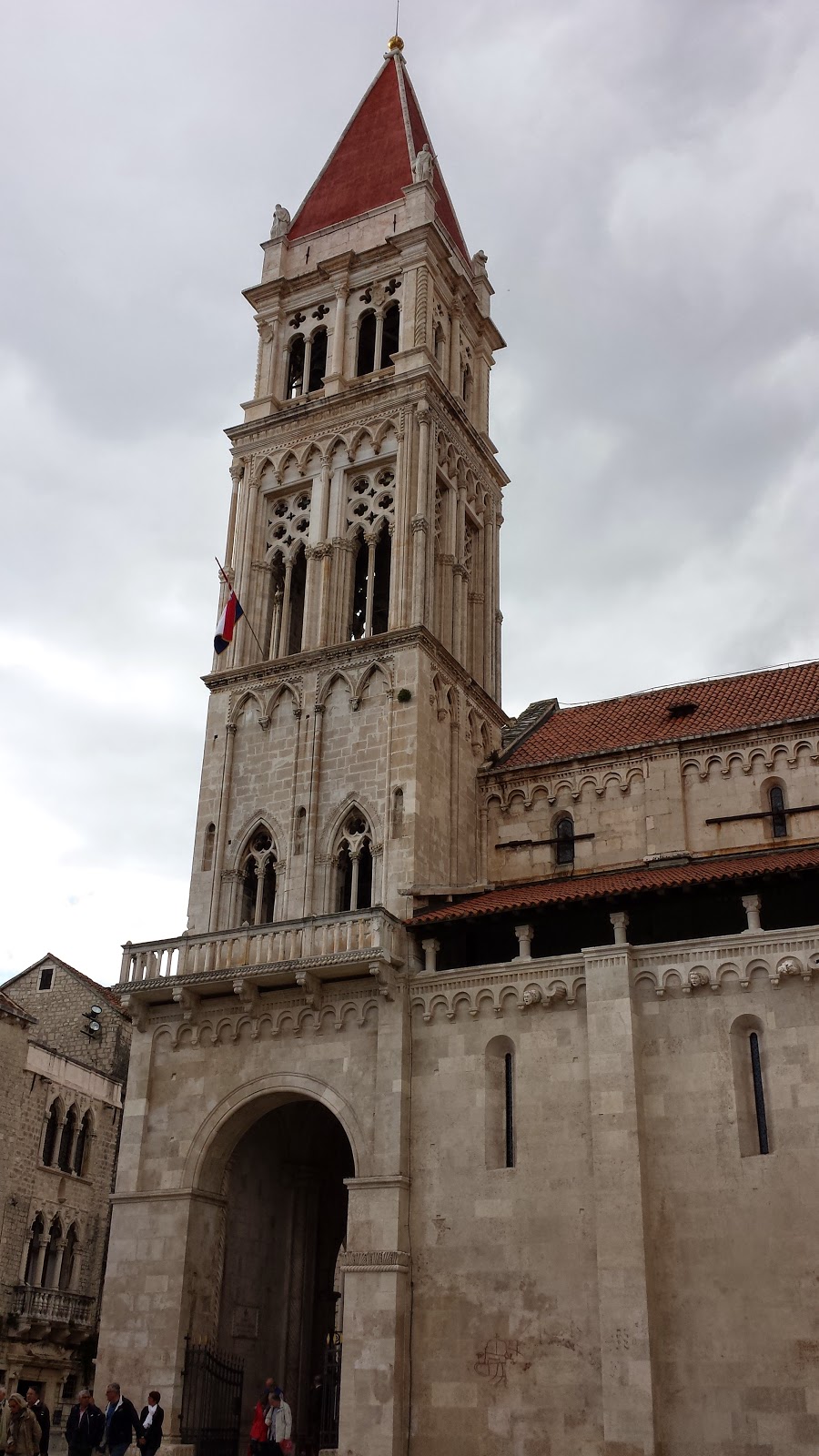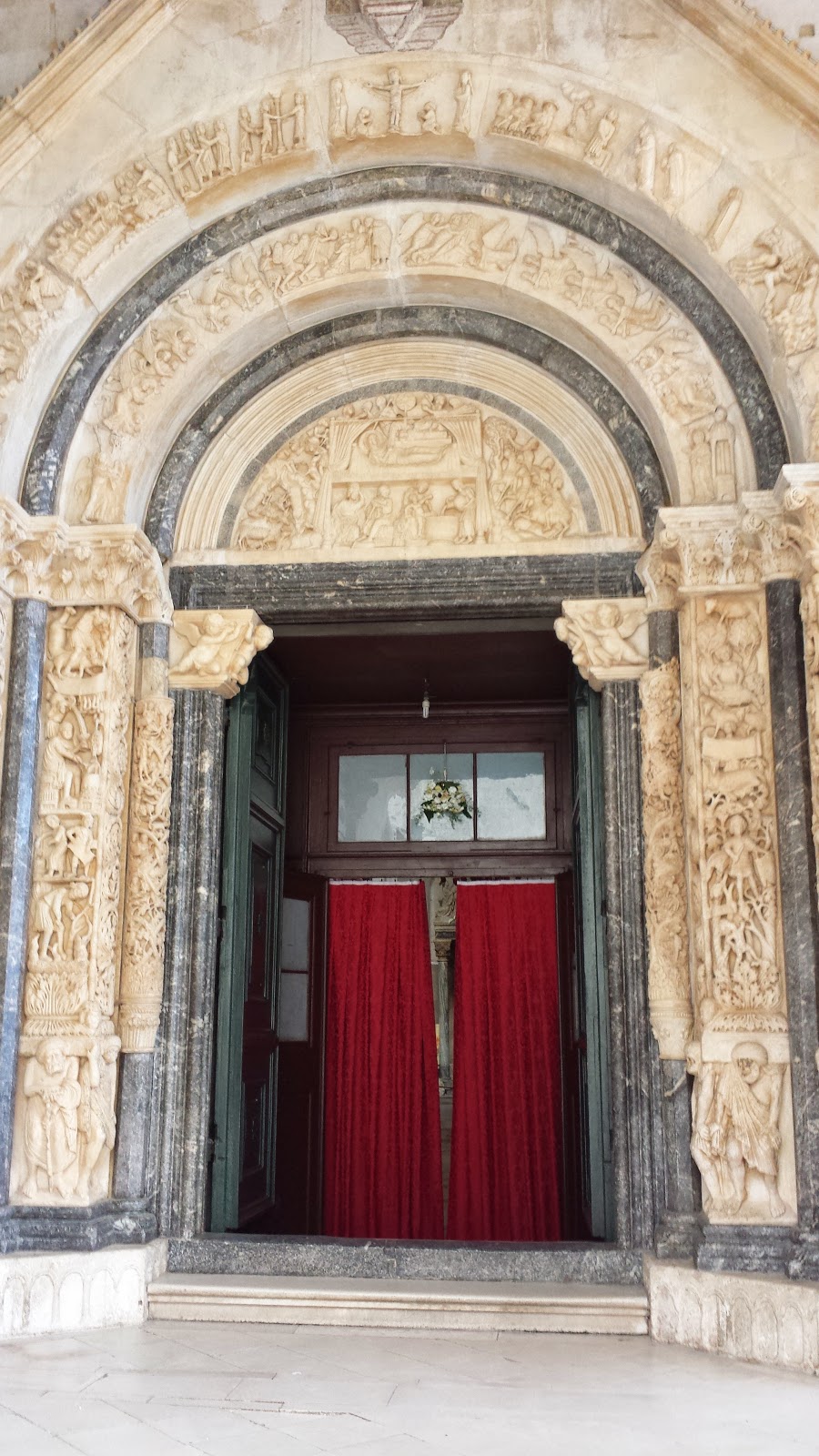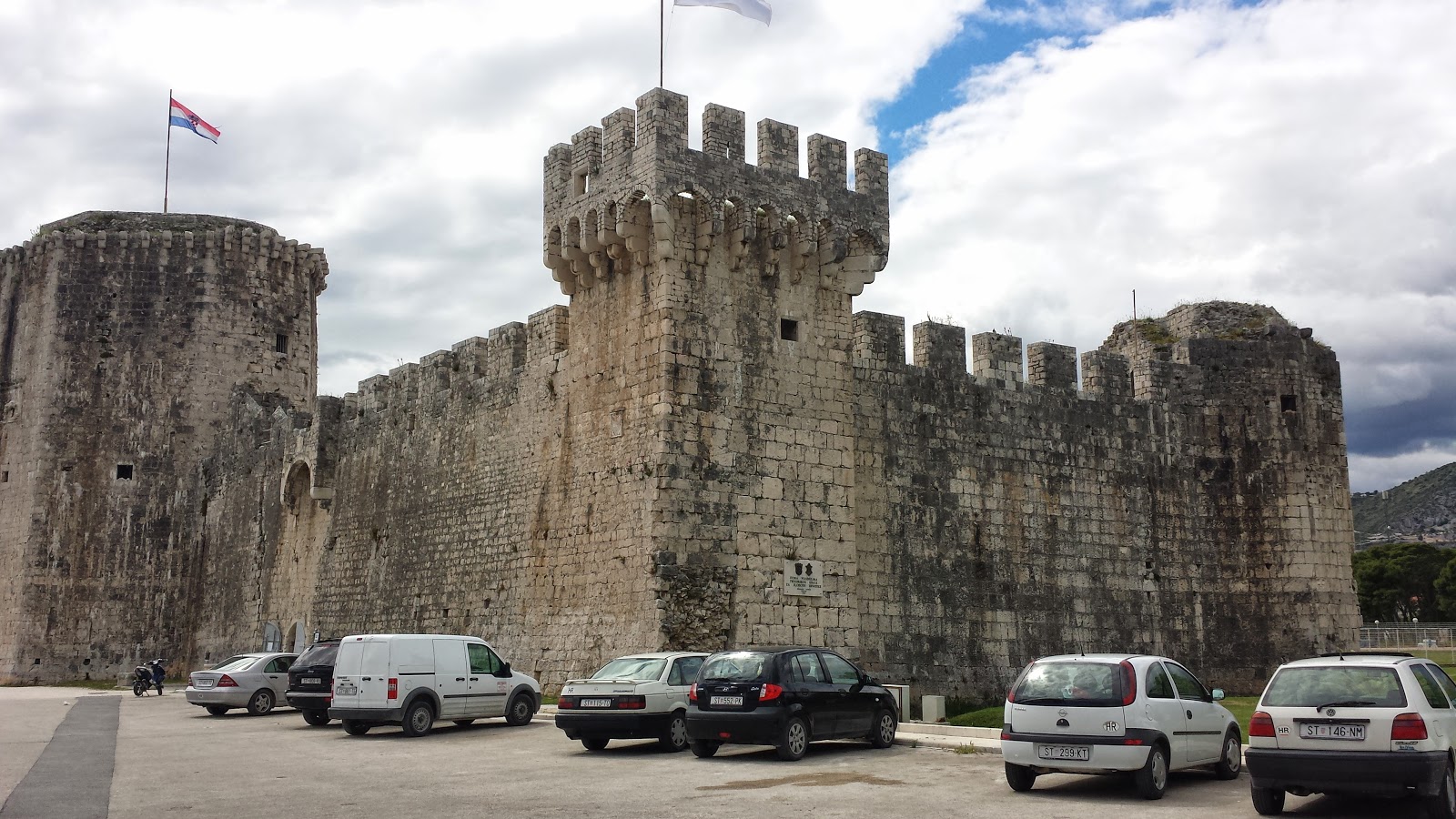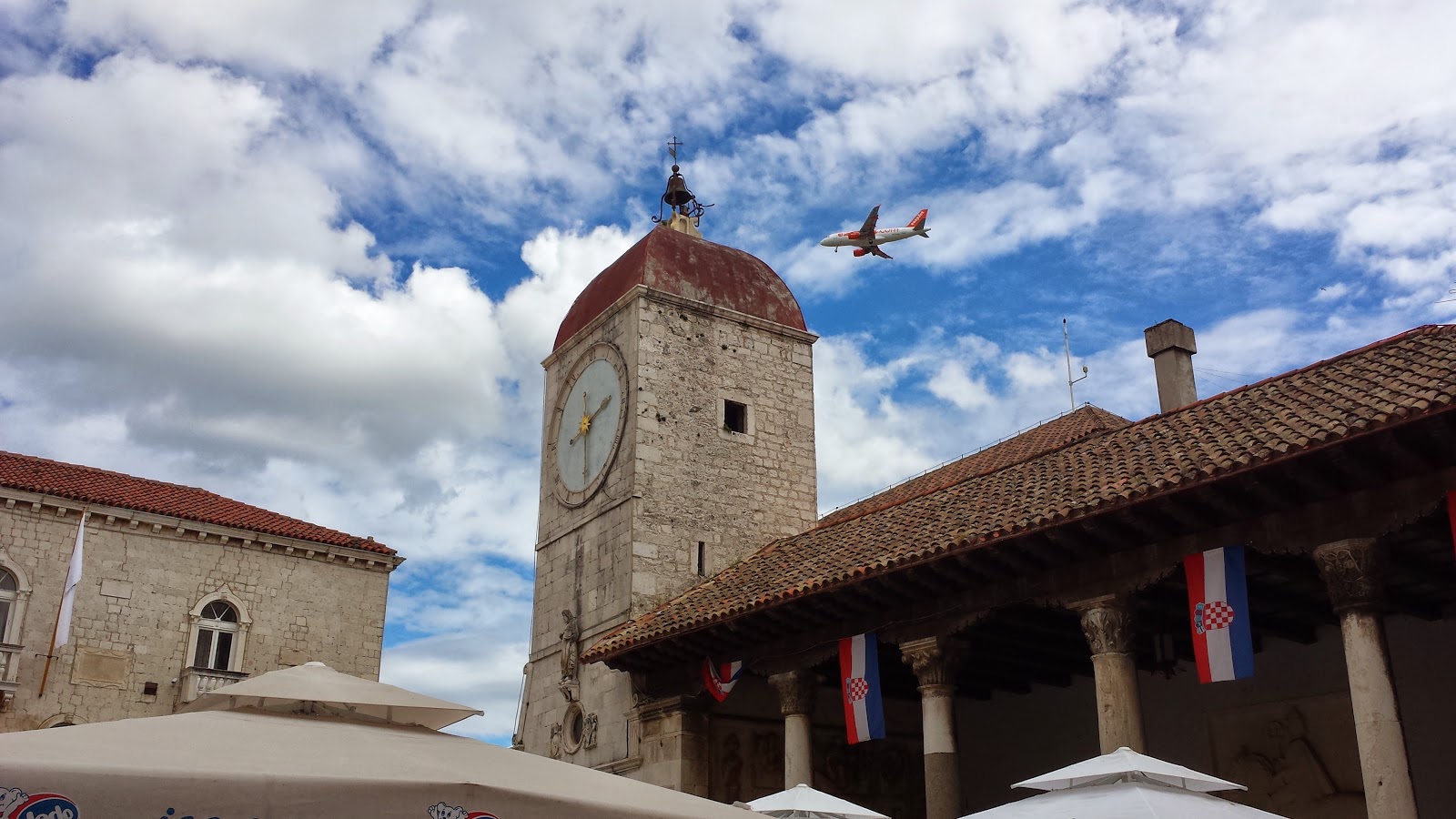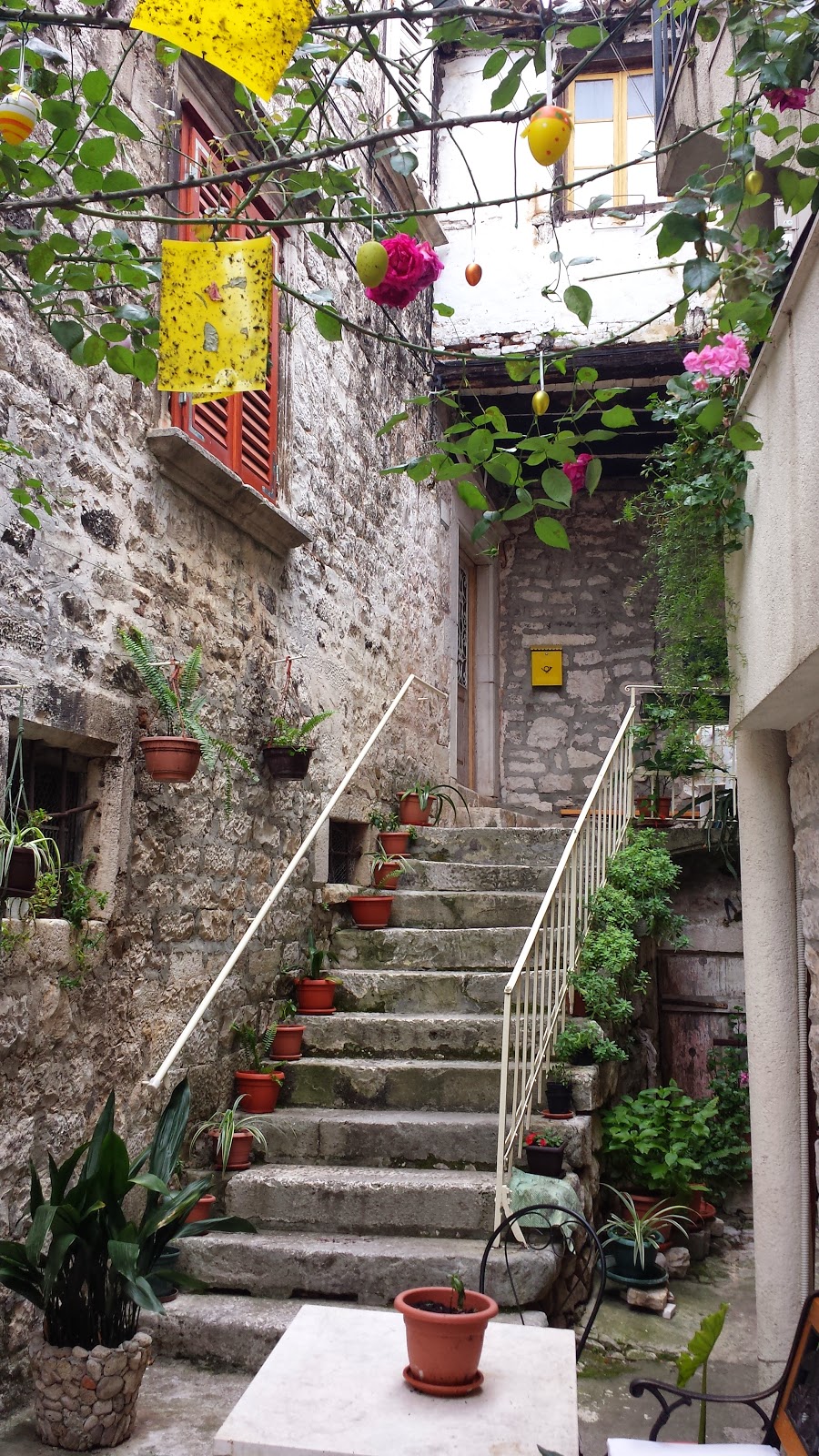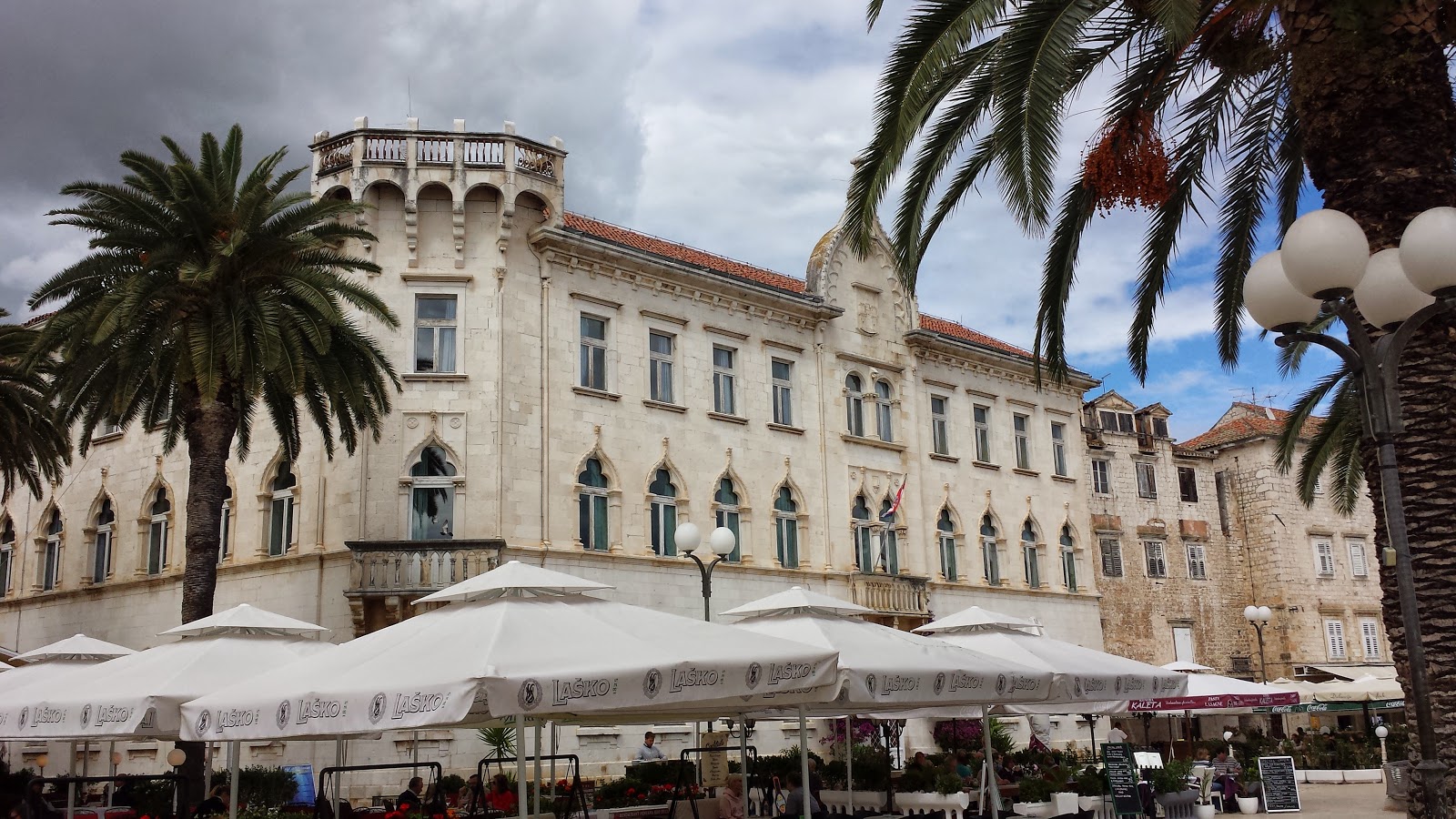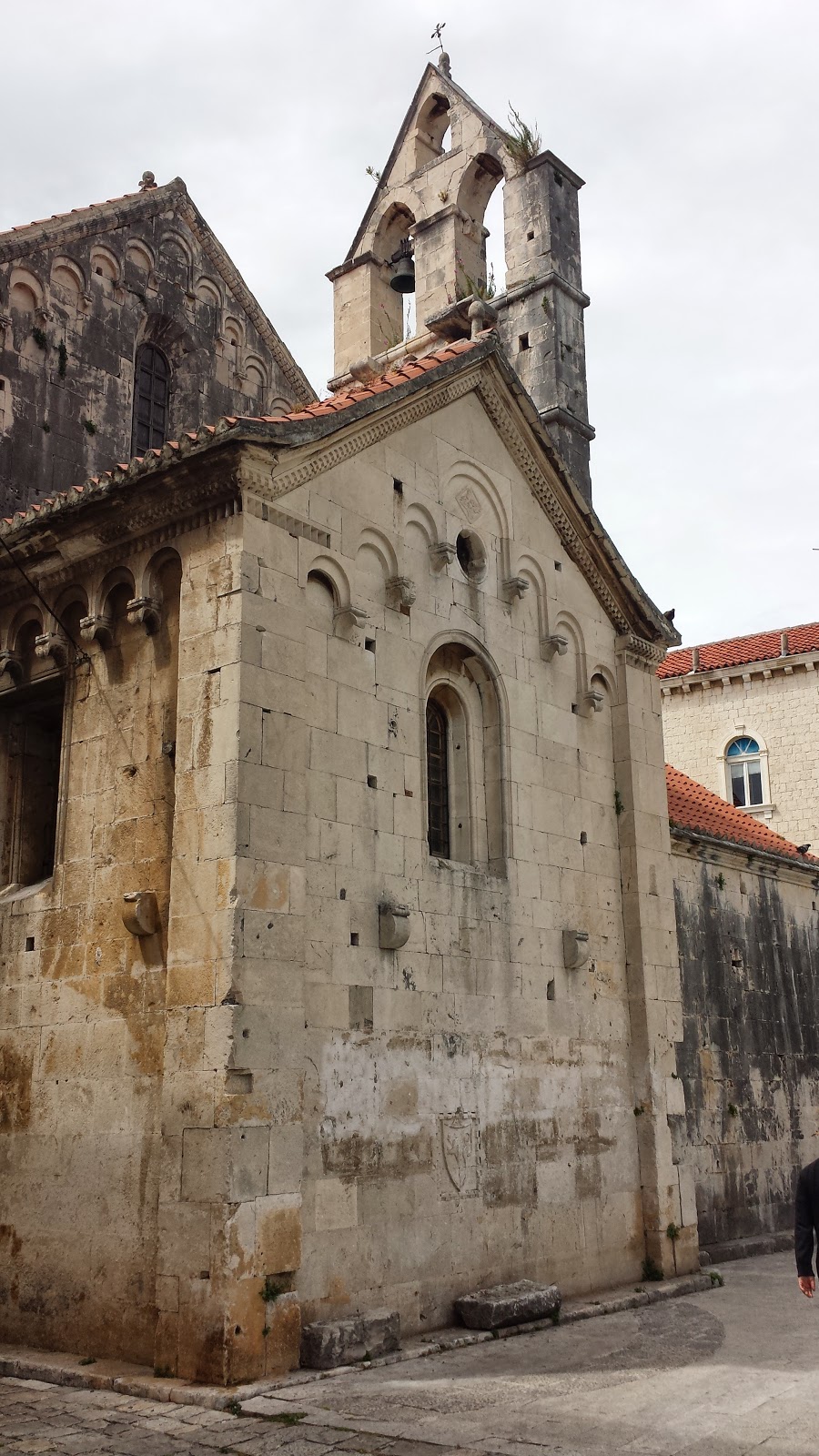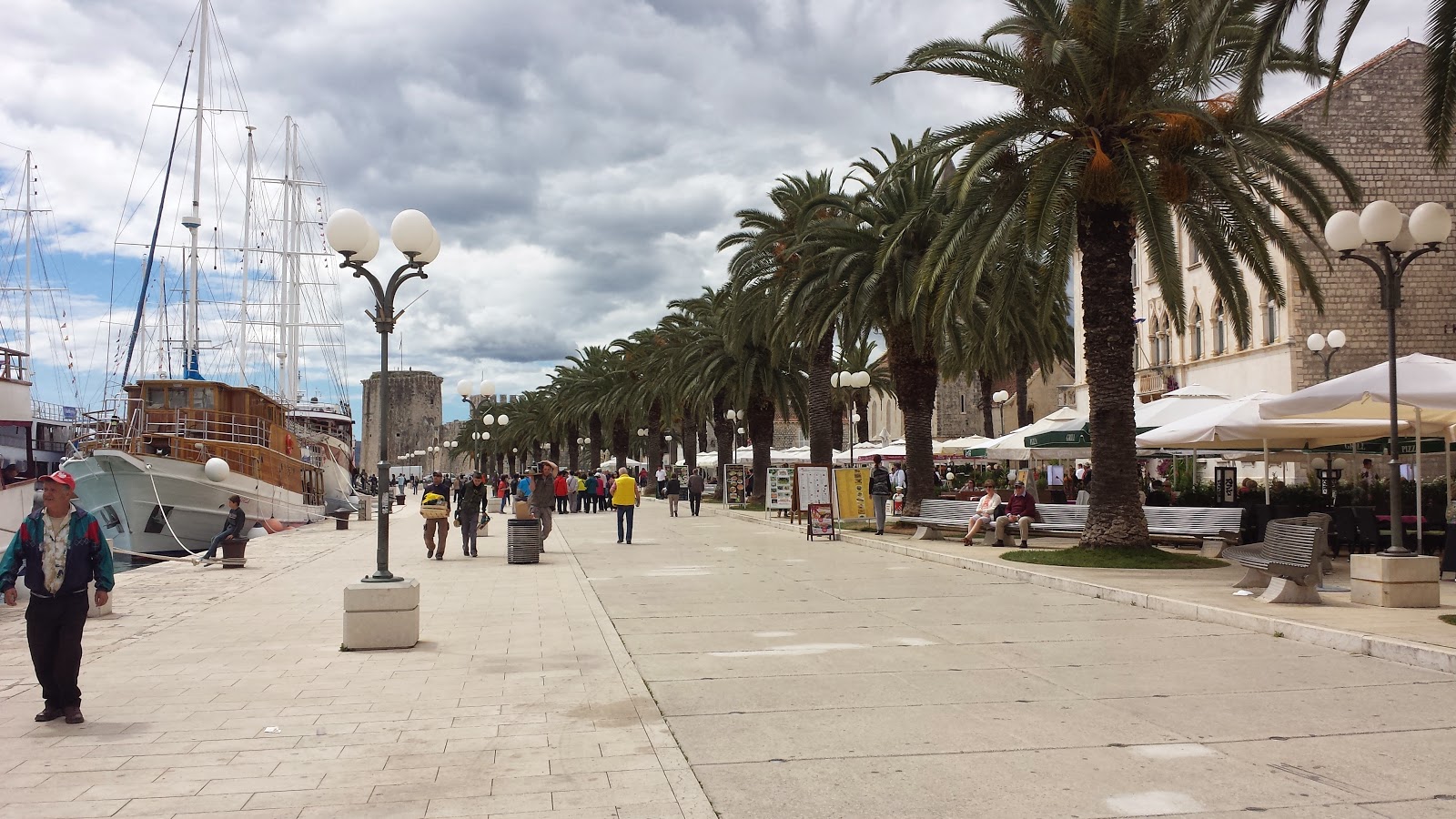 On the way out of Mostar, I stopped at a roadside village in Bosnia called Počitelj. According to Rick Steves this is a regular tour bus stopover on the way to Mostar, but I got there ahead of the tourists and had the place mostly to myself. (The souvenir vendors were only just starting to set up their stands.) The original settlement dates from the fifteenth century, and it's pretty cute, too, but more impressive for the way it is built up on the hillside overlooking the Neretva River. The views from up top were spectacular.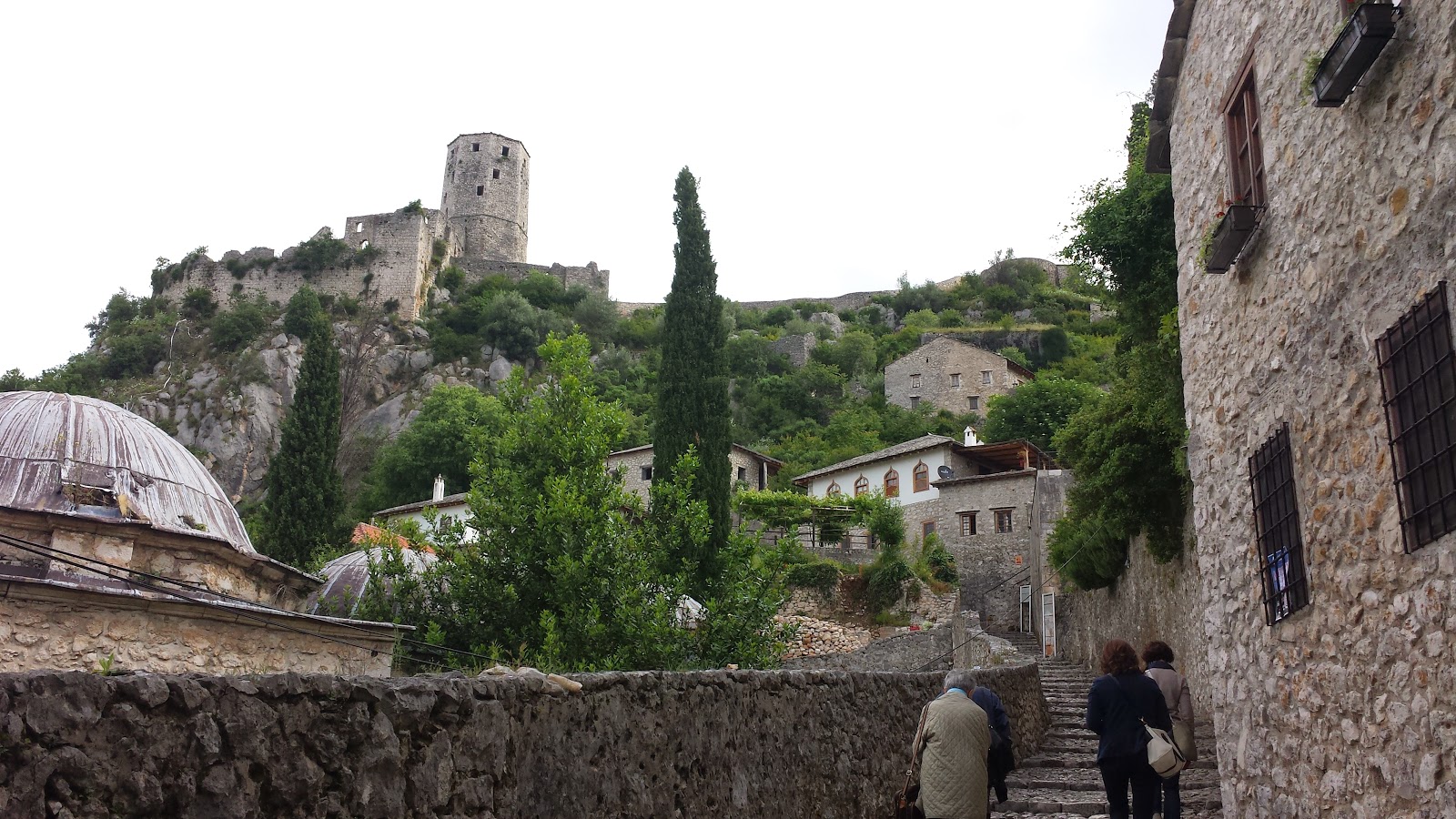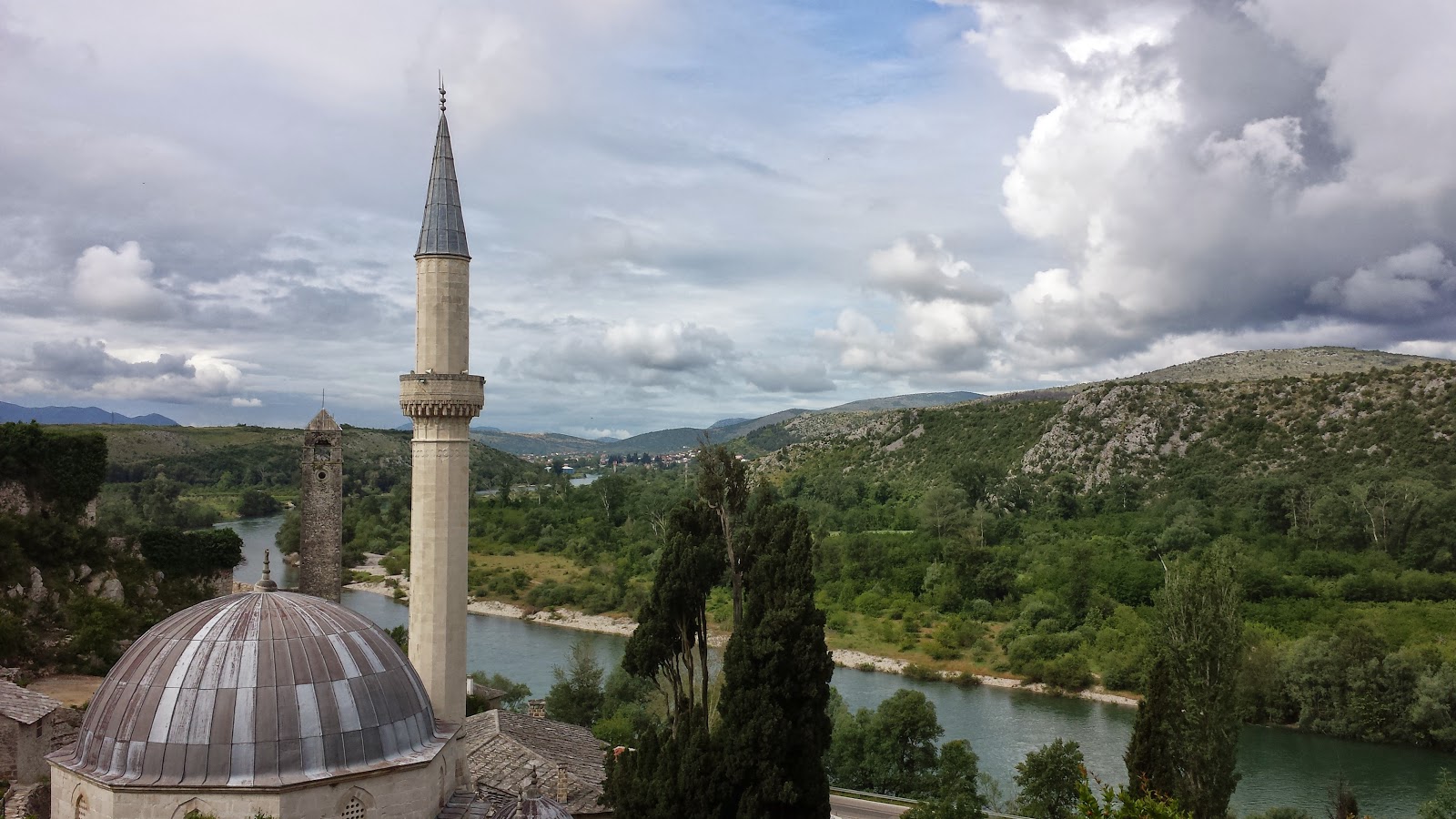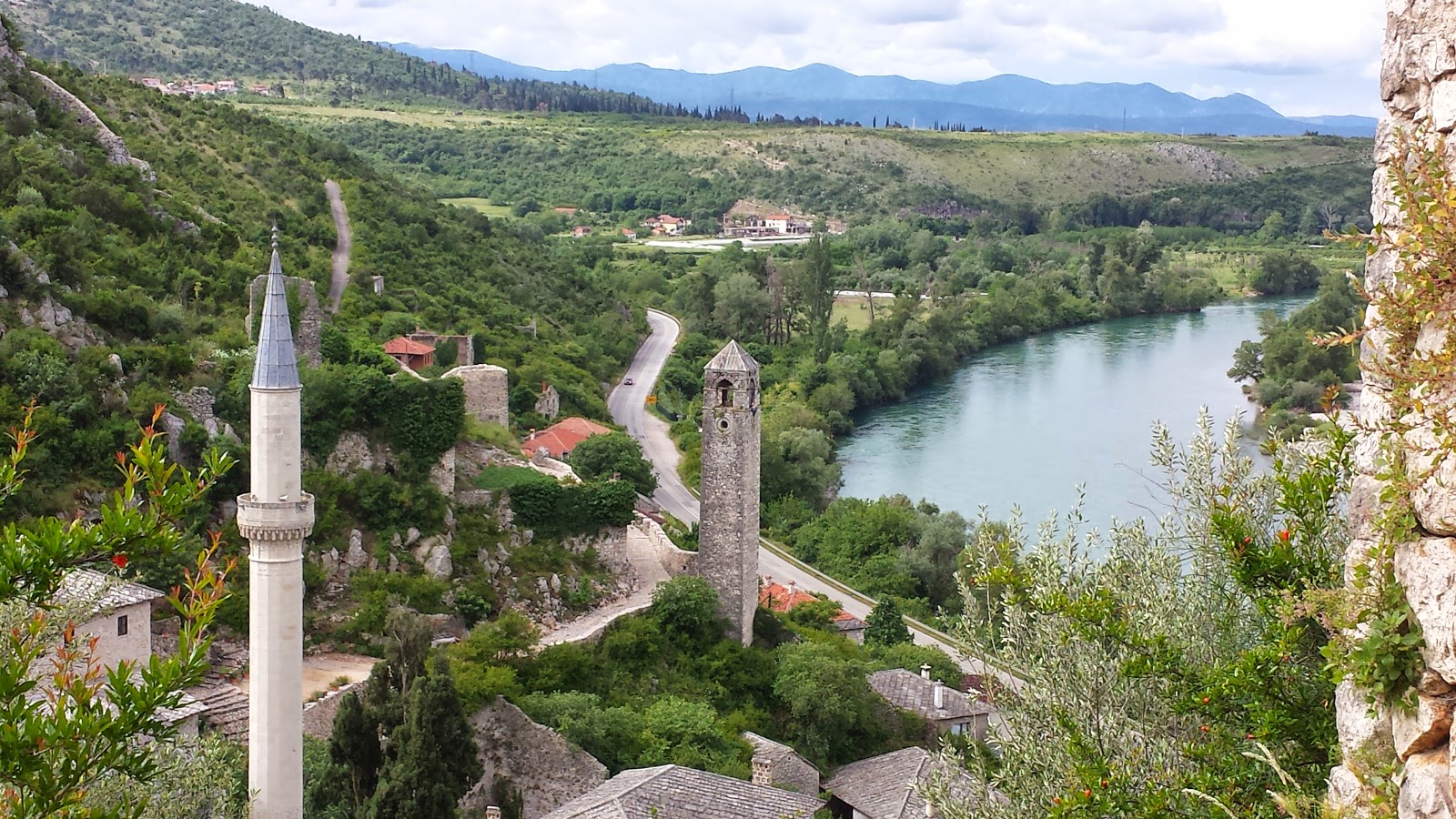 My GPS had me wandering on back roads in southern Bosnia before I finally hit the Croatian border and entered the autoroute. Croatia has an outstanding high-speed autoroute, and this morning it felt like I had the whole thing to myself (as compared to last week when there were a lot of cars zipping by me at near supersonic speeds).
But I didn't come here to zip through the country on the autoroute, so I got off, followed a road that lead to the coast, and drove the rest of the way to Trogir along the Adriatic.
At one point as I was making my way toward the sea, I went around a turn hugging a hillside, and this is what I saw on the other side of the hill.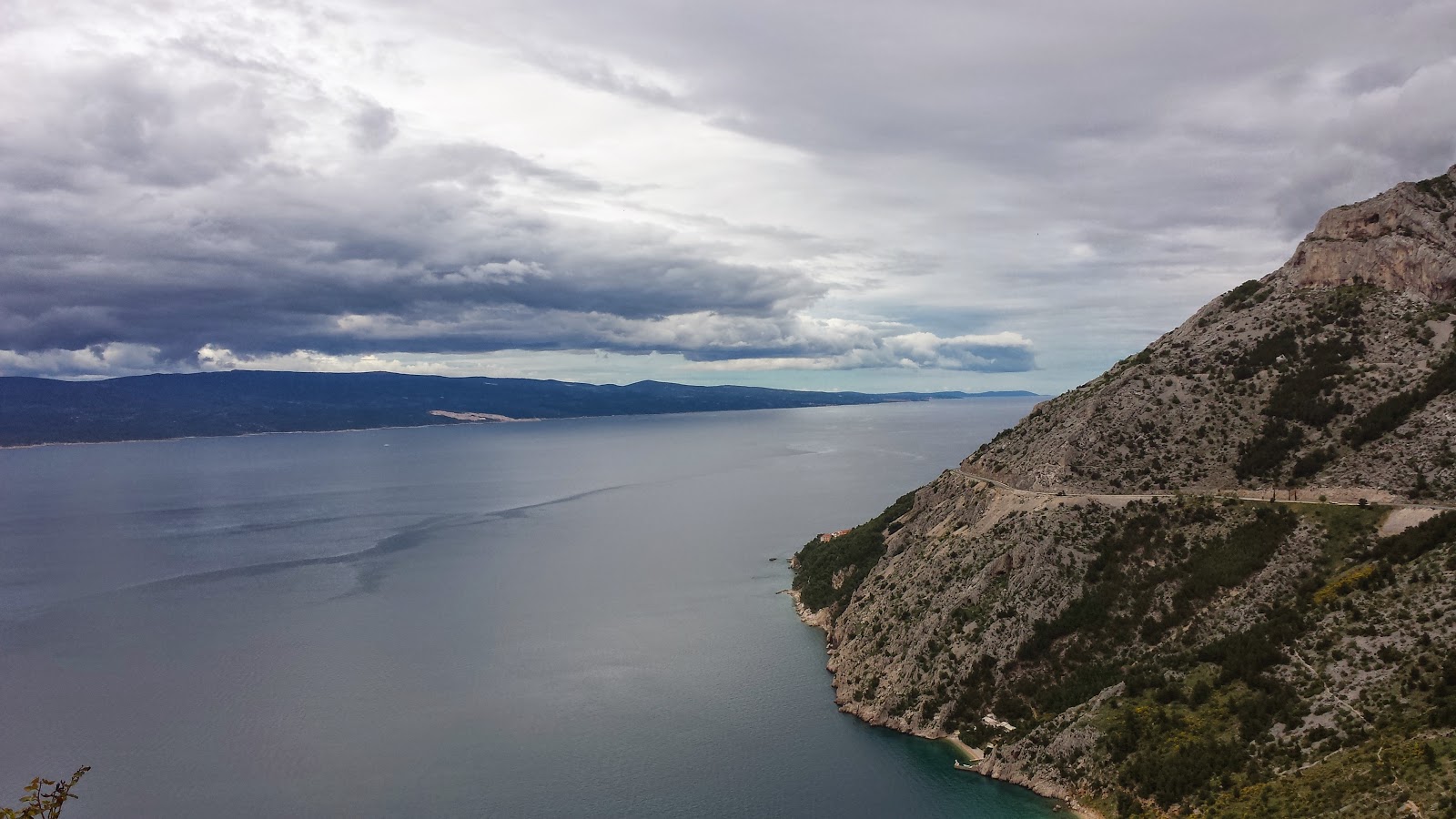 The road along the hill is the road I was about to get on to head up the coast to Split and then Trogir.
Tomorrow I backtrack to Split, where I lose the car (YAY!) and spend the day before boarding the ferry to Hvar. (Nothing wrong with the car, but it adds a layer of stress on the vacation. It wasn't hard navigating, but figuring out where to go once I arrived in each city or town was challenging. I prefer traveling where someone else is propelling me.)