I'm very excited about my next trip, which will take me to a new continent (my third after North America and Europe). I'm going to be spending four weeks visiting Argentina and Chile (with a brief jaunt into Brazil).
I decided to try a tour this time, and I have mixed feelings about it. I am sure there will be times when I miss the independence I have come to cherish when I travel, but I am also hoping that having all the arrangements being taken care of for me by someone else will make it less stressful. This trip also covers a lot of ground: in addition to my flights there and back, there are seven internal flights and some long travel days. There are also some cultural exchange activities that would be very difficult to organize on my own. It's also a tour that is guaranteed to have no more than 16 participants. so that should make it much more pleasant than traveling with a large herd of tourists. I'm hoping all these elements outweigh the negatives of traveling with a group.

I am traveling with Overseas Adventure Travel. My research shows that they have a really solid reputation and good reviews from those who have participated on their tours. And I like their mission and values:
Grand Circle Corporation is a global enterprise—comprised of a family of travel companies—committed to changing people's lives by offering high-impact experiences to our travelers and building local communities through philanthropy, social entrepreneurship, and volunteerism. Overseas Adventure Travel offers unique small group adventures worldwide to Americans over 50. By land and sea, we explore on—and off—the beaten path with a resident O.A.T. Trip Leader, immersing ourselves in local cultures, sampling unique modes of transportation, and staying in authentic lodgings that reflect the essence of your destination.… Our mission is to be the world leader in international travel, adventure, and discovery for American travelers over 50—providing impactful and intercultural experiences that significantly improve the quality of their lives. We also strive to be a great company—providing a workplace that is stimulating, fulfilling, and meaningful to our associates.
They also have negative reviews, but so does every tour operator, including Rick Steves. I found one site where they are rated #1 for small group tours and #9 overall. (By comparison, Rick Steves is rated #4 for small group and #18 overall. (Note: as of July 2018, the site with these rankings no longer exists.)
The basic tour is 17 days concentrating on the Andes and Patagonia, with a few days in Buenos Aires at the beginning and another day there at the end. But I am adding both a pre-trip and post-trip extension; with travel time, the trip is 30 days total.
So, my itinerary. (Each day header shows where I sleep that night. All the photos come from the Overseas Adventure Travel web site. Links will take you to sites where you can learn more about each destination. I tried to find links that give a good description for visitors.)
Day 1 (en route)
I fly out of SeaTac on Delta to Atlanta, and then I board an overnight flight, also on Delta.
Day 2 (Santiago, Chile)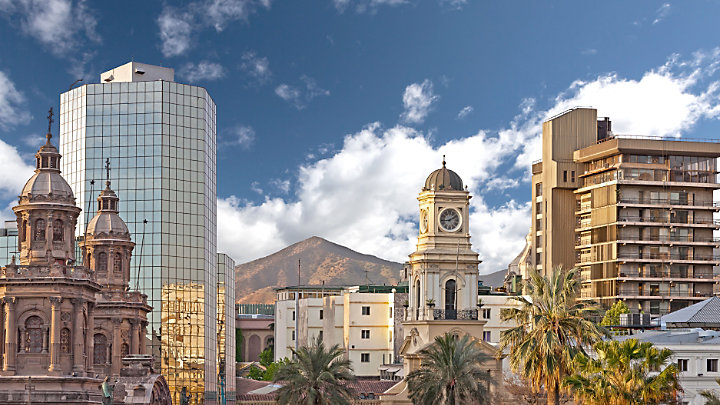 Arrive in Santiago, Chile, in the morning. We have a walking tour in the afternoon and a group dinner.
Day 3 (Rapa Nui)
After breakfast we fly to Rapa Nui, also known as Easter Island. In the afternoon we visit Orongo and Rano Kau Volcano.
Day 4 (Rapa Nui)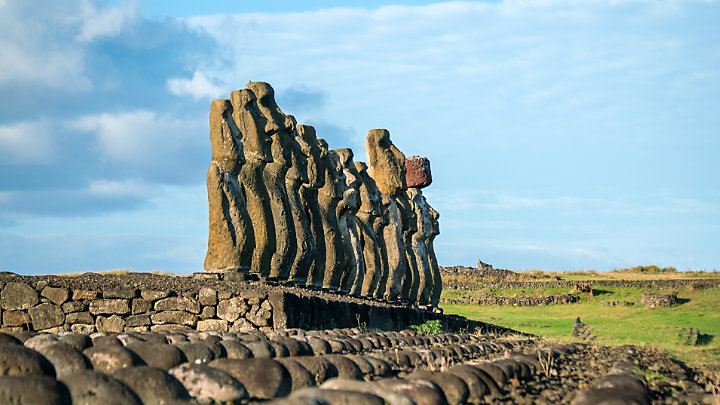 We have an expedition to see the moai, the ancient carved human figures that Easter Island is famous for. We go to Ahu Tongariki, Te Pito Kura, and Anakena Beach.
Day 5 (Rapa Nui)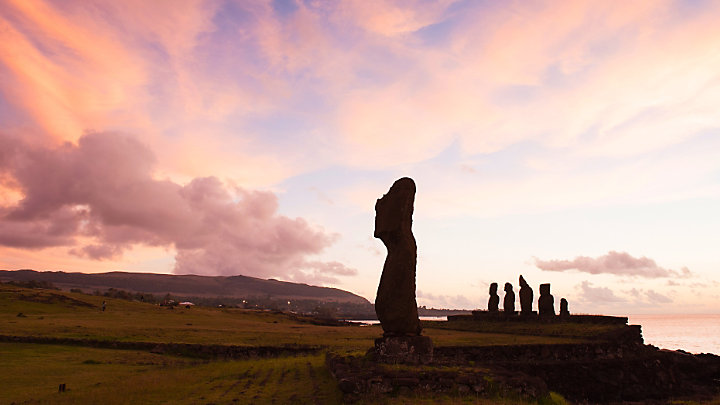 We have free time in the morning, and then we visit Ahu Akivi, and then to Tahai Beach for sunset.
Day 6 (Santiago)
After breakfast we fly back to Santiago, where we have the remainder of the day free.
Day 7 (Buenos Aires, Argentina)
After breakfast we fly to Buenos Aires, Argentina, where we set out on an orientation walk, followed by a group dinner.
Day 8 (Buenos Aires)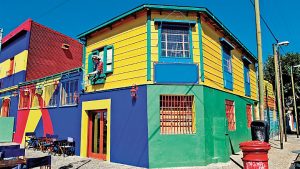 A morning tour is followed by free time in the afternoon. In the evening we get a tango lesson, and then have the option of a tango dinner show.
Day 9 (Bariloche, Argentina)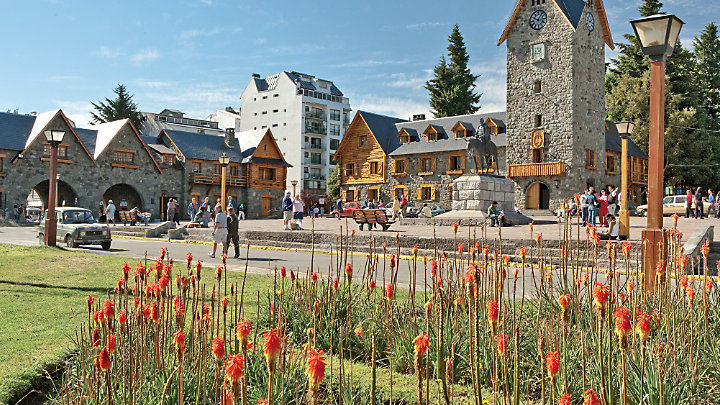 After breakfast we fly to Bariloche, a popular ski resort. After an orientation walk, we'll have the evening free.
Day 10 (Bariloche)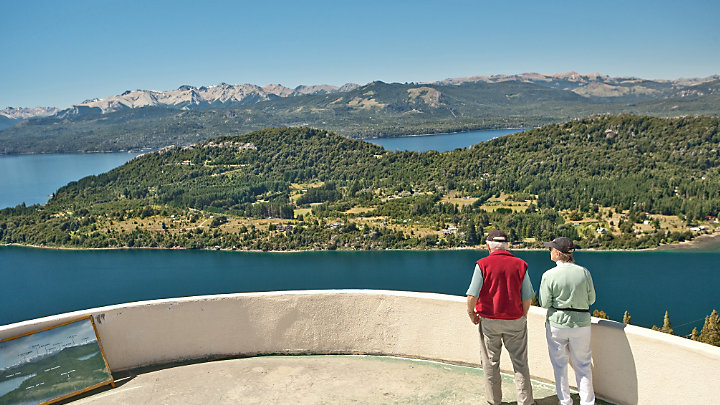 We get a guided tour of Bariloche in the morning, and then we take an excursion into the surrounding countryside. We will ride a chairlift up Campanario Hill, then visit Brazo Tristeza, a branch of Lago Nahuel Huapi, for a hike, and then stop at a family-owned craft brewery. When we get back to town, we'll have another walk and learn about how this area served as a refuge for German Nazis after World War II.
Day 11 (Bariloche)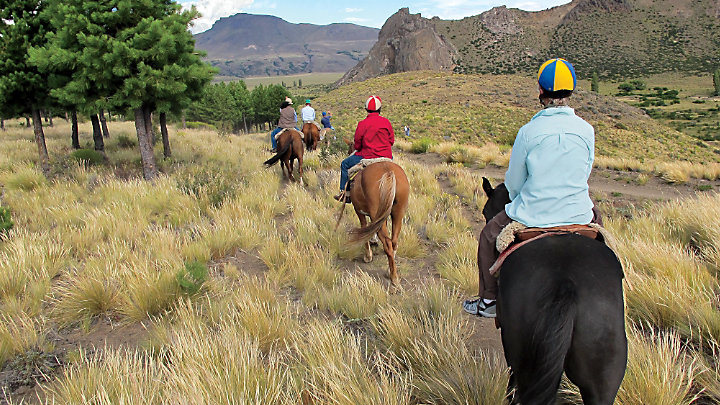 In the morning we meet a member of the Mapuche to learn about these indigenous people. Then there's an optional float trip by raft on the Limay River. In the afternoon we visit a local family on the Patagonian steppe and learn about their way of life, go on a horseback ride, and enjoy a lamb barbecue dinner.
Day 12 (Puerto Varas, Chile)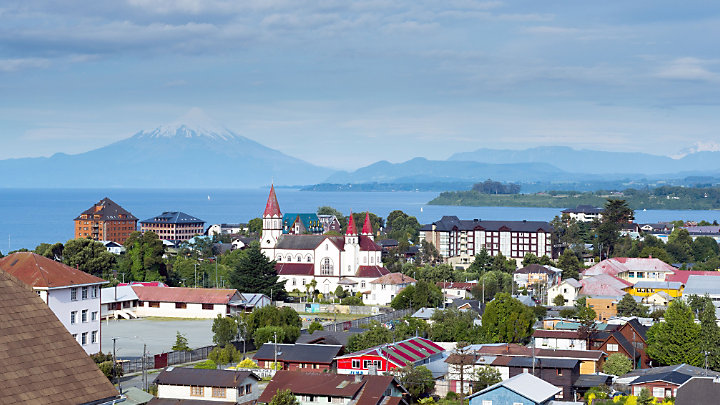 This day we have a bus ride of 8–10 hours across the Andes Mountains. When we arrive in Puerto Varas, we'll have a short orientation walk and the evening free.
Day 13 (Puerto Varas)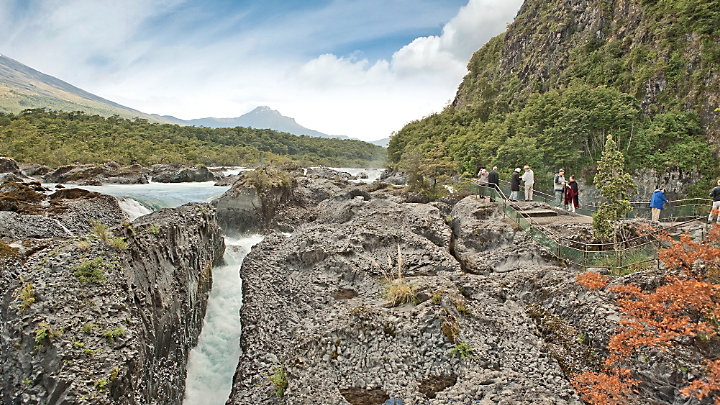 We visit the Osorno Volcano in the morning and hike there. Then we head to Vicente Pérez Rosales National Park and have lunch with a local fisherman and his family who live inside the park. Then we witness the Petrohue Waterfalls before heading back to Puerto Varas. The rest of the day and evening are free.
Day 14 (Chiloé Island)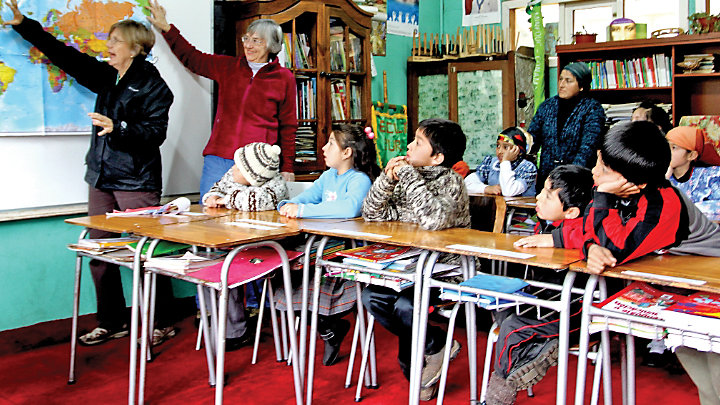 We start the day at the Pargua community on Chile's Pacific coast. We'll visit a local school, and then we'll visit a family in Pargua for a traditional meal, which we'll help prepare. In the afternoon we take a short ferry ride to Chiloé Island.
Day 15 (Chiloé Island)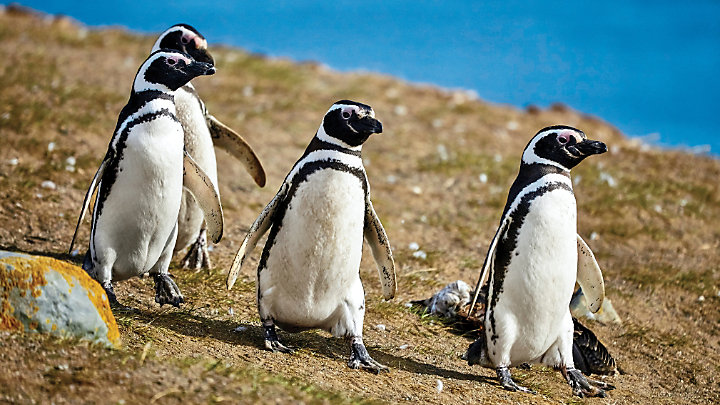 In the morning we visit Quinchao Island, Curaco de Velez, and Achao. In the afternoon we go to the fishing village of Puñihuil and sail out to observe various animals in a wildlife sanctuary, including penguins, sea otters, sea lions, seals, and marine birds. We have dinner in Puñihuil before heading back to our hotel.
Day 16 (Punta Arenas, Chile)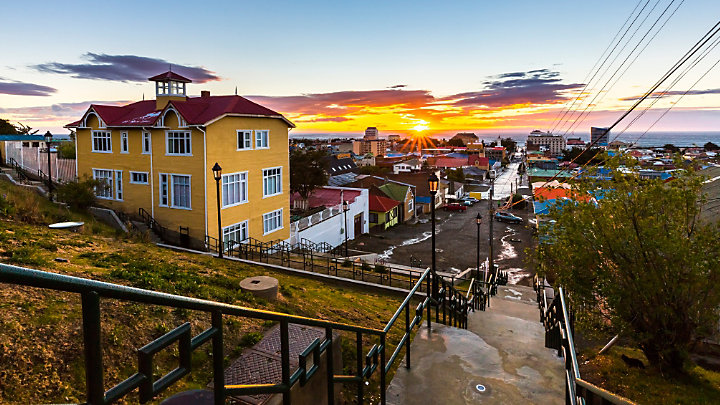 We have some free time in the morning before we leave Chiloé Island by ferry and fly to Punta Arenas. When we arrive in Punta Arenas, we will have a stop at the Nao Victoria Museum, which has a replica of one of Magellan's ships. After we get to our hotel, the rest of the evening is free.
Day 17 (Torres del Paine National Park, Chile)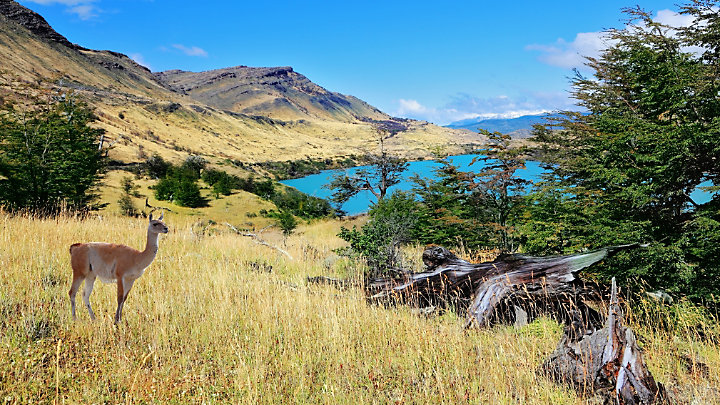 We travel overland to Torres del Paine. After a stop for a box lunch at a scenic viewpoint, we check into our hotel in the park. Then we hike to Salto Grande waterfall before returning to our hotel for dinner.
Day 18 (Torres del Paine)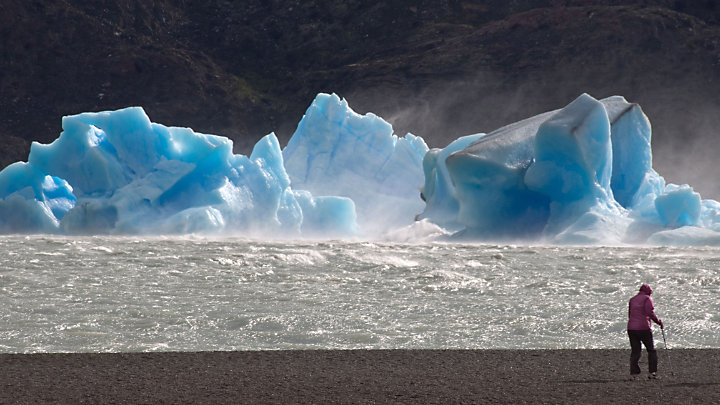 In the morning we exploreLago Grey, including a boat ride to check out the icebergs that calved from the nearby glacier and theglacier itself. Then we hike along the shores of the lake before returning to the hotel for dinner.
Day 19 (El Calafate, Argentina)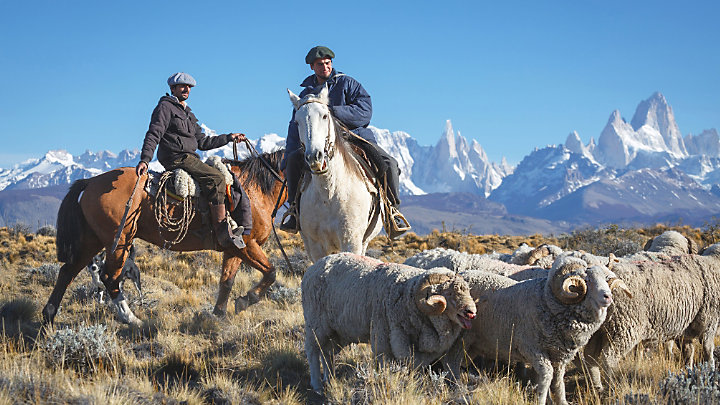 Another long overland crossing of the Andes back into Argentina, with photo stops and a lunch stop along the way. After we arrive in El Calafate, we'll have a short orientation walk and the evening free.
Day 20 (El Calafate)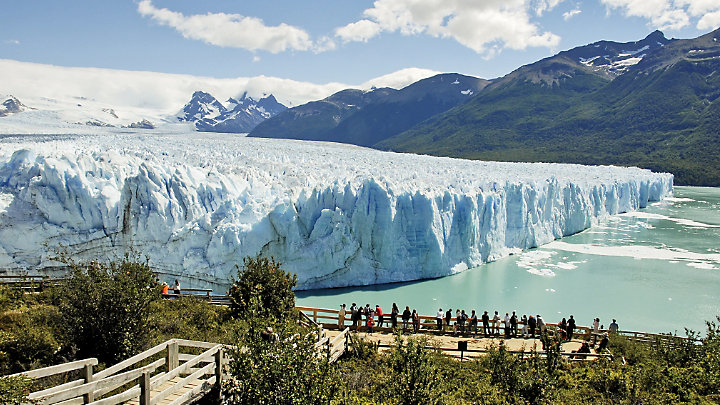 We spend the entire day atLos Glaciares National Park. When we get back to El Calafate, the evening is free.
Day 21 (Buenos Aires)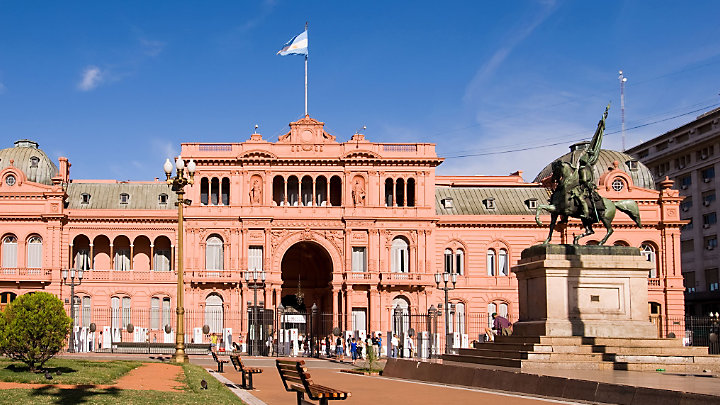 After breakfast we fly back to Buenos Aires. We have the afternoon free, and a final dinner at a restaurant (with those who aren't continuing to Igassu Falls).
Day 22 (Buenos Aires)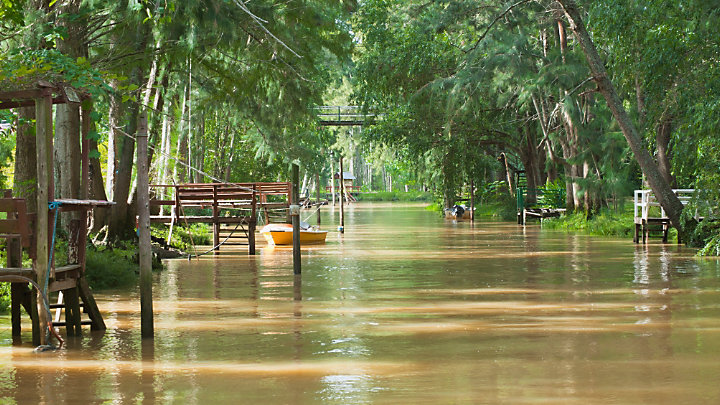 After breakfast we take a boat ride on the Río de la Plata into the Paraná Delta. Then the rest of the day is free.
Day 23 (Yacutinga Lodge)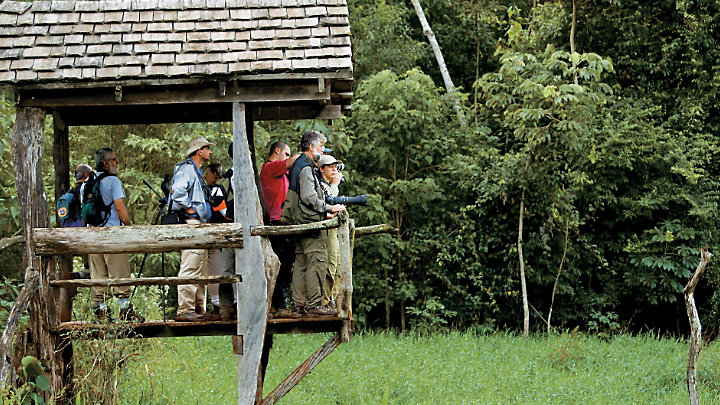 After breakfast we fly to Iguassu and then drive toYacutina Lodge, in the rain forest about 50 miles fromIguassu Falls. Then we'll have a welcome dinner and settle into our individual cabins.
Day 24 (Yacutinga Lodge)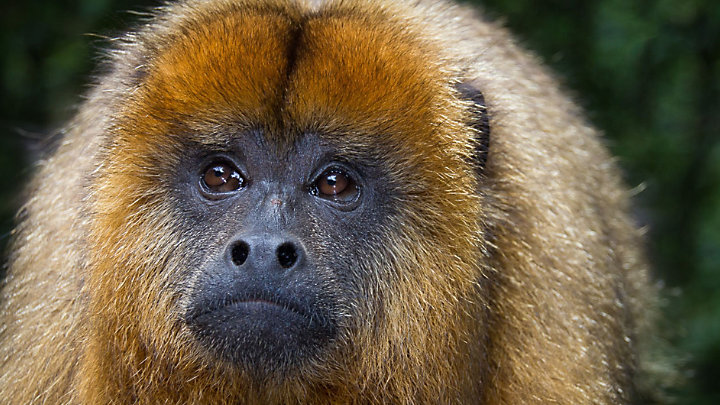 In the morning we go for a nature hike to search for tropical birds and monkeys. Then we do some river kayaking before returning to the lodge for lunch. In the afternoon, another nature walk, and after dinner, yet another walk into the jungle to see (and hear) it in the dark.
Day 25 (Iguassu Falls)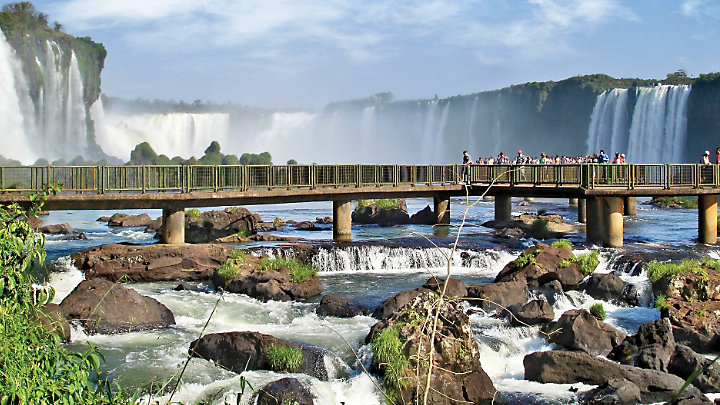 We have some free time in the morning to hike some more or just relax. Then we head to the Brazilian side of the falls to enjoy the views and watch for wildlife. Then we go back into Argentina to check into our hotel near the falls.
Day 26 (Iguassu Falls)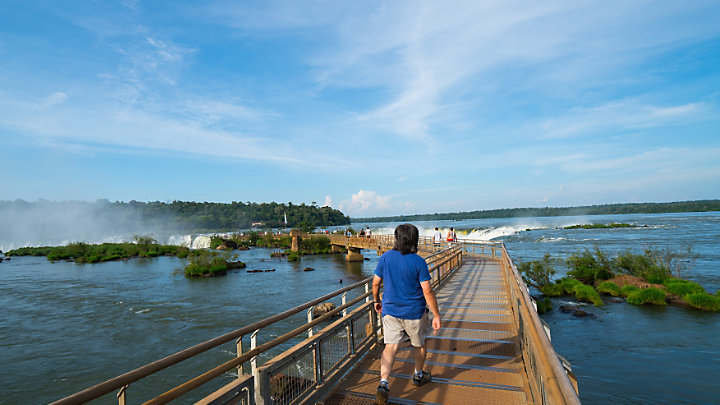 We see the falls again today, this time on the Argentinean side, where we'll get more close-up views. There's also an optional tour that includes a motorboat ride.
Day 27 (Buenos Aires)
We fly back to Buenos Aires after breakfast. This is the end of the tour, but I'm staying an extra day in Buenos Aires at an Airbnb in the San Telmo neighborhood.
Day 28 (En route homeward)
I have pretty much the entire day free in Buenos Aires before I head to the airport for my overnight flight on Delta to Atlanta.
Day 29 (Home)
I arrive in Atlanta at 5:30 am and depart for SeaTac at 9:40, arriving just after noon.
There are twelve separate flights on this trip:
Seattle to Atlanta
Atlanta to Santiago
Santiago to Rapa Nui
Rapa Nui to Santiago
Santiago to Buenos Aires
Buenos Aires to Bariloche
Puerto Montt to Punta Arenas
Calafate to Buenos Aires
Buenos Aires to Iguassu Falls
Iguassu Falls to Buenos Aires
Buenos Aires to Atlanta
Atlanta to Seattle
Along the way on my travels I will fly into or out of nine airports for the first time:
Santiago Arturo Merino Benítez International Airport (SCL)
Mataveri International Airport (IPC) on Easter Island, the most remote airport in the world, 2,602 km from the nearest airport
Aeroparque Jorge Newbery (AEP), regional and domestic airport in Buenos Aires
Ministro Pistarini International Airport (aka Ezeiza, EZE), the international airport in Buenos Aires
San Carlos de Bariloche Airport (BRC)
El Tepual International Airport (PMC)
Presidente Carlos Ibáñez International Airport (PUQ)
Comandante Armando Tola International Airport (FTE)
Cataratas del Iguazú International Airport (IGR)
All images courtesy of Overseas Adventure Travel.