i'm ready.
There are still two hours before I leave for the airport, but I'm all packed and ready to go.
The big pile has been squeezed into my Rick Steves convertible carry-on and my souvenir bag from being a Jeopardy! contestant. Combined weight is 28 pounds, which is more than I'd like to be carrying, but except for my Surface, which I will use for my daily blogging, or a shirt or two that won't really have a significant effect on the weight, it's all stuff I am sure I will need.

My boss asked me to write down what I am taking, so here it is (including what I'm wearing on the plane):
Three pairs of long pants (Ex Officio, lightweight for travel)
Nine shirts (four t‑shirts, one short-sleeve polo shirt, one long-sleeve Ex Officio collared shirt, two long-sleeve pullovers, one zip-up long-sleeve knit shirt)
One pair of shorts
A swimsuit
Five pairs Ex Officio underwear and two Ex Officio undershirts
Six pairs of socks
One pair of good walking shoes
One pair of light canvas sneakers
One pair of flip-flops
My CPAP
A hooded Marmot rain jacket
Toiletries
Inflatable neck pillow (thanks Jeff!), eyemask, and earplugs
Phone (with Kindle app version of Rick Steves' Croatia and Slovenia guidebook and GPS with pre-downloaded maps)
Camera
Surface
One book (The Bridge on the Drina by Ivo Andrić)
All necessary chargers
Four plug adapters
Printed maps and itinerary
Passport
International driving permit
Money belt
Glasses and sunglasses
May issue of the Bridge Bulletin (to read in the airport and then discard)
Notebook and pen
Empty water bottle
Last time I went to Europe, I used Provent instead of bringing my CPAP. Unfortunately, I had so much trouble falling asleep and staying asleep using Provent, so I decided it's worth it to lug the machine around.
I've been asked by a lot of people where all the places I'm going are, so here's a map of all the destinations. Please note that none of these places are anywhere near Ukraine, which isn't even on the map. This map should also show why I'm going from Croatia to Slovenia back to Croatia, then to Bosnia and then back to Croatia yet again.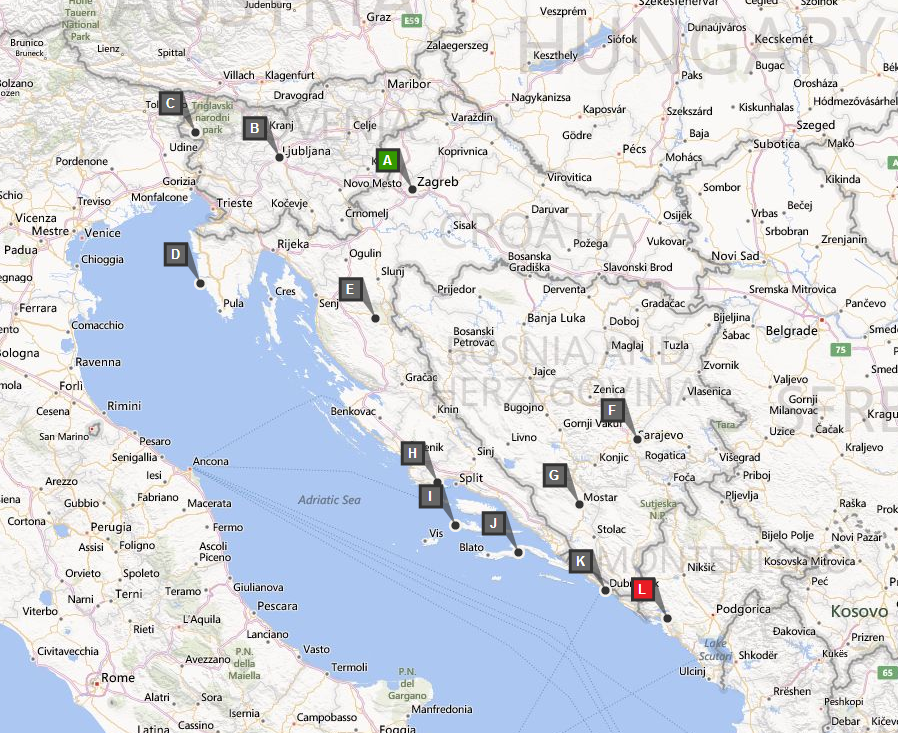 Happily, it looks like we'll have good weather for the first part of the trip.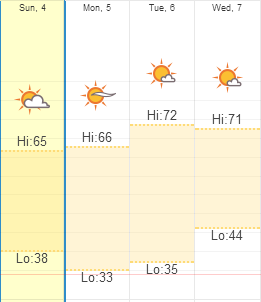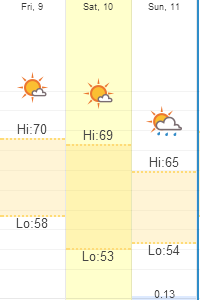 I fly direct to London, where I have a 3 1/2 hour layover tomorrow morning before my flight to Zagreb. I have to change terminals at Heathrow, go through security again, and will probably have to check my bigger bag for the Croatia Airlines flight. 🙁 After landing in Zagreb, I'll meet my sister and we'll pick up our rental car and drive to Ljubljana, about 1 1/2 or 2 hours.
See you there!