I'm heading to South America for the second time, and at 11:55 tonight I'll be on my way to Peru. Right now I'm sitting in the AeroMexico lounge at the airport in Mexico City awaiting my flight.
I originally was going to have a three-hour layover here after my flight from Guadalajara, but I got to the airport early, and they put my on an earlier flight. So instead of three hours' wait there and three hours here, I'm doing all six hours here.
Anticipation
I've been looking forward to this trip for a long time. If you've been following my blog over the last few years, you know this was supposed to be my trip to Israel, originally scheduled for fall of 2020, then rescheduled for spring of 2021, then fall of 2021, and ultimately canceled. So instead i'm going to Machu Picchu and the Galápagos Islands.
You'd think after two years of postponements and minimal travel, I'd be excited to be on my way to Peru and Ecuador, my second trip to South America. I've been excited thinking about it and getting ready for it. And everyone I know who has been to these places described them with superlatives. As my doctor in Ajijic said the other day, your expectations are here (holding his hand at eye level) and the reality is here (holding his other hand far above his head).
I have been excited, but now that I'm here a few hours before my flight departs, I don't feel much of anything. I'm not sure why. It kind of doesn't even feel real. After all this time, it's hard to believe I'm actually going somewhere new and exotic. The last overseas trip I took, to Cuba in February 2020, I was so psyched and so revved up. When I got to Havana I was agog. Maybe I will feel that way when I get to Lima. Maybe I'm just not there yet.
Back in Ajijic
When I went to Cuba, I had retired and moved to Ajijic just eight months earlier. I lived by myself and my life was all about the opportunities to travel I was anticipating in retirement.
Now I have a partner living with me who I love and am in the midst of falling deeply in love with. And I have a dog who is a delight. My life there has become full and rich and rewarding. I still intend to do lots of traveling, but I will miss Luis and Taco and my friends and activities in Ajijic.
Ahead in Peru and Ecuador
But let me write a little about the things I'm looking forward to in the next few weeks. Maybe writing about it will rev me up. I already posted the itinerary, so I won't go through everything day by day. Here are some highlights:
Tomorrow I arrive in Lima at a little before 6 am. I have the entire day free, as our tour doesn't start until Monday. I am looking forward to having time to explore on my own before the formal tour gets underway. I'm not entirely sure what I'll do tomorrow, but check back here to find out what I did.
OAT always includes some controversial topics on their tours. On Wednesday we will meet a woman who sells coca leaves at a local market and learn about coca's role in Peruvian life and how her family has been affected by the government's crackdown on coca production. And on Thursday we'll meet a woman who was one of the 200,000 victims, mostly indigenous people, of forced sterilization in the 1990s in Peru.
On Friday and Saturday nights we'll stay in Aguas Calientes and we'll visit the ruins at Machu Picchu both of those days. Of course I'm looking forward to seeing the ruins. But also, I'm told my by cousin Abby that I should get up early to catch the sunrise in Aguas Calientes.
On May 5 we will be in Quito, and we'll visit the Inti Nan Museum, which sits directly on the equator. I've never been at the equator before.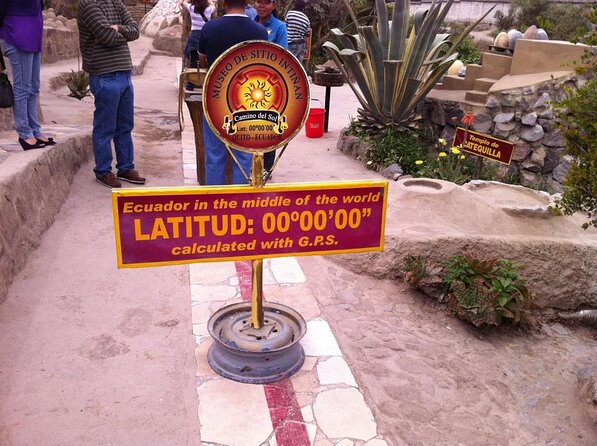 I can't wait to see blue-footed boobies and Galápagos tortoises and all the other animals. And I'm excited to see what lives under the water when I go snorkeling.
Excited! I did say I'm excited! It worked. I'm getting excited!
Oh, and my return flight got canceled by the airline, so I will have an extra day to enjoy on my own in Quito at the end of the tour. I booked an Airbnb and I'm looking forward to having that time on my own before I come home. If experience is any key, by the end of the tour I'll be happy to get away from the group. Even when they are delightful travel companions, sometimes I just want to have time to do things on my own.