My Yellowstone road trip is just one week out, and I've pretty much figured out all the details. I have been using an cool online tool I discovered to help with the planning. It's called Furkot. I'll share more about planning a road trip with Furkot in a separate post.

Since I previously wrote about my plans, a few details have changed. Several people I talked to convinced me to visit Grand Tetons National Park, which is just south of Yellowstone National Park, so I'll start out there. And my friend Margot is joining me on this adventure. We last traveled together to Hawaii and had a lot of fun, and I think we'll really enjoy this trip together.
The map above, which I generated using Furkot, shows the route I've planned. I added several scenic detours and a few food options, and in addition to generating the map, the tool provides estimated departure and arrival times. It also shows stops for the night as well as other sightseeing stops. The route displays in blue and purple for alternating days of the trip.
Day One
We have a reservation on the first night at the State Street Motel in Weiser, Idaho. I wanted to stay, or at least stop, in Weiser because a friend in my writing group has written a novel and is working on a second novel set there. I thought it would be fun to check it out and see what he finds alluring about this town of 5,500.
En route to Weiser I found a scenic drive between Ellensburg and Yakima. The Yakima River Canyon Scenic Byway is just 18 miles, and it should break up the Interstate sections of the drive nicely.
Furkot's estimate: 451.8 miles, 7:49 driving time at an average speed of 57.7 mph.
Day Two
A coworker told me about a worthwhile detour to Jump Creek Falls, so that might be a good spot for a short walk and a picnic lunch. From there it's mostly an Interstate drive across Idaho.
We stay the night at Moose Creek Ranch, just west of the Wyoming border.
449.3 miles, 8:36 driving time at an average speed of 52.2 mph.
Day Three
This is our day to explore Grand Tetons National Park. We'll start by heading toward Jackson, Wyoming, and probably explore the town for a while, maybe have lunch there, and then continue with a leisurely drive through the park, stopping to enjoy the scenery and maybe to do a hike or two.
We are staying in a cabin by Old Faithful.
118.7 miles, 5:56 driving time at an average speed of 20 mph.
Day Four
The only thing we have to do this day is relocate to our cabin at Lake Yellowstone. So it's a wide open day for exploring the park.
38.7 miles, 0:59 driving time at an average speed of 39.3 mph. (Though we will most definitely be driving a lot more than that!)
Day Five
We don't even have to relocate, as we are staying two nights by Lake Yellowstone. So it will be another open day for exploring, hiking, maybe renting kayaks or other watercraft and going out on the lake.
This evening we have a dinner reservation in the Lake Yellowstone Hotel Dining Room.
1.3 miles, 0:07 driving time at an average speed of 10.9 mph.
Days Six and Seven
We head toward the north end of Yellowstone. We spend the next two nights at Mammoth Hot Springs.
50.4 miles, 1:22 driving time at an average speed of 36.7 mph.
Day Eight
Since we're ending our time in Yellowstone at the northern edge of the park, we'll head home on I‑90 through Bozeman and Missoula. I reserved a room for the night at the Big Sky Motel in Superior, Montana.
Typically the trip home is just a rush to get home, but there's one scenic drive I really want to do. We might be able to do it on Day Six or Day Seven, but if not, it's a detour I think we can do easily on the way home. It's called the Beartooth Highway.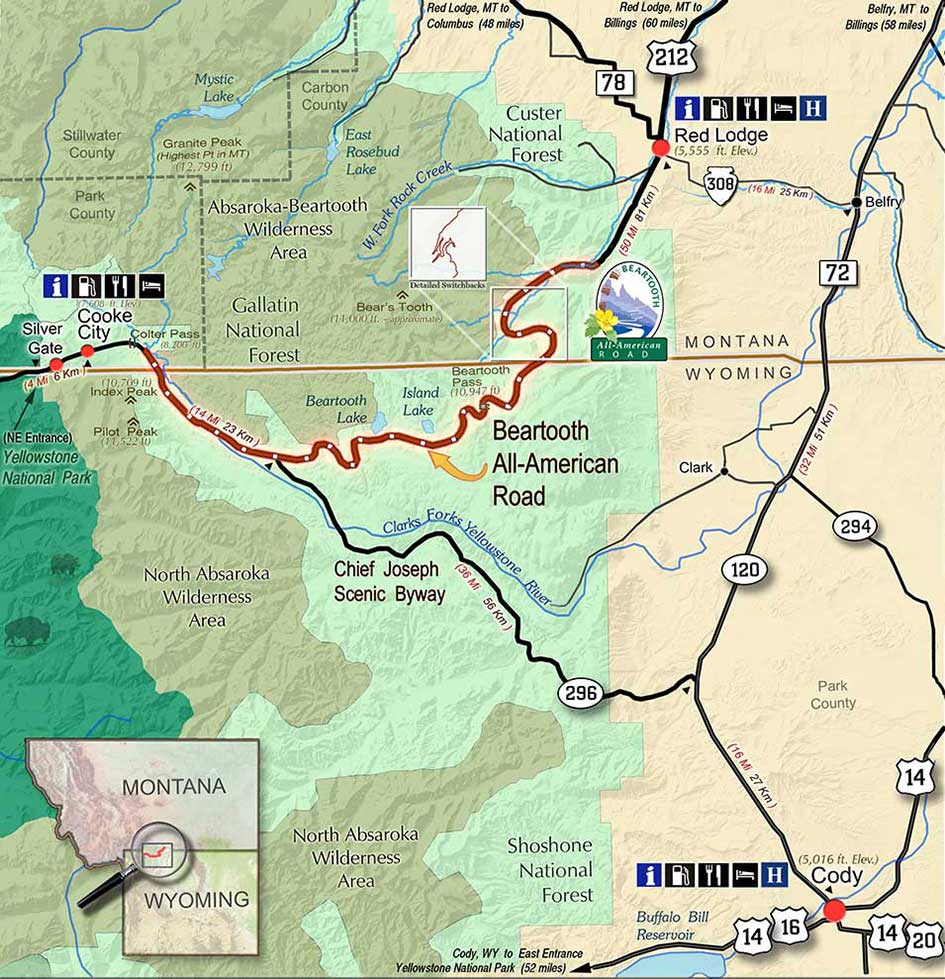 Given the rugged terrain, doing this drive is definitely weather-dependent. The road it typically open until mid-October, but bad weather is possible year round. The route is 68 miles long, and it's recommended to allow three hours. Plus it goes the wrong direction, west to east, so it takes us out of our way quite a bit. Still, Furkot tells me that even with the three hours, we have time to get to Superior by early evening. So maybe we'll stop for dinner in Missoula.
524.2 miles, 10:36 driving time at an average speed of 49.4 mph.
Day Nine
From Superior to Seattle, it's a straight shot on I‑90. No plans for any sightseeing. I did read about an eatery in Spokane called Frank's Diner, so we might stop there for a late breakfast or early lunch.
423.3 miles, 6:20 driving time at an average speed of 66.8 mph.