I am now an expert on sleeping in a pod.
For my trip to Istanbul, there is a direct flight from Mexico City departing at 10:05. I had to book a separate flight between Guadalajara and MEX, and the earliest flights in the morning were too tight for making my connection. So I flew here last night and stayed at izZzleep.
My Volaris flight was scheduled to leave from GDL at 17:49 yesterday, and it seemed like we were going to depart on time. Boarding started at 17:30. But then there was a long lag when no one was getting on. Finally they resumed boarding, but then they announced that there was a delay. The announcement was in Spanish, so I'm not sure exactly what caused the delay, but I suspect a crew member was running late.
We didn't take off until after 19:00, but we got to MEX a little after 20:00 and I was soon walking through the airport to find izZzleep.
I walked. And walked. And walked.
Just getting from the gate to the exit into the main terminal was a trek. And then I followed the directions sent to me by izZzleep. I followed infographic signs and thought I was heading in the right direction. But then the icons of people sleeping in a pod were gone from the overhead signs.
Had I gone too far? Had I passed it and not even realized?
I tried Google maps, and that took me outside to a parking lot.
Finally I asked at an information booth. It seems I was on the wrong floor. (Google maps obviously has no way of knowing that, so it probably sent me directing underneath the hotel.
Upstairs and down two more long hallways, I finally found izZzleep.
What I learned about sleeping in a pod
There's no room for your luggage in the pod. You are assigned a locker where you can stow your luggage.
Shoes also go in the locker.
Bathrooms consist of a row of sinks, private toilet rooms, and private shower rooms.
Access is via keycard. The card get you from reception into the area with lockers and bathrooms, into your locker, into the room with the pods, and into your individual pod.
Pods are on two levels. I was on the lower level. Someone else was sleeping above me.
Pods are quiet. No phone alarms allowed. If you need a wake up, you tell them when you check in, and they will come knock on your pod door to wake you.
The room with the pods is dark. It reminded me of a sci-fi movie where they find people in cryogenic pods.
There's a TV in the pod. You have to use headphones. All the channels were in Spanish without subtitles.
There's WiFi.
There's no common sitting area.
There is one electric outlet in the pod. It didn't work, so they moved me to a different pod. There are also two USB outlets.
They provided a bottle of water in the pod.
They provide a bath towel. It's in your locker.
The showers had bath gel and shampoo. There were hairdryers by the sinks.
There's a fan in the pod. It's loud.
After you turn out all the lights in the pod, there are still glowing lights. I couldn't find a way to turn them off.
They provided a little bag containing hand sanitizer, ear plugs, and a pair of socks. I guess the socks are so you don't have to walk barefoot to the bathroom.
If you like a plush pillow, you're out of luck. The pillow was tiny and flat.
They use what seemed like disposable sheets. But the blanket had an actual duvet cover.
I think I slept four hours total. When I woke up at 3:30, I told myself I was adapting to the time change.
The Grand Lounge Elite
I'm now in the Business Class lounge that Turkish Airines probably shares with other airlines. It's called the Grand Lounge Elite.
It isn't.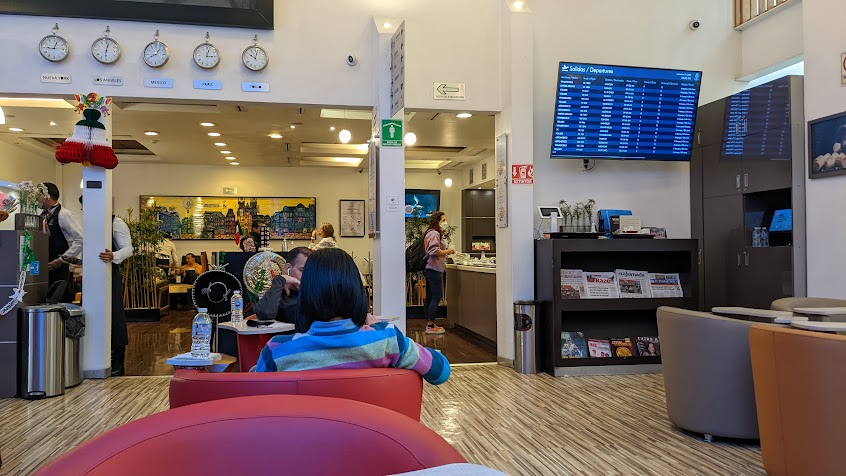 They have food and drink, but it's one of the least grand airport lounges I've been in.
It's another hour until my flight starts boarding. Maybe I'll go for a walk.