I've been home two weeks from my first road trip in Mexico. It was magical in many ways, and whatever the opposite of "magical" is, some of the time it was that.
Here are some random thoughts about road-tripping in Mexico and about Pueblos Mágicos.
Driving
On this trip I drove on many different kinds of roads, from superhighways with expensive tolls to two-lane highways to city streets to dirt roads. I drove over mountains on narrow roads with tight switchbacks and deep potholes. I drove in heavy traffic and sometimes didn't encounter another car for long stretches.
Here are some of the things I learned:
Speed Limits
Mexican drivers almost uniformly ignore speed limits. On the best superhighways, the speed limit is 110 km/h (about 68 mph). I generally stuck to that, and cars that passed me often did so at much higher speeds. On two-lane highways, the speed limit might be 80 km/h (about 50 mph). I found myself exceeding 100 km/h a lot of the time and still had cars passing me more often than I passed them.
Often there will be indications to slow down. Even on the four-lane highways, 90 or 80 or 60 km/h signs appear out of nowhere from time to time. Sometimes you pass an intersection or a bus stop or a small village, and then the 110 km/h speed limit resumes. No one slows down for these. Not even a little.
I also didn't see a single speed trap. Perhaps the reason drivers ignore speed limits is there doesn't seem to be much enforcement.
Passing
A lot of two-lane highways in Mexico look like this: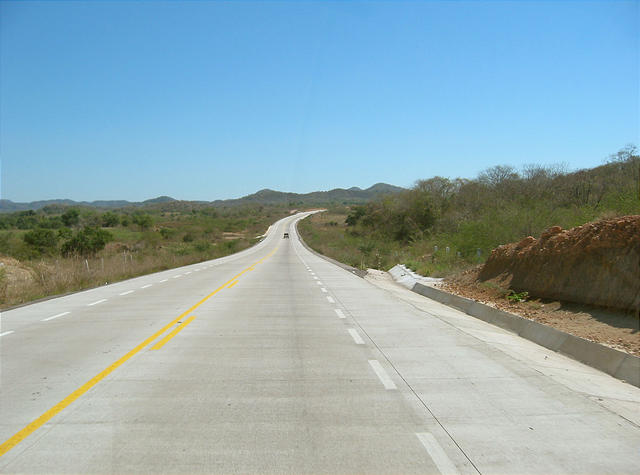 The shoulder is almost as wide as a lane, and the pavement is the same. Many drivers actually drive on the shoulder, or straddling the dashed line. But even if you drive in the main lane, it's expected you will move over if someone wants to pass.
On occasion, cars are passing in both directions at the same time. Four cars can generally fit across with no problem.
Because of this, passing happens even in no-passing zones and when oncoming cars are approaching.
Topes
Known in the US as speed-bumps, topes are very common in Mexico. If you're driving on a rural highway, when you approach a town, there will be topes. Sometimes the topes continue as you drive through the town. Some towns have them at every intersection. You are often forced to slow down by topes as you drive along roadside markets or places where there may be pedestrians.
Some topes are well marked with signage, often in advance. Some are painted bright yellow.
But some are not. Topes sometimes come up out of the blue without warning. I went over a few at full speed, and in other cases braked suddenly at the last moment, jolting poor Taco out of her seat onto the floor. I'm lucky I didn't break an axle or damage my undercarriage.
Views
Mexico has some spectacular scenery. It doesn't have a lot of places to stop and gawk. I did pass a couple of miradors, what in the US would be called viewpoints or scenic overlooks. And I found a few spots where there was room to pull off the road, enjoy the view, and snap some photos.
Language
Not being fluent in Spanish was frequently a barrier. I could usually figure out what to say, but I couldn't easily converse, because I struggled to understand what people were saying.
This could be a challenge when eating out. Restaurants with menus and table service were sometimes hard to find. That made it difficult to figure out what to order, and more difficult when I was asked a question about my order.
It seems clear to me that in most of the places I visited, there isn't much interest in, or expectation of, reaching out to international travelers. In smaller towns, even in hotels and restaurants and tourism offices, English was not typically spoken. Even in Zacatecas city, where I visited several museums, displays and printed guides were exclusively in Spanish. I would imagine this is not true in tourist meccas like Cabos or Puerto Vallarta or the Yucatan. But in the places I visited, non-Spanish speakers would be a a clear disadvantage.
I think Mexico has an opportunity to attract foreign tourists to areas that are not typically on most travelers' itineraries. In addition to 132 Pueblos Mágicos, this country has 35 UNESCO World Heritage Sites (including the Historic Center of Zacatecas and the Camino Real de Tierra Adentro, which passes through several of the places I visited on my trip). This makes Mexico seventh in the world by number of UNESCO sites, first in the Western Hemisphere.
But to make non-beach-resort Mexico a destination for tourists, some significant effort will need to be made, starting with making these fascinating places more accessible to those who don't speak Spanish. Of course, crime—or at least the concern that crime is a problem travelers will encounter—needs to be addressed.
Food
Mexico has some great food, if you like Mexican food. And you can eat good, authentic Mexican food in Mexico for a lot less dinero than a traveler would budget in Europe, Canada, Australia, Japan, or the US.
In the cities of Lagos de Moreno, Zacatacas, and Aguascalientes, I saw a lot of restaurants, and ate at several. By "restaurant" I mean a place with a printed menu and a server who takes your order and brings you everything. Food at restaurants in larger towns and cities can be more eclectic and not strictly Mexican.
As I mentioned, in most small towns it was difficult or impossible to find comfortable eateries that could properly be called restaurants. More likely I'd find myself ordering at a counter, sitting on plastic "outdoor furniture" chairs, eating off paper plates with plastic utensils, and going back to the counter to pay. I enjoyed much of this food. But sometimes I wanted more elevated dining experiences. Or I wanted a little ambience. Or confidence that good hygiene was observed and I wouldn't get sick. And these weren't always easy to come by.
I fear that, in writing this, I come off as a spoiled American. I suppose I ought to embrace the opportunity to eat like a local. These places are every bit as Mexican as roadside diners are American. And I don't want to give the impression that I don't like eating at these places. But after a day of being on the go, I often yearn for something more special.
Airbnb
I booked all my accommodations on this trip through Airbnb. Three of the places I stayed were private apartments. One was a hotel, and one was a cabin connected to a Mezcal factory.
I was an early adopter of Airbnb. My first stays were on a European trip in 2012. Back in the early days, Airbnb was a great way to get to know locals. Most of the stays were in their homes. But now, the majority of the listings are private apartments, which suits me fine, especially when I'm traveling with my dog. On the other hand, sometimes it feels so completely impersonal. Two of the three apartments where I stayed had automated check-in using a keypad or lockbox, so I never even met or talked to the hosts.
I've previously booked lodging in Mexico using Airbnb on several occasions. And it's been a mixed bag, with some fantastic places in great locations, and some that were lacking in certain amenities. Now that I think about it, that's pretty much true of all the Airbnb places I've ever stayed, anywhere.
I definitely prefer staying in a "home" rather than a hotel. So if there are some shortcomings, it's generally worth it.
I just wish hosts would put some effort into making their guests feel welcome. Providing a guide to favorite cafés and restaurants and groceries in the neighborhood or recommendations on things to see and do is a nice touch. And since water in Mexico is not drinkable, providing bottled water seems not too much to ask. (I brought a large water dispenser with me.) Even when I didn't get a chance to connect in person with my hosts, I would have appreciated a small sense of a personal connection.
Covid
I saw a lot of (but not ubiquitous by any means) mask wearing. A mask was almost always required indoors—in churches, museums, shops, etc. But in some towns people by and large wore masks outdoors, and in other towns not so much.
Almost nothing, from what I could tell, was limited, curtailed, or shut down, except one museum in Zacatacas.
Magic and Meh
I visited ten different Pueblos Mágicos on this trip. Previously I've been to five others, not including Ajijic, which joined the Pueblos Mágicos program last year.
When Ajijic was named to the program, many of my friends expressed strong opinions about that. For the most part, people felt that we don't deserve the designation. One of the reasons I heard frequently was the near absence of colonial era buildings.
Now that I'm an "expert" on Pueblos Mágicos, I have some thoughts of my own, both on the towns I visited and on what Ajijic should do to earn its new designation.
What makes a pueblo "mágico"?
The Pueblo Mágico (Magical Town) designation is awarded to those communities that over time have maintained their original architecture, traditions, history and culture. As well as to those that have been of great relevance to the country's history.
The Pueblos Mágicos (Magical Towns) are defined as places with great symbolism and legends, they are towns whose historical importance has been fundamental for the development of history and that enhance the national identity in each of its spots. These places have a special magic that connects the visitor with our roots and traditions. With exceptional beauty, these are destinations that will most definitely captivate you.

https://www.visitmexico.com/en/types-of-tourism-in-mexico/pueblos-magicos-magical-towns
Pretty architecture is not the determining factor in designating Pueblos Mágicos, though that is certainly an important consideration. Towns can earn their spot in the program by historical significance, local music, art, handicrafts, and cuisine, recreation opportunities, and scenic terrain in the surrounding area. Each Pueblo Mágico should provide something unique, something that sets it apart from other places in the country.
A few of the magical towns I have visited had no qualifications I could readily discern. Others had a bit of charm in a small historical center but nothing much beyond that. And some truly felt magical.
The Most Magic
Of the fifteen Pueblos Mágicos I have visited, several stand out.
Tepoztlán
About an hour south of Mexico City, in Morelos, this was the first magical town I visited, before I was even thinking of moving to Mexico. I was there at Christmastime, so possibly the festive feeling contributed to the sense that there was magic in the air. Loads of tourists filled the streets, and the markets were alive (literally with chickens and ducks, and figuratively with hustle and bustle and smells of cooking food). I enjoyed some excellent restaurants and local specialities, such as huazontles and the ice cream known as Tepoznieves. The town had several pretty colonial buildings, and up in the hills was an Aztec temple that beckoned me on what turned out to be a killer hike.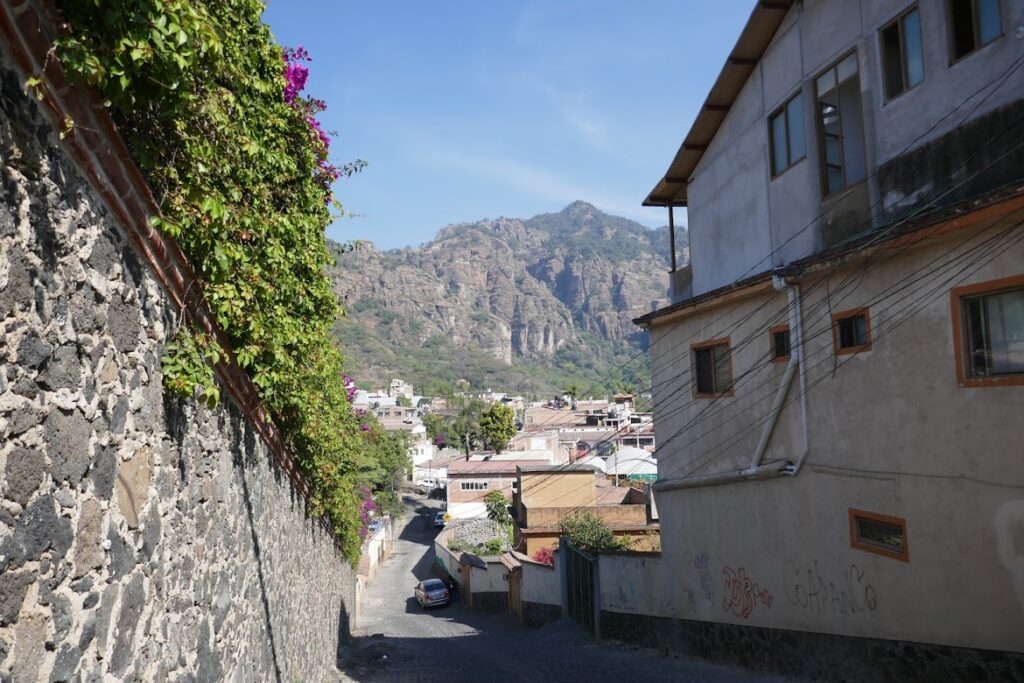 Pátzcuaro
I visited Pátzcuaro, Michoacan, in January 2020. What wowed me about this town were the markets, the shops, the restaurants, the plaza, the streetscapes. A few colonial-era churches lent their charm, but this town was more magical at the macro level. Everything about it felt special.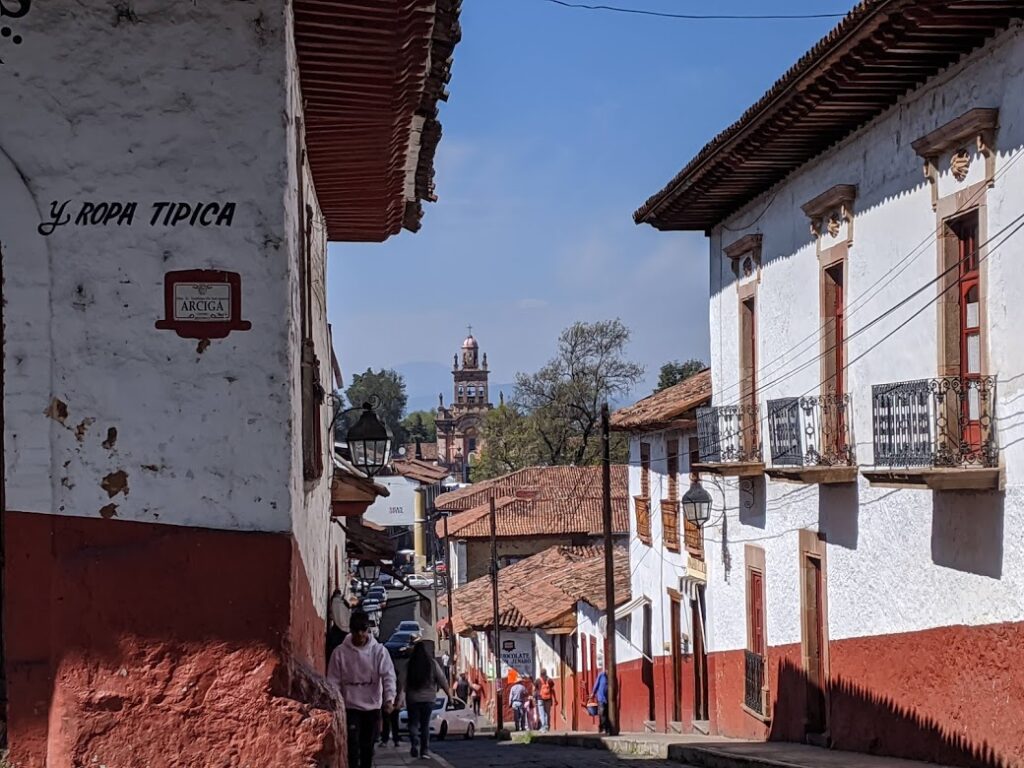 Mazamitla
Sometimes described as the Switzerland of Mexico, Mazamitla, Jalisco, is a pretty town. The buildings in the center are all painted white with burgundy trim, lending it uniformity and tidiness. The stunning Parroquia de San Cristóbal faces a pleasant plaza, and shops and restaurants add to the charm. But Mazamitla is especially famous for the myriad cabins that dot the hills surrounding the town, so you can stay in a quiet, secluded spot surrounded by pine forests just minutes away from town. And when much of Mexico is blazing hot, Mazamitla tends to be cooler, even quite chilly at night.
Lagos de Moreno
This Jalisco town was the first stop on my road trip last month, and it is really stunning. The principal garden is one of the nicest I've seen, with plenty of shade trees; it's no wonder it was almost always filled with people enjoying the day. Lagos has several beautiful churches, most especially the Baroque beauty Parroquia de Nuestra Señora de La Asunción, which overlooks the garden. And it has a beautiful old bridge and several family-friendly parks, plus a wide variety of nice restaurants, cafés where I could linger for hours, and spots where I could enjoy a drink in a pleasant outdoor setting.
Nochistlán de Mejía
Nochistlán felt like the archetype of Pueblos Mágicos. It had perhaps the prettiest central plaza/garden I've seen anywhere. El Parián, an arched arcade, along with several churches, made it one of the most photogenic towns I've visited in Mexico. The entire center seemed to be taken over by the market, featuring leather handiwork and lots of interesting foods. And people were out and about, shopping and eating and enjoying life. I wish I'd had more time to spend there. It's a place I could definitely see myself going back to for a weekend getaway.
Runners Up
Some of the other Pueblos Mágicos were very pleasant and attractive, but didn't quite rise to the level of the top tier.
Tequila
I thought there was surprisingly little of interest in Tequila, Jalisco. It gets bonus points, though, for some nice restaurants and for the opportunities to tour distilleries and learn how agave becomes Tequila.
Pinos
A small, tidy town, an attractive center and some pretty colonial-era architecture are the highlights of Pinos, Zacatecas. There was a tianguis when I was there, but it was fairly small and lacking in nice-quality handicraft items.
Sombrerete
This pretty town in Zacatecas filled with photogenic churches almost deserves to be in the top tier. But it lacked a pleasant garden and some nice eateries. And I would have enjoyed finding some local work by artists or artisans.
Asientos
This town in Aguascalientes gets points for a pretty center. I enjoyed a nice lunch there, and I took an extensive tour to a cemetery with lots of human bones. I would have liked to visit the underground tunnels with what is called the hidden aqueduct, but I didn't feel at ease down there with a big crowd and very narrow passageways.
Calvillo
Calvillo was my favorite of the three magical towns in Aguascalientes. The two large churches were beautiful, and the town square was filled with people. The lack of nice restaurants was a negative, though. I had to settle for pizza for dinner. (It was good pizza at least.)
Jerez de García Salinas
Jerez, Zacatecas, didn't have much in the way of historical architecture, but it did have a certain charm, with tree-lined streets and a nice mercado.
Bottom of the Barrel
Guadalupe
This town on the outskirts of Zacatecas city had one pretty church, and that's it. The large plaza/garden had no trees and no shade. I tried walking a bit away from the center to see if I was missing something, but if I was, I never found it.
San José de Gracia
This town in Aguascalientes is probably the ugliest of all the magical towns I have visited. I didn't see anything attractive about it at all. It seems to be a Pueblo Mágico only because of the lake, which offers some recreation opportunities. I could have taken a boat ride to see a sculpture called Cristo Roto (broken Christ) and a few other sites, but I didn't. I spent the night there, and it was just too much time devoted to a town that had nothing to recommend it.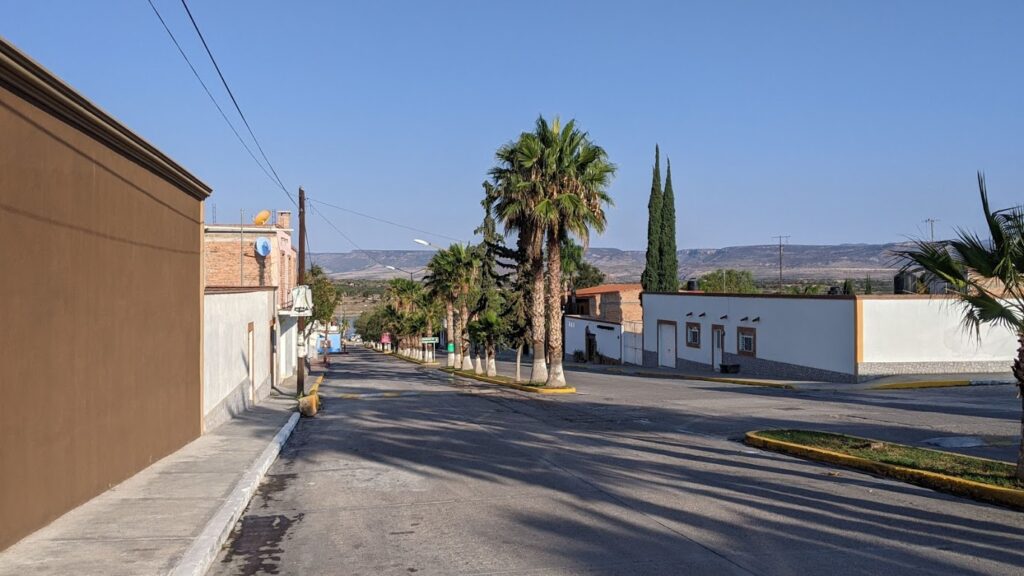 Teúl de González Ortega
The one thing San José de Gracia had going for it was that it was a place where people came to have a good time. Teúl, by comparison, was depressingly empty of people or activity. It wasn't an ugly town, but it had no charm.
Ajijic
I started and ended my road trip in Ajijic, Jalisco, which, as I mentioned, is a newly designated Pueblo Mágico.
If I were to rate Ajijic objectively, it would belong solidly among the other Runners Up.
We don't have a lot of historical architecture here. And I think there are some seriously shortcomings in terms of cleanliness and accessibility. Even the towns at the Bottom of the Barrel felt tidy and well-maintained, with wide, continuous sidewalks and wheelchair ramps at most corners. I didn't see nearly as much trash on the ground in any of the other Pueblos Mágicos I've visited as I routinely see in Ajijic.
But we have a few things here that really elevate our town. First off is the malecón, which provides a pleasant place to walk along the lakefront and for families to gather for picnics. The lake may not be swimmable, but it is pretty. And the town is surrounded by lovely hills that offer some great hiking opportunities.
Although the architecture lacks historical significance, there has been a concerted effort by local artists over the years to provide a lot of colorful murals. I think this really makes Ajijic unique.
And Ajijic is teeming with outstanding restaurants of all varieties, and there are many charming hotels and B&Bs. Overall, our town is an attractive place worthy of a visit.
I would love to see Ajijic get cleaned up. The eyesore that used to be a restaurant on the pier at the lakefront needs to be renovated into something nice. Sidewalks need to be improved, and cobblestone streets (if they are to remain) need to be better maintained. We also need a tourist information office, and some printed brochures pointing out places of interest.
As a newly designated Pueblo Mágico, Ajijic has some catching up to do. They are forming a committee to work on it, and that's a good thing. I hope in a few years my town will have risen to the top of the heap.