Baku is a delightfully charming city with attractive historic architecture.
Baku is also a dramatically modern city with startling skyscrapers and brilliantly conceived spaces.
I read a lot about Baku before arriving, but I was still not prepared for this city of contrasts.
I will let these three photos, taken within about a ten-minute span last night, do the talking, because they clearly illustrate the contrasts of Baku.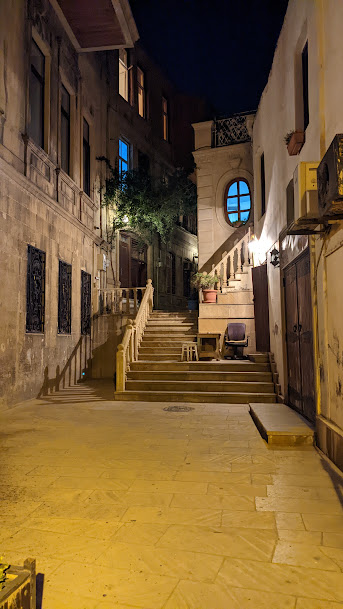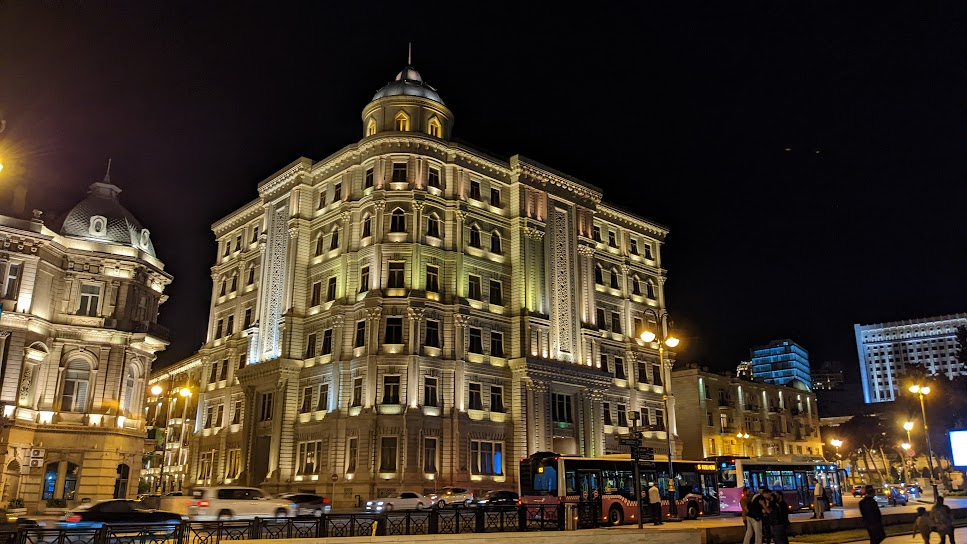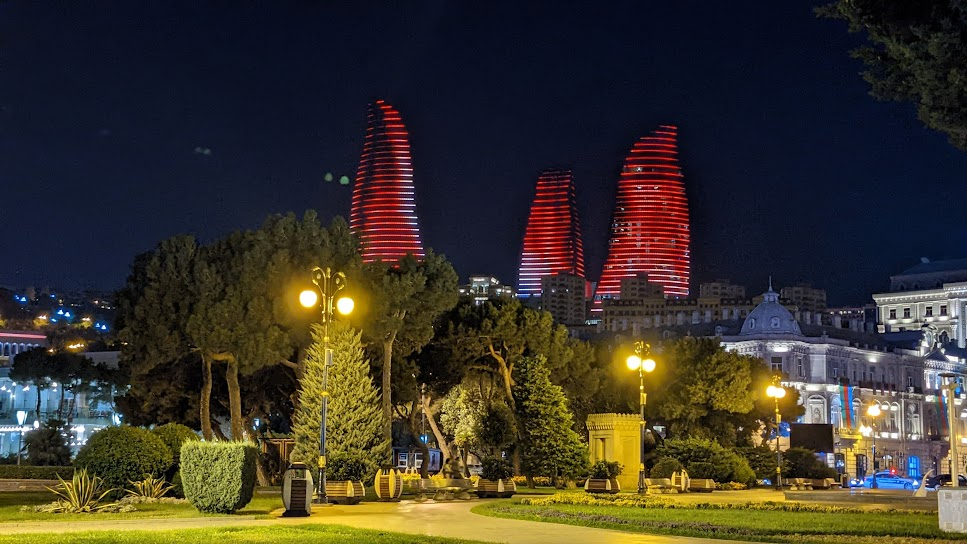 And I will share just a few things.
Ramin
I got a message on my last day in Turkey from Ramin telling me he would come pick me up at the airport.
What he didn't tell me is that he is going to be my private guide and driver for my entire time in Azerbaijan. That even includes driving me to Sheki on Sunday, spending the night there, and driving me back to Baku Airport on Monday afternoon for my flight to Tbilisi. It's great because we can adjust the schedule each day, adding additional stops or shifting things around. Today, for example, he gave me a couple of hours to visit the Heydar Aliyev Centre. And we decided to skip the night tour today and do that tomorrow instead. We also made it to Ateshgah Temple and Yanardag (Burning Mountain) today, so that gives us some extra time tomorrow.
First Day in Baku
In addition to the things I already mentioned, we did a walking tour of the Old City, including a guided visit to the Palace of the Shirvanshahs, and a walk up to the top of the Maiden Tower. We also walked around Fountain Square. And we had a great lunch at Qala Divari. We shared a salad of tomatoes, red onions, and fresh basil; dolmas; and various lamb preparations, included kebabs and entrecote. I ate similar dishes in Turkey, but these were all prepared slightly differently, and it was all superb.
In the evening, after Ramin dropped me off, I was too tired to eat and too hungry not to. Plus I wanted to organize my photos from the day. Finally I thought I'd go out to find a quick bite. I ended up walking to an area called "Mini-Venice" and to the flower-shaped shopping mall, but the food court there was all BK and McD and KFC, except for one place with Pide (a type of flatbread I had in Turkey too), but it was closed. Walking back, I stopped in a cafe, but they only had dessert items, which wasn't what I wanted, and by now it was closing in on 11pm and too late for a big meal. So I went to sleep on an empty stomach.
I'm ready to make up for it today!
Photos