In Part One, I wrote about arriving in Cusco, heading to the Sacred Valley, and the first part of our first full day in Urubamba. I didn't get to finish, so here is the rest.
Thursday (continued)
Mercado
Wherever I left off, we were heading to the mercado in Urubamba. There we saw all the different meats, fruits, vegetables, potatoes, grains, beans, cheeses, herbs, and whatever else. A lot. People generally shop daily at the market because they are buying and cooking with fresh ingredients. And some of them don't have freezers to store ingredients.
Henry introduced us to various fruits that many of us were unfamiliar with. I did recognize a few of them, because we have them in Mexico too.
Mototaxi
All over town, and also in Lima, we encountered these three-wheeled taxis built on motorcycle chassis. So at the end of our visit to the mercado, Henry gave us an assignment: we were to exit the market building, hail a mototaxi and have the driver take us to the Hotel San Agustin. He then went ahead and would be waiting for us there when we arrived.
Lunch with Emma and her family
Once we all arrived at the Hotel San Agustin, we got in the bus and headed to the home of a lovely family: Emma and two of her three daughters, as well as her mother, who lives about fifteen minutes walk away.
We were quickly put to work at various tasks: setting the table and helping to finish the preparation of some of the dishes we'd be eating. I helped make a salsa.
Emma sat across the table from me, and as she doesn speak English, I got to practice my Spanish by conversing with her and translating for the other members of the group.
For dessert we had an array of local fruits, many of which Henry bought at the mercado.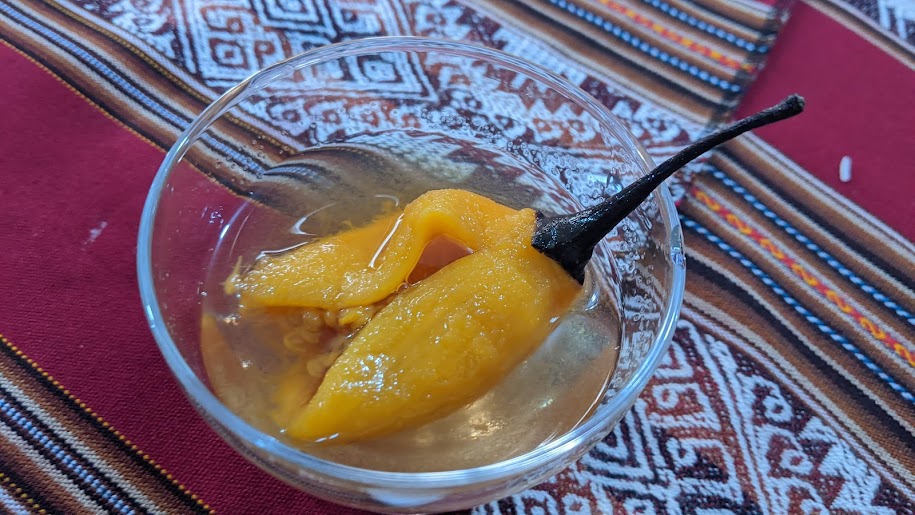 Too soon we had to say goodbye to our hosts, but we all felt like we had made a special connection with these warm and friendly people.
Ceramicas Seminario
After lunch we returned to our hotel for some downtime. For those of us who were interested, Henry offered to bring us to the ceramic studio and shop of local artists (and married couple) Pablo Seminario and Marilú Behar. Only two of us, Marsha and I, took him up on the offer, and I'm so glad I did. Pablo was at work in his studio when we arrived, and he took quite a bit of time to chat with us about his history (he is a self-taught ceramicist who trained as an architect and originally took up ceramics to model some buildings) and his techniques. (Marsha does some pottery work as a hobby and asked him a lot of technical questions, and I just admired stuff.)
Many of Pablo's pieces are large and solid. Marsha asked him why they didn't crack when they were fired (as most ceramics must have thin walls or they crack). His response was brilliant: "I didn't know they might crack if I made them that way."
We later met Marilú in the gallery, where I found a small vase to add to my collection. She was curious about the vase I selected, and she was impressed when I showed her the picture of my collection. She said I will need to add another shelf soon.
Forced Sterilization
Under the presidency of Alberto Fujimori in the 1990s, an estimated 300,000 poor Peruvian women, mostly indigenous, were sterilized against their will. Fujimori insisted (and continues to assert) that there was only a birth-control education program, and that any doctors who performed sterilizations were doing so on their own authority. But the doctors deny this and say they were forced to do it. Fujimori's daughter, who was the losing candidate for president of Peru in 2016, also denies that her father had any knowledge of the sterilizations.
Before dinner we watched a video about the sterilization program and one woman's attempt to help the victims get some compensation for their physical and mental suffering. After the video, we met a woman who was one of the victims, and she shared her harrowing story. It was painful to listen to her speak, and it is still heartbreaking to think about.
Friday
Juan Pablo
Before we left we participated in a ritual led by Juan Pablo, a Quechua priest. The ritual was an offering to mother earth. He created a bundle of various items, and we each added a bundle of three leaves and flowers representing three of our personal wishes. Then he bundled everything up and burned it.
Ollantaytamba
Finally it was time to head out of Urubamba, and we stopped in Ollantaytamba, which is the last town before we boarded the train for Machu Picchu. It's a pretty town with a lot of original Incan structures. Adjacent to it is an archaeological site that we will be visiting on our return trip.
And soon we were on board the train to Machu Picchu. And that'll be a story for my next post.
Here are my photos from the Sacred Valley.