Visiting the Galápagos has been a dream of mine for a long time. Finally, I made it happen, and it exceeded my dreams in every way.
I'm not sure the best way to write about my too-short adventure in the Galápagos. There's no question the best way to share my experience is through my photographs, of which I took way too many. For a quicker overview, you can check out the album I put together of my top 40 animal photos.
I'll try to give a day-by-day rundown of our activities and those things the photos didn't capture.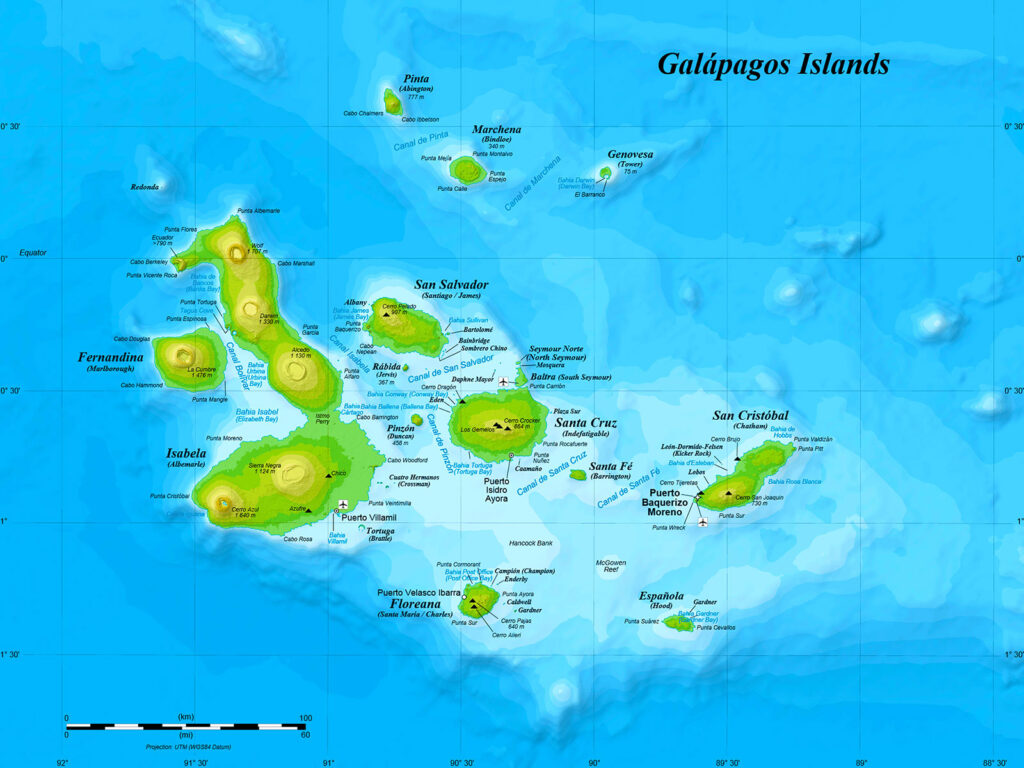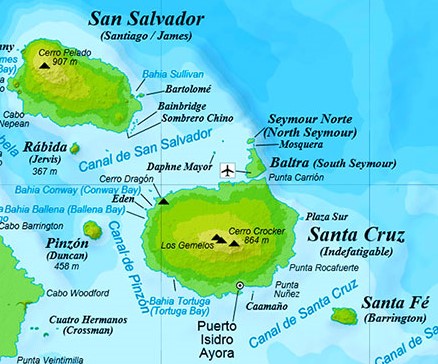 Friday
Arrival
We had to get up before dawn to catch our flight from Quito to the Galápagos. Our flight stopped in Guayaquil for about 45 minutes and then we flew to the airport on Baltra. We arrived around 10:30 am. (The Galápagos are on Galápagos Islands Time, which is an hour earlier than the time in mainland Ecuador, and currently the same as Mountain Daylight Time in the US.)
Traveling to the Galápagos is almost as rigorous as crossing an international border. In Quito our luggage was x‑rayed, and our checked bags were zip-locked. Everything was x‑rayed and examined again when we arrived. They are trying to prevent the introduction of invasive species.
We needed to show our passports and proof of Covid vaccination before departing, and passports again on arrival, along with a form provided during the flight indicating that we had not visited any farms and weren't carrying any plant or animal materials. The National Park charges $100 per person to enter the Galápagos. OAT included this in our tour cost and had one check for our entire group. Then we each had to submit a Transit Control Card, which OAT had already acquired for each of us. There were two halves of the card, one for arrival and the other to present at departure, I guess to verify that all visitors leave at some point.
Baltra to Santa Cruz
We all made it through and out of the airport, where we met Daniela, the naturalist/guide who was assigned to our group for our entire visit. Then we had to take a bus from the airport to the "ferry terminal" at the south end of Baltra Island. This took about fifteen minutes.
The "ferry" was just a boat with barely enough room for all of us. Our luggage was tossed on top.
Once we arrived on Santa Cruz, we boarded a van and headed south.
First animal sightings
Galápagos Dove (outside the airport)
Land Iguana (on Baltra, seen from the bus)
Sea Lion (relaxing on a buoy while crossing the channel)
Brown Noddy Terns (at the ferry terminal on Santa Cruz)
Giant Tortoises
Our first stop was at a "farm" to eat lunch and see giant tortoises. Of course, these farms (there are several in the highlands of Santa Cruz) are really nature preserves where the tortoises roam free and have lots to eat.
We actually saw our first tortoise on the road before we got to the farm.
And we saw many, many more in the hour or so we spent walking around the farm after lunch.
First animal sightings
Giant Tortoise
Cattle Egret
Common Gallinule
Galápagos Flycatcher
Galápagos Sulfur Butterfly
Puerto Ayora
After we'd had our fill of watching tortoises walk really slowly, eat really slowly, and stand still a lot, we got back on the van and headed to the south shore of Santa Cruz and the town of Puerto Ayora. (On the map it's labeled "Puerto Isidro Ayora.") There we checked into our hotel. We had some free time before dinner, and I ran into a few of my fellow travelers in the various shops along the harbor.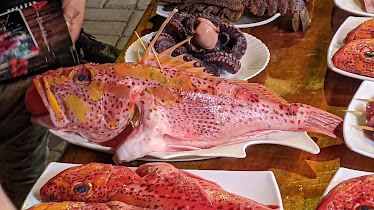 First animal sightings
Brown Pelican
Greater Blue Heron
Lava Heron
Marine Iguana
Magnificent Frigatebird
Great Frigatebird
Saturday
Charles Darwin Research Station
We checked out of our hotel and boarded our van to go to the Charles Darwin Research Station, just outside of town. There we observed how various threatened and endangered species are being rehabilitated. They are capturing tortoise eggs and bringing them to the Research Station, where they are hatching in protected areas. Their primary predators are black rats, introduced on the islands by humans. (There are three species of rats that are endemic on the Galápagos, and these are the only endemic land mammals on the islands. All other land mammals were introduced by humans, some intentionally, such as cattle, cats, and dogs, and others like the black rat, brought on ships centuries ago.)
In addition to the tortoise program, we learned at the Research Station about other attempts to eliminate introduced threats to endemic and resident species. Controlling or eliminating introduced predators is difficult or impossible, so they sometimes have to rely on other methods. For example, they sometimes bring in one species to control the population of another species that threatens a third (endemic) species.
El Trapiche Ecológico
Our next stop, at this small farm, was both fun and educational.
Adriano Cabrera is, according to Celso, a local treasure. For sure he was quite a character. He showed us around his farm, where he grows sugar cane and coffee. He uses the sugar cane to make moonshine.
We got demos of how he extracts sugar cane juice from the plant and how he distills it, and we all got a taste. We also got to sample his coffee, as well as some bananas fresh off the tree.
Carina
Finally it was time to board the boat where we would be spending the next three nights. We drove back to the north shore of Santa Cruz, where we met the two pangas that took us to our ship. They somehow managed to squeeze all of us and our luggage on board, and we were off.
The Carina was a complete delight. From the moment we boarded, the crew treated us like honored guests. My cabin was spacious and comfortable, the dining and lounging area was pleasant, there was a nice deck on the uppermost level for watching scenery and hanging wet swimsuits to dry, and the food they served us was excellent. Every time we came back from an excursion, they greeted us with refreshments. They really took care of everything, and all we had to do was enjoy ourselves.
North Seymour Island
While we got settled in and had lunch, the Carina set sail for our first destination, North Seymour Island. This only took a few hours, and we were ready for our first hike that afternoon.
First animal sightings
Blue-footed booby
Lava Gull
Swallow-tailed Gull
Carpenter Bee
In addition to these first sightings, we got some nice closeup opportunities to watch frigatebirds and sea lions during this hike.
Back on the boat, after dinner, we were all tired and ready for early bedtime.
Sunday
I awoke early and went up to the top deck to watch the sun rise and to observe the frigatebirds cavorting above our boat. During the night we'd sailed about three hours west to Santiago Island (also called San Salvador or James Island on the map above).
Santiago Island
Our morning hike on Santiago Island was really different from our hike on North Seymour. Here we walked on a lava flow from the 1890s. Very little vegetation was as yet asserting itself here.
First animal sighting
Back on board we got a demo from the Carina's chef and sous-chef on how to make ceviche, and then we enjoyed some with our lunch.
Snorkeling #1
Our first snorkeling adventure started from a beach on Santiago Island. I'm not a snorkeling this way; it's much easier to drop in off the side of the boat into the water. Wading in from the sandy beach, you have to deal with sand and stones in your flippers, and being buffeted by waves.
I have another problem with snorkeling in general: claustrophobia. It is not severe enough to stop me, but I need a minute or two to calm my breathing.
So when we started our snorkeling, I got part-way into the water and had to remove my flippers to get rid of the sand. Then, when I finally got into the water, it took me that minute or two to relax into it.
By now the group was way off on the other side of the reef, so I was on my own.
The best way I know to describe snorkeling is being in a completely different universe. Every time I've gone snorkeling, I've been astonished about how different the underwater world is from the world in which we live.
I went snorkeling on just two previous occasions: once in Hawaii and once in Costa Rica. Impressive as those experiences were, this was many magnitudes above and beyond. The variety and beauty of the marine life I saw are beyond description.
First animal sightings
Bluebarred Parrotfish
Cornetfish
Yellow-tailed Surgeonfish
Damselfish
King Angelfish
Sea Cucumber
Black-striped Salema
Blue Sea Star
I can't begin to name all the specific varieties, nor can I come close to listing everything I saw. The rest of the group did get to see a turtle, but I was not with them and missed out on that. (But I did see some from the boat later in the trip.)
Bartolomé Island
Our next hike on Sunday afternoon was on this small island just off the coast of Santiago. As we rode in our pangas to the landing site, we finally got to see one critter that until now had eluded us.
The hike on Bartolomé was all about landforms. We didn't actually see any wildlife on this hike.
First animal sightings
Galápagos Penguin
Galápagos Shark
Monday
Sombrero Chino
On Monday morning we were on the move again, this time to Sombrero Chino. Our hike here was more about land formations than animals, but we did see a few critters too.
First animal sightings
American Flamingo
American Oystercatcher
Dolphins
After lunch I was in my cabin getting ready for our next snorkeling expedition when I heard a big commotion and then Celso knocked at my door. "We're going to see dolphins."
So I grabbed my camera and slipped on shoes and ran out to the pangas. Within a few minutes we were on our way.
We didn't have to go far. Soon we were in the midst of a huge pod of bottle-nose dolphins.
Snorkeling #2
After we got back from our dolphin encounter, we were soon on our way to do another snorkeling adventure, this time along the coast of Sombrero Chino. This time we were starting from our pangas, not from the beach.
Just as I was about to slide off the side of the panga, I head Celso yell from the other panga, "Penguin!" I just had a moment to get a glimpse of a penguin swimming nearby as I plunged into the water.
Next thing I know the penguin is swimming right toward me. For a moment I thought it was going to literally swim right into my face, but it passed about 6 inches in front of me. That is a moment I will never forget!
Daniela made a point to ask us to all stay together on this snorkel adventure, and we swam together along the reef for almost an hour. At first it was a tad disappointing compared to the day before; the water was less clear and there weren't as many fish.
But after fifteen minutes or so, conditions improved dramatically. We saw many of the same fish we saw the day before, but some others as well. It was truly magnificent and, again, indescribable.
First animal sightings
White-tipped Reef Shark
Sting Ray
Panamic Cushion Star
Tour of the ship
Later that afternoon we got a tour of the Carina. We visited the engine room, the crew's dining room, the kitchen (sorry, the galley), and the bridge. We learned about how they deal with water (they desalinate and treat seawater so it can be used for cooking and drinking, and they have designated areas away from the islands where they can dump "grey water"). The chef told us how he orders food and then the crew goes to pick it up between sailings. The captain showed us all the equipment and how it's used for navigation and communication. And we learned that each vessel has a fifteen-day schedule that they repeat over and over. The Carina does a four-day itinerary (the one we were on), a five-day, and a seven-day, and the last day of each itinerary is the first day of the next one.
Meanwhile, we were on our way to our final destination.
Dragon Hill
Just when you think you you've already seen everything there is to see, you go somewhere else and you see more. Our hike on Cerro Dragón was as fascinating and filled with surprises as our first hike.
According to Daniela, Dragon Hill is so named because it is prime breeding ground for the dragons of the Galápagos: land iguanas. Though we already saw a number of iguanas, never had we seen them in such concentration. It was interesting to watch their behavior in interaction with others.
And iguanas weren't the only critters we encountered on our hike.
First animal encounters
Whimbrel
White-cheeked Pintail Duck
Black-necked Stilt
Farewell
That night the crew came out and we all offered our thanks and appreciation, and they served us a special farewell dinner with wine. And the next morning, all too early, we loaded up on the pangas one last time to return to Baltra for our flight back to Quito.
Photos
Looking back at this post, I see I've been inconsistent in sharing photos. I hope what's here has whetted your appetite enough to look at more. I've organized all my Galápagos photos and videos into several albums, so you can find them here:
Everything (363 items)
Birds (104 items)
Reptiles (46 items)
Marine Mammals (28 items)
You should go!
The Galápagos is an extraordinary place. As the map shows, I saw only a very small bit of it, and yet I was blown away. I would love to go back and see more.
You should go too! There are a lot of ways to travel to the Galápagos, either independently (by hooking up with tours after you get there) or on a full tour where everything is booked in advance.
Overseas Adventure Travel runs two different tours to the Galápagos. The one I took, Machu Picchu and the Galápagos, includes four nights in the islands. The other one is called Ultimate Galápagos Exploration & Ecuador's Amazon Wilds and includes seven nights in the islands. Both of these adventures are on a small boat, like the Carina, where our group were the only passengers. (Many of the boats you can sail on in the Galápagos are significantly larger, up to 100 passengers.) And OAT doesn't charge a single supplement on either of these tours.
If you want to book with OAT, visit their website or call 1.800.955.1925. Give them my name and customer number (2741234) and you can save $100 on your first trip with them.
They have a lot of other great trips besides these two. I previously traveled with them to Patagonia in 2017, and I've got two back-to-back trips planned with them in 2023: Egypt and the Eternal Nile followed by Israel: The Holy Land and Timeless Cultures. So I really like traveling with them.
But however you want to go to the Galápagos, go!