I've been home a few days now, unpacking, organizing photos, resuming my regular life, and thinking about how to sum up the trip.
The drive home offered a few nice views. Rather than drive west to Portland and then up I‑5, I decided to head east a ways, then north through the Yakima Valley until I picked up I‑90 at Ellensburg. The last time I drove that stretch of I‑90 was the day I moved to Seattle, July 12, 1998.
But before I turned north, I had to take one look back.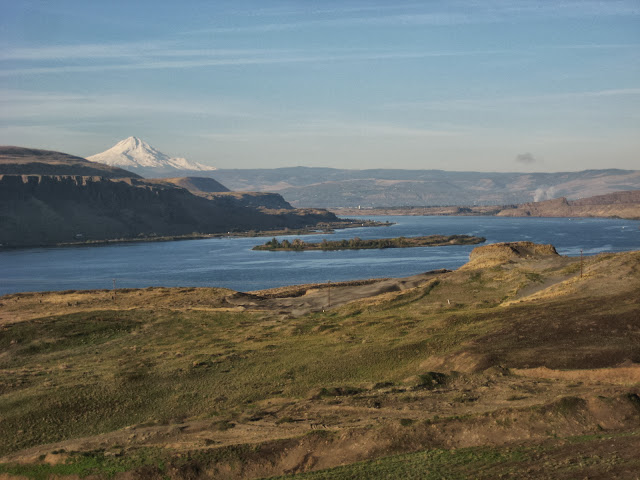 When I got back to Seattle, I was confronted with a nasty traffic jam, and it took me almost an hour to go the last five miles.
Miles the last day: 274.
Total miles for the trip: 2469, and I spent right about $250 on gasoline, so just about ten cents per mile.
Total miniature vases purchased: 11.
As road trips go, I would have to call this a great success. I saw so much that was so beautiful and interesting, I had a nice break for culture in the middle, I didn't have any accidents, didn't lose anything or forget anything anywhere, and I really did enjoy myself every day, even, in the end, the day I was feeling peevish.
I took way too many photos, but I managed to pare down my online album to the best 465. I broke them up into two Google web albums:
Week One (Oregon Coast, Ashland, Crater Lake)
Week Two (Bend, Fossil, Hood River, Mt. Hood, Columbia River Gorge)
And now, serious planning is underway for the next vacation. But more about that later.