I never heard the term "decolonization" before. Here are some definitions:
Process by which colonies become independent of the colonizing country

The undoing of colonialism, where a nation establishes and maintains its domination over dependent territories

The process of breaking your identity with and loyalty to this culture—industrial capitalism, and more broadly civilization—and remembering your identification with and loyalty to the real physical world, including the land where you live

–Derrick Jensen, quoted at Unsettling America
I visited the Alaska State Museum in Juneau. I expected to see exhibits about Alaska history and artifacts from its distant and more recent past. And that's what I saw. The first section had items from the indigenous people who inhabited Alaska for thousands of years.
The next section was about the Russian era. Russians first arrived as early as the seventeenth century. The fur trade began after Vitus Bering's expedition in the 1740s, and the first permanent settlement was established in 1784.
In 1867 Russia sold Alaska to the United States. The third section of the museum explores the history of Alaska as a US territory: the discovery of gold in the 1890s, the strategic role Alaska played during WWII, statehood in 1959, and the discovery of oil in 1968.
As I explored the collection, I got to contemplating what happened to the indigenous people of Alaska. They were enslaved by the Russian fur traders, forced to do all the hunting, at greater risk as animal populations decreased due to overhunting. They attempted to rebel against the Russians, but whenever they did, the Russians fought with greater manpower and destroyed native settlements.
Then, although Russia never "owned" Alaska, they sold it to the United States.
Of course, this is the history of the United States. Europeans stole the land from the people who lived here before. They brought disease. They brought "God." They brought and enslaved Africans. They raped and killed. They brought agriculture and industry and destroyed a way of life.
But in Alaska, and at this museum, I felt particularly conscious of this sorry and tragic legacy of colonialism. Perhaps as a white person growing up in a white community I was not so aware of the injustice done to the indigenous people. I learned American history from the perspective of European colonists who fought for and won independence and established the United States of America. In many parts of this country I suspect it's easy to overlook native people and their culture.
In Juneau I couldn't help noticing the large numbers of indigenous people. And I couldn't avoid the painful awareness that all around them was a culture of wealthy tourists descending from cruise ships and of restaurants and shops and tour operators there to service the visitors. This was not their culture.
My ancestors came to the United States to participate in the established culture of earlier colonizers and settlers. My ancestors did not steal land from those who were already here. But I am a settler nevertheless. I benefit from the economic and political systems established by earlier settlers. I live and work and play on land that they stole.
So after visiting the permanent collection of the museum, I walked into an exhibit entitled "Decolonizing Alaska." I was not prepared for the reaction I would have. The exhibit consisted of works of art by contemporary Alaskans, both indigenous people and settlers.
The art and the artists statements taught me a great deal about how people who are not settlers are affected by the dominance of a culture that is not their own. There were stories of drug abuse, alcoholism, sexual abuse, institutionalized discrimination, blatant racism, and the commodification of native life forms. In the words of one of the artists, Rika Mouw,
I am humbled and awed by indigenous cultures all over the world that understand that humans come from, and are completely dependent upon, a complex natural living web. They understand that they share this web with other living beings with an equal right to thrive. In Western culture, commerce rules, while Nature has no standing in this judicial system. If Nature does not have legal standing then neither do the peoples and cultures who depend upon it. Decolonization is a paradigm shift away from exploitation for short-term profit, toward recognition that, for long-term survival, all living things have an equal voice and integral places in a tightly woven system of interdependencies.
Her art, made from objects of Nature, represents collars worn by Supreme Court justices.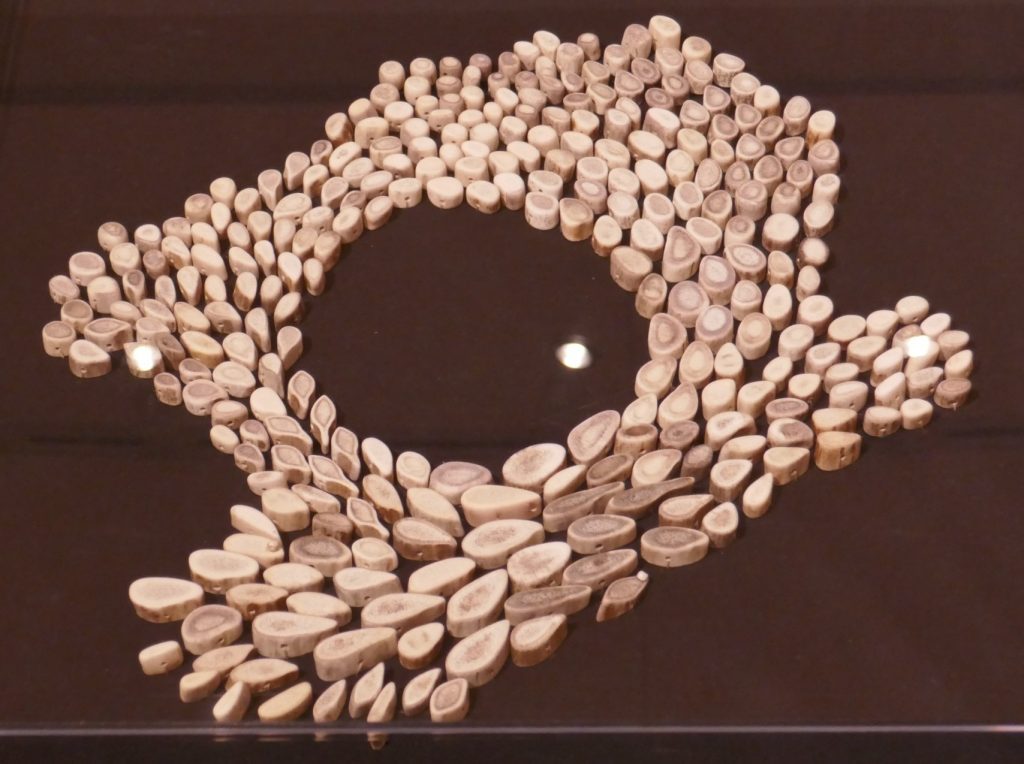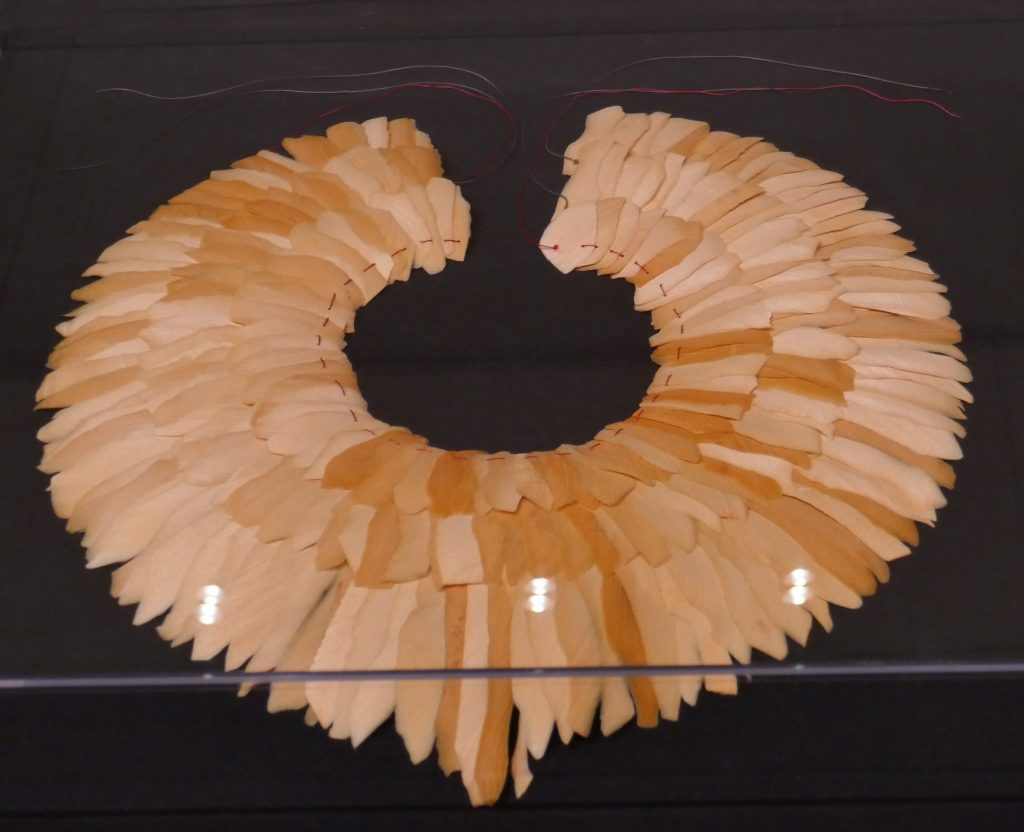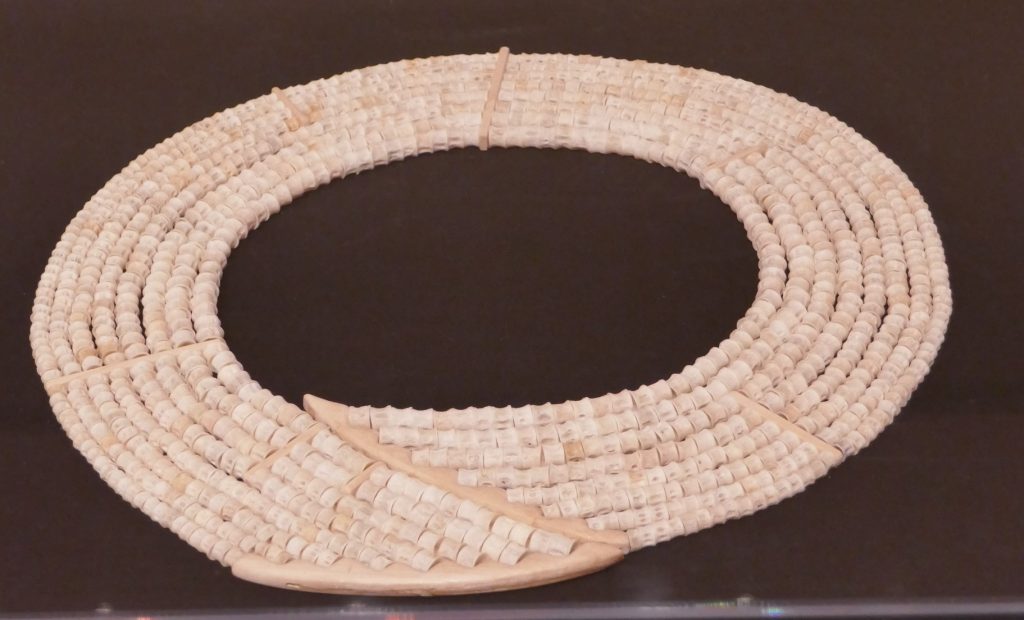 The image at the top of this post is of a piece from 2014 by Drew Michael entitled "What Is My Story?" He writes,
When I teach out in the villages of Alaska I'm always asking questions to people. They want to move forward, but the elders have a lot of fear.… Alaska is unique–we have a culture that's connected to the land. We need to understand the function of culture. I see some people replicating culture rather than looking at why things are there.
I went to Juneau to see the beauty in nature. And I did. But, unexpectedly, the most powerful impact my trip had on me was to understand the legacy of colonialism in a way I never had.