… and into the freezer. Or so it seems tonight. The temperatures have dropped about 25 degrees Fahrenheit, from the upper 70s to the lower 50s, which, as those who know me are aware, is a good thing! And the forecast calls for chilly temps through next week. Rain is also in the forecast, but mostly scattered showers, so I'm staying hopeful.
I left my apartment in Antwerp at about 8:30 this morning, and the trains from Antwerp to Rotterdam only run once an hour at :45, so I had to wait a while for my train. While I was waiting, I started thinking about my time in Belgium and the four cities I visited: Brussels, Ghent, Bruges, and Antwerp. I wondered why, despite finding much to like in all these places, I wasn't enthralled the way I have been in the past when I've visited new places. I wondered if perhaps I was a bit jaded, this being my ninth trip to Europe. Maybe all the delightful places in Europe are just all more of the same. Maybe my love affair with Europe is over. (Or maybe I was just too hot.)
Rotterdam
Then my train came, and a little over an hour later I was in Rotterdam, and I fell in love with Europe again. Rotterdam is not like any other city I've ever been to, and I was unprepared for how much unlike every other city it was. In 1940, a certain German dictator, having overrun the Netherlands, was frustrated by ongoing resistance, so he decided to make an example of Rotterdam. He flattened it.
Shortly after this, the Dutch surrendered.
I've seen other cities that were destroyed in WWII, and they are now urban wastelands: big cities with no character. But Rotterdam is different. The rebuilding of Rotterdam (which is still going on) created a city for the future. It is filled with astonishing works of architecture. Interspersed are the few old buildings that survived the bombing.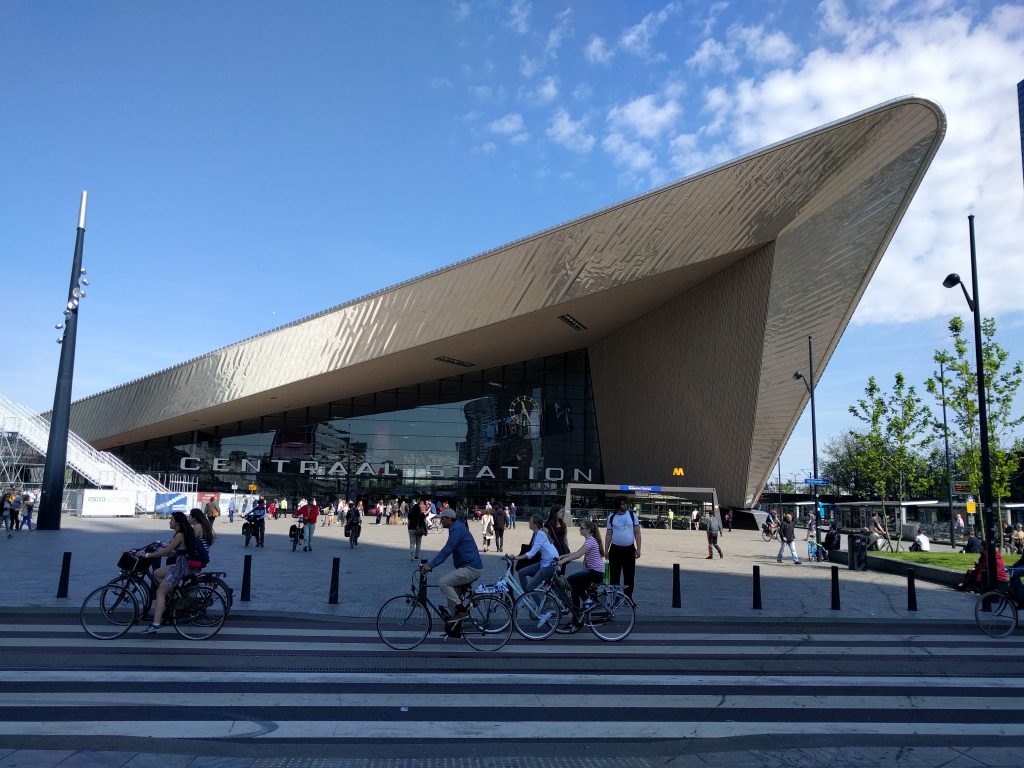 I also found time to visit one museum, the Museum Boijmans van Beuningen. It turns out I also like Dutch painters better than Flemish, though this museum had a little of everything, including Rubens and other Flemish painters, and works up to very recent stuff. There was Rembrandt and Van Gogh and Monet and Picasso and Kandinsky and more. It was an outstanding collection that I had to rush through but I'm glad I got to see it.
Delft
Before I was ready, I needed to get to Delft to meet my B&B host. The place I'm staying here is small but cute, much like Delft. After settling in I went for walk, and here's where I noticed how quickly the temperature dropped. I had to come back to get something warmer to wear, and even so, sitting outside for dinner at a cute place, I was cold. So I finished my dinner (steak that was not very good but better fries than I had in Belgium) and my two beers (both Belgian, both great) and called it a night and now it's bedtime.
Tomorrow I'll take time to explore Delft, and I'll also head up to Den Haag and visit the Mauritshuis.